Polaris 380 Vac-Sweep Pool Cleaner Review 2023 – Pros, Cons & Verdict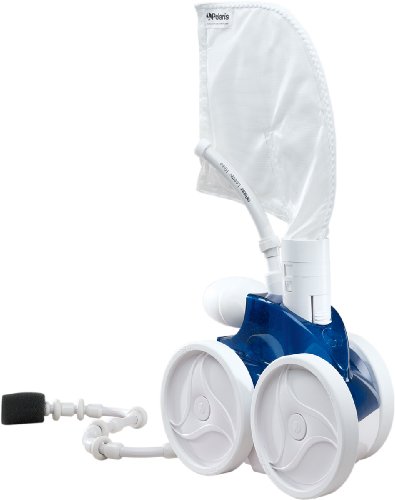 We give the Polaris 380 Vac-Sweep Pool Cleaner a rating of 4 out of 5 stars. 
Build Quality: 4.3/5
Power: 4.6/5
Features: 4.5/5
Price: 2.4/5
Review Summary
The Polaris 380 is an up-to-date version of the Polaris 280, incorporating everything that's great about the older one while adding a couple of new twists. It uses three jet nozzles instead of two and has a belt drive mechanism instead of a shaft-drive. Most importantly, it's designed to clean the whole pool—not just the floor and the walls, but also the stairs and little nooks and crannies.
It accomplishes all this the old fashioned way, by bumping up its cost. It's a really expensive pool cleaner, even for a pressure side pool cleaner, which tend to be expensive. On top of its sticker price, you have to pay for a booster pump, which is a few hundred dollars more. If you want a no-nonsense, fast cleaning tool, and money is no object, the Polaris 380 a great way to go.

Polaris 380 – A Quick Look
Pros
Superior cleaning of entire pool
Fast
Does a great job
Cons
Very expensive
Requires booster pump
Specifications
Brand name: Polaris
Model: 380
Type: Pressure side
Pool type: Inground
Dimensions: 75 x 20 x 22.5 in
Weight: 3 lbs.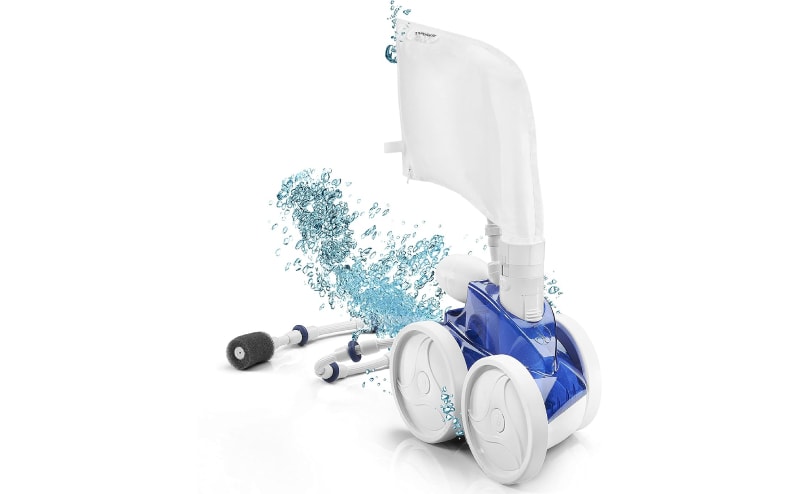 Thorough cleaning
The Polaris 380 was designed to take the old 280's reputation for doing a fast, outstanding job of cleaning floors and walls and apply it to the entire pool. It uses three nozzles instead of two and is designed to dig into corners and clean stairs.
Easier to maintain
Incorporating a Ziploc-style baggie—which houses debris to prevent it from entering the cleaner's main chamber—the Polaris 380 is designed for easier maintenance and a longer life. It also has a belted drive mechanism, which is faster and cheaper to replace than the 280's shafted system.
Inline back-up valve
Let's say your Polaris gets stuck in a corner. The old 280 needed some help getting unstuck. The 380 incorporates an inline backup valve so that it automatically backs up every three minutes. This prevents it from pushing itself into corners and getting stuck.

FAQ
Do you need a booster pump to use this?
Yes. Polaris sells a booster pump that's intended for use with its pool cleaning products.
What kind of warranty does Polaris offer?
Polaris offers a one-year manufacture free-of-defect warranty for all of its pool cleaners. That includes the 380.
Is this suction-side?
No. The Polaris 380 is a pressure side pool cleaner, which means that it uses water on the pressure side of the pool circulation system. A suction side cleaner uses water as it's being sucked in by the pool pump. The pressure side operates on water being pushed by the pump back toward the pool. The idea is that using water that's being pushed back to the pool puts less strain on the pump and ultimately increases its lifespan.

What the Users Say
It might be expensive, but there's something else the Polaris 380 is—popular. People who buy it generally really like it. Some are multi-generational 380 customers. That is, they're on their second of the model; the first lasted them a whole lot of years before they had to replace it. This speaks to two things: longevity and customer loyalty.
What impresses people about the 380 is that it does a very thorough job of cleaning the pool. It hits everything from the floor to the walls to the stairs. One user went so far as to say that if it would crawl up out of the pool and clean her deck that would be the only way to improve its performance.
Frankly, we had a difficult time finding anyone who has a substantive gripe about it. The most common negative comments were about whether it would just bump into walls and keep bumping to less power than expected. Even those remarks were primarily couched in reviews toward the top end of the spectrum.
We were a little astonished, in fact, that no one complained about the price. In reading reviews of other pressure side pool cleaners, people were more likely to complain about the price of a much less expensive pool cleaner than the 380. We're not just talking about a pool cleaner that you buy and set up. When you buy the 380, you have to buy a booster pump that can cost an extra few hundred dollars.
It's just a strange phenomenon. But, we'll have to take it. The general consensus of user opinion for the Polaris 380 is positive, with people seeming very happy about its performance, even if they had something unfriendly to say about it.
You might also like:

Conclusion
Holy cow, the Polaris 380 is an expensive pool pump. The pump itself is pricey, but it also requires the up-front purchase of a booster pump, which itself can run almost half as much as the pool cleaner. That's the big story with the Polaris 380.
The other story is what you get with that investment. The 380 is as fast as the 280 (the model it's built from), which means a clean pool in as little as a couple of hours. It's also pretty thorough. The 380 added a couple of important features that cut down on maintenance costs—the additional jet nozzle and the swap out of the shaft drive mechanism for a belted one. The big one, though, is that the 380 is a complete pool cleaner. The 280 can clean floors great and walls well. The 380 can clean floors and walls great and can also clean steps.