4 Pool Types to Fit Any Budget (With Pictures) – 2023 Guide
Children and adults alike enjoy swimming in a cool pool on a hot summer day, but a suitable location is not always easy to find. With packed public pools, there is a danger of germs, and traveling to a friend's house is not always convenient. Many people believe that purchasing a pool is out of their budget, but we can show you some impressively inexpensive models you can install.

The 4 Pool Types to Fit Any Budget
There are several types of pools, and they can vary dramatically in price.
1.

Inground Pools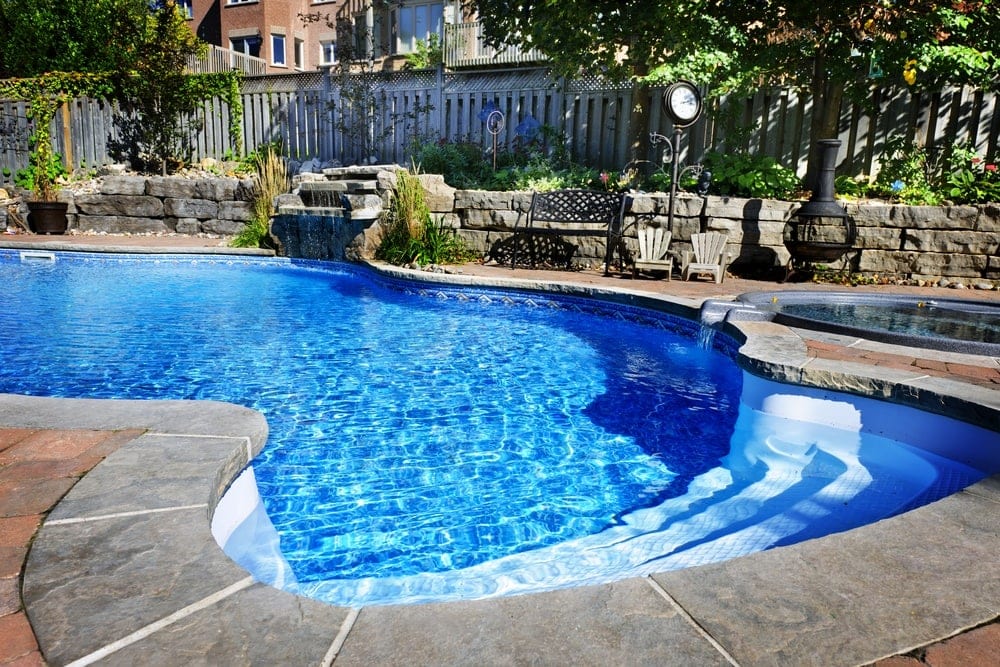 | | |
| --- | --- |
| Average Cost to Install: | $40,000 |
| Average Annual Cost: | $2000-$5000 |
| Permit Required: | Yes |
| Lifespan: | 25+ Years |
Inground pools are the most expensive type of pool, and even cheap inground pools can cost several thousands of dollars, and more costly models costing more than some homes. The good thing about these pools is that they are permanent structures, and with minimal maintenance, these pools can last more than 25 years.
You will need to be the homeowner to install one of these pools, as they will require professional construction workers and will permanently change the landscape. Because of their size, you will also require permits and permission before you can install these pools.
There are fiberglass inground pools that you might purchase, but many inground pools are built on-site from concrete.
---
2.

Hard-Walled Above Ground Pools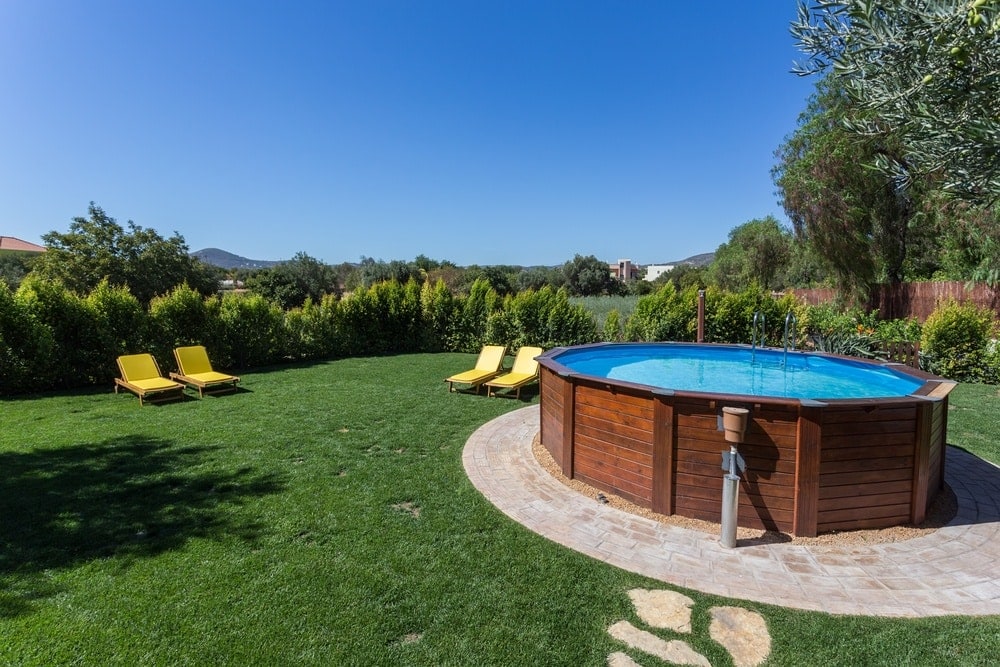 | | |
| --- | --- |
| Average Cost to Install: | $2000 |
| Average Annual Cost: | $1000 |
| Permit Required: | Yes |
| Lifespan: | 15 Years |
Hard-walled above ground pools have a long history, and most of us have seen a few of these in our lifetime. Hard-walled pools are the next step down from inground pools. This type of pool is very durable, and most can last more than 20 years. These hard-walled pools have a replaceable liner that dramatically extends the life expectancy of the pool. The treated steel walls and frame resist rust and can last indefinitely with a minimal amount of maintenance.
These pools can also get quite expensive, especially when you count the filtration system and chemicals that you will need to keep your water clean. You still may require permits and permission to install these pools, but you can usually install them on your own or with a small group of friends. You will need to dig up the ground a little and level it out, as well as add a sand floor and build the steel pool frame.
These pools are 48 to 52 inches deep, which is enough for most adults to swim around in and cool off during the summer months.
---
3.

Steel-Framed Soft Walled Pools
| | |
| --- | --- |
| Average Cost to Install: | $600-1000 |
| Average Annual Cost: | Up to $100 |
| Permit Required: | No – for non permanent structures |
| Lifespan: | 5-15 Years |
The next size down from the hard-walled pools is the steel frame soft walled pool. These pools usually top off at about 48 inches deep, but you may find models that exceed that depth, and they can get as shallow as 2 feet. You can set up these pools by yourself or with a friend in a single afternoon. They usually don't require any permits or permission, and you don't need to be the homeowner to use one of these pools.
Steel frame soft walled pools are about half the price of a hard-walled pool, and you will take it down at the end of the season, so there is no permanent change to the landscape. They use less water, so they will require fewer chemicals, which will save you more money over time. The downside is that the filter system tends to lack power in this class of pool, and the frames tend to rust after a year or two as well.
You also need to worry about sharp objects around the soft-sided pool as it is easily damaged.
---
4.

Soft-Sided Pool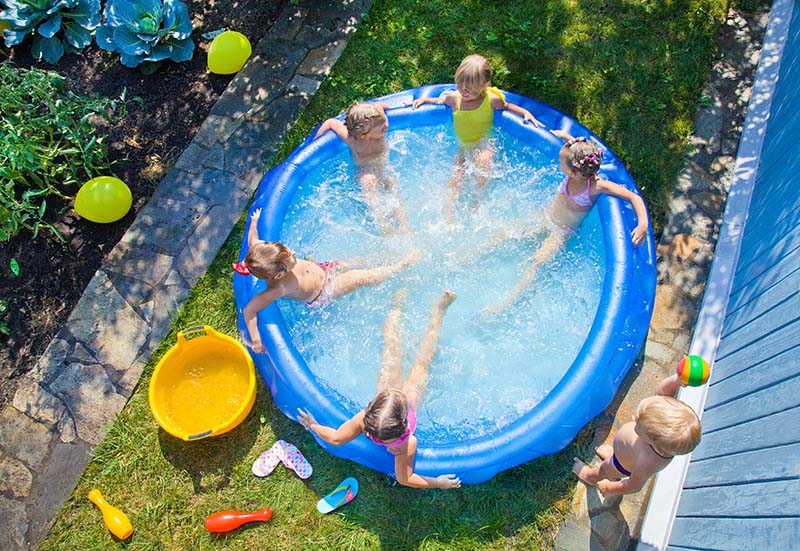 | | |
| --- | --- |
| Average Cost to Install: | $0 – normally self-installation |
| Average Annual Cost: | $0 |
| Permit Required: | No |
| Lifespan: | Short term |
Soft-sided pools are the smallest type of swimming pools, and they are also the least expensive. These pools are usually best suited for small children or first-time pool owners. They are extremely easy to set up and typically require little more than unfolding and filling with water. Since they only hold a small amount of water, permits and permission are not necessary, and you can set these soft walled pools up in almost any yard. You can even use some models indoors or on a patio. They are perfect for teaching kids how to swim and for birthday parties.
There are a few models that get to four feet deep, but for the most part, these pools are under three feet deep, which makes them impractical for adults. It's also challenging to set up these pools on non-level surfaces because the water pushes on the low side, causing it to give way. Soft-sided pools are not very durable and rarely last more than three seasons, and sharp objects and dog nails can quickly ruin the pool permanently. Like the steel-framed soft walled pools, these also suffer from inferior pumps that struggle to keep the water free of contaminants.

Conclusion
We recommend taking inventory of your needs before you begin to shop around for your new pool. If you have small children that you are looking to keep cool on a hot summer day or entertain for a birthday party, then the soft-sided pool is a perfect choice. It should only cost a couple of hundred dollars, it's easy to set up by yourself, and you don't need a lot of accessories like ladders and chemical floaters.
If you need a non-permanent solution for teenagers and adults, the steel-framed soft-walled pools are an excellent choice. These cost about twice as much as the soft-sided pools, but they should last a few years and are almost as easy to set up.
Hard walled pools are about twice as expensive as steel-framed pools but will usually last you many years. These pools are for adults and often come equipped with ladders, sand filters, and other supplies. Hard walled pools are about twice as expensive as steel frame pools.
Inground pools are permanent structures that require professional installation and are extremely expensive.
If you are not sure which type you might like the best, we recommend going with a non-permanent type at first to see what you think. Doing so will help keep you under budget, and you can always upgrade later. If you have enjoyed reading, please share this short guide to getting your dream pool on a low budget on Facebook and Twitter.
---
Featured Image Credit: imging, Shutterstock