8 Lawnmower Accident Statistics in the UK (Updated in 2023)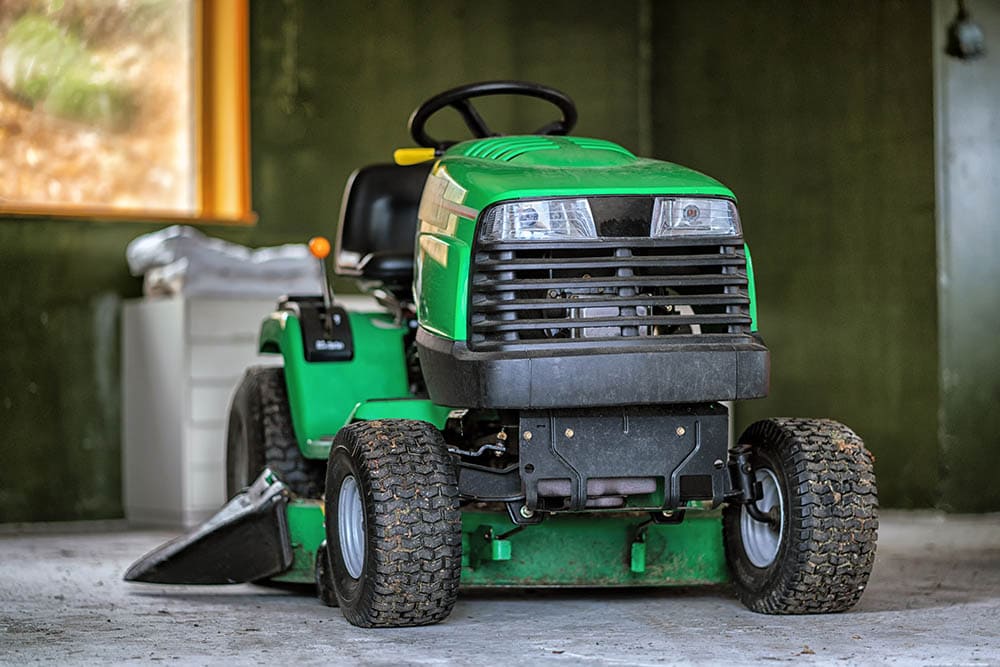 Note: This article's statistics come from third-party sources and do not represent the opinions of this website.
Although the robotic mower has become more affordable and efficient at mowing lawns, the most popular options remain electric and gas-powered mowers. Considering the number of people that mow their lawns and how frequently they do so, the number of injuries that occur as a result of mowing the lawn can be considered quite low although the figures did increase during Covid lockdowns. However, while accidents are rare, they can be serious.
Approximately 6,500 lawnmower injuries are sustained every year, with 349 people admitted to hospital with such injuries during the Covid years. Some general health and safety practices can help minimise the risk gardeners face whenever they get behind the handle of their mower.
Below are eight lawnmower accident statistics, including general gardening injury figures and details of injuries to children.

The 8 Lawnmower Accident Statistics in the UK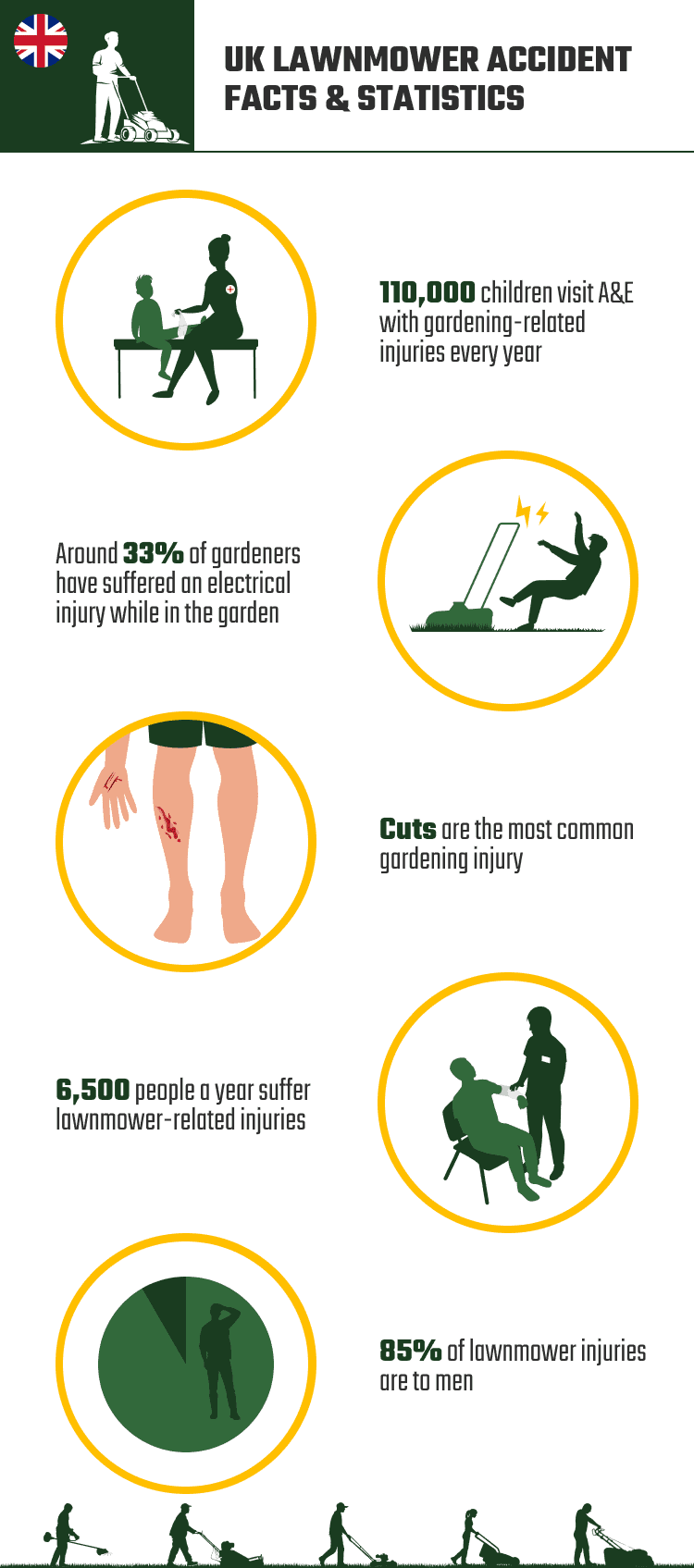 General Gardening Accidents
(Just Lawn Mowers)
Getting children involved in gardening is a good way to encourage them to get outdoors and have a hand in nature. It also lets them get mucky, which most kids love. However, it is important to ensure a child's safety when they do take part in gardening because there are plenty of potential obstacles and hazards that await them.
As well as lawnmowers, which are essentially sharp spinning blades powered by electricity or combustible gas, other gardening implements can cause injury. Roughly 110,000 children end up having to visit A&E after suffering some form of gardening injury, which includes lawnmower accidents.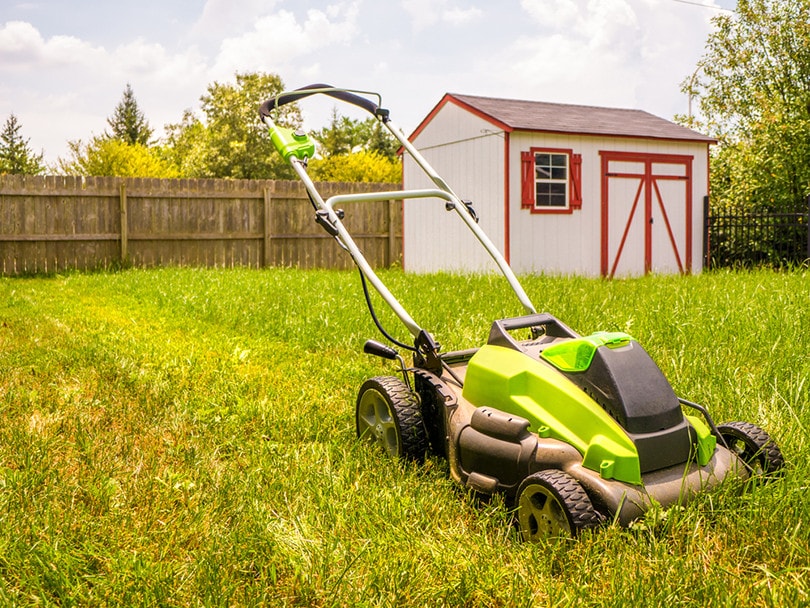 ---
2.

A third of gardeners have suffered an electrical injury while in the garden.
(Just Lawn Mowers)
It isn't just children that are in some kind of danger in the garden or while mowing the lawn. One-third of gardeners report having suffered some form of electrical injury while in the garden.
Electrical injuries can occur as a result of electrical equipment coming into contact with a damp or wet environment. Or in the case of lawnmowers and other electrical equipment, it could be the result of the machinery cutting through or damaging the electrical wire.
A Residual Current Device can break the current in the event of you accidentally cutting through the cable. Ensuring that electrical machinery and extension cords are kept in good order and stored in appropriate conditions will further reduce the threat of electrical injury.
---
3.

Cuts are the most common gardening injury.
(ROSPA)
The most common accident to occur in the garden is falling, but when it comes to accidents occurring during the act of gardening, cuts are the most common. There are plenty of items and tools that have the potential to cause cuts. Shears and even spades can lead to cuts, but so too can the sharp, fast-rotating blades of a lawnmower.
One common form of lawnmower accident is lacerations to the fingers. This is caused when the user attempts to clear a blockage from around the blades without cutting the power or taking other precautions.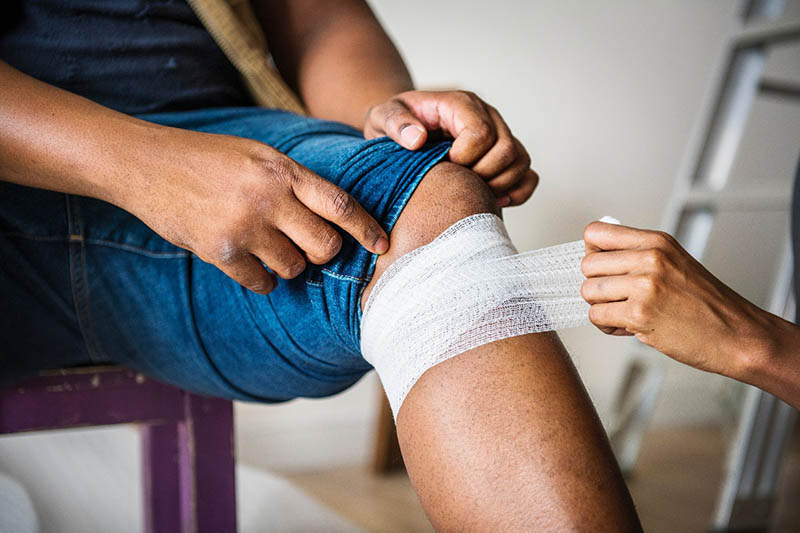 Lawnmower Injuries Per Year
(Just Lawn Mowers)
About 6,500 people suffer injuries as a result of mowing the lawn every year. These injuries can be minor and may not require a trip to A&E, but the power of the mower blades means that injuries can, in some cases, be severe.
As well as lacerations caused by the blades, other injuries can be caused by stones or other debris being fired up by the mower and falling over while attempting to pull a mower backward. You should push rather than pull a mower. This not only enables the blades to work effectively but it lowers your chances of falling while walking backward.
---
5.

349 people were admitted to the hospital with lawnmower injuries in 2020–2021.
(National World)
Although serious lawnmower injuries are rare, they do happen, and they were especially a problem during Covid lockdowns when people were unable to leave their houses and spent a lot more time in the garden. There were 349 people that visited A&E as a result of a lawnmower injury during that time.
---
6.

Hedge trimmers are responsible for another 3,100 injuries a year.
(ROSPA)
Although not strictly lawnmowers, hedge trimmers perform a similar task of cutting back greenery, and many people use them at around the same time as they use a lawnmower. They also have a similar capability to cause injury.
In fact, a further 3,100 injuries a year are caused by these tools, which, like lawnmowers, can be electric or petrol-powered so carry similar electrocution and burn risks. When using a hedge trimmer, as well as ensuring that you keep the cord out of the way, you should also make sure that you are standing securely. Don't try leaning out from a set of ladders or using a makeshift platform to stand on because this enhances the risk of an accident.
Injury Specifics
7.

Lawnmower accidents are the most common of all gardening accidents.
(ROSPA)
Many types of gardening accidents can befall a person. According to one study, lawnmower accidents are the most common of all gardening accidents accounting for 6,500 accidents a year.
Flowerpots cause 5,300 accidents, while secateurs and pruners lead to another 4,400 accidents. Other causes of accidents include spades (3,600), hedge trimmers (3,100), plant tubs (2,800), and shears (2,100). Even garden canes and sticks cause 1,800 accidents a year.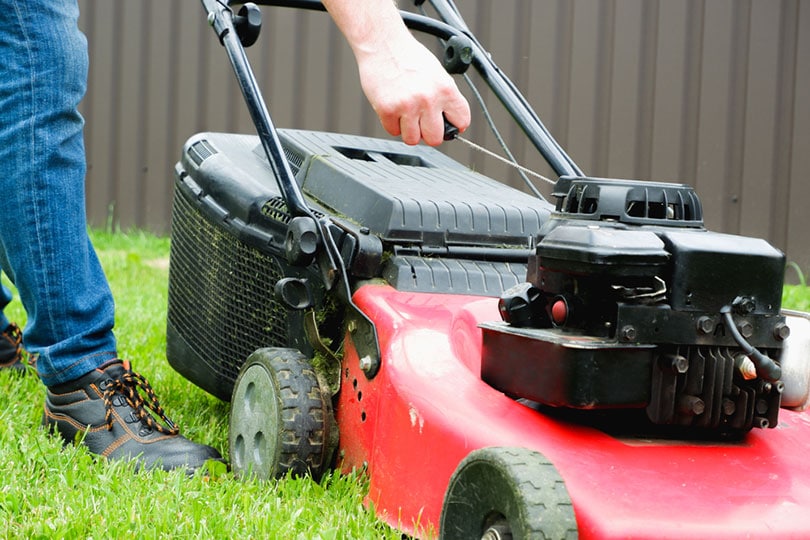 ---
8.

85% of lawnmower injuries are to men.
(John Hopkins University)
According to one study, 85% of lawnmower accidents occur to men while the same study also shows that children up to the age of 4 are more likely to suffer injuries to their feet, which suggests that they tend to suffer injuries after running into the mower.
Teens and adults are more likely to suffer injuries to hands, arms, and upper extremities which is likely as a result of them putting their hands in the mower to try and shift a blockage.

Frequently Asked Questions About Lawnmower Accidents
Can bystanders be injured by lawnmowers?
Although most injuries tend to happen to the lawnmower user themselves, bystanders can be injured as well. The mower can kick up stones and other pieces of debris, which might strike another person. And if the mower is pushed into a person or over their feet, this can also cause injury.
Are robot lawnmowers safer?
Robot lawnmowers can be set to mow automatically at given times of the week, or they can be set to run when the homeowner wants. This means that a robot mower can run while there is nobody in the garden to suffer injury.
These mowers also tend to have less clearance from the ground, so there is less room for feet and other body parts to be stuck under or run over by the mower. However, there is still some danger to the use of robot mowers because they still have high-powered blades spinning at high speeds.
What is the most common injury caused by lawnmower accidents?
The most common type of injury caused by lawnmowers is a laceration or cut. Typically, lacerations occur to the hands or arms as a result of the operator trying to clean the blades without first turning the machine off. Injuries also often occur to the feet and legs, and this is especially common in very young children.
Is it safe for children to use a lawnmower?
Generally, experts recommend that push mowers only be operated by children over the age of 12, while ride-on mowers should not be operated by people under the age of 16. This helps ensure that the child is capable of easily handling the mower while being sensible enough to safely operate one.

Conclusion
Lawnmowers are an essential piece of gardening equipment, but most are powered by either petrol or electricity which means they carry risks of electrocution or burn damage. They also have very sharp blades that can cause injury directly or might break twigs or kick up other bits of debris that cause injury.
Thousands of people are injured in lawnmower accidents every year in the UK, and gardeners are advised to follow general safety guidelines to reduce the risk of being injured or causing injury to others.
---
Featured Image Credit: bzzup, Shutterstock