3 Living Room Lighting Trends in 2023 (With 10 Ideas)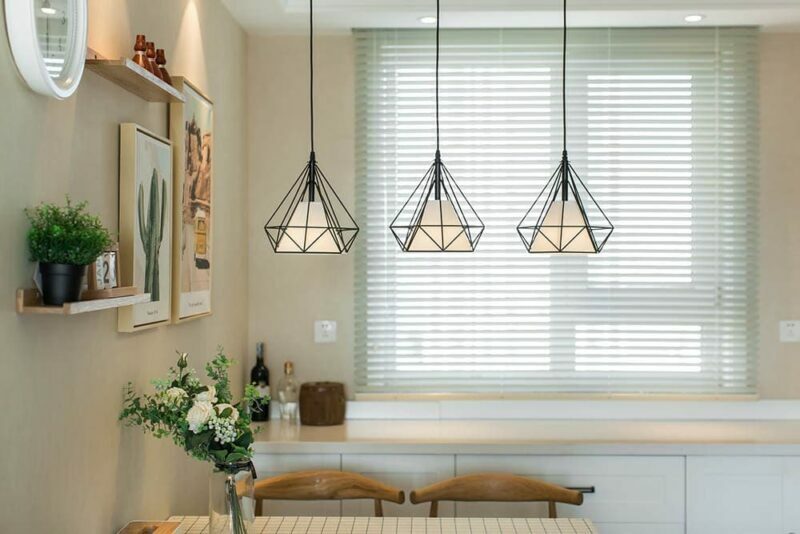 Updating the lighting in your living room can be a great deal of fun because you can make large or small changes depending on your needs. There are many options available, and most of them are not too expensive. If you would like to update the lighting in your living room but want to know more about what other people are doing, keep reading as we look at several of the most popular trends for this year.

The Top 3 Living Room Lighting Designs
1.

Artistic Lighting
Celeste Lighting
The Focal Décor Celeste Lighting is an example of artistic lighting, a popular trend for this year. This design looks amazing and provides plenty of light for reading and watching television without creating any harsh glares. It gives the living room a modern appearance.
---
Circular Light
If you are looking for something extremely modern, the Morgan Studio Circular Light will be tough to beat. It has a unique design that will start up many conversations while you sit below it, and it's relatively easy to install, hanging from just four support beams.
---
LED Pendant Light
The Light In The Box LED Pendant Light is a great alternative to standard lighting that will improve the appearance of any living room. These pendant lamps provide plenty of light for reading and conversing, while conserving power with their LED design. These lamps are perfect for people who want to add a more modern appearance to their homes.
---
Floor Lamp
The Lodamer Floor Lamp has an extremely modern design that is well suited to small living room areas where you might want something romantic. It creates a nice soft light that's perfect for a date night, and it doesn't use much power, so it also works well as a night light. There are several varieties of this lamp, and though it's quite expensive, it can dramatically change how your living room looks.
---
2.

Oversized Lighting
Lantern Pendant
The Sunmi Rattan Lantern Pendant is our first example of the popular trend of using oversized lighting to illuminate the living room area. This design uses a single stem to attach it to the ceiling, which makes it look even more impressive, and the large pendant helps scatter the light evenly throughout the room. It's perfect for rustic designs and pairs well with wood.
---
Hamptons Style Dining Room Chandelier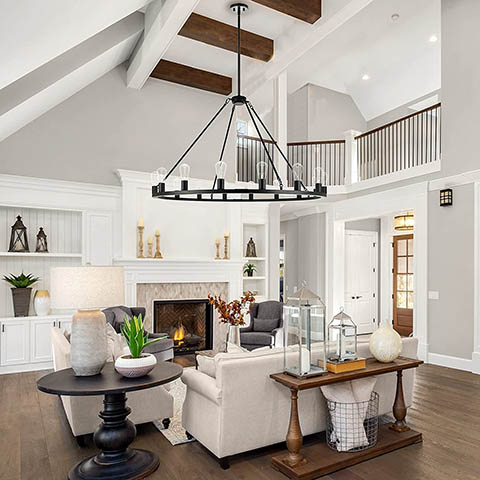 The Hampton Style Dining Room Chandelier is a great example of an oversized light that can work in both the living room and dining areas. This chandelier provides plenty of light, and that's easy to install because it hangs from a single chain. While it looks great in almost any environment, it looks especially good when paired with wood or light colors.
---
Horizontal Chandelier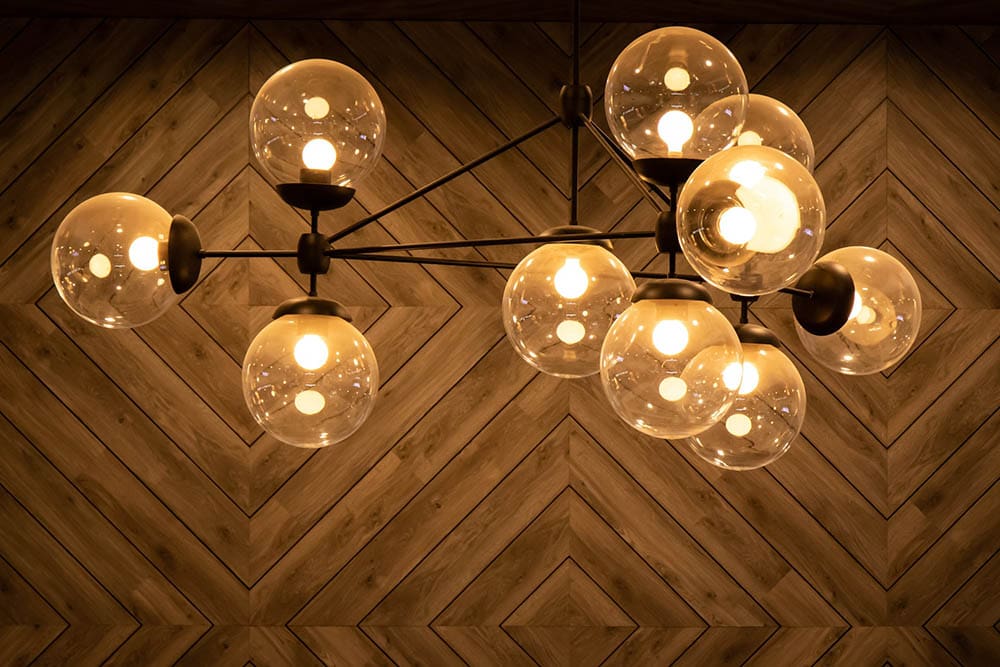 The Focal Décor Horizontal Chandelier is an amazing light fixture that will provide plenty of light to your dining or living room areas. It's also quite attractive and is sure to instigate conversation.
---
3.

Brass
Rustic Candle Chandelier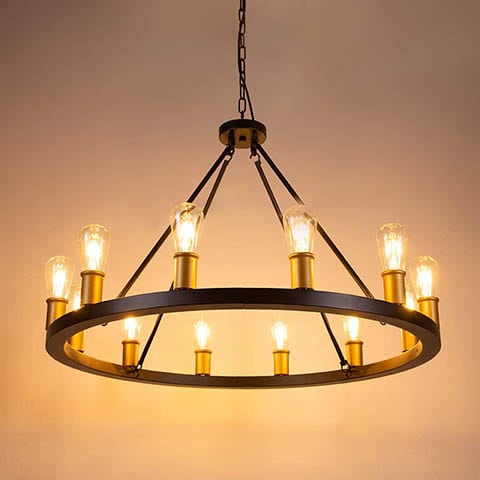 The Homary Rustic Candle Chandelier is an attractive eight-light brass chandelier that fits in with the current trend of using more brass fixtures in the living room area and the rest of the home. The numerous lights help illuminate the entire room, so it's perfect for reading and conversing.
---
Brass Dome Lights
The Etsy Brass Dome Lights are great examples of brass lighting. These hang from a single chain and have a hand-hammered appearance. The Dome helps point the light exactly where you need it, and it helps prevent glares elsewhere in the room, so you can use higher wattage bulbs for tasks like reading or working on a puzzle.
---
Dome Pendant
The Shades of Flight Honey Bee Dome Pendant is an excellent example of using old-school materials like brass and making it look modern. This small chandelier is extremely attractive and works well to illuminate a small coffee table or act as accent lighting. The white interior helps scatter the light evenly across the area, so it's a perfect choice for almost any living room.
Living Room Lighting Trends
Artistic Lighting
Artistic lighting is an extremely popular trend right now as more and more people are looking for new ways to express themselves. It's more important to find something unique than to find something on sale, and artistic lighting can provide what you need. You can find something extremely modern that looks like it's coming from a science fiction movie, or you can find a perfect recreation of an antique that you've always wanted. The choices are endless, so it's no surprise that this type of freedom is trending.
Oversized lighting
Oversized lighting can look quite modern if you do it right, and it will provide you with plenty of light for reading and other activities. Oversized lights look great in the living room, and they help make the area appear more fun, which is likely part of the reason that this type of lighting is trending.
Related Read: 8 Dining Room Lighting Trends: Design Ideas for a Modern Home
Brass
Brass lighting always looks good, whether you use it in a kitchen, the living room, or anywhere else in your home. It helps make most living rooms feel more worn-in, familiar, and inviting. Since it's been so popular for so long, it's likely to stay that way, so it will look still look good when many of these other trends have faded.

Summary
There are several trends to choose from when you're updating the lighting in your living room. We like the artistic designs because they look more modern and enable you to express yourself more than most other lighting types. If you're not looking for something modern, though, and want something that will still look good in 20 years, your best bet is to choose a brass lighting fixture.
---
Featured Image Credit: wu yi, Unsplash