10 Bathroom Lighting Trends For 2023: Design Ideas For A Modern Home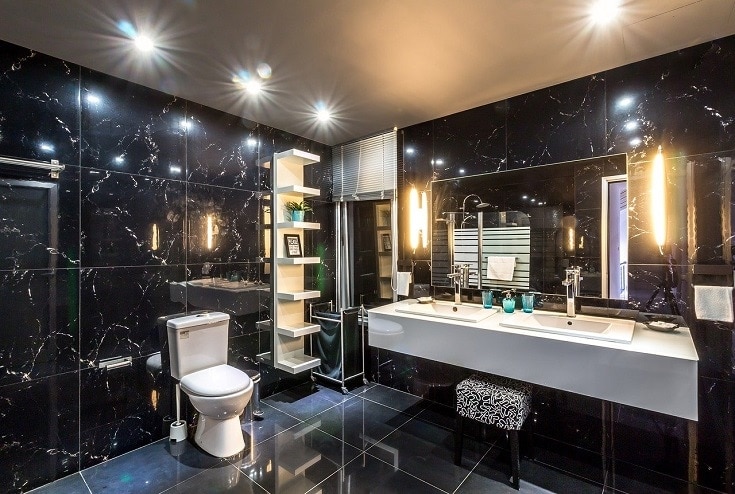 It's easy not to show the same attentiveness for bathroom lighting as we would other rooms in the house, like the kitchen or the living room. A single ceiling light just isn't enough to give this space the love it deserves, but there are no one-size-fits-all designs that are going to light up the bathroom properly. There can be a lot to digest with multiple types of lighting to consider, such as task or ambient. So, we've compiled a list of 10 bathroom lighting trends.

The Top 10 Bathroom Lighting Trends
1.

Window Walls For Natural Light
Natural lighting concepts are not new. In fact, large windows that blur the line between outdoors and indoors have grown wildly in popularity over the years. There is something special about being able to soak up vitamin D while in the comfort of your home.
This year we can expect to see this trend make its way into more modern bathroom designs. Whether it is a literal view of a backyard or a manufactured private oasis outside, there will be ways for you to bask in the sunlight after a shower or enjoy the mood moon sets for an evening bath.
---
2.

LED Strip Lighting
Another trend making its way into bathrooms this coming year is LED strip lighting. Not only will this be a cost-efficient lighting option for your bathroom, but the potential options for placement of strip lighting are just about endless.
This strip lighting can be used to highlight unique structural features or make a floating vanity pop. If you really want to take this trend to the next level, make sure you install color-changing LEDs. Then whether you're looking for a warm white to relax with or a vibrant green for a not-so-boring shower, you'll always be able to enjoy a room that is often overlooked as a place of relaxation.
---
3.

Mirror Wall With Perimeter Lighting
Not all homes have the space to afford a large and spacious bathroom. Sometimes, there is only so much space to work with, and in the case of a smaller bathroom, the key to an open feeling is perception. A floor-to-ceiling mirror wall with perimeter lighting around the mirror is an innovative and cost-efficient design that makes the most of a small space.
---
4.

Shower Lighting
Whoever said that showering was supposed to be a dull experience never experienced the simple elegance of shower lighting. Electricity and water still don't mix, but we now have various lighting options suitable for aquatic environments as technology has improved. Imagine enjoying a shower with soft lights above you to set the mood. For added mood-setting capabilities (or maybe to save your eyes during your morning shower), make sure the lights are on a dimmer switch.
---
5.

Everything Is Backlit
Another trend that is taking off this year is floating bathroom pieces backlit with LED lights to complement the décor and color palette of the bathroom. Imagine a floating sink or bathtub with a pretty under glow. How about shadows making it hard to see something in your bathroom mirror? Not anymore when it is backlit.
---
6.

Contemporary Industrial
Not everyone likes the clean and minimalistic feel that bright LED lighting can give, and sometimes that vibe won't suit a particular bathroom either. Consider deeper tones and colors offset by industrial-style light fixtures if your bathroom has the space. The characteristic black pipe-style finishing will add a bold touch to give the bathroom an adventurous contemporary feel.
---
7.

Brass Is Back, Baby
Brass is making a comeback, and somehow modern designers have taken what were drab antique colors and made them popular. Brass fixtures began rising to popularity in the late 2010s, and now you will see bold antique lighting designs in some of the most luxurious modern bathrooms.
---
8.

Luxurious Lighting
Sometimes you just want to feel like royalty. And with some of the luxurious designs this year, you will be able to feel just that. Think silver finishing that pops instead of looking like a light fixture and a chandelier style hanging light as a centerpiece in the bathroom. Soft whites and cremes for colors will make this lighting style shine.
Related Read: 14 Bathroom Wallpaper Trends – Design Ideas for a Modern Home
---
9.

Free To Stand
Generally, when we think of bathroom lighting, the first thing that comes to mind is ceiling lights—recessed or hanging—or perhaps a light protruding from the wall above the vanity. It's not as common to see freestanding lights in a bathroom, but this year it is a trend that we are witnessing; beautiful lamps that look like they belonged in the bathroom all along.
---
10.

Put Shades On It
It doesn't have to be modern to stand out. This trend is bringing back the old-style sconces and hanging lights with shades. These lights usually go nicely with bathroom décor and colors that have an earthy rustic style, but simply changing the color of the shades and fixtures can make them fit into almost any bathroom—modern or rustic.
Related Read: 7 Bathroom Tile Trends – Design Ideas for a Modern Home
Conclusion
You've been cooped up long enough, and now that you've seen some of the bathroom lighting trends, what designs or styles have inspired you? Maybe it's a combination of more than one style. Perimeter LED lighting with bold industrial lights over your vanity? Why not! Let your imagination run wild with the possibilities. After all, changing light fixtures and adding new lights is one of the cheaper bathroom upgrades you can do, so take some time and consider what style will enhance your existing space the best and head down to your local building center.
You might also be interested in: 10 Master Bathroom Trends — Design Ideas for a Modern Home
---
Featured Image Credit: CyprusVillas, Pixabay