Milwaukee 2745-21 M18 FUEL Framing Nailer Kit Review 2023 – Pros, Cons & Final Verdict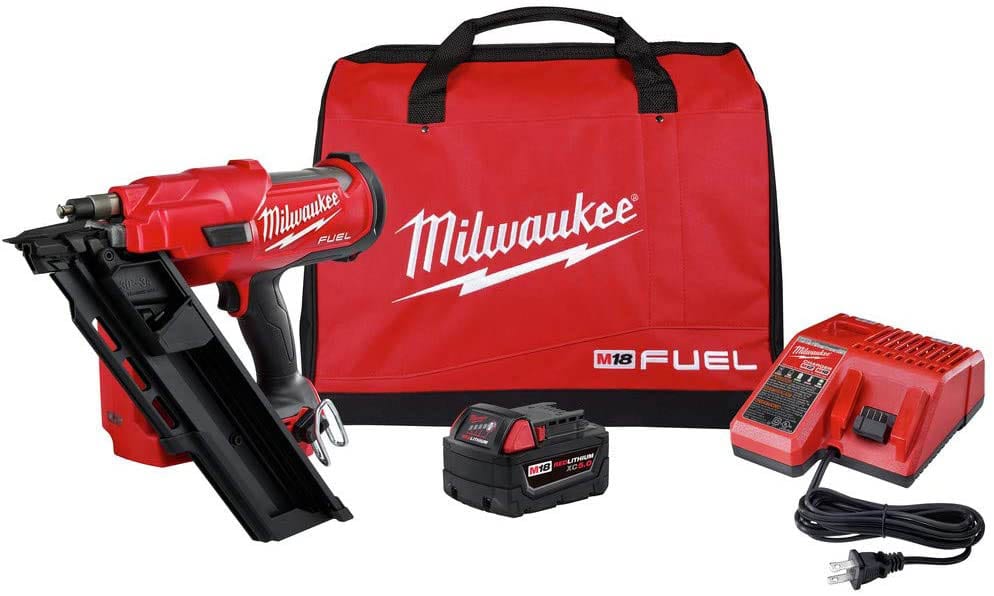 Review Summary
Our Final Verdict
We give Milwaukee 2745-21 M18 FUEL Framing Nailer Kit a rating of 4.5 out of 5 stars.
Build Quality: 4.8/5
Features: 4.3/5
Price: 4/5

Milwaukee 2745-21 M18 FUEL Framing Nailer Kit – A Quick Look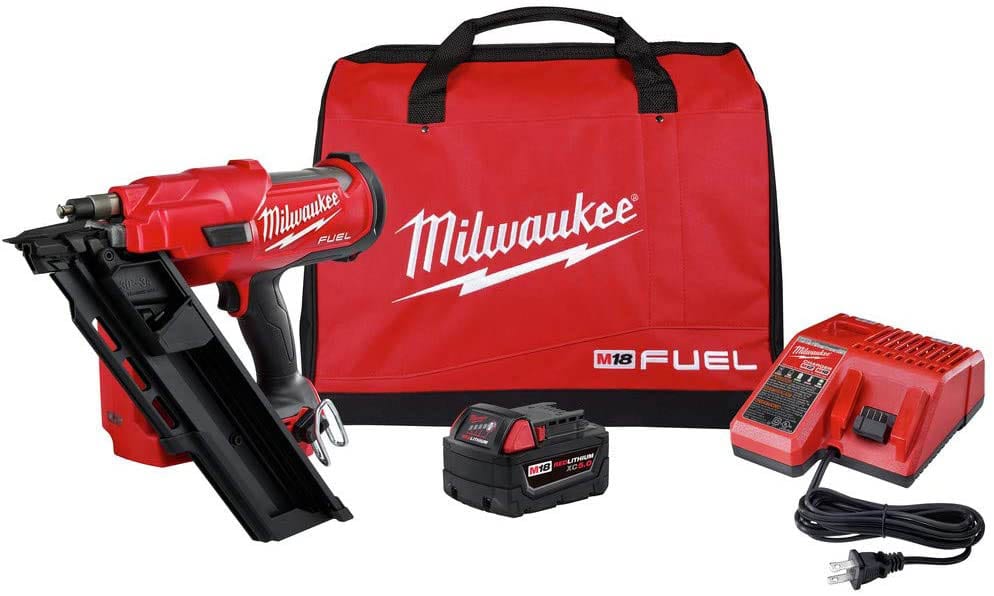 Specifications
Brand: Milwaukee
Model: 2745-21 M18 FUEL framing nailer
Type: Contractor-grade framing nailer
Weight: 9.6 pounds
Batteries Included: 1 lithium-ion battery
Case: Soft, contractor bag
Nail Type: 30–34-degree collated-nails
As one of the major brands in the construction industry, Milwaukee shows no sign of slowing down in coming up with incredible battery-operated tools. If you're a contractor looking to ditch compressors and air lines for good or a handyman that only needs a framing nailer occasionally, then the M18 FUEL framing nailer is an excellent investment.
While it may not be the cheapest framing nailer out there, this one is built to withstand the abuse that comes with heavy commercial use. Not to mention it shares the same batteries as the rest of your Milwaukee tools. The great thing about this kit is it actually includes an XC5.0Ah battery and charger.
The downside is that the weight might come as a shock. So, unless you're committing to getting used to a fairly heavy tool compared to your air-powered framing nailer, then it may not be everything it's cracked up to be.
Pros
Contractor-grade quality
Dependable and durable
No air compressor needed
No gas cartridges needed
Includes XC5.0Ah battery and charger
Excellent battery life
Quick and consistent firing
Cons
The bag isn't the best quality
Heavier than some battery-operated nailers
Additional batteries can be costly

Milwaukee 2745-21 M18 FUEL Framing Nailer Kit Details
Built for Professional Use
Being part of Milwaukee's premium FUEL tool lineup, this framing nailer is built to withstand the rough everyday use that most contractors demand. With features like its rafter hook or adjustable drive depth, this tool is expected to excel in any situation.
As a contractor, time is money. The fact that this tool has no ramp-up time and can drive up to three nails per second is a huge benefit. However, even though this nailer is built for the professional, it's reasonably priced for many regular consumers or DIYers.
No More Hose Tangles
When considering a battery-operated framing nailer, one of the greatest advantages to consider is the fact that you will be ditching air hoses and a compressor. If you've ever used an air compressor, then you are well aware of how easy the hoses kink and get caught going around corners. Even high-quality hoses are not immune to tangles. With a battery-operated nailer, all you have to do is make sure the battery is charged and the rail is full of nails, and you're good to go!
One of the Best Batteries Available
This kit includes one XC5.0Ah battery, which may not seem like much. However, this is one of the best batteries that Milwaukee has available. The "XC" stands for extended capacity. If you have other Milwaukee battery tools, this one battery will power all of them more than sufficiently.
The one downside to these batteries is that they are on the pricier end. Milwaukee does make other batteries that are more affordable, but they won't provide the same quality or length of power the XC series or batteries will.
Heavier Than Many of its Air Powered Competitors
There is a tradeoff to getting rid of the air lines. At almost ten pounds, this framing nailer is probably heavier than what you are used to. This might not be an issue if it is a backup or occasional use nailer. But if this will be your primary framing tool, then allow yourself the time to get used to it.

FAQ
Do I have to use the XC5.0Ah battery?
It is the ideal battery for this nailer. However, the nailer is compatible with all M18 batteries. There may be a significant drop in battery life with lower amperages or non-XC batteries.
Does it take special nails?
As long as they are 30–34-degree collated nails, the rail will accommodate them.
How long is the warranty?
After registering it, you will get three years of warranty on the tool.
Does the nailer have any safety features?
It is equipped with a dry fire lockout and comes with an anti-mar tip.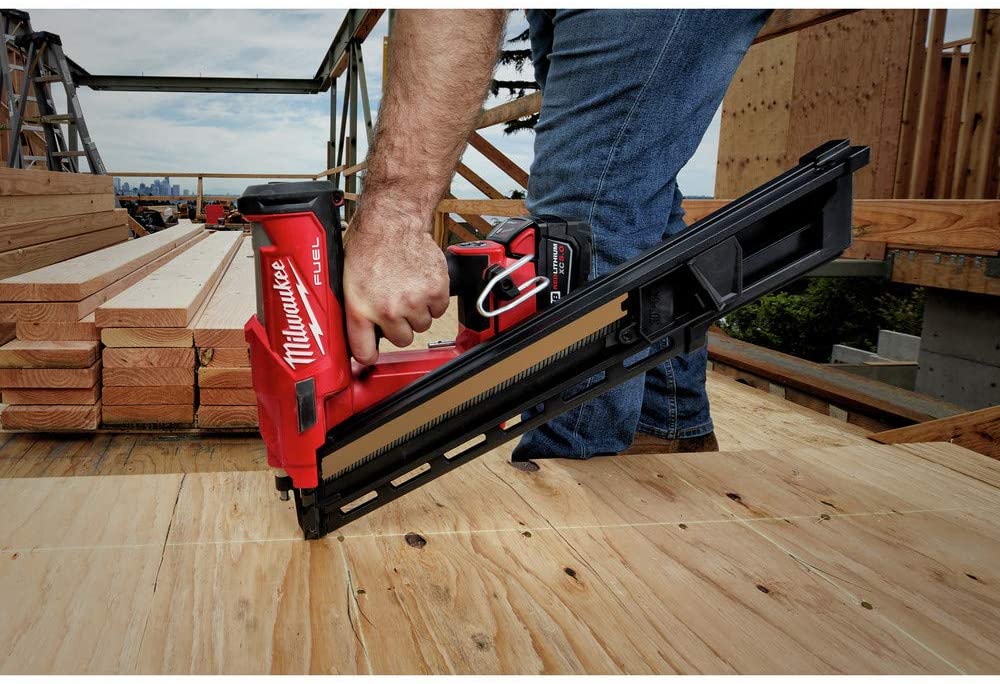 What the Users Say
The quality of this M18 FUEL framing nailer speaks for itself, but that doesn't stop its users from singing its praises as well. We've rounded up some popular opinions from around the internet to give you an idea of what kind of product you are purchasing.
"Having no ramp-up time between firing the nails makes this gun super quick and gets the job done fast."
"This nailer is heavier than most others, but it's a small tradeoff for not having to deal with air compressors anymore."
"Heaviness aside, the nailer is super durable, and the kit comes with a great battery."
"The bag this kit comes with isn't the greatest, but the nailer works fantastic!"

Conclusion
Overall, you'll see that the M18 FUEL nailer is a fantastic buy. The only real common complaints about it are the weight and the bag quality. These are outweighed by far when you consider the extended capacity battery the kit includes. Not to mention, the FUEL line is made for heavy commercial use. So if you are looking for a reliable framing nailer to get the job done, then this Milwaukee framing nailer kit is worth considering.