DeWalt vs Milwaukee: Which Power Tool Brand is Better in 2023?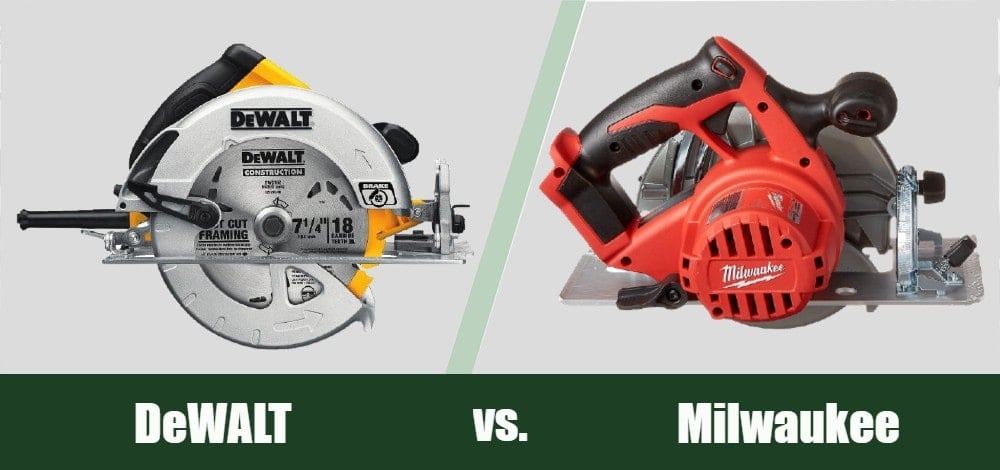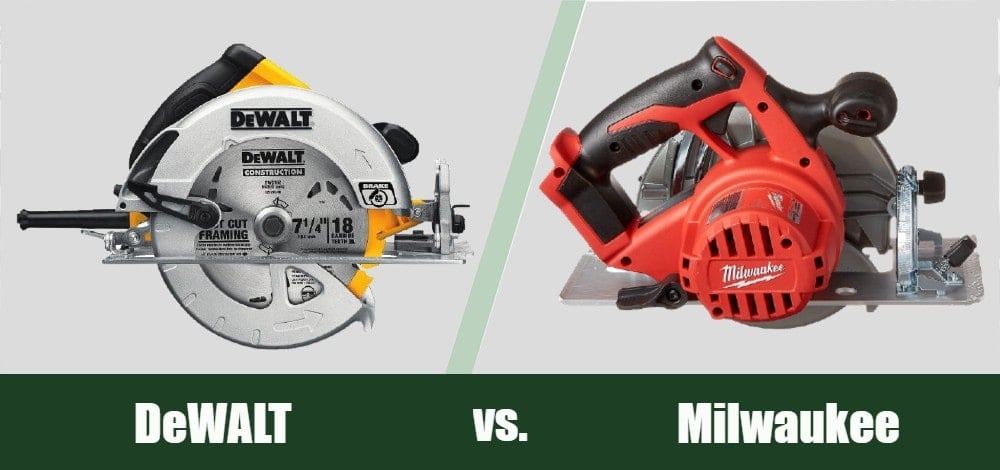 Look in a professional's tool bag, and you're likely to find a lot of tools from either DeWalt or Milwaukee tools. Professionals have trusted these two brands for years, and it doesn't look like that's about to change soon.
DeWalt and Milwaukee are known for making top-notch power tools built to withstand the rigors of professional daily use. Far from bargain brands, these are the companies you choose when you prioritize quality over price. While both brands are loved and used by professionals, neither is perfect. The real question is: which brand is better in 2023?
To find out, we're going to compare these two tool manufacturers on pricing, longevity, and warranties to see how they stack up. We'll even go a step further to pit similar tools from each company in head-to-head comparisons so you can get a feel for each company's offerings.

A Quick Comparison
Image
Product
Details

DeWalt

Established: 1924
Headquarters: Towson
Maryland
Popular Product Lines: 20V MAX XR
FLEXVOLT
Major Subsidiaries: Stanley
Black & Decker
CHECK PRICE

Milwaukee

Established: 1924
Headquarters: Brookfield
Wisconsin
Popular Product Lines: M18
M12
M18 FUEL
Major Subsidiaries: Techtronic Industries
CHECK PRICE
Brief History of DeWalt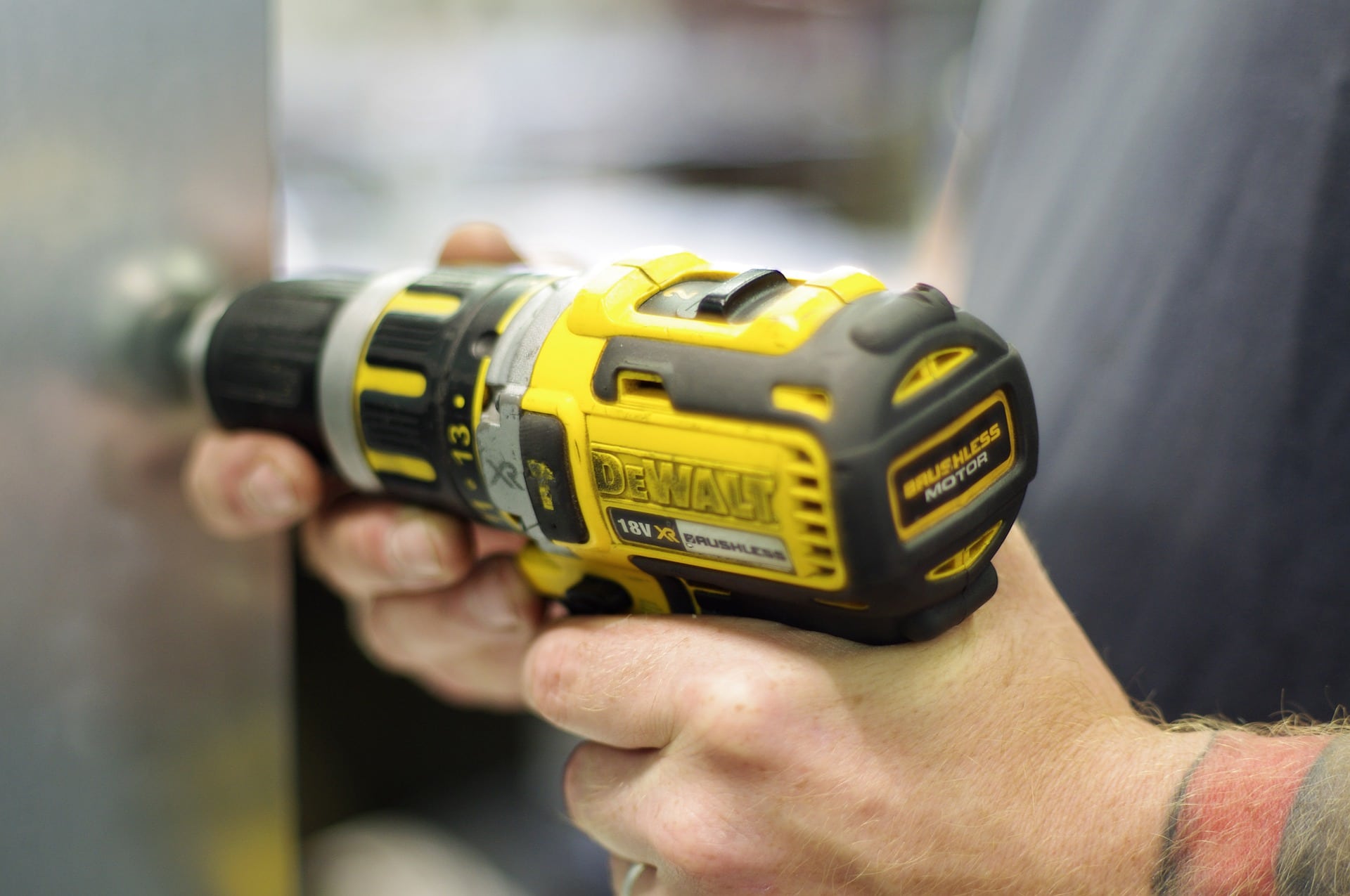 DeWalt tools was first created in 1924 by Raymond DeWalt. He had recently finished building an electric universal woodworking machine two years earlier, which became known as the "Wonder Worker." This was the first tool sold by DeWalt, and it could be configured in nine different ways. At the time of DeWalt's founding, they offered only this machine and two others; a dedicated mortiser and a jointer.
In 1929, DeWalt moved to a new plant in Lancaster, Pennsylvania. From there, they began expanding rapidly, and in 1941, they fulfilled government orders for wartime machines. The company continued to grow and expand over the years, dictated by customer demand.
But it wasn't until 1992 that DeWalt offered its first line of power tools. Then, in 1994, they released a new system of 30 cordless tools, including saws, drills, drivers, impact wrenches, flashlights, and more. By 2001, the company produced over 200 electric power tools and 800 accessories.
---
Brief History of Milwaukee
Though Milwaukee power tools was founded in 1924, their story starts a little earlier with a man named A.H. Petersen. Petersen had answered a calling from none other than Henry Ford, who was looking for someone to make a smaller yet equally powerful version of the ¼-inch power drill. Petersen's invention became known as the hole-shooter, and it weighed just five pounds, which was incredible for the time.
In 1922, a man named Albert F. Siebert became Petersen's partner, and they founded the A.H. Petersen Company, which was doomed to fail just one year later when their manufacturing plant was destroyed by a fire. Seibert purchased the remaining assets at auction and used them to reopen the company as the Milwaukee Electric Tool Corporation.
For a long time, the company survived mostly by repairing tools, rather than producing them. But in 1930, they obtained a higher equipment specification rating from the U.S. government. They produced several innovative tools throughout the next few decades, including a ¾-inch electric hammer drill and a sander/grinder that weighed only 15 pounds.
Then, in 1951, Milwaukee set a new bar by inventing the first Sawzall reciprocating saw. They continued to grow, opening several more manufacturing facilities through the '60s and '70s as they produced new and exciting products, keeping them on the frontlines of the power tool world for many decades, which continues today.

DeWalt vs Milwaukee: Manufacturing
DeWalt
DeWalt is an international company that sells its tools across the globe. They have manufacturing facilities in many countries, including the United States, Czech Republic, United Kingdom, China, Italy, Mexico, and Brazil.
Of course, many DeWalt products are manufactured in America. In the United States, DeWalt has six manufacturing plants. These are located in Tennessee, Kentucky, Maryland, North Carolina, South Carolina, and Connecticut.
In their U.S. plants, DeWalt produces their most popular tool, the DCD780C2 20V MAX Lithium-Ion Compact Drill Driver Kit, as well as many others. By maintaining factories in so many countries, DeWalt can ensure a steady supply of tools for many industries located in various places across the world.
Milwaukee
Milwaukee power tools is a foreign-owned business. They're owned by Techtronic Industries, which is a Hong Kong-based company that's also responsible for several other well-known brands, including Ryobi and Hoover. However, Milwaukee tools has been headquartered in the U.S. since its inception, which continues to this day.
In America, Milwaukee has three separate manufacturing plants. These plants are in Greenwood, Missouri, Jackson, Missouri, and Mukwonago, Wisconsin. In just the last 5 years, Milwaukee has invested $47 million into its U.S.-based operations, which are responsible for many components vital to their global manufacturing efforts. The Milwaukee plant in Greenwood, Missouri, is nearly 400,000 square feet and keeps 670 people employed.
---
DeWalt vs Milwaukee: Product Line
DeWalt
20V MAX
The 20V MAX lineup is the bread and butter of DeWalt's power tool offerings. These are the go-to tools for many professionals and hobbyists alike. You can find a wide range of tools in this lineup, including drills, drivers, circular saws, impact wrenches, angle grinders, and more. All of these tools use the same 20V MAX battery packs, allowing you to power any tool in the lineup with a single battery.
60V MAX
When you need a lot of extra power, the kind of power that never used to be available in a cordless tool, the 60V MAX lineup is there to answer the call. This lineup includes powerful tools like framing nail guns, air compressors, job site radios, circular saws, track saws, rotary hammers, stud and joist drills, and even specialty tools like pipe threaders.
FLEXVOLT
FLEXVOLT battery packs are dual voltage battery packs that can be used with any tool in the 20V MAX or 60V MAX lineup. This means you can power practically any cordless DeWalt tool with a single battery pack, eliminating the need for carrying multiple types of batteries and their applicable chargers.
---
Milwaukee
M12
The M12 lineup is Milwaukee's smaller, lighter-duty line of power tools. These tools are ideal for home use or for light professional use. They're much smaller and lighter than 18V or 20V power tools, but they're also less powerful. This lineup includes all of the basics, such as drills, impact drivers, jigsaws, flashlights, multi-tools, and even a crown stapler.
M18
M18 represents Milwaukee's main lineup of power tools. These 18-volt tools offer loads of performance in a mid-sized package. Tools included in this lineup are impact wrenches, impact drivers, angle grinders, jigsaws, routers, multi-tools, Sawzalls, and more.
M18 FUEL
You can think of the M18 FUEL lineup as the M18 lineup on steroids. The tools with the FUEL designation feature some drastic improvements, including brushless motors, REDLINK PLUS intelligence hardware and software, and special REDLITHIUM battery packs. They offer improved performance, longevity, and efficiency over the standard M18 lineup for the ultimate in Milwaukee power tools.

DeWalt vs Milwaukee: Price
Both of these brands are considered premium tool manufacturers. They both offer premium tools, and neither brand really has a "budget" lineup. The Milwaukee 12V lineup offers some of the lowest prices between these two brands. But if you compare the main offerings from Milwaukee and DeWalt, the Milwaukee tools tend to be a bit more expensive.
DeWalt
DeWalt doesn't sell any budget-priced tools. However, they have some affordably-priced options, such as the DCF885C1 impact driver kit or the DCD771C2 drill/driver kit. Both are available for less than $100 and include the main tool, battery, charger, and carrying case.
On the premium side of things, DeWalt has many offerings, including the DCN692 cordless framing nailer and the DCK299M2 kit that includes brushless versions of an impact driver and hammer drill, as well as two batteries and a charger.
Milwaukee
If you're budget shopping, the M12 lineup from Milwaukee offers affordable and compact tools, though they lack the power of the stronger M18 lineup. But just because they're small doesn't mean they're always cheap. Some are priced affordably, like the 2462-20 M12 impact driver, while others cost more than most 18-volt options.
The M18 FUEL lineup is Milwaukee's premium offering, including some very expensive tools like the 2767-20 impact wrench and the 2997-22 hammer drill and impact driver kit, which is quite a bit pricier than DeWalt's most similar offering.
---
DeWalt vs Milwaukee: Warranty
Both of these companies produce power tools that are built to withstand daily abuse in a professional setting. As such, they both include decent warranties with all of their products, though Milwaukee's warranty covers your tools for longer.
DeWalt
The basic DeWalt warranty protects all of their power tools for a period of 3 years from purchase. This warranty covers defects from faulty materials or workmanship but does not cover normal wear and tear or tool abuse. DeWalt will repair the tool without charge if your tool meets the requirements.
Milwaukee
The Milwaukee warranty covers their power tools for 5 years from the date of purchase. This warranty covers repairs and replacements on any electric power tool that is defective in material or workmanship. Again, wear from normal use and misuse will not be covered under the warranty.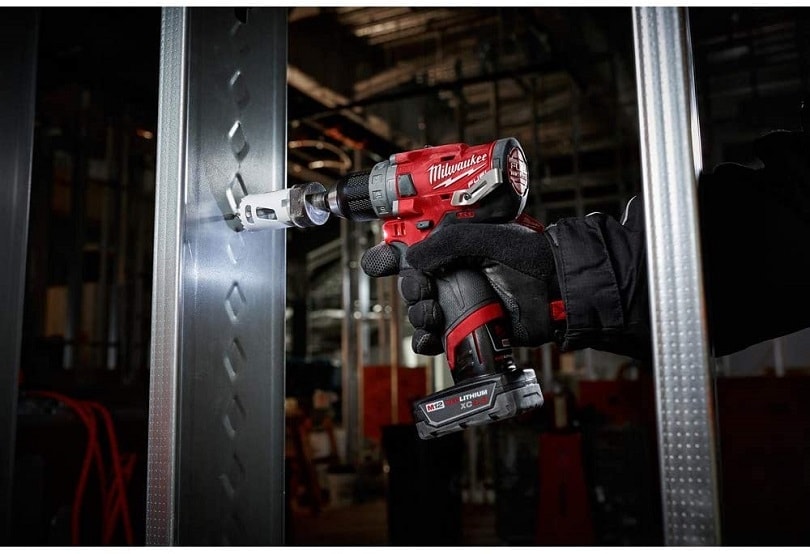 DeWalt vs Milwaukee: Customer Service
As tool companies known for supplying professionals, both brands offer top-notch customer service.
DeWalt
DeWalt has an online portal that allows you to begin repairs, register a tool, or find replacement parts. But they take 24 hours or longer to respond once you start the wheels in motion, which can be annoying for someone who needs immediate help.
Milwaukee
Milwaukee guarantees that repairs are completed in less than 10 days. Once finished, they'll ship the product directly to your door. They also have an eService center that's available 24/7, so you don't have to wait on hold and deal with frustrating automated systems.

Head-to-Head: Cordless Drill Combo Kit
DeWalt DCK240C2 vs Milwaukee 2598-22 M12 FUEL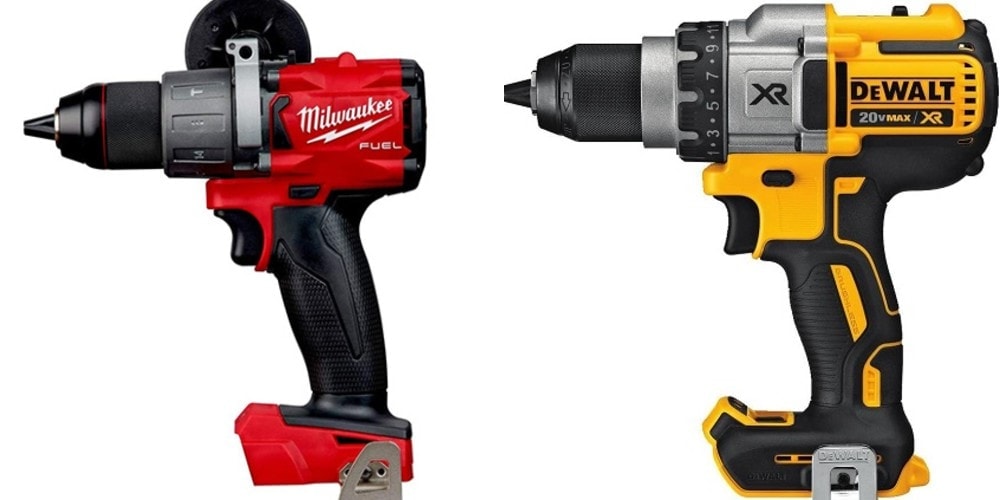 The DeWalt DCK240C2 kit is part of their 20V MAX lineup, and it includes an impact driver, a drill, two batteries, a charger, and a carrying case for an affordable price. Meanwhile, the Milwaukee 2598-22 kit includes a hammer drill, an impact driver, a single 12-volt battery, and a charger for a considerably higher price.
The DeWalt impact driver provides 3,200 impacts per minute and a no-load speed of 2,800 RPM, while the Milwaukee impact driver offers a max speed of 3,300 RPM. However, the DeWalt manages 1,400 inch-pounds of torque while the Milwaukee tops out at 1,300. At 1.76 pounds, the Milwaukee driver is a full pound lighter than the DeWalt, though they're both just over 5 inches long.
Comparing the drills, the DeWalt lags behind with a max speed of 1,500 RPM compared to the 1,700 RPM top speed from Milwaukee. The DeWalt drill is a bit shorter and heavier, measuring 5.55 inches at 2.8 pounds, compared to the Milwaukee, which is 6.6 inches long and weighs just 2.3 pounds.
Our Verdict: Both kits offer great performance, but the price difference is drastic. Considering the huge price gap, the DeWalt kit offers far better value.

Head-to-Head: Brad Nailer
DeWalt DCN680B 18-Gauge vs Milwaukee 2746-20 18-Gauge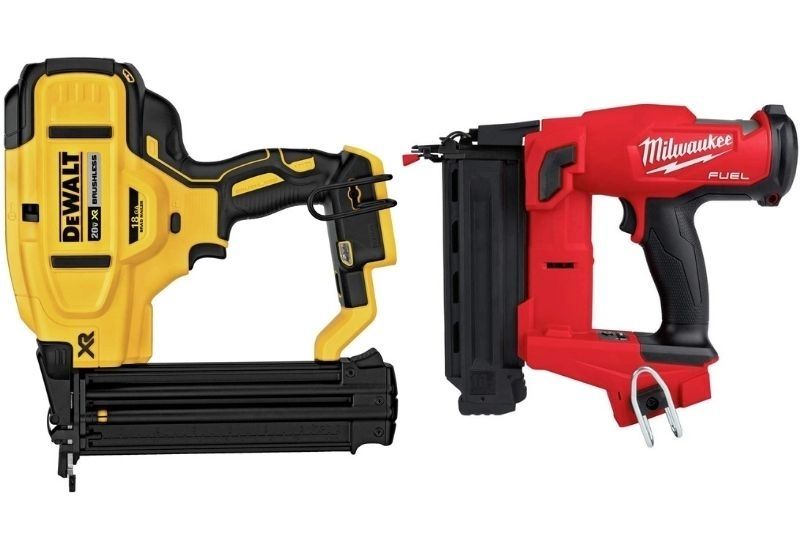 These nailers are designed to drive 18-gauge brad nails, but there are some stark differences between the two models. For instance, the DeWalt nailer weighs 5.3 pounds, while the Milwaukee version weighs a hefty 6.3 pounds. After a few hours, that extra weight will become a serious burden. However, both tools are approximately the same size.
You'll get similar features on both tools, including tool-free depth adjustment and jam clearing. Similarly, both tools are built with brushless motors that offer efficient performance and long lifespans.
Of course, each of them is superior in its own way. The DeWalt, for instance, has a built-in LED work light to illuminate your space while you work. This feature is missing from the Milwaukee, but it can shoot an impressive three nails per second, which is much faster than the DeWalt can cycle.
Our Verdict
The feature sets offered by these two nail guns are pretty similar, and both of them will serve you well for years. However, once again, there's a pretty major price discrepancy. Since DeWalt offers similar performance for a much lower price, we have to give the edge to DeWalt.

Head-to-Head: Circular Saw
DeWalt DCS570B 20V MAX vs Milwaukee 2631-20 M18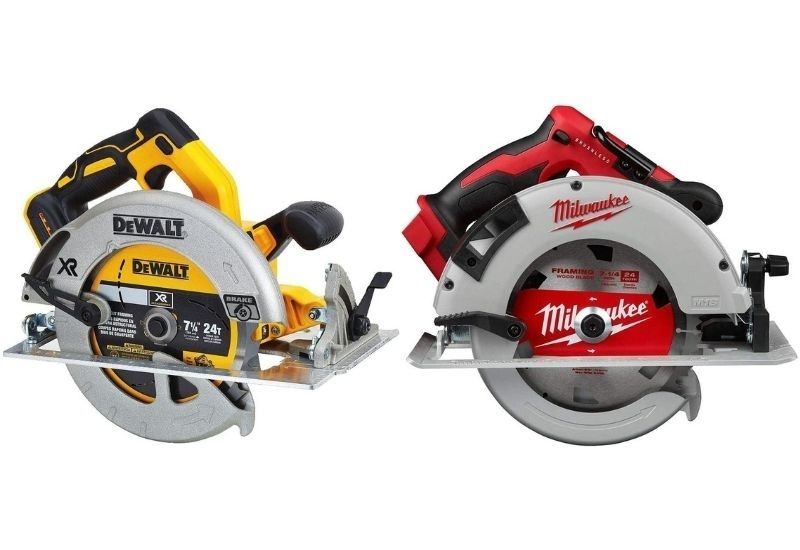 There are more similarities than differences when comparing these two circular saws. And for once, the price difference is minimal, though the DeWalt is still the more affordable option. Both of these saws utilize 7-1/4-inch blades and feature brushless motors. Similarly, both weigh in at 7.5 pounds with no battery.
The DeWalt DCS570B offers a 2-9/16-inch depth of cut compared to the 2-1/2-inch depth of cut from the Milwaukee. But that's only a difference of 1/16 of an inch, which is negligible, but the difference is still in DeWalt's favor. We can also find a small difference in max speed, with the DeWalt managing 5,500 RPM compared to 5,000 max RPM for the Milwaukee.
Circular saws are often used for bevel cuts, though generally, a 45-degree bevel is all that's needed. With the Milwaukee, you'll get a maximum bevel of 50 degrees, which is bested by the 57-degree bevel offered by the DeWalt.
Our Verdict
The differences between these two models are minimal, to say the least. However, the DeWalt saw managed to slightly outperform the Milwaukee saw for a cheaper price, earning it the win.

Overall Brand Reputation
Performance
Edge: DeWalt
Neither of these brands is a slouch regarding performance, and comparing similar models between brands often results in a lot of back and forth. It's hard to say that either company offers superior performance definitively. However, on the models we've directly compared between the two brands, the DeWalt offering tends to outperform the most similar model from Milwaukee.
---
Price
Edge: DeWalt
There's no question that DeWalt offers far better pricing than Milwaukee. Even on tools where DeWalt had a clear performance advantage over the most similar model available from Milwaukee, the DeWalt tool was priced quite a bit lower. If you're looking at two similar tools between these brands, it's almost guaranteed that the DeWalt will be priced more affordably.
---
Warranty
Edge: Milwaukee
This is the one category where Milwaukee is the obvious winner. DeWalt's warranty is suitable, but it only covers their tools for 3 years. Milwaukee does a bit better with a 5-year warranty. However, both warranties cover only tools that are damaged by faulty materials and workmanship. Neither company will warranty a tool damaged by regular wear and tear or abuse.
---
Diversity
Edge: DeWalt
Milwaukee offers a large selection of tools that will all work on the M18 platform; there are over 150 tools in the lineup. But DeWalt beats that with a vast selection of more than 200 tools that work on their 20V MAX batteries. And if you were to count all the tools in the FLEXVOLT lineup, that number would be much higher.

Conclusion
Once you pick a power tool brand, you'll likely stick with it for a long time. After all, every tool in the lineup will use the same batteries, so you'll only have to invest in chargers and batteries once. In 2023, we think the best brand to trust is DeWalt. Their tools offer excellent performance at reasonable prices, and they're all warrantied for 3 years. Milwaukee tools are a great choice, but they can't match DeWalt's affordable prices and incredible value.
You may also be interested in: