Milwaukee M18 Leaf Blower Review 2023 – Pros, Cons & Final Verdict

Review Summary
Our Final Verdict
We give Milwaukee M18 Leaf Blower a rating of 4.5 out of 5 stars.
Build Quality: 4/5
Power: 4.5/5
Features: 4/5
Price 4/5
Milwaukee M18 Leaf Blower — A Quick Look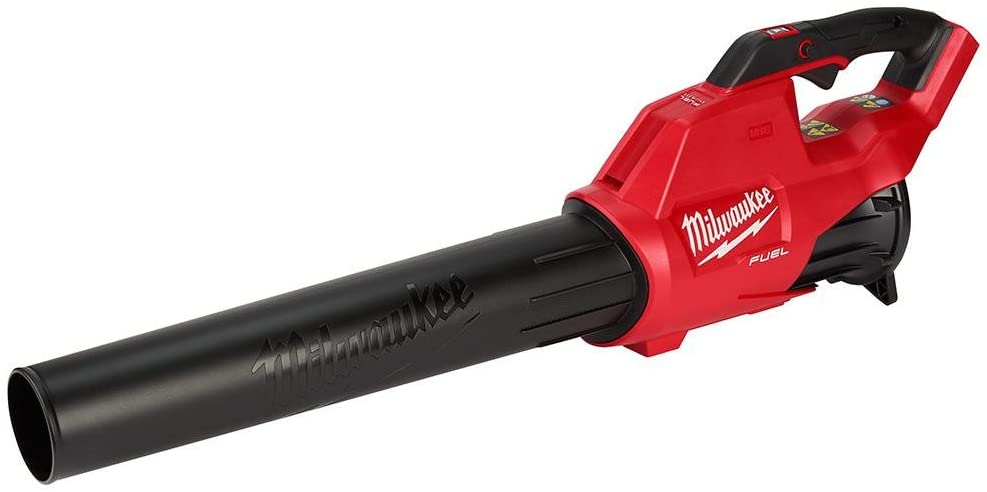 Specifications
Brand Name: Milwaukee
Model: M18 Leaf Blower
Power Source: Battery powered
Item Weight: 5.14 pounds
Air Flow Capacity: 450 cubic feet per minute
Wind Speed: 120 miles per hour
Color: Red and black
Length: 23.3 inches
Width: 10.8 inches
Height: 7.2 inches
The Milwaukee Leaf Blower is perfect for anyone who needs plenty of power to remove leaves from their yard and dirt from the driveway. It has a high-powered motor that is more than suitable for many tasks, and the Milwaukee company is well known for its high-quality tools that help you get various jobs done. If you are in the market for a leaf blower, keep reading as we discuss the pros, cons, and features of the Milwaukee M18 Leaf Blower.
Pros
Powerful blowing force
Inline design reduces air friction
Ergonomic grip
Variable speed trigger
Compatible with other Milwaukee M18 products
Cons
Loses charge quickly
Not as powerful as some other brands

Milwaukee M18 Leaf Blower Details
450 Cubic Feet Per Minute
One of the Milwaukee M18 Leaf Blower's best features is its ability to move large amounts of air. Its inline design helps reduce air friction as it moves through the machine, helping it achieve more speed and force. The package states that the M18 can move 450 cubic feet of air per minute. This much force helps it move many leaves at once with little effort.
Wind Speeds of 120 Miles Per Hour
Not only does the Milwaukee M18 Leaf Blower move plenty of air, but it also pushes it out quickly, and the package states that it can reach wind speeds of 120 miles per hour when it has a full charge. The high wind speed can push the blower back, which can be surprising the first time that you try it.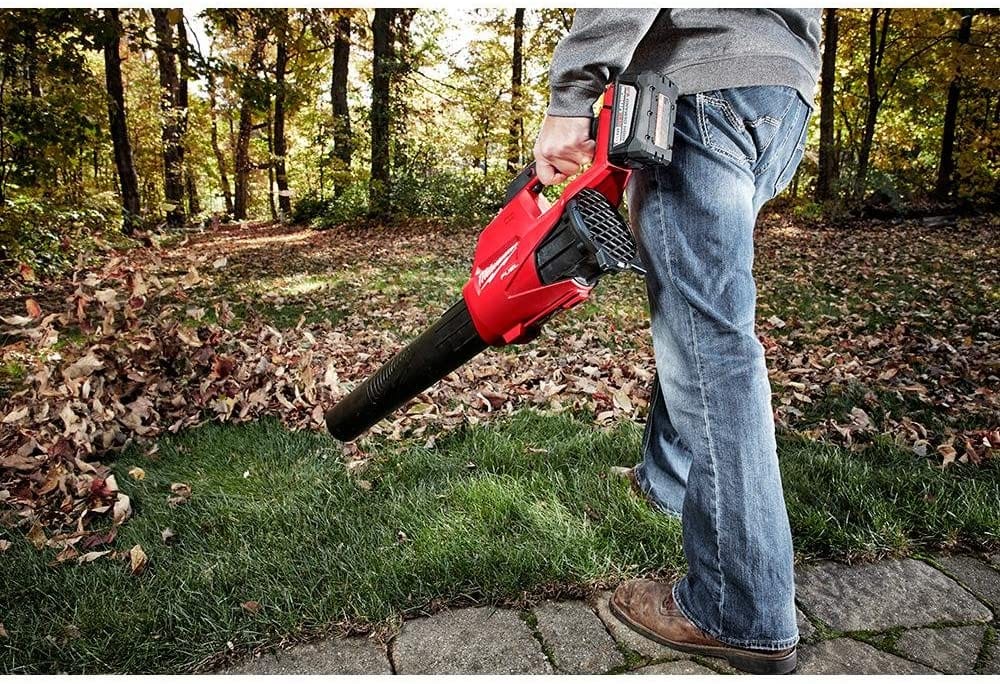 Streamlined Design
A great feature of the Milwaukee M18 Leaf Blower is its streamlined design. It's more compact, smaller, and more lightweight than the models before it, and these improvements make it more comfortable to hold while working. It's also easier to point so you get the air where you need it, and the smaller size is easier to store.
Battery Drain
One downside of using the Milwaukee M18 Leaf Blower is that it can drain the battery quickly if you keep it wide open, so you might need multiple charges to complete a task if you have a large property. The batteries are also expensive, and unless you will purchase and use other Milwaukee M18 products, it doesn't make sense to purchase extra ones.
FAQ
Can you purchase attachments, like a thinner wand?
Unfortunately, Milwaukee has not yet added attachments for this tool.
Will it work with the battery from my Milwaukee M18 Chainsaw?
Yes, you can use the battery from any Milwaukee M18 tool with your M18 Leaf Blower.
Is it good for commercial use?
If you only need to tackle various small jobs, the Milwaukee M18 Leaf Blower can provide you with the power that you need to clear a driveway or sidewalk quickly, especially if you use several M18 tools and have several batteries.
Are the battery and charger included?
It depends on the kit that you purchase. Some retailers offer a kit that includes one battery and charger, while others are barebones, containing only the blower.
What is the average runtime per charge?
The average battery runtime is about 5 minutes on full power. If you are moving lightweight debris, you can get up to 20 minutes using less power.
How long is the assembled tool?
The Milwaukee M18 Leaf Blower is 37 inches from the battery to the end of the tube.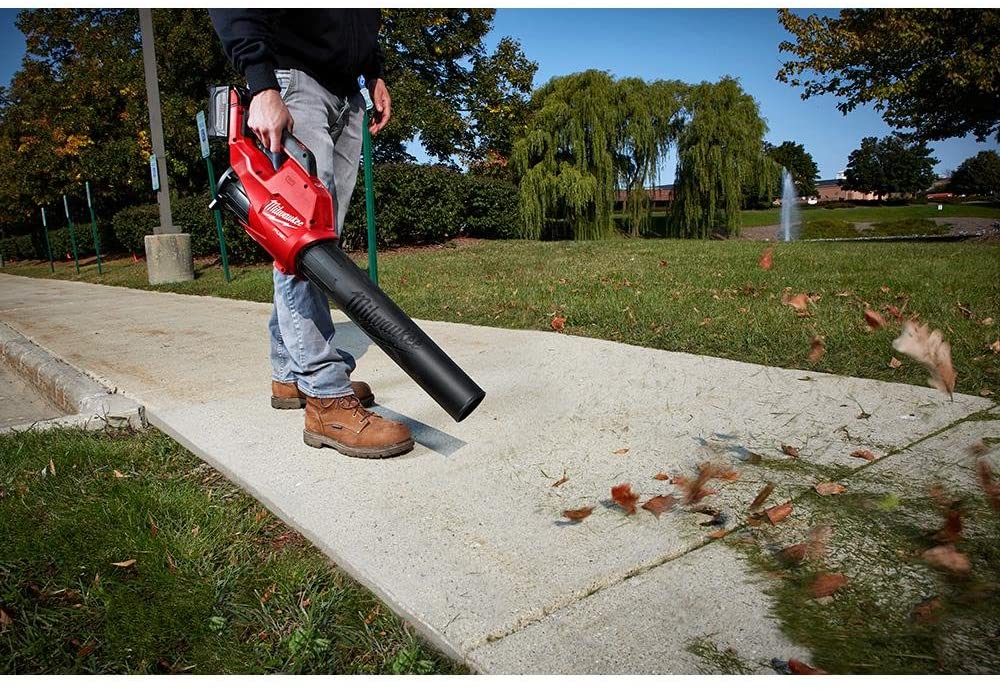 What the Users Say
We've searched the internet to find out what other people are saying. You can read some of these reviews on Amazon.
Most people feel that the Milwaukee M18 Leaf Blower has plenty of power.
Most people find it easy to operate.
Several people commented that the M18 has a solid construction.
Several people like how lightweight the tool is.
Several people commented on the ergonomic design and comfortable handle.
Some people said that the M18 has enough power to run it on a lower setting to retain battery life.
Some people mentioned that the batteries drained quickly, while others said that they last quite a while.
A few people complained that it's not great at clearing off wet grass.
A few people commented that the Milwaukee M18 Leaf Blower is much quieter than a gas-powered blower.
A few people mentioned that this isn't as strong as other, more powerful blowers.
A few people liked being able to use the same batteries in other Milwaukee M18 tools, which can help reduce overall expenses.
Conclusion
The Milwaukee M18 Leaf Blower is a fantastic tool that will make a great addition to any home. It provides you with plenty of power for cleaning off your deck, patio, or driveway, and it will also help you get rid of pesky leaves in the fall, and it's lightweight and easy to use. The battery lasts about 5 minutes at full power, which isn't long, but you can use a lower setting to conserve battery life and still get the job done. It's an especially good choice if you already have other Milwaukee M18 tools because you can save money by not needing to purchase a battery or charger.