Miracle-Gro Performance Organics All Purpose Plant Nutrition Review 2023 – Pros, Cons & Final Verdict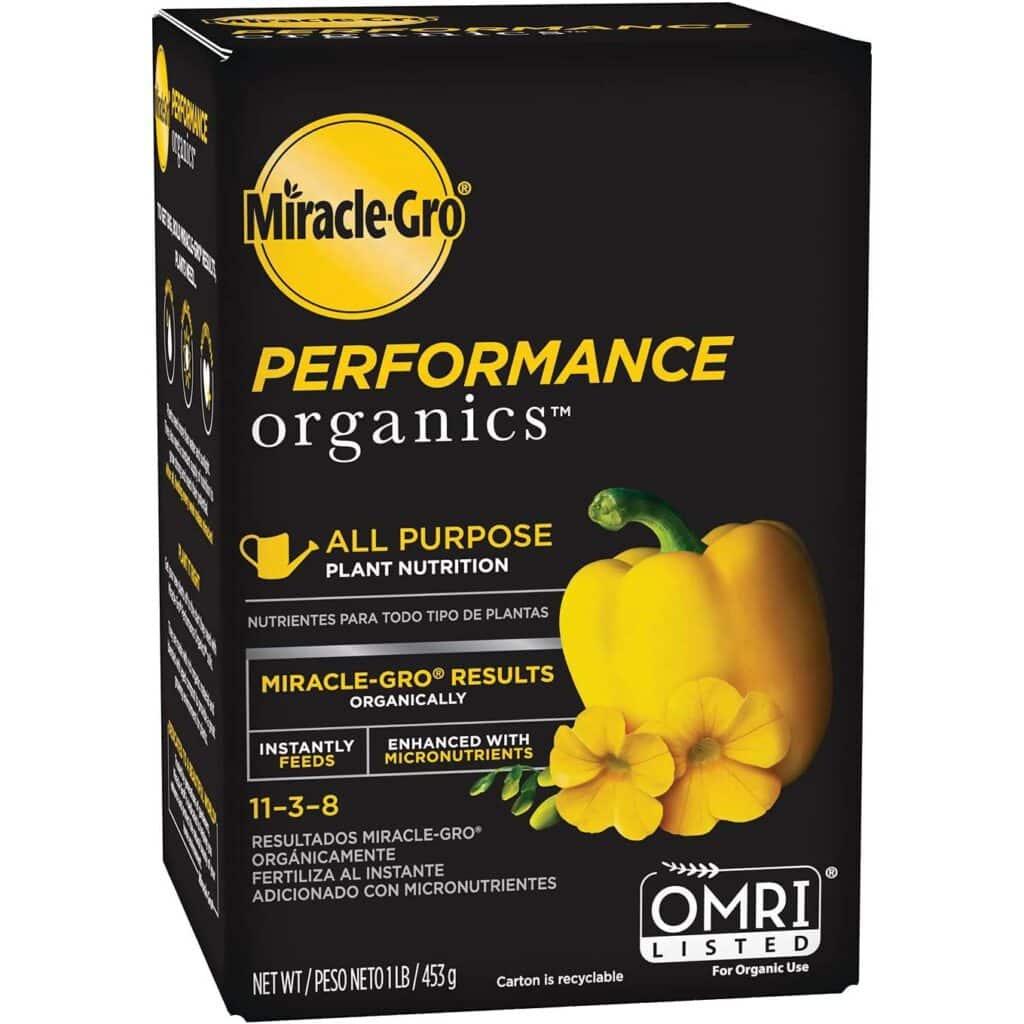 Review Summary
Our Final Verdict
We give Miracle-Gro Performance Organics All Purpose Plant Nutrition a rating of 4.5 out of 5 stars.
Efficiency: 4/5
Coverage: 4.5/5
Ease of Use: 4.7/5
Price: 4.5/5
Miracle-Gro is an established name in the gardening/landscaping market. Based in the US and owned by the Scotts Miracle-Gro Company, it makes some of the best plant nutrient supplies out there. As for the All Purpose Plant Nutrition product, it belongs to the brand's best-selling Performance Organics series. It appeals to a wide range of gardeners and can be used to nurture vegetables, fruits, flowers, and herbs.
As an organic product bundled with micronutrients like rock phosphate, hydrolyzed soy protein, and bone meal (a strong calcium source), it's 100% safe for your seeds, seedlings, and crops. Ease of use is another big pro. This is a water-soluble product. All you have to do is blend it with water, put the mix in a spray bottle, and fire away. All Purpose Plant Nutrition comes at a very reasonable price, too, and boasts extended coverage.
When used in accordance with the instructions, the solution will cover up to 200 square feet of garden space. It can be a bit messy sometimes and does have a mild odor, though. Also, make sure to store it in a dry place, as it doesn't like humidity. Other than that, Miracle-Gro did a marvelous job with this soluble plant nutrition!
Miracle-Gro Performance Organics All Purpose Plant Nutrition—A Quick Look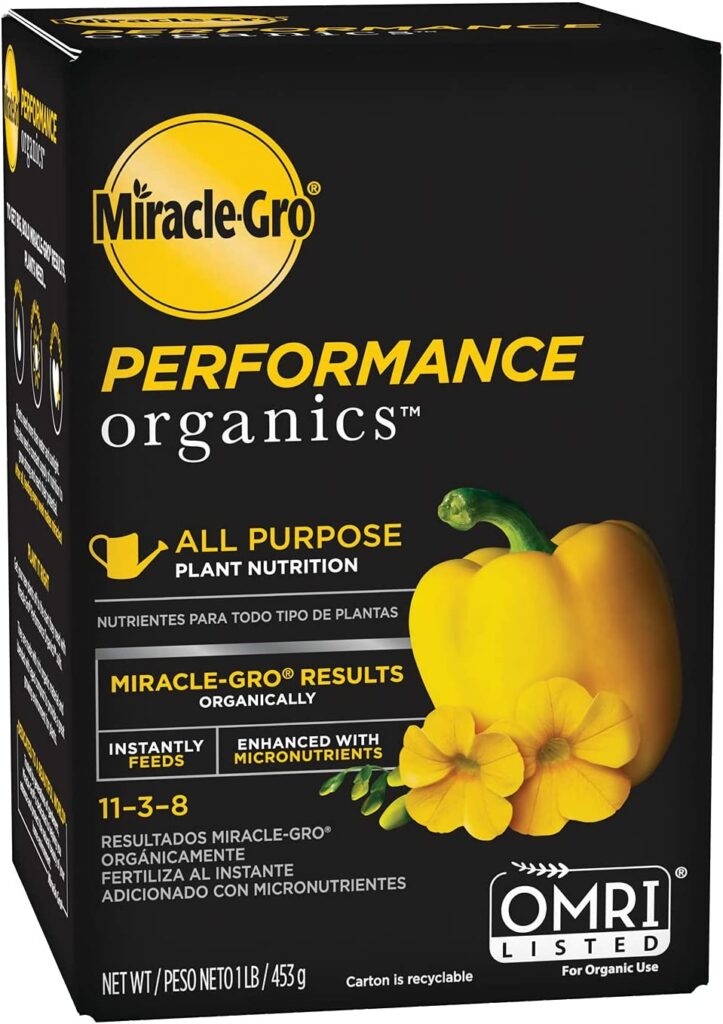 Specifications
Brand Name: Miracle-Gro
Item Weight: 0.6 pounds/1 ounce
Made in: USA
OMRI-Certified: Yes
Recyclable Carton: Yes
Feeder Included: No
Instructions Included: Yes
Nitrogen: 11%
Phosphate: 3%
Soluble Potash: 8%
Calcium: 3%
Pros
Equally effective for veggies, fruits, and flowers
Takes little time to "kick in"
Feeds up to areas of 200 square feet
100% organic compound
Enhanced with micronutrients
Above-average efficiency
Includes a user-friendly guide
Easy to use with a watering can
Available at a low price
6-months satisfaction warranty
Cons
Can be a bit messy
Has a slight odor
Needs to be kept dry

Miracle-Gro Performance Organics All Purpose Plant Nutrition – The Details
Works With Every Plant in Your Garden
Some plant foods are specifically formulated to stimulate the growth of tomatoes and peppers. Others focus on increasing crop yields of cucumbers, eggplants, and carrots. And then, you have nutrition solutions that are exclusively used for flowers and herbs. With Miracle-Gro, you won't have to worry about compatibility because this is all-purpose nutrition.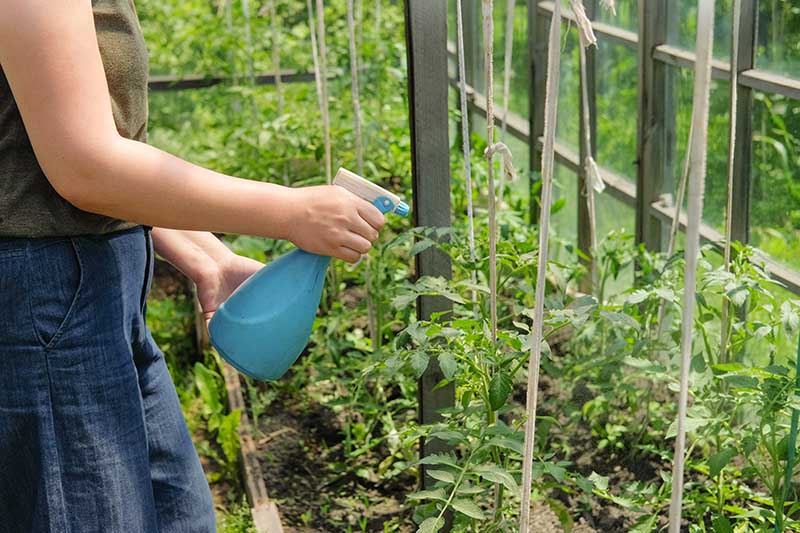 Water-Soluble Solution: Very Easy to Use
With most compost products and fertilizers, gardeners have to pour the organics right from the bag, which takes extra work. The Performance Organics plant food, in contrast, is a water-soluble solution. That's right: you mix it with water and use it as a liquid. Two scoops per gallon will be more than enough. A watering can is preferable, but a spray bottle or even a bucket will do as well. The company also sells a dedicated feeder: you can use it instead.
Strong Set of Nutrients
Any nutrition for plants is as good as its set of micronutrients. Well, you won't be disappointed by what Miracle-Gro's product comes packed with. The list of nourishments includes potassium (muriate of potash, aids in fruit development), calcium (bone meal, perfect for roots), and nitrogen (hydrolyzed soy protein). Phosphorus, in turn, (rock phosphate) helps the plants develop and bloom faster.
Every single one of these ingredients is natural and organic.
Reasonably-Priced and Backed by a Satisfaction Warranty
No need to pay a fortune to get your hands on this product. Thanks to the company's clever pricing policy, this is one of the most affordable options on the market right now. On top of that, it is covered by a very generous 6-months satisfaction guarantee. If you don't like how this plant food performs in the garden, Miracle-Gro pledges to refund the purchase in full.
Doesn't Do Well In Humid Areas
Humidity is the biggest problem for this all-purpose plant nutrition. Make sure to store it in a dark, humid place. Otherwise, if you open the bag and leave it alone in a humid area, that will turn most of it into big chunks that look like rocks. Breaking the whole thing down won't be easy. You might have to use a tiny hammer for that!
Might Have a Faint Odor
Don't worry: the smell isn't at all horrible. However, there is still a faint smell that only goes away an hour or two after you add it to the soil/plants. If you're used to different smells in the garden, that won't even be much of a con.
FAQs About Miracle-Gro Performance Organics All Purpose Plant Nutrition
How much ground does this product cover?
Every single Performance Organics plant food/supplement comes with a detailed guide. We recommend adhering to those instructions to get the most out of the product. If you do everything according to the manual, you'll be able to cover 200 square feet with a single 1-ounce package, which is quite an impressive result. It's suitable both for outdoor gardens and beds and indoor containers and pots. Use a watering can or spray bottle for maximum efficiency.
Is Miracle Gro 100% organic? Is it OMRI-Certified?
Yes, this is an organic product, one that's enhanced with micronutrients to increase efficiency. The micronutrients also ensure instant results. Next, the Miracle-Gro all-purpose plant food solution has an OMRI certificate. This is a non-profit organization that reviews inputs (materials and substances) made for boosting plant growth. So, what does this certificate mean? It ensures that you can use the product to feed an organic garden.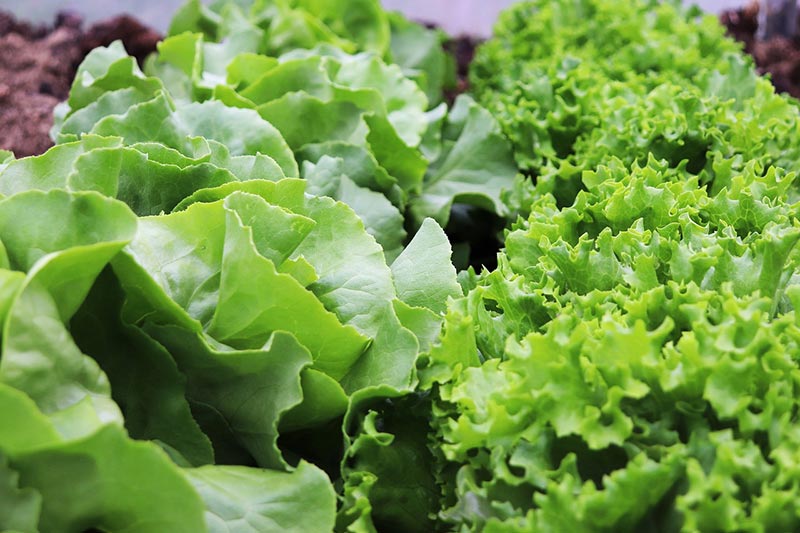 What is the Nitrogen-Phosphorus-Potassium ratio?
The N–P–K ratio of this all-purpose plant nutrition is 11–3–8. That means it includes 11% nitrogen, 3% phosphorous, and 8% potassium. The higher percentage of nitrogen indicates it's intended for wide application and can feed a long list of plants. The best time to use Miracle-Gro's food will be in early spring when you want to stimulate growth.
What the Users Say
Before we sum things up, let's take a quick look at what regular gardeners have to say about Miracle-Gro's product. Our team took its time reading user feedback on forums and checking unbiased reviews to learn how the average customer feels about this product. And the one thing that the vast majority of buyers point out is that the Performance Organics water-soluble plant nutrition is equally efficient, effective, and long-lasting.
American farmers and gardeners also appreciate the ease of use, affordable price, and included manual. The generous warranty gets recognition as well, along with the fact that this is an organic-friendly product made in the United States. As for the cons, they match the verdict of our experts. People name the odor the biggest downside (it's not very strong, but still there).
Another common complaint has to do with the nature of this plant food. When stored in a humid area, it quickly turns into a rock that takes a lot of time and effort to turn into a liquid solution. But, overall, an overwhelming number of users praise Miracle-Gro's nutrition for its low price, straightforward instructions, and wide range of applications.
Conclusion
Very few plant nutrition products can compete with Miracle-Gro. Despite the mild odor and slightly messy nature, this solution offers a great bang for the buck and can feed up to 200 square feet of flowers, herbs, and vegetables. It's a hassle-free, ready-steady product that's very easy to apply. This is especially true if you put it in a spray bottle or a watering can.
OMRI-Certified, US-made, and 100% organic, the Miracle-Gro product is very efficient and is covered by the company's 6-months warranty. That's exactly what makes it a go-to choice for many gardeners across the country.
---
Featured Image Credit: Amazon