Dremel 4200 vs 4300 Rotary Tool: Which One's Best?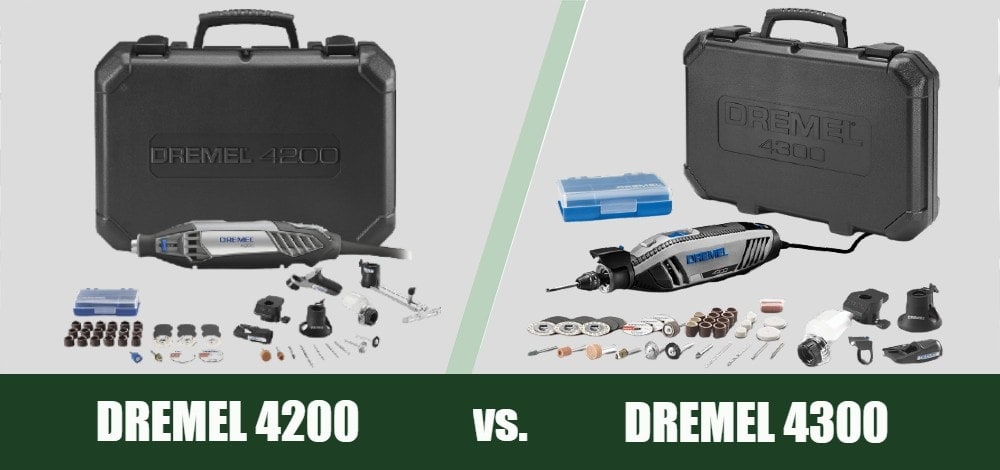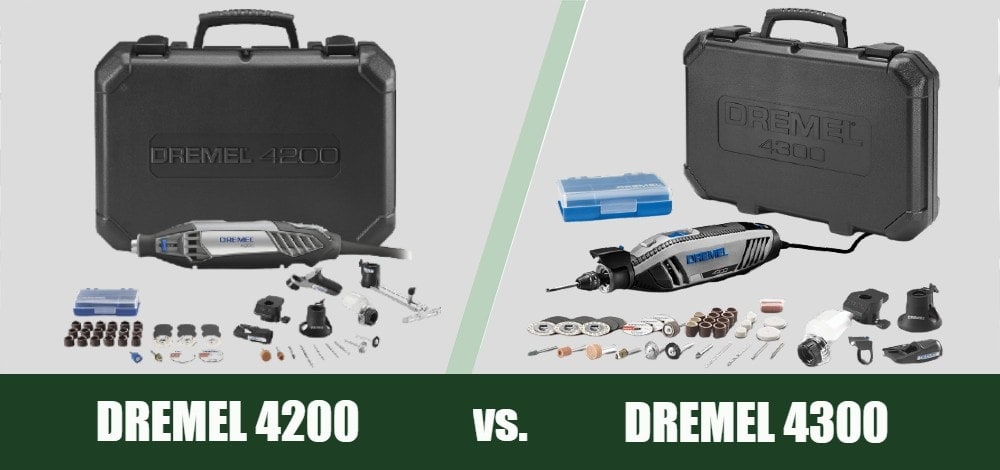 | Rating | Image | Product | Details | |
| --- | --- | --- | --- | --- |
| The Winner | | Dremel 4300 | Variable speed,More powerful motor | CHECK PRICE |
| The Runner-up | | Dremel 4200 | Versatile,Tool-less accessory and attachment changes | CHECK PRICE |
When it comes to high-speed rotary tools with a seemingly infinite array of attachments and accessories, Dremel is to these tools as Xerox is to copiers. Both companies set the standard years ago and continue to offer quality products today. Dremel offers 251 accessories and attachments for its rotary tools, quite a change from simple razor sharpening. If you need to do any sanding, drilling, routing, etching, engraving, cutting, scraping, grinding, sharpening or cleaning/polishing, Dremel has you covered.
The comparison today is between two of Dremel's handheld rotary tools, the 4200 and the 4300. In form and function, these are the direct descendants of earlier Dremel rotary tools like the Moto-Tool 280. With a fine heritage like that, you can rest assured either tool will handle your jobs precisely and with ease.
The question is, "Which is the best tool for your particular needs?" Both are quite similar in certain respects, and either will serve you well. However, the 4300 may be worth top consideration for its enhanced features.
Dremel jargon guide – feel free to skip if you are an experienced user!
Attachments are items that enable the Dremel to perform tasks different from its native straight-line action. For example, Dremel offers a 90o adapter to allow drilling and grinding at right angles, something useful in tight quarters.
Accessories are tools you insert into the collet or chuck for different tasks, such as sanding disks and diamond burrs for different finishing needs.
What are the differences between them?
A good way to determine the winner of a comparison contest is to award points for the best performance in a particular category. You can think of it as the Oscars for tools, without the red carpet and tiresome acceptance speeches. So, here goes this Tool-Oscar show with the 4200 and 4300 nominated for "Best Rotary Tool" to meet your needs.
Power – Point to the 4300
Both tools provide the same 5,000-35,000 RPM speed range. The motors in each use ball bearings for longer life and quieter operation. The 4300, however, grabs the first point for having a 1.8 A motor versus 1.6 A for the 4200. "I want to thank my Dremel engineers…" No speeches, remember?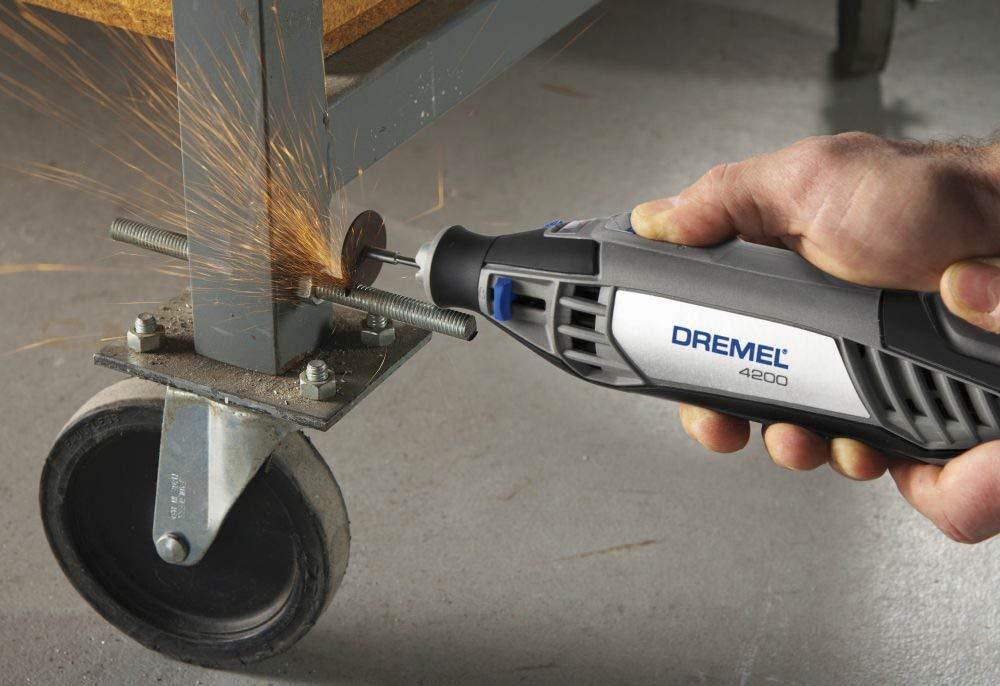 Accessory and attachment changes – Point to the 4300
Dremel equips the 4200 with a tool-less collet to speed up changing your working tools. This innovation does away with the need for a wrench to loosen the collet. However, the design of the tool-less collet prohibits the use of some Dremel attachments. The 4300 brings you a three-jaw chuck, similar to what you find in drills. Instead of swapping out collets to match the shaft diameter of your accessory, you adjust the opening of the chuck's jaws. This means no limitations on use of Dremel attachments and faster changes to get your project completed faster.
New and improved features – Point to the 4300
The 4300 garners its third point for including a work light module, improved airflow for cooler operation, and electronic feedback on the variable speed control enabling the tool to provide consistent RPM regardless of tool load. All these features are designed to improve visibility, control, and accuracy, so every project turns out flawlessly. No wasted stock and fewer frustrations are always welcome in the shop and crafting area.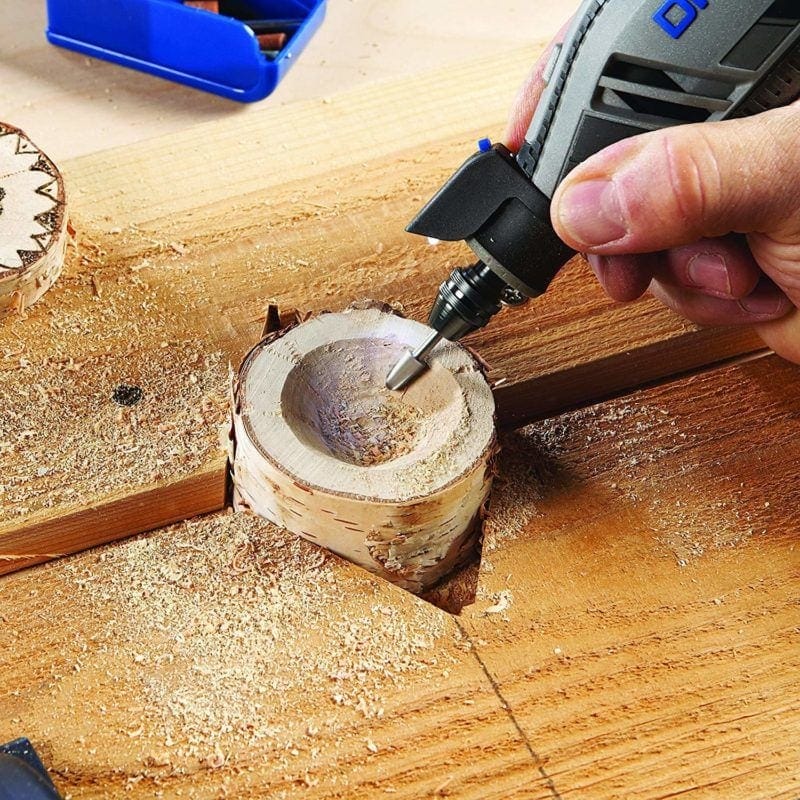 Durability – It's a tie
Dremel builds both contenders with longevity in mind. Dremel uses rugged materials and has great quality control. The company doesn't expect you to have any issues, but if you do, it has terrific customer support and an excellent two-year warranty.
Price – Point to the 4300
Even with its poorer features and capabilities, you can expect to pay more for the 4200. Dremel likes to sell its tools in "kits" that feature several different attachments and accessories. The intent is to enable you to select the combination of items you prefer. This practice can make it tougher to compare prices because of the wide variations among kits offered for each tool.
Quick Rundown of the 4200:
Pros
Tool-less accessory and attachment changes
Cons
Not able to use all Dremel attachments
More expensive
Quick Rundown of the 4300:
Pros
More powerful motor
Chuck vs. collet
Cons
1' shorter electric cord
Heavier and larger
What the Users Say
Are you thinking, "This is too good to be true? The 4300 can't be that much better for a lower price. Something has been sacrificed somewhere, so when will it come back to haunt me?"
We hear you and have gone looking for reactions from folks who own and use each tool. What follows is a summary of the key comments that will help inform your purchase decision.
When it comes to positive comments for the 4300, users like being able to use their existing attachments and accessories. They mention the chuck, the power, and the excellent quality. The 4200 receives similar comments concerning quality, capability, and power.
Both tools receive negative scores from users on motor issues. Here the primary complaint is premature failure. There are issues users note with the 4200's tool-less collet system not being as easy to use or as robust as it should be. For the 4300, users complain about the use of plastic threads in critical areas that will, in their experience, lead to damage and loss of ability to change accessories and attachments.
A tip from the world of motors with brushes
It is important to follow the manual's instructions about "breaking in" the motor, or more importantly, its brushes. For proper operation, the brushes must fit the commutator (rotating coil) as precisely as possible. The manual's instructions help you do this, providing the longest life for your tool.
Conclusion
The 4300 represents a better value in every category. It swept our competition and sweeps user comments as well. Enhanced features like the work light, the chuck, and the more powerful motor, combined with no limits on the use of attachments, place this tool miles ahead of the 4200. You won't regret investing in this Dremel.
In-depth reviews of the models:
Dremel 4200 Rotary Tool Review
Dremel 4300 Rotary Toolkit Review