19 Modern Gothic Interior Design Ideas (With Pictures)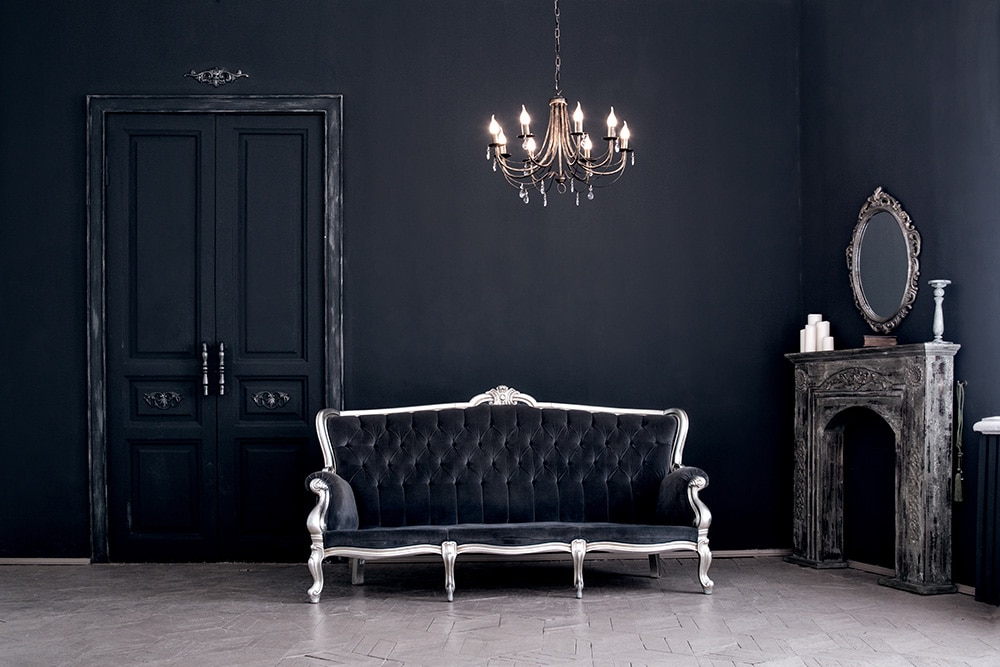 Gothic architecture has experienced a revival, albeit with a few contemporary twists, and modern gothic interior design isn't the reserve of spooky stately homes or imposing cathedrals anymore. It is impactful and characteristic, and a modern gothic room can be romantic and opulent. It can even, with a few twists, be used in smaller rooms without leaving the space feeling like the inside of a coffin.
Below are 19 modern gothic interior design ideas to help you bring a little macabre style into your life.

About Gothic Design
Gothic design never really goes away. It was popular around Europe in the Middle Ages, when style tended to follow church and cathedral design. It became popular again in Victorian England and is enjoying a renaissance once again in 21st Century interior design.
Think pointed arches, wood paneling, and stained glass. And, while dark colors are definitely featured, they don't have to adorn every surface, and you don't have to be limited to black. Purple, deep reds, and dark blues and greens are all consistent with the Gothic color palette.
The Top 19 Modern Gothic Interior Design Ideas
The Room
1.

Use Black and Dark Accents
Gothic design relies heavily on dark colors, including black, but unless you have a very large room and a serious penchant for the macabre, you probably won't want black wallpaper, black floor coverings, and black ornaments—it will be too much. You can still achieve the modern Gothic style with the use of black and dark accents. Add dark curtains, a couple of dark vases, and a dark wrought iron radiator and you will get the look while still allowing light into a room.
---
2.

Don't Make It Too Dark
No matter how much you love the Gothic style, there is still such a thing as too dark. It effectively sucks in all the natural light even if you do have the curtains open, and if everything is too dark, it means that you won't be able to see the ornaments and other features in the room. Of course, if Gothic really is your thing, you may still be able to pull off the dark-room look.
---
3.

Ditch the Modern Doors
Gothic architects, especially those responsible for designing cathedrals, loved their doors. They tended to be large, heavy, and made from carved wood. They had intricate designs. A Gothic door not only sets the mood inside the room, but it introduces the scene. While you might struggle to fit a traditional cathedral door inside your home, you should ditch the modern, plain door. Introduce an arched doorway made with real wood.
---
The Walls
4.

Dramatic Wallpaper
Wallpaper is a must-have in Gothic room design. It was used extensively, and if you want an authentic look to your room, you have to have at least some of it on your walls. Consider adding a statement wall rather than penning your room in with paper on every surface. Stick to darker colors, but if you don't want black walls, you can opt for burgundy, dark blue, or purple walls. Some wallpaper designs stand out on their own and may even look too busy if covered with art and ornaments.
---
5.

Wood Paneling
Wood wall paneling conjures up images of castles and vampiric stories, both of which are right in the Gothic playhouse. If you do opt for wood panels, ensure that you use a dark wood, and consider introducing a Gothic arch design to the panels to give it a really authentic look.
---
6.

Ornate Fireplace
The fireplace is an excellent opportunity to introduce an element of Gothicana to a room. Fireplaces would have been carved and made from a heavy material like wood or stone. And, of course, they would have been dark in color. Just because you don't have a fire in your room, doesn't mean you can't have a fireplace effect, either.
---
The Windows
7.

Arched Windows
The Gothic arch is one of the most recognizable components in this style of architecture, and if your budget will stretch, adding arched windows to your room really will give it the appearance of an old cathedral. Another benefit of a big arched window is that it can be used to fill an otherwise dark room with natural light.
---
8.

Heavy Velvet Curtains
Good windows need good curtains, and if you're looking for a Gothic finish, those curtains not only need to be made from a dark material but a heavy one. Velvet drapery is popular, but you will need a suitably strong curtain pole that can take the weight. The look can also benefit from decorative, heavy curtain ties and similarly effective tie hooks.
---
9.

Stained Glass
Proper stained-glass windows with their lead calms are incredibly expensive and the art of stained glass production is dying down. But there are some good-looking modern equivalents that, while still pricey, are less expensive than a reclaimed church window. They're also easier to care for and can be repaired or replaced more easily in the future.
---
The Floors
10.

Wood Flooring
Wood flooring is another big expense but it's impactful and it should last for years, albeit with some regular maintenance and care. Adding dark flooring to a room can be enough to give a hint of modern Gothic design without completely enveloping a room in darkness. Ideally, the wood shouldn't be too well finished and should have a slightly rough appearance.
---
11.

Stone Flooring
Stone was prevalent in cathedral design because it was readily available, and you can recreate this in your own Gothic style. Be aware that stone not only feels cold underfoot, but it can look cold, too, so you will need to accessorize and combine it well with other materials to ensure a room still looks inviting.
---
12.

Vintage Rugs
It isn't always possible to rip up your existing floor and have timber or stone floors put in instead. And not everybody likes carpet. Rugs represent a great way to add Gothic design to your floor without the expense or the permanence of a stone floor.
---
The Lighting
13.

Chandeliers
Lighting should be low and moody. Nothing says Gothic like a giant, ornate chandelier hanging in the middle of a room or over a table or bath. Candle bulbs help to further achieve the look. Fortunately, there are smaller and less prominent chandeliers available today, which means that these are an option even in more limited spaces.
---
14.

Candles
The most authentic way to achieve this is with chandeliers, but if you have a low ceiling or a small room, you can still enjoy Gothic mood lighting by adding candles around the area. They can, of course, be functional candles, or you can use the candles for strictly decorative purposes, especially if you're worried about having open flames around the room.
---
The Accessories
15.

Fill the Bookshelf
The bookshelf is a great statement piece of furniture for your modern Gothic room. Fill it with antique books combined with some Gothic accent pieces like candles and dark roses. Whatever you fill the bookshelf with, do make sure it is filled.
---
16.

Large Arched Mirrors
Arches are everywhere in Gothic design. As well as adding them to your wood wall panels, windows, and doors, consider having a large arched mirror directly above the ornate fireplace. Or, if it's a really large piece, give it its own alcove or wall.
---
17.

Wrought Iron Furniture
Wrought iron is naturally dark and can have an ornate finish that means it is perfect for your room. While it doesn't make the most comfortable chair or sofa, you can find tables, chairs, and even pedestal sinks that use it in a visually stunning way.
---
18.

Dark Wood Furniture
As well as wrought iron, solid wood is another good choice for furniture in your modern Gothic room. The wood doesn't have to be black, although light pine won't fit the design ethos here. Typically, the furniture would have ornate carvings and it would be made from solid, stained wood, but there are modern equivalents that don't require the skills of a master craftsman and don't have the associated price tag. Alternatively, look in antique stores and thrift stores to see if there is anything that can be salvaged and used.
---
19.

Ornamental Maximalism
Don't be shy when it comes to ornaments and accessories. Black and white photos, mirrors, candles, and dark flowers can all enjoy a home in your new space, and this style of design is no place for minimalism. You can always start out small and keep buying new items to add to the room as you go.

Conclusion
Modern Gothic design borrows from traditional Gothic design and architecture, but it has the added benefit that it doesn't have to incorporate everything in a room. Add a handful of Gothic elements to any space and you can create an opulent-looking area that is reminiscent of the Middle Ages without being too overpowering. Above are 19 examples of ways that you can add a touch of macabre to your home.
---
Featured Image Credit: marina_eno1, Shutterstock