10 Most Expensive Homes in Arizona (with Pictures)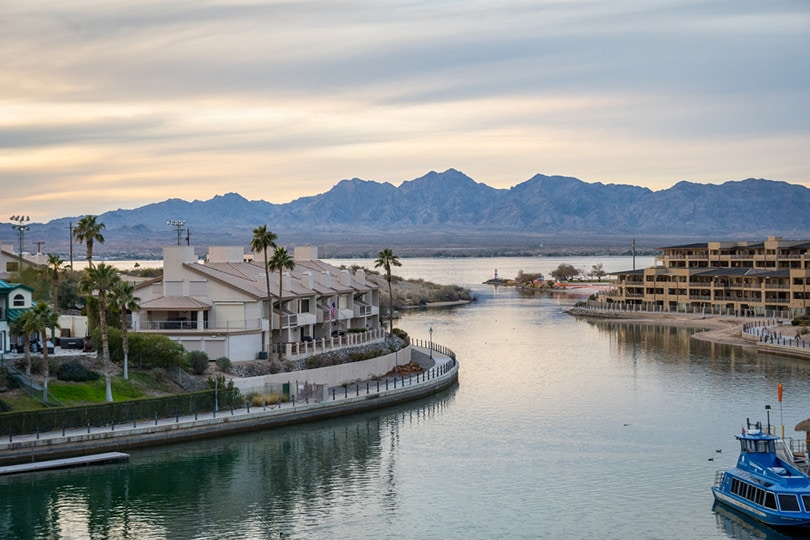 Desert and mountain homes in Arizona are some of the most desirable homes on the market. Whether someone is after a vacation destination or a full-time residence, Arizona's high-class real estate has no shortage of offerings. With cutting-edge architecture and breathtaking views, Arizona's luxury homes are a force to be reckoned with. The Grand Canyon State offers more than just security and assets; homes like these are gateways to a luxurious lifestyle and an undeniable display of architectural design.
Arizona is full of stunning homes, and here are some of the most expensive homes in Arizona.

The 10 Most Expensive Homes in Arizona
1.

11200 E Canyon Cross Way – "The Castle on the Hill"
Features:
$21,500,000
12,617 ft2
31 Acres
This hillside masterpiece is located in a private section in the Upper Canyon Silverleaf in North Scottsdale. Priced at around $22 million, this is one of the most expensive homes in Arizona. It features seven bedrooms and nine bathrooms, bonus gaming rooms, family rooms, and a heated pool with its own gazebo. You can also find a massive dining room, a private wine room, and a separate breakfast bar in the kitchen. If that wasn't enough, this home also comes with its own guest house sitting at 1,333 Sq. Ft.
---
2.

15860 E Rio Verde Drive
Features:
$19,500,000
8,744 ft2
19 Acres
If you've ever dreamed of ranch living, this is the perfect home. This modern west lifestyle home is located in the Sonoran Desert and has been called MorDo Ranch. The primary residence was designed with an Argentinian Estancia in mind, featuring a welcoming open floor plan, individual offices, guest suits, and intimate entertaining areas. This magnificent estate perfectly balances luxury, home living, and horse ranching. MorDo Ranch offers two separate pools, a stunning greenhouse, two managers' homes, and an individual tennis court. On the estate grounds, there is a 10-stall barn, two separate corrals, and four different 5-acre pastures to explore.
---
3.

10719 E Rimrock Drive
Features:
$19,250,000
13,114 ft2
14 Acres
This stunning Scottsdale residence boasts the McDowell Mountains as an unbeatable backdrop. Offering dramatic views of the golf course, twinkling Scottsdale city lights, and the valley below, this California-style estate is a magnificent example of impeccable attention to detail and unparalleled craftsmanship. It boasts a grand entertainment space, chef's kitchen, and picturesque windows perfect for viewing the beautiful landscaping; this estate offers a bit of everything. The home has a spacious formal dining room, a family game room, a baker's prep kitchen, a wine room, and its own bar. It's located in the Horseshoe Canyon of Silverleaf.
---
4.

5021 E Arabian Way
Features:
$18,500,000
16,083 ft2
45 Acres
This home located in Paradise Valley has beautiful mountain views, fabulous grounds, and its own 120,000-gallon lily pond. With over 5 acres of land filled with lush grounds and stunning gardens, this masterpiece home is a garden lover's paradise. You can walk the stone paths and enjoy the grounds, visit the tennis and volleyball courts, or spend your day lounging by the swimming pool while enjoying the garden sightseeing. This home also has over six bedrooms, nine bathrooms, a private bar, dining room, and wine room. If you're a bookish type, there is a fully paneled library just for you!
---
5.

  5800 N Yucca Road
Features:
$18,000,000
22,500 ft2
5 Acres
This classic French-inspired estate in Paradise Valley brings classical French elegance into Arizona's Camelback Mountain area. The chateau has a private gated drive that winds past a lake and through a citrus orchard on the grounds. This home has grand formal rooms perfect for parties and elegant get-togethers, but it also has more intimate family rooms and a personal library for quiet nights. If you'd rather spend time outside, the property is encircled by towering oleanders—giving the property an impeccable sense of privacy. You can enjoy time in the sparkling pool, picturesque courtyards, or even the tennis court. This one-of-a-kind estate is a must-see, enchanting work of art.
---
6.

  9422 E Happy Valley Road
Features:
$8,100,000
9,845 ft2
25 Acres
This huge estate in Scottsdale, Arizona, uses over 10,000 square feet of space to house six bedrooms, 9.5 bathrooms, and two self-contained guest houses. This property also has its own auto-show garage to show off your vehicles. If that's not enough, this home is right in the middle of the Sonoran Desert at the base of Pinnacle Peak, where you can relax and take in the stunning views. You can even enjoy a sauna, indoor pool, and tennis court.
---
7.

5625 E Nauni Valley Drive
Features:
$11,375,000
14,256 ft2
22 Acres
This home is nestled up against the Camelback Mountains and offers stunning mountain views as enchanting as the plentiful gardens covering the estate grounds. It has seven bedrooms, 11 bathrooms, and two guest homes. Whether you're spending time in the gardens, the 3,000-bottle wine room, the library, the game room, or the theater, there is something in this estate for everybody. You won't want to miss out on seeing the beautiful French doors, glass walls, and garden views.
---
8.

5315 N Wilkinson Road
Features:
$14,000,000
16,556 ft2
24 Acres
This estate is an absolute delight for the eyes, full of beautiful cream marble and decadent wooden accents. The finessed color palette, elegant furniture, and wide-open spaces make this home breathtaking and magnificent. Custom wood paneling is the main feature in the central office and in the wooden molding of every room. The estate's beauty doesn't end with its interior decoration. The perfectly manicured grounds hold a breathtaking pool, a full sports court with volleyball and trampolines, and lush lawns. This stunning mansion is undeniably elegant, yet it is still a relaxed and livable combination of grandeur and great taste.
---
9.

  5600 N Saguaro Road
Features:
$11,381,600
14,406 ft2
8 Acres
This custom-designed home has magnificent views of Camelback Mountain and the Praying Monk. With tons of outdoor space, a pool with a waterfall, and patio space to enjoy the views, this house is a residence to soak in Arizona's natural beauty. With five bedrooms and nine bathrooms, this property has plenty of space for you to spend time with the family.
---
10.

  20913 N 104th Street
Features:
$4,900,000
13,580 ft2
3 Acres
This private Tuscan-inspired estate is also in the upper part of Silverleaf in Scottsdale, Arizona. This home is a gorgeous option and an absolute steal. While it was listed for over $11 million, the home recently sold for just under $5 million. The entrance boasts an immaculate brick design and overlooks the magnificent southern skyline, and the house offers unparalleled viewing of the McDowell Mountains and the city lights in the valley below. It has seven bedrooms, nine bathrooms, and a separate casita with its own living room and kitchen. The home features a mix of stacked stone, travertine rock, and detailed wood paneling to create a tasteful and classic portrait of elegant living.

Final Thoughts
These magnificent homes represent not only the fine touches of elegance and luxury living but also the opulence and artwork associated with dream-like architecture. With architects limited only by gravity and their imagination, the possibilities for houses like these are endless. The term "mansion" doesn't quite cover the extravagance of these expensive homes.
---
Featured Image Credit: Cheri Alguire, Shutterstock