16 Tuscan Interior Design Ideas (with Pictures)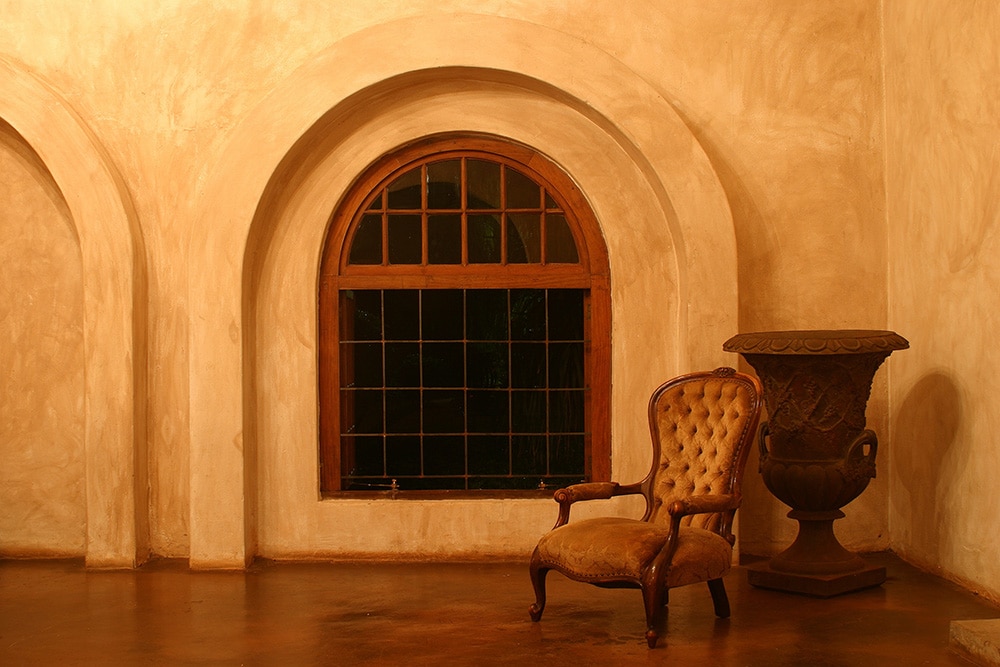 The Tuscan sphere of influence has covered many aspects of life, but most especially decoration. Hundreds of years ago, people flocked to the region to seek sun and share those ideas. Today, wrought iron buildings, crumbling walls, rustic farm furniture, and magical marble flooring are reminiscent of Tuscan styles.
Currently, new Tuscan themes are considered a vital part of modern-day designs. They combine both vintage and contemporary styles in a boiling pot of brilliance and craftsmanship to bring about truly unique décor.
In this article, we are going to explore more on this peaceful country-style design with 16 unique ideas.

The 16 Tuscan Interior Design Ideas (with Pictures)
1.

Arte Salvaged Coffee Table
The Arte salvaged coffee table combines old-fashioned craft with a hint of the Mediterranean style. Coupled with aged brushback patterns, it is a reimagined Tuscan style that works with other pieces as well. In a living space, the sun-faded table top and light gray fade finish make it a perfect match for candelabras. This duo reflects light and makes your home brighter.
---
2.

Reclaimed Wood Farmhouse Coffee Table
The reclaimed wood farmhouse coffee table is the quintessence of Tuscan décor that leaves behind bold statements in the living room and home office.
Two thick slabs of fir lumber held together by hand-turned balusters form the framework of this table. Later, solid top and bottom layers are hammered in place. The two unique pieces increase the storage area as well as stabilize the table.
With a simple Tuscan armchair, this table is good for an old farmhouse. But, don't be shy about bringing it to the city because it will blend well with modern living room assets. For instance, the sun-faded patina pairs well with dark vases.
For seating arrangement, let the table sit on top of a rustic rug and near an illuminated window. At night bring a driftwood buffet lamp and set it on the wall a few inches from the table.
---
3.

Belino Chest
The Belino Chest is a must-have for any Tuscan design enthusiast with relics to stuff away. This versatile piece is good for any indoor setting. Use it in bedrooms, living rooms, or study rooms, provided you have plenty of space.
The chest will calmly lean on the wall in an accessible area where you can open and close doors easily. Vintage locks are for added security or to complete the chest.
In modern homes, the versatility of the Belino chest allows it to match other types of furniture. Pair it with armchairs, coffee tables, lamp stands, and coat hangers for a great combination.
You can set the chest against a wall sided by a pair of lamps at each end of the top. Hanging a Tuscan item on the wall like the Restoration Powell Wall Clock will complete the setting. If the chest has lamps, let the clock hang symmetrically in between them.
---
4.

Reclaimed Wood Farmhouse Dining Table
The Reclaimed Wood Farmhouse Table is made from salvaged fir wood with eye-catching craftsmanship. Homeowners always find this type of table interesting, from its hand-turned balusters to natural patinas. These characteristics increase its versatility in a home. You can pair the table with gray dining chairs on three sides.
Place three chairs lengthwise and one on each width. Tuscany designers recommend that the other side of the length should have a Reclaimed Farmhouse Bench. A bench saves space and forms a relaxed atmosphere for bonding discussions. To complete the Tuscan look, you can hang a light chandelier above the dining table.
In case you are wondering which signature silverware should you use on the table, try a golden oak leaf bowl. The shiny bowl will be the focal point of anybody seated around the table.
---
5.

Artesano Console Table
The Artesano Console Table is ideal for a reimagined look in your bedroom or the foyer. Firstly, it comes in an array of colors like white, black, and gold and with a notable iron frame.
The top is made of a reinforced mirror, which is ideal for placing flower vases to brighten up foyers. In the bedroom, replace vases with lamps. The table is wide to hold a complete makeup kit and beauty accessories. Below the tabletop, a tempered glass gallery shelf creates more room. This space is ideal for setting up your collection of rustic sculptures.
When setting this console, ensure it's leaning against the wall for stability. There is no offense in covering the wall above with a small mirror.
---
6.

Tuscan Farmhouse Armchair
An armchair is a portable piece of furniture adapted to many surroundings. Combining this revolutionary piece with Tuscan styles is an explosion of ideas. Elegantly velveted arms with tanned leather breath life in any space. Stained legs, on the other hand, are testimony of the rusty nature of the Tuscan interior design.
The armchair can be used as a single piece of furniture that is placed near an outlooking window or in the company of its brothers around a bench. For this, a small Barcelona bench will do just fine.
Spend more time out on summer nights in this chair with a teak cube and a lamp on top. Lamps create a perfect spot for meditating or diving into novels.
---
7.

Acacia Etagere
The Acacia Etagere is an elegant multipurpose interior piece originally from France. You can use it as a stand or a rack.
Against a dull wall, the shelves superbly display collectibles like vases and sculptures in offices and at home. In addition, you can hang several wall paintings to the left and right of the etagere. Given its uses, it is made of an iron-piping framework that holds the wooden shelves in place. Customers preferred reddish-brown acacia wood shelves for aesthetics.
Explore softwood shelves as well. They are cheap, easy to hammer in place, and have attractive natural hues.
Set an armchair right next to the Acacia Etagere and cover the lower shelves with novels and upper spots for vases and sculptures.
---
8.

Rubia Wooden Plant Stand
The Rubia Wooden Plant Stand is a piece of furniture that enables you to bring the outdoors' tranquility indoors. This well-crafted stand has several layers of ample space to place your favorite plants and collectibles.
Due to its size, set the Rubia Wooden Plant Stand in corners or vertices. You can also effortlessly place it at the sides of the entrance door. Interior designers suggest next to doors because the plant will receive enough sunlight for healthy foliage.
Solid wood or metal pipes form sturdy points to screw wooden planks to. You are free to select any color you want the stand to wear. But, ensure metallic frames have a protective rust-proof layer before the final coat. For shelves with plant vases, paint them with waterproof paint.
If the plant stand is deep indoors, illuminate the area around it. To achieve this, you can hang a crystal chandelier on the ceiling above the stand. As the aromatic plants flourish, pull an armchair closer to the stand to breathe in nature's magic.
---
9.

Reclaimed Wood and Iron Nesting Table
Nesting tables are a centuries-old Tuscan decor that functions with numbers. Normally, each set has several tables graduating in size. You can find a set of two, three, or even four tables.
Reclaimed wood table tops are made from cross-cut slabs of logs. Elmwood serves this role very well, thanks to its decorative features. Unfortunately, the legs chisel towards the bottom, making the table a little difficult to use on soft surfaces.
Though you can get square or rectangular tops, the Tuscan style has developed a taste for circular tops. This means that you should avoid corners and walls at all costs. Instead, place an armchair next to the wall and let the table sit in the middle of the room.
---
10.

Plaques and Panels
Wall décor says a lot about the theme used to design the interior of a home. For example, the Tuscan interior incorporates a number of wall plaques and panels. These panels depend on the furniture and the illumination of the room.
Hang glazed wooden wall panels to introduce a pleasant wooden theme. These panels are hand-carved out of wood for decorative purposes.
A lamp and an armchair next to and below the panels respectively increase and boosts interactiveness. It is better to use a dim light in this situation because you want the panel to have a space to glow.
Purchase glazed panels as a single item or as a set. A set is excellent for big homes.
The Tuscan design also incorporates colorful ceramic designs. Ceramic wall art delicately balances the ruggedness of Tuscan interiors with a soft spot. Hang these pieces above chests and tables. Furthermore, they also work very well with the most ignored spot—a fireplace. This is because heat does not affect ceramic arts. Occasional wiping out of soot will keep the ceramic sparkling.
---
11.

Wall Sconces
Sconces are light fixtures mounted on the wall for support and vantage point. They have been around since the Middle Ages, and Victorian England used them to hold candles.
Currently, Tuscan interior decors use wall sconces to glamorously illuminate a room. Different types exist for an array of settings and pieces. For instance, this antiquity wall sconce is ideal for the hallway and resembles the acanthus leaf. The sconce is long with jagged edges, exceptional for long hallways.
---
12.

Wall Art Designs
Choosing the right wall art is crucial for Tuscan design ideas. Pieces of art themselves are like jewels; they will not stand out unless accompanied by furniture, carpets, and rugs.
This aspen forest wall art is a lavish canvas inspired by the USA's diverse forests and landscape. Having wall art in Tuscan design in an unusual combination, but who doesn't want a refreshing sight of calm forests in their home?
When setting up our wall art, you should consider the material it's made of and the color. These are influenced by the furniture and other items in the room. Rooms with rustic and crafted wood furniture pair well with wooden framed wall art.
Furniture made of leather and glass calls for brightly-colored wall art. The wall art frame should be made of glass or any other material that is painted with bright colors. Bright colors dilute a dark environment created by authentic black or brown leather sofas.
---
13.

Tuscan Shelves
When organizing a home is becoming a thorn in your schedule, let Tuscan shelves help you out. You will be impressed by how cool this boat-like shelf stands out. This representation of the old world and cottage craftsmanship ingeniously resembles a half-cut dingy.
The shelf has several layers of storage spaces, with the top one being the smallest. The bottom or base layer is wide and can accommodate tens of books as well as vases. Having heavy items at the base increases the stability of the shelf.
---
14.

San Mateo Standard Bed
Good sleep is as equally important as a good-looking home. You only need to find a good bed that combines both.
This San Mateo standard bed is made of hardwood and veneer plywood with primary gray or white colors. A white bed fits in a semi-dark room very well compared to gray.
When going for either of the two, carefully select the right nightstands, dressers, and wardrobes. For instance, a white bed will go hand in hand with a white or black dresser. Worry less about the wardrobe because it can take the natural color of the lumber.
---
15.

Wolf Creek Bookcase Bed
This Wolf Creek bookcase bed is a vintage bed mostly constructed using the acacia tree. The bed has English Dovetail-style drawers on the headboards for keeping private books and sleep-inducing paraphernalia.
Tuscan decor demands these beds to sit on a carpet with soft hues and stunning patterns.
---
16.

Tuscan Carpets and Rugs
Splash your room in glamor with carpets and rugs woven carefully from the softest fibers. Today, Tuscan carpets are available in many styles and materials for both indoors and outdoors.
This rug is ideal because the design hint of gold enables it to match with different types of furniture in the room. Furthermore, the carpet complements the wall décor with gold frames like gold plated lampshades and mirrors.
A rug that can withstand high traffic and is available in attention-grabbing hues is ideal. Some of them are designed based on the aerial view of certain sections of Tuscany cities, such as Florence and Siena. So, buying one is bringing a city to your living room.

Conclusion
Spanning back to Roman times, Tuscan interior design décor has a lot to offer. From old farmhouse armchairs to the latest carpets made in Turkey, you only need to follow your desires. Try some of our handpicked styles for your living and bedrooms, and let us know what you think.
---
Featured Image Credit: Sean Nel, Shutterstock