15 Kitchen Trends in 2023 – Design Ideas For A Modern Home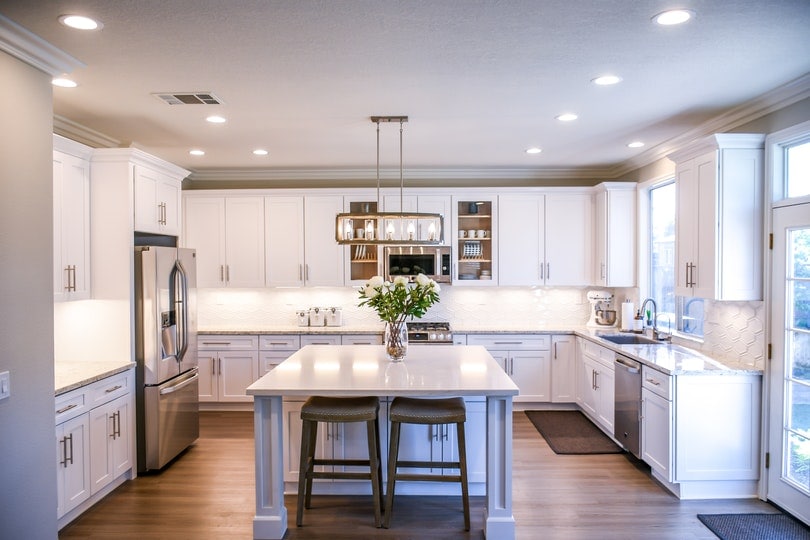 The pandemic has had profound impacts on nearly all aspects of our lives, including our kitchens. People who were used to dining out frequently had to figure out their way around a stove. This extra time in this room opened it up for scrutiny. That's evident in the kitchen trends for this year. Transitional has come out as the leading style, with countertops and backsplash the top upgrade.

Top 15 Kitchen Trends in 2023
1.

Make It Bright!
Perhaps it's because we're spending more time at home that we want bright colors in our kitchen. The great thing about these shades is that they can make a small room seem bigger. Interestingly, according to HousingEconomics.com, this room makes up 12.7% of the space in new homes under 2,000 square feet and 10.5% in larger homes. The trend toward whites and creams makes perfect sense.
---
2. Customize It.
This one relates to how big your kitchen is. If you don't have a lot of space, then you must make wise use of the real estate you have. That's where we're seeing creative use of cabinetry, especially for odd-shaped items. And it doesn't have to be the traditional styles, either. It's not simply a matter of a closed cupboard or open shelf. We think that it's about time, too!
---
3. It Doesn't Have to Be Perfect.
One of the transitional style hallmarks is that it isn't just about one kind of décor. The progression speaks of traditional morphing into contemporary or modern. It's the best of both worlds. The elements themselves don't have to be perfect, either. It's an excellent way to add character to this functional room and make it your own.
---
4. It's Multifunctional Now.
One of the unintended consequences of the pandemic was that we had to suddenly turn our homes into classrooms and offices. The kitchen became more than a place to prepare a meal. The design elements we're seeing are a carryover from these changing times. Seating and lighting received the spotlight as we looked for places to make into a desk.
---
5. Let's Get Back to Nature
We really liked this trend coming to the surface. As people spent more time outdoors, they wanted to bring it inside with more wood features in their kitchens and homes. It's a perfect segue from comfort food to a warm and inviting place to prepare your meals.
---
6. Create a Better Prep Station.
We've discussed how the kitchen became multifunctional. The same trend found itself at the sink—literally! No longer is it just a sink. It's a workstation where you can do all your prep. It's an excellent use of space that makes your job easier, too. Clean-up also is a snap.
---
7. It's All in the Details.
Another aspect of the transitional style is finding a place for that vintage find. It works with the kitchen trends, especially since your kitchen is getting much more use. It's surprising how even a few places can take your interior design to the next level. And again, it doesn't have to be perfect, either.
---
8. Get Creative.
Another thing you'll see more of from that buck-the-trend category is arched cabinetry and curved lines in other kitchen elements. It not only gives the room character but there's something very pleasing about these flowing shapes. It's a welcome change from the rigid straight lines that usually dominate the décor.
---
9. Just Add Storage.
Many of us probably had our first experiences canning and preserving foods during the pandemic. Jars and lids became endangered species. That trend fueled the need for more storage for our kitchens to have working pantries. It might mean turning a seldom-used hall closet into something different or increasing the size of your kitchen now that you have the cash, like 45% of homeowners.
---
10. Make It Smart.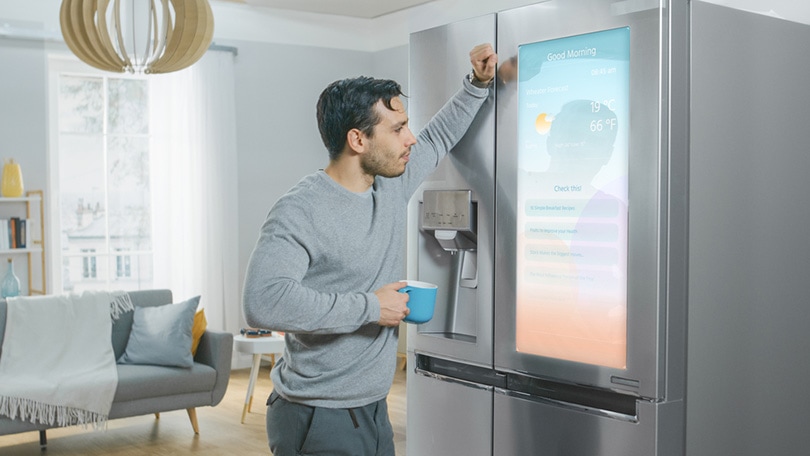 The Internet of Things (IoT) has made a splash in the kitchen and will continue to do so this year with smart microwaves, ovens, and refrigerators. According to Cisco, the IoT market will more than double by 2025. It's not just about convenience, although you can't beat a smart light for making life easier. It's also about energy saving and taking advantage of what technology offers for solutions.
---
11. Open It Up.
It used to be that doors separated kitchens from the rest of the house. Then, we took them off their hinges. Now, we're busting out the walls to create great rooms. According to HousingEconomics.com, the kitchen is the main room to receive this treatment in 72.7% of new homes under 2,000 square feet. It's even more in larger houses with 93.8%.
---
12. Bring Natural Home.
It's not just wood finishes in kitchens. Other natural materials are also finding a comfy place in this room, from wooden chairs to wicker lighting fixtures to cutting boards. The best thing about it is that these materials make quality products that will last. It's a worthwhile investment that never goes out of style.
---
13. Make a Solid Impression.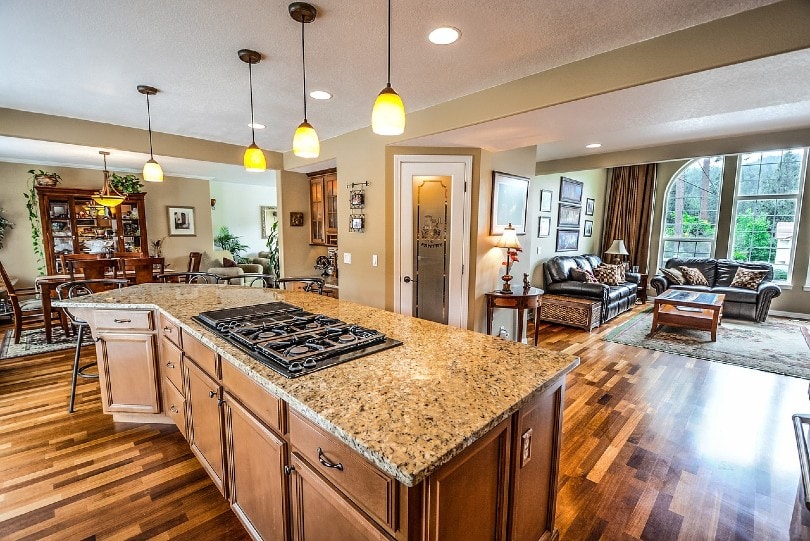 Other natural materials that will get a place on center stage are granite and quartz. Several things are going for their use. Their durability makes them an ideal choice in kitchens that get a lot of use. They are drop-dead gorgeous, too. Yes, they are more expensive. However, there's no denying how they will elevate the character—and value—of your kitchen.
Related Read: 17 Design Ideas for an '80s Kitchen (With Pictures)
---
14. Hardware Gets Its Due.
Often, cabinetry hardware barely gets a second glance. As long as it's functional, it's not a big deal. Not anymore! The trend toward natural materials extends to even the lowliest of objects in the kitchen. It makes sense, given that people are updating their room colors. Brass or wrought iron hardware on those ivory-colored cabinets will look stunning.
---
15. Backsplash Continues to Make a Splash.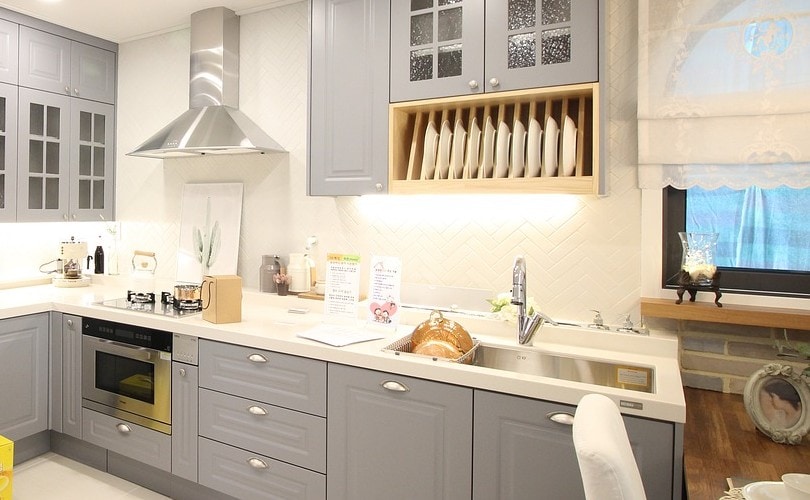 Adding a backsplash is a no-brainer, especially if it's easier to clean than painted walls. We're seeing new designs and materials, such as the quartz we mentioned previously. It's becoming more of a design element when paired with the other trends. It's safe to say that the kitchen is getting a major upgrade in more ways than one.

Conclusion
Every year has its trends and outdated looks. This year makes comparisons challenging with the aftermath of the pandemic and its effects on our lifestyle. The takeaway is that the kitchen is seeing more attention not just to the big stuff but the details, too. It has taken on new life with new uses and more innovation to take cooking to the next level.
See also: 7 Transitional Kitchen Ideas You'll Love (With Pictures)
---
Featured Image Credit: Mark McCammon, Pexels