10 Most Walkable Cities in the US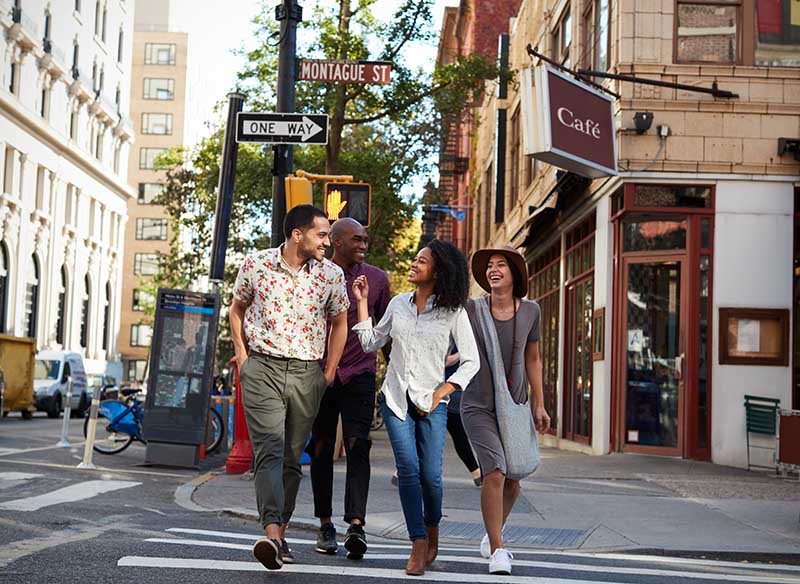 The price of gasoline and vehicles continues to be stubbornly high, and more people are concerned with the state of the environment than ever before. These factors have made it so that more people than ever are considering moving to more walkable cities. Walkable cities allow residents and tourists to do most things without the need for a car. Walkability includes being able to do everything from shopping, dining, errands, and commuting. But some cities are far more walkable than others.
Here are ten of the most walkable cities in the United States as of 2022.

The 10 Most Walkable Cities in the US
1.

San Francisco, CA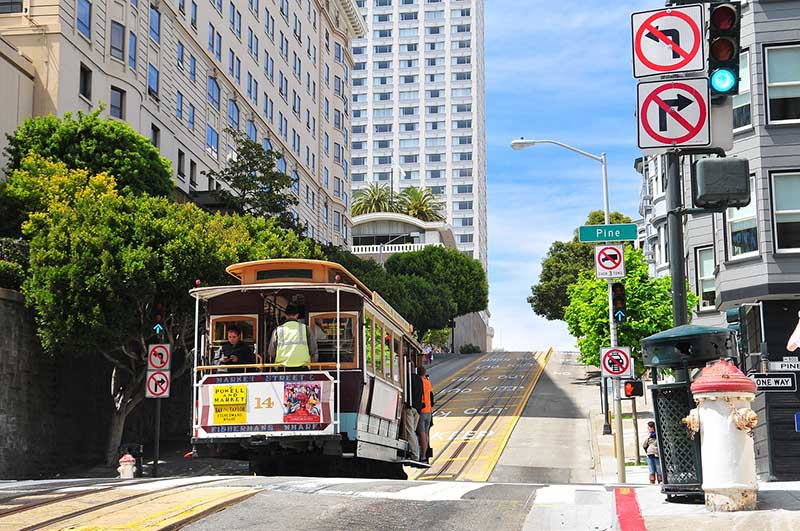 | | |
| --- | --- |
| Population: | 875,000 |
| Walk Score: | 88.7 |
| Best Trait: | Diverse food scene |
San Francisco tops the list of most walkable cities in the United States by a slim margin. The Golden City edged out the Big Apple by less than a point. San Francisco achieves a near perfect score thanks to a combination of strong sidewalks, many parks and walkways, and a robust light rail system. San Francisco has one of the best light rail systems in the world. Muni (the San Francisco Municipal Transportation Agency) has a network of buses, trolleys, street cars, trams, and trains that can get you around the city in minutes. All of that adds up to a city that is supremely walkable.
There are plenty of things to see and do on foot in San Francisco. All of San Francisco's major attractions are walkable, including Golden Gate Park, the Golden Gate Bridge, and Fisherman's Wharf. The only attraction you can't easily walk to or tram to is Alcatraz, but you can get a great view of the island prison from multiple vantage points around the city on foot.
Whether you are a tourist, current resident, or prospective resident, San Francisco is extremely easy to get around without a car and is very walkable.
---
2.

New York, NY
| | |
| --- | --- |
| Population: | 8,380,000 |
| Walk Score: | 88.0 |
| Best Trait: | Mass transit system |
New York City has one of the best-known public transportation systems in the world. New York City features a massive rail network, as well as numerous taxis and buses, and even ferries to help people get around. Public transportation links individual sectors of the city, and each sector is super walkable. Details such as the fact that many of NYC's major bridges and tunnels have walking options are what elevate New York above other similar cities.
Few places let you walk across major bridges or through transit tunnels as New York does. But New York is designed with the walking citizen in mind. Almost every facet of the Big Apple is catered to people who need to walk or take public transportation rather than drive, and that lands New York in second place on this list. Many lists have New York listed as #1, and honestly, San Francisco could easily be interchangeable.
---
3.

Boston, MA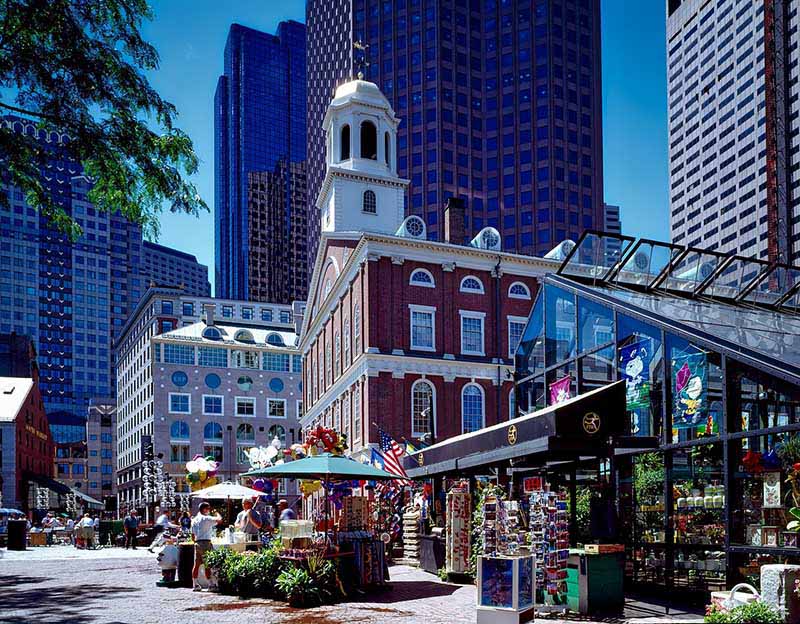 | | |
| --- | --- |
| Population: | 689,000 |
| Walk Score: | 82.8 |
| Best Trait: | Freedom Trail |
Boston is a supremely walkable city and is ranked as the third best large city in America for walkers. Boston's score of 82.8 is up one full point from the last rankings conducted in 2017. Boston Agent Magazine points out that Boston is often called The Walking City and has been previously called "a pedestrian's perfect city" which is incredibly high praise.
Boston has an excellent combination of public transportation, large walkable swaths of the city, plenty of sights to see, and tons of shopping and dining to experience. From Sam Adams' flagship brewery to the amazing New England Aquarium and the historic Freedom Trail, there is plenty to do in Boston that can all be seen on foot.
---
4.

Chicago, IL
| | |
| --- | --- |
| Population: | 2,700,000 |
| Walk Score: | 77.2 |
| Best Trait: | Vibrant downtown |
Chicago's downtown area is one of the most recognizable in the United States. From State Street to the waterfront, there are plenty of things to see on foot in the Windy City. Chicago has numerous historic buildings, large department stores, delicious grub, and cozy pubs, all within a short walk from the nearest rail station. The suburbs are also well connected to the city center, making reaching Chicago's best attractions easy without the use of a car.
Chicago is only hampered by brutal winter weather, which can make walking miserable and seasonal spikes in crime that often make national headlines. Despite the chilly weather and uneven crime record, Chicago is a great city to walk around in and is perfect for tourists and commuters alike.
---
5.

Washington, DC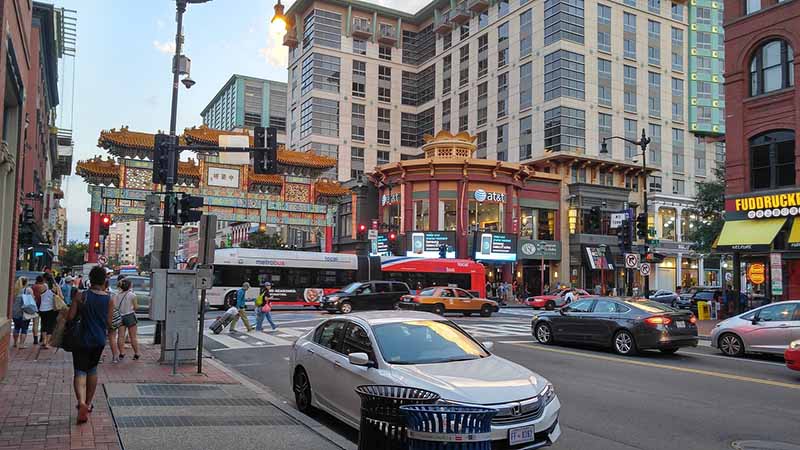 | | |
| --- | --- |
| Population: | 702,000 |
| Walk Score: | 76.7 |
| Best Trait: | Museums and landmarks |
Washington, DC, ranks highly on this list due to a combination of excellent public transportation, a safe city center, and an extreme density of things to do. Central DC is home to dozens of incredible sights and destinations, from the Washington Monument to the Smithsonian and the White House. Most of Washington's best attractions are just a few miles apart from one another.
The WMATA, or the metro, is a great way for tourists and residents to get around. The entire DC region is anchored by an accessible train system that allows commuters, residents, and visitors to get around without needing to drive anywhere. The history, subway system, manageable climate, and safe sidewalks easily make Washington DC one of the top walkable cities in the United States, hands down.
---
6.

Miami, FL
| | |
| --- | --- |
| Population: | 461,000 |
| Walk Score: | 77 |
| Best Trait: | Beaches and nightlife |
For all of its expansive suburbs and sprawling neighborhoods, the core of Miami is relatively compact. Miami is anchored by Brickell City Center and Miami Beach. Both areas are easily accessible via public transportation and offer plenty to do for someone without a car. Miami offers tons of sun, fun, and Latin flavor. The beaches around Miami are some of the best in the world. During the day, you can peruse cultural offerings, museums, and upscale shops. At night, you can hop between various bars and nightclubs packed into just a few square blocks.
Miami is a great walkable city for people who have the money to live in the city center or for tourists. Unfortunately, for residents living outside of the city center, the benefits greatly diminish. The public transportation doesn't extend out past the city center and the highways around the core of the city are often clogged and confusing.
---
7.

Newark, NJ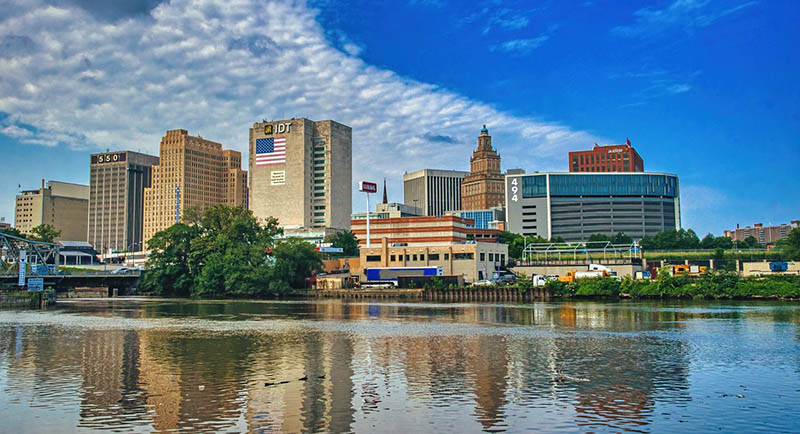 | | |
| --- | --- |
| Population: | 282,000 |
| Walk Score: | 76 |
| Best Trait: | Frequent concerts and festivals |
Newark, New Jersey, has the benefit of being adjacent to New York City's expansive public transportation system, but it also has a walkable city center of its own. Newark has plenty of housing that is close to public transit stations as well as close to the city's center.
Newark hosts a large number of cultural festivals, live performances, performing arts shows, and concerts at a number of venues located in the city. There is always something to do in Newark that is easy to get to on foot. Newark is also a short jaunt across the river to New York City, and all that has to offer. Newark has a lot of the benefits that New York City has with a little bit less bustle.
---
8.

Philadelphia, PA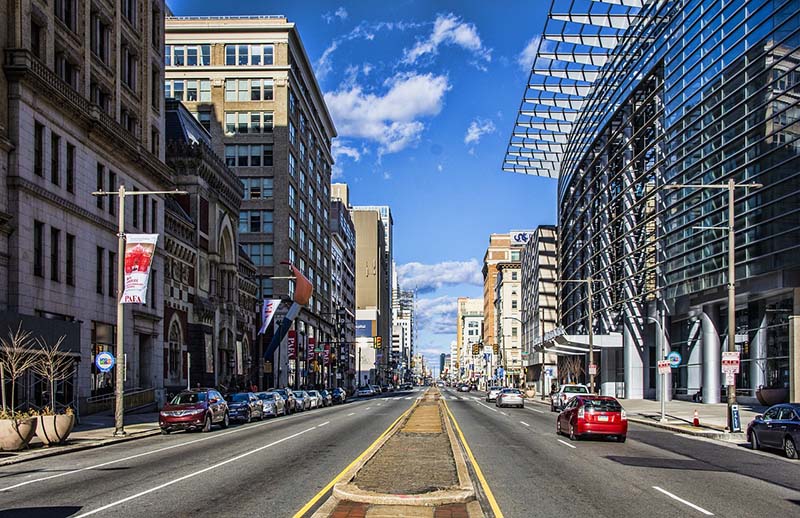 | | |
| --- | --- |
| Population: | 1,600,000 |
| Walk Score: | 74.8 |
| Best Trait: | Historical sights |
Philadelphia, Pennsylvania, is a large city with a ton of history. There are numerous amazing sights to see that are deeply connected to the history of the United States. Independence Hall is one of the most recognizable historical places in the United States and is in the heart of Philadelphia's walking district. There are plenty of shops, restaurants, and museums around Independence Hall that are easily walkable.
For residents, Philadelphia is serviced by SEPTA, the sixth largest mass transit system in the United States. SEPTA can easily get commuters from their homes to their jobs without the use of a car. The only things holding Philadelphia back from a higher ranking are some bad winter weather and some unsafe neighborhoods.
---
9.

Seattle, WA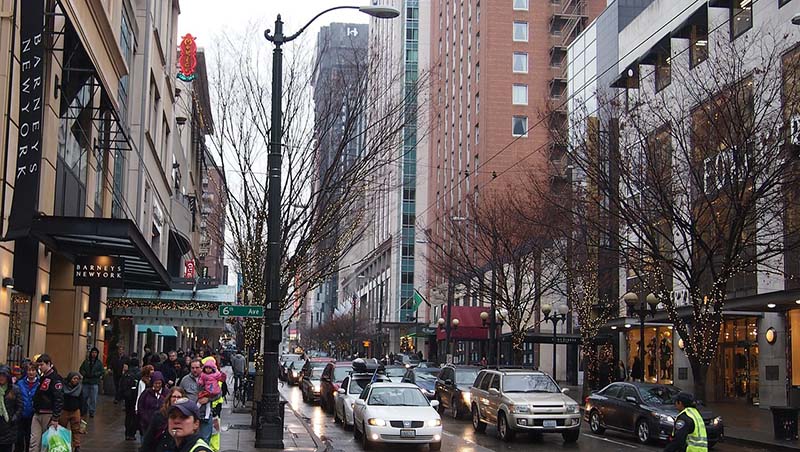 | | |
| --- | --- |
| Population: | 742,000 |
| Walk Score: | 74.4 |
| Best Trait: | Waterfront district |
Seattle is the most walkable city in the Pacific Northwest, and it is not hard to see why. Seattle has plenty to do without being overwhelmingly large or expansive. The walkability of the city is bolstered by a fantastic waterfront district that offers shopping, dining, and experiences year-round. Seattle has temperate weather, including mild winters and manageable summers. The worst thing you might experience when strolling around Seattle is a persistent drizzle, but it is usually not enough to ruin the day.
Seattle offers beautiful views of the nearby mountains, a bustling set of piers to explore, and plenty of great food and culture to experience. Almost everything can be seen without the use of a car, and it only requires a little bit of planning to avoid the highway hustle.
---
10.

Honolulu, HI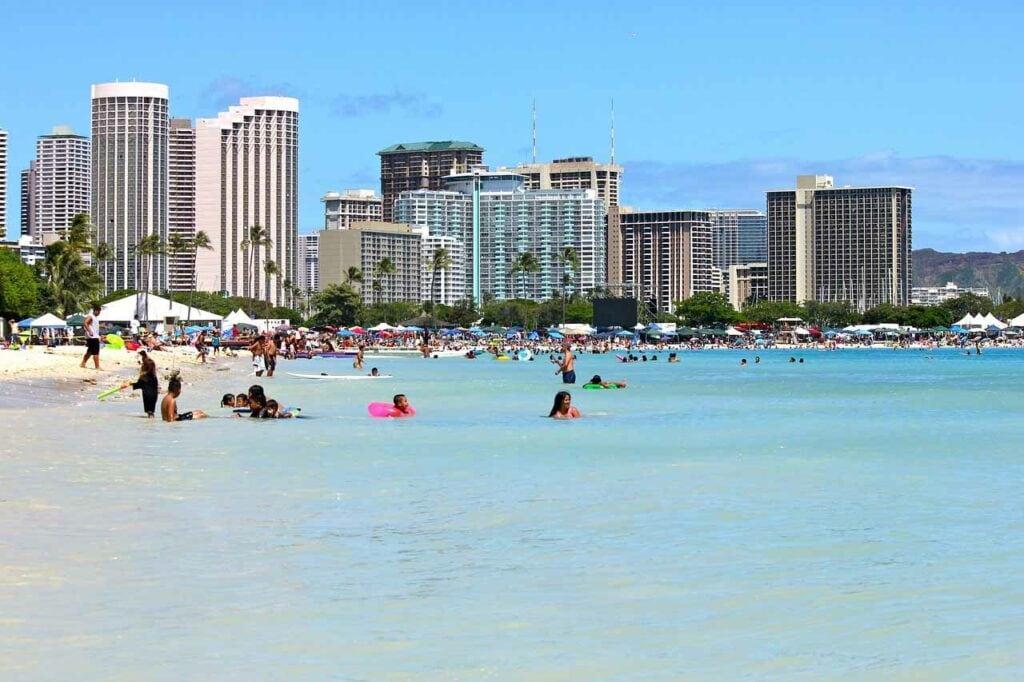 | | |
| --- | --- |
| Population: | 348,000 |
| Walk Score: | 66 |
| Best Trait: | Weather |
Honolulu, Hawaii, might not have the highest walkability score, but it deserves to be on this list because it is one of the most beautiful cities in the United States to walk around in. The downtown area is compact, safe, and has a lot to do. The weather is always beautiful, with refreshing winds and moderate temperatures year-round. The beach is always close by and has a ton of things to see, including Waikiki, Diamondhead, and a slew of renowned resorts. There are tons of bars and restaurants, from upscale tourist hotspots to quaint local joints. There are plenty of convenience stores (like the local ABC Store) and things to see and do, which make walking a breeze.
The only knock that Honolulu gets is the fact that it does not sport good public transportation. If Honolulu had better mass transit, it would easily rocket to the top of this list, but it is still worth mentioning here. If you want a beautiful city to walk and get lost in, don't sleep on Honolulu.

What Makes a City Walkable?
Mass Transit
Mass transit is one of the critical elements of a walkable city. Without reliable public mass transit, walkers will quickly be stranded. If you have to drive to a walkable area, it severely decreases the walkability score of a city. Having trams, trains, subways, and buses that can reliably get you around in addition to walking can completely eliminate any need for a car which is the hallmark of a walkable city. That cannot happen without the help of good public transportation.
Safe Sidewalks
Another thing that a city has to have in order to achieve a high walkability score is safe sidewalks. People can't walk around on the road and feel safe and comfortable. Sidewalks make walking efficient and doable for everyone. A city can have a robust mass transit system, but if the stations spit commuters out onto a road with no sidewalk, the walkability rating will plummet.
Things to Walk To
A city might have great sidewalks and beautiful weather, but if it doesn't have anything interesting, there is no point in walking around. Anyone can stroll around their neighborhood for outdoor activity. A walkable city should have plenty of things to do within walking distance, including shops, bars, restaurants, event venues, and more. Similarly, if cities have these things but they are sequestered in an area that you have to drive to it hampers the desire for anyone to want to get out and walk the city.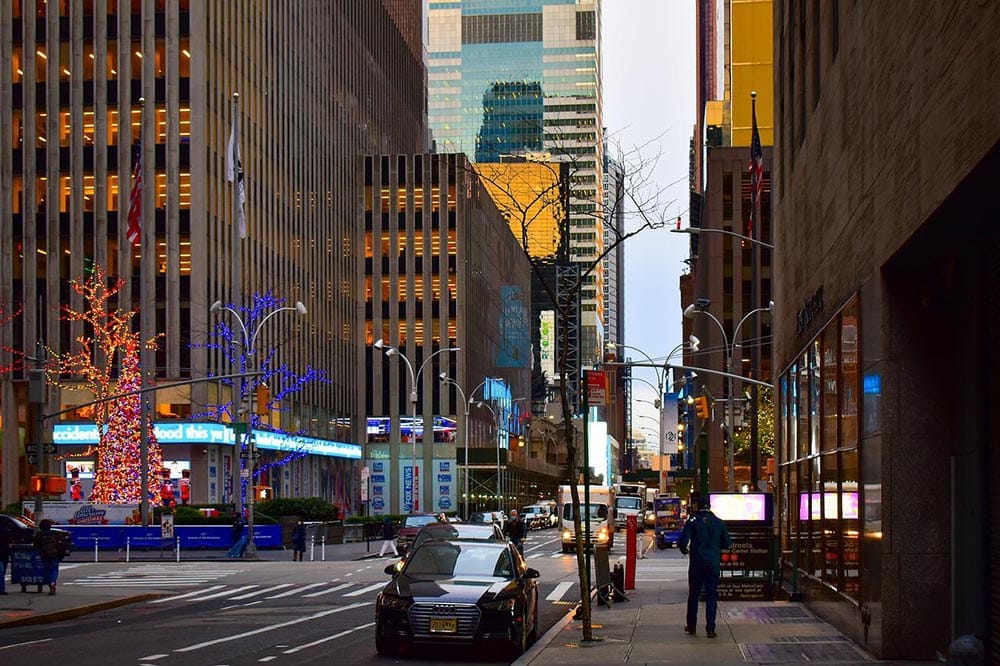 Safety and Weather
Two factors that most people don't consider before taking a long stroll through a city are the weather and safety. A city can have a plethora of parks and beautiful sidewalks, but if it is too hot or too cold or if you don't feel safe using them, then it doesn't matter. For example, Hokkaido, a city in northern Japan, has a series of underground walkways to improve the walkability of the city when the weather is brutally cold (which it is frequently.)
It can be dangerous to walk around outside in extreme cold, blistering heat, or severe storms. You have to consider the weather when choosing a walkable city. The same thing goes for crime. Check crime rates for things like robberies, muggings, and random attacks when considering a walkable city.

Conclusion
There are walkable cities in every region of the United States. There are walkable cities in the Northeast, Pacific Northwest, Hawaiian Islands, South, and Midwest. If you are looking to move to a more walkable city center, there are plenty of diverse areas to choose from in every corner of this great country. Whether you are looking for an on-foot vacation or a new place to live and work, there are plenty of incredible places to consider.
---
Featured Image Credit: Monkey Business Images, Shutterstock