Openly Home Insurance Review 2023: Pros, Cons & Verdict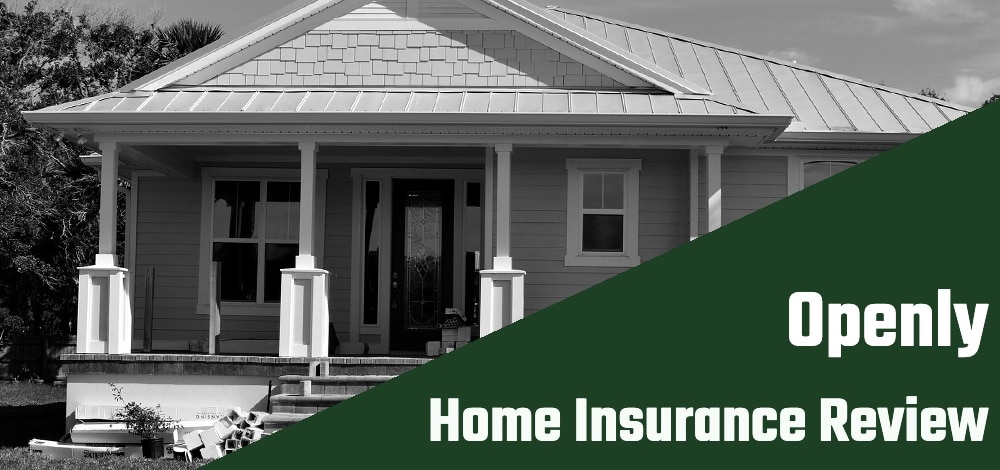 In This Review: Our Review | Pricing | Coverage | Limits & Claims | FAQ | Conclusion
Openly was founded in 2017 and their plans are covered by Rock Ridge Insurance Company. The company is renowned for its financial strength as well as its ability to pay claims. At the moment, Openly doesn't offer life, auto, or commercial insurance.
But they do, however, have a superior homeowner's policy that can be used for multiple occupancy types, including primary, vacation, rental, and secondary homes. Openly has created an easy-to-understand policy for homeowners that uses the technology to pay claims fairly and price it competitively.
Their policy includes premium features such as open perils contents coverage, high available water backup limits, and guaranteed placement calls. They also include special endorsement such as Home Sharing, personal cyber, and equipment breakdown as part of the coverage.
Our Final Verdict
We give Openly a rating of 3 out of 5 stars.
---
Openly Home Insurance Review
Pros
Has low premiums
Live chat available
Coverage is customizable
Cons
Minimal discounts available
Not widely available
No claim online applications or processing app available
---
About Openly Home Insurance
Openly offers the same exclusive options that high-end insurance companies offer, but with a wider range of coverage options. They serve homes with rebuild values between $200,000 and $5 million. It targets high-end homes and offers unique home insurance options that aren't restricted by other insurers.
Openly provides comprehensive home insurance coverage, no matter how expensive your home is to rebuild. They allow you to customize your home insurance policy by choosing from either HO-5 or the HO-3 base policies. You can then tailor it to create a more comprehensive coverage plan.
Both policies offer open-peril coverage for your house, while the HO-5 policies extend open peril coverage for your belongings, increasing your protection against potential dangers.
---
Pricing & Plans (Updated in 2023)
Home Insurance Cost Comparison
Base Policy
Dwelling
Dwelling coverage may pay for damage to your house and its structures permanently attached to it. So, for example, if a hurricane damages the basement, this coverage may pay to repair/replace what's damaged.
Personal property
It covers all your belongings, no matter if they are at home or on vacation. Named peril coverage is common for personal property. This means that only those causes of loss are covered. There are also limitations and exclusions to the coverage. Special protection may be required for property with significant value such as fine art, jewelry, collectibles, etc. Talk to your agent to discuss adding coverage to a floater that broadens and expands coverage for high-value possessions.
Personal liability
If you're held responsible for the injuries or property damage of another person, your personal liability coverage will protect you financially.
So, for example, if a delivery person falls on loose railing in your home and sues for medical bills, lost wages, and damage to merchandise, you may be covered by personal liability.
Loss of use/additional living expenses
Additional living expenses (ALE), also known as "loss of use insurance" or "Coverage D" can pay for additional housing and living costs if your home is temporarily uninhabitable due to a covered event.
Medical payments
If someone is hurt due to an occurrence covered by medical payments to others, this coverage could pay for their medical expenses. So, for example, if a friend of your child breaks her arm at home and asks you to pay the medical bills, the medical expenses may be covered by medical payments.
Additional Coverage
Water damage
Water damage caused by water backing up from drains or sewers, water seeping through walls or waves below the ground, or water seeping through walls above ground. There are many policies that have dollar limits on water damage caused by such things as a leaking pipe.
Personal injury
Provides coverage for other than property or bodily injury. This covers false arrest or imprisonment, invasion of privacy, wrongful eviction, libel, and malicious prosecution. This is more of an emotional or psychological-based claim. It can also include personal injury of an emotional nature.
---
Coverage Limits & Claims
Openly prides itself for the flexibility of their coverage as well as limits so according to their website, you can tailor these values to your personal needs.
---
State Availability
Currently, Openly Home insurance plans are available in Alabama, Arizona, Illinois, Indiana, Kansas, Kentucky, Massachusetts, Missouri, New Mexico, Ohio, Oklahoma, Oregon, Pennsylvania, Tennessee, and Wisconsin.
---
Get a Quote from Openly
Like other home insurance providers, Openly's policy is built specifically for your home, so it's important you know the features of your home to get the most accurate coverage. A good rule of thumb when shopping for homeowners' insurance (especially the first time) is to buy enough coverage to replace your home if it's completely destroyed.
The below details are used to determine an appropriate amount of protection you'll need, as well as how much you'll pay for it. So, you'll need to know this information or have it at your fingertips (or on your computer screen) before you speak with a rep over the phone. Remember, Openly doesn't have an online application, so to get a quote you'll need to speak to a rep.
You'll need to provide the following details to get a quote from Openly:
Year the home was built
Square footage of the home
Home's number of stories
Is your home your primary, seasonal, or secondary residence
Home's number of bathrooms
Detached structures like a shed & garage
How many people live in your house full-time
Wood stoves and fireplaces
Building materials used for the roof
Building materials used for the exterior walls (e.g., brick, wood, stone)
---
Reviews from Customers
Most Openly policyholders give the company rave reviews, especially when it comes to their customer service. Although you must speak to a representative over the phone, the policyholders claim that the representatives are very professional and make the claims process easy and painless. The only negative reviews by policyholders claim that the quotes they were given were higher than other companies.
---
FAQ
What should I do before filing a claim with Openly?
Attempt to stop any leaks (such as with water heaters, roof damage, and pipes) in an effort to prevent further damage to your home. You'll also want to make any temporary repairs which may include covering damaged windows, locking doors, fixing exposed roof areas, etc. Also, be sure to keep any receipts from the contractors that performed the work on your home.
---
What is a deductible?
The deductible is the amount that you will be responsible for if a loss occurs. It's subtracted from the total settlement amount. Homeowners insurance deductibles are not per-occurrence, unlike some policies.
---
Who backs Openly's ability to actually pay claims?
Openly is backed by Clear Blue Insurance Group, which has a rating of A- by AM Best (largest credit rating agency in the world special).
---
Does Openly offer auto, commercial, and life insurance through Openly?
No. At the moment Openly only offers home insurance.
---
How much will Openly reimburse me for my claims?
It depends. there are many factors to consider:
Is the loss covered under your plan?
Is the deductible sufficient to cover the cost of repair or damage?
Is it unsafe to live in the home because of the loss?
Were there any personal injuries on the property?
After submitting your claim, a representative will take a look at the details of your claim and then make a determination on coverage, if any, and how much it will include.
---
Our Verdict
While Openly may not be for everyone, it does offer a great option for anyone looking to buy a home or who's in the process of finding a new home insurance provider. However, when it comes to insurance providers within the same market, Openly doesn't seem to really be a top competitor. In terms of the coverage that they offer, it's all pretty standard.
Though they do have impressive customization options and the premiums are on the low side, it  doesn't seem to have a wide range of coverages, substantial benefit amounts, or significant discounts that other providers offer.  But, if you are someone who's having trouble getting home insurance due to a history of excessive claim filing or other reasons, they may be worth considering.