Pool Stores Near Me: Where To Get Pool Supplies in 2023?
If you have a pool, you're going to need a lot of supplies. While you can find many pool supplies at your local Home Depot, or even at Big Lots, you will find much better deals and a more extensive assortment of supplies at a dedicated pool store.
We're going to take a look at how to find some pool stores near you, and we'll also look at some of the interesting things you might find there to help you get more enjoyment out of your pool.

Decide What You Need
Some areas may only have one or two pool shops, but many areas will have a selection of pool shops that all carry different supplies or at least different brands of the same supplies. Some shops may specialize in above ground pools while others may have more equipment for inground pools. Some may have a display room containing many pools set up for you to look at, while others might only offer a few of the most popular chemicals.
Different stores will serve different purposes, so you need to determine yours. You'll likely find more than one store to suit your needs, so make a record of them so that you can find them in the future.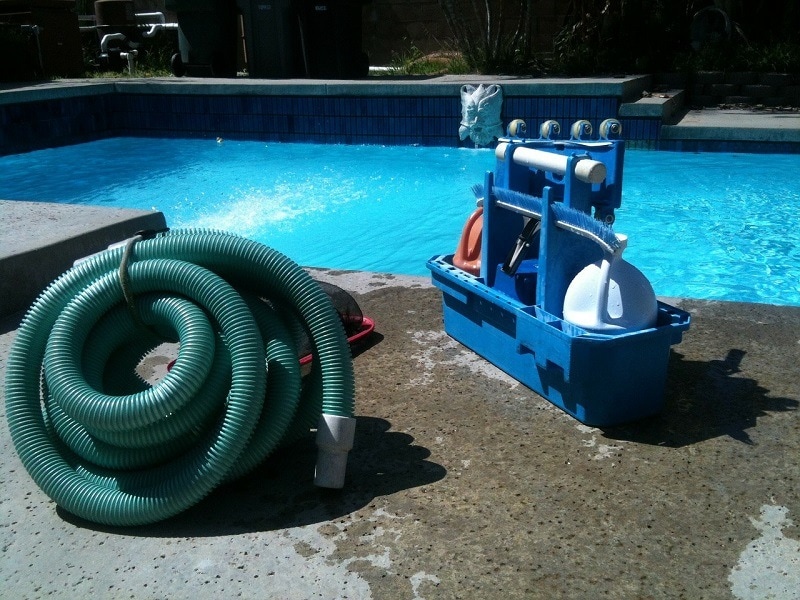 ---
Locate the Stores
Locating the stores in your area shouldn't be too hard since it's in their best interest to present themselves to you. They shouldn't be hiding. Here are some ways you can locate them.
Internet
Usually, Google will be your best friend in this case, and a quick search should yield a list of stores in your area. Google will not only list all of the locations, but they will also give you directions, the hours of operation, and the phone number of the store.
Yellow Pages
There are still areas where the Internet doesn't rule the world. In areas without a heavy reliance on the Internet, the Yellow Pages are still the best way to go. Most brick and mortar businesses still take out ads in the Yellow Pages, and you may find many stores here not listed on the Internet.
Newspaper
The newspaper can often help as many businesses often run sales. The Sunday paper, more than any other, contains many coupons that can clue you in on the location of some pool stores. The benefits of finding them this way is that you may also get a sale price on an essential item.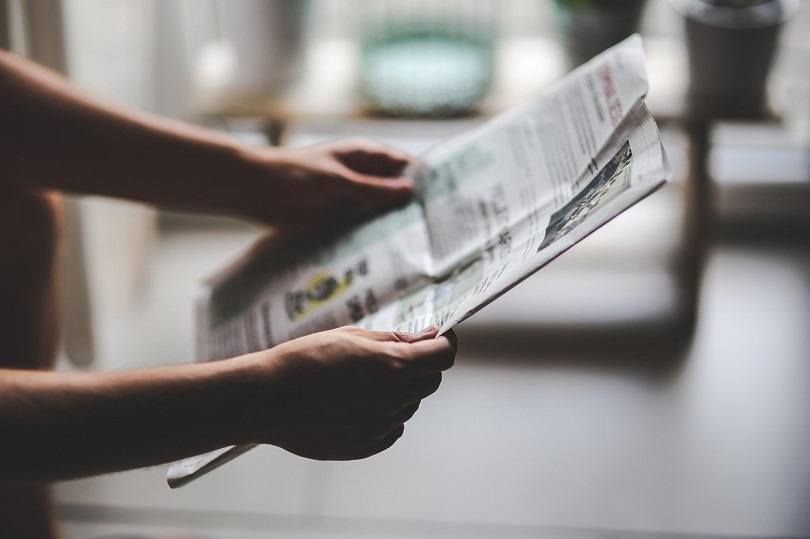 Word of Mouth
You're probably not the only one you know who owns a pool. Asking around can not only help you find some great pool stores, but you might also get some tips on what brands are better than others. You may also learn about an interesting piece of gear you didn't know you needed.
The most significant advantage of word of mouth is that you'll get the most accurate review of each location. Though everyone has their own opinion, you'll find out information through word of mouth that you won't find out anywhere else. People will usually be very forthcoming about staff knowledge, cleanliness, prices, and selection.
---
Review the Stores
Once you've made your list of stores in your area, you'll need to visit each one and personally review it at least once. Here are some things you should look for as you visit each store.
Location
Unless the store has something special, the location of it compared to your home is going to be one of its most important factors. If you find yourself suddenly needing chlorine or a new pool float, you're not going to want to drive a long distance to get it. We recommend finding one store within a few miles of your home to get supplies.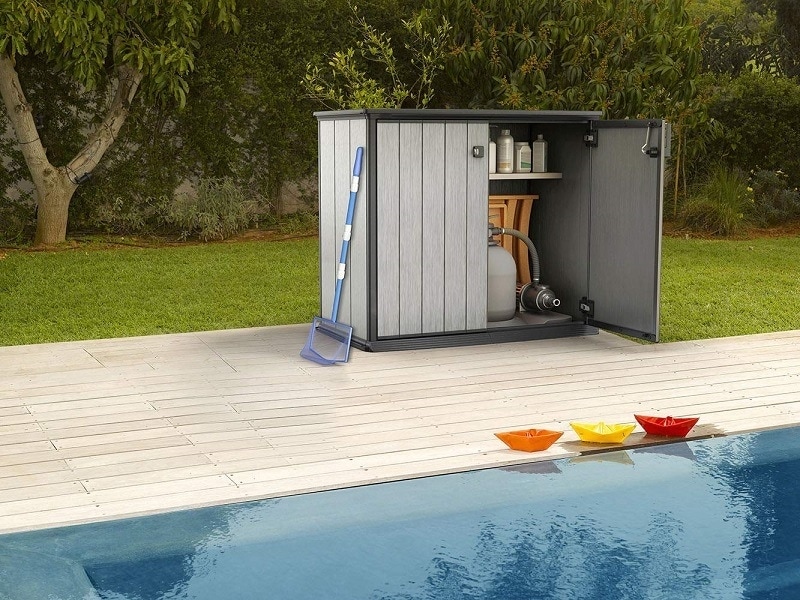 Selection
A store's selection is an important criterion. A small corner shop can be helpful if you only need chlorine or shock, but you don't want to have to travel to multiple stores if you need several items at once. Finding a store that contains everything you need and more is a good idea, and you will be glad you took the time to find it more than once.
In many cases, a pool store is the only place you'll find a pool on display or see examples of how to install your liner. You can learn a lot about pools by visiting a store with a large selection.
Prices
In our experience, the cost of pool supplies is generally consistent. Some stores can be a little costlier on average, and some are more likely to run a sale. If you notice either of these things in stores near you, keep a note of it for future reference.
Knowledgeable Staff
One of the best things any pool store can offer is knowledgeable staff. You can face many problems while maintaining your pool, and having someone that can help you solve those problems is invaluable. True many pool stores don't consider the customer's needs in this area and believe the cashier is only selling chlorine and pool floats.
Your question can be simple, like how much chlorine do you need, or it can be much more complicated, like how do you install a pool heater. Someone in the store should be able to answer these questions at all times.
Water Testing
Many pool stores offer to test the chemical balance of your water, and this can be an invaluable service. You not only get high-quality professional testing, but they usually provide suggestions about what to do if you have a problem. Testing in this way can often lead to better results faster, especially if you have a problem with cloudy water or algae.
Once they test the water, if it needs any chemicals, they usually have them in supply at the store.
---
What to Buy
Of course, you can buy your chlorine and your shock at most large superstores, but you will be able to buy them in bulk at a pool store and often at a reduced cost. They will also have a much more extensive selection of other chemicals, including pH increaser and pH decreaser. You are also more likely to find important chemicals to fix specific problems in your pool. Some chemicals like Algaecide, Yellow Out, and Floc are only in a pool store.
You can get a lot more than just chemicals at a pool store, though. They usually have a much more extensive selection of rafts and floats, as well as water games. You can purchase solar covers, and winter covers too.
Spare hoses and other repair parts are probably the most important thing you will find in a pool store. No other place will contain the large assortment of fasteners and adapters required to make different hoses work with various pumps and filters. Every pool system has particular needs and, more often than not, will require a part that you don't have on hand.
It's also the only place to purchase a new liner for your pool, or a new basket for your skimmer. New pumps and new filters will also require a trip to the pool store. Purchasing your sand in the pool store is the best way to make sure you get the right kind.
Conclusion
That about wraps up our guide to finding a pool store near you. We recommend making a list of your favorite stores and keeping it handy. You might find some stores have great prices, but have a small selection, while other stores have a large selection, but the prices are high. You need to find at least one person you can talk about your pool problems with that is knowledgeable enough to keep your pool running correctly. Don't follow someone who gives bad advice.
Learn where you can get your water tested even if you don't take advantage of the service and choose to test the water yourself. You never know when a problem could get on hand, and you might need professional assistance.
We hope this short guide to finding a pool store near you has been helpful and fun to read. If you have found our tips useful, please share pool stores near me, where to get supplies on Facebook and Twitter.
---
Featured Image Credit: Pool inflatables, Pixabay