Polaris F9450 Pool Cleaner Review 2023 – Pros, Cons & Verdict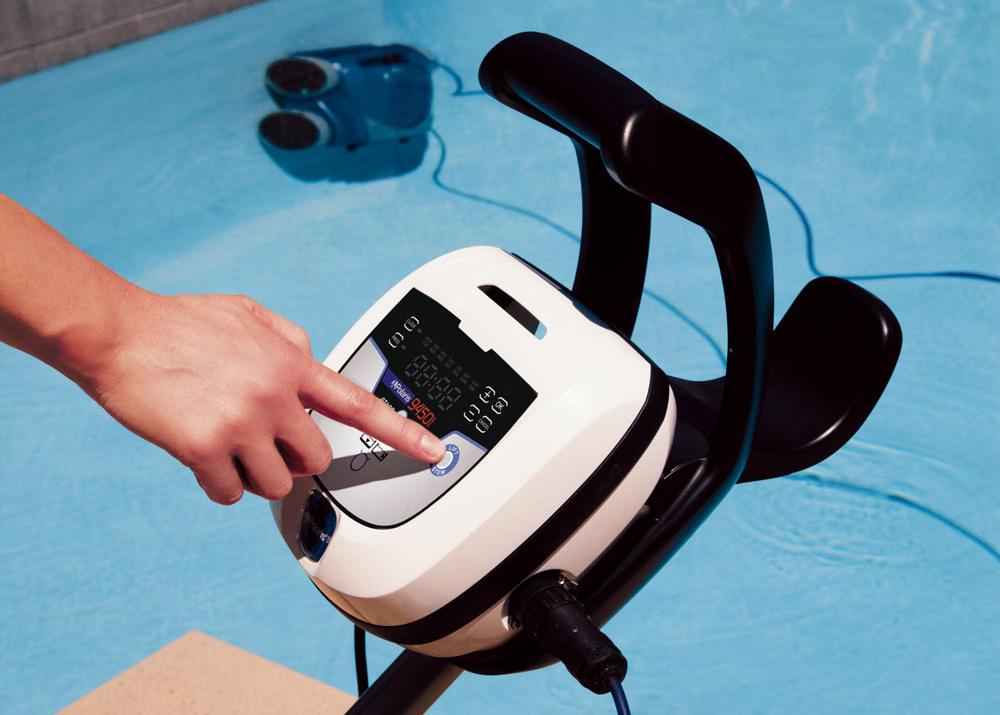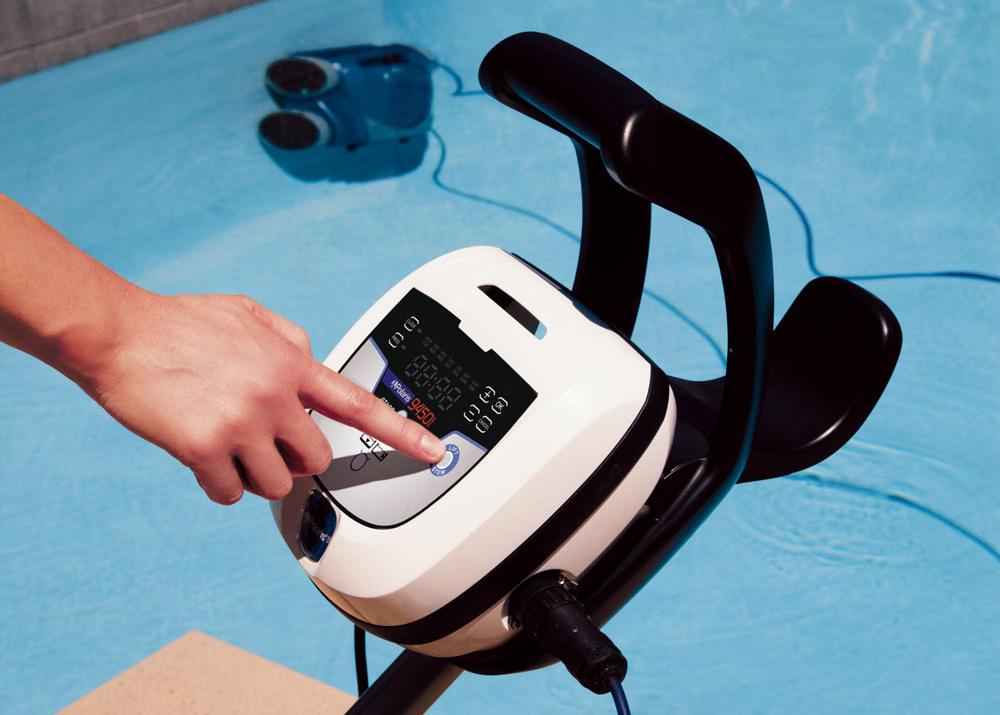 We give the Polaris F9450 Pool Cleaner a rating of 3.8 out of 5 stars. 
Build Quality: 4.2/5
Power: 4.1/5
Features: 4/5
Price; 3.2/5
Review Summary
If you have been looking for a new robotic pool vacuum or thinking of switching to one, there is a pretty strong chance the Polaris F9450 came up a few times. Polaris is a leading name in the pool vacuum world, especially robotic pool vacuums. This F9450 is one of their best-selling models for several reasons.
The F9450 has an easy to access top canister that can accommodate a lot of dirt and debris. It features four-wheel drive technology and is capable of cleaning the pool floor and the walls. Even if you have a large pool, this Polaris can handle cleaning it.
With the highly programmable attributes and the fact that this vacuum will not put any extra wear and tear on your pool filter system, the Polaris can be an excellent investment. We broke down all of the positives and the negatives of the Polaris F9450 to give you a better idea as to if this is the right robotic pool vacuum for you.

Polaris F9450 – A Quick Look
Pros
Cleans all pool types
Works in pools up to 50 feet long
4WD technology
Scrubs walls and water line
Large easy to access canister
Effective at cleaning
Cons
Expensive
No remote control
Specifications
Dimensions: 22" x 18.5" x 22"
Product Weight: 43.6 pounds (including the caddy)
F9450 Weight: 16 pounds
Manufacturer: Polaris
Model: F9450
Type: Robotic Pool Vacuum
Pool Type: Inground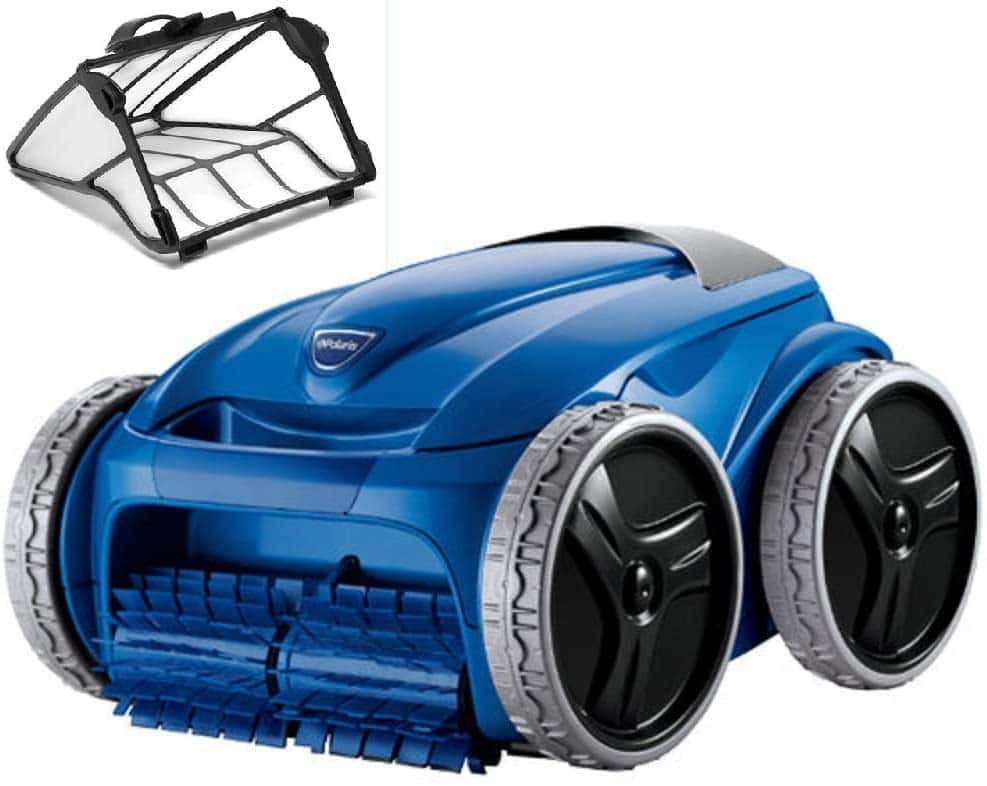 Large Top Access Canister
Some robotic pool vacuums come with tiny canisters for picking up debris. You will end up putting your vacuum in only to find out it is full just a few minutes later. Luckily the Polaris was designed to have one of the largest top access canisters in the robotic pool world market. This canister can handle a lot of debris before you need to empty it. This will help save you some time and work, and it helps the pool vacuum keep plugging away without having to stop and waste energy.
Weight
When it comes time to get your robotic pool vacuum out of the pool, you do not want to be lifting a large and heavy piece. The F9450 is only 16 pounds. For the size of its debris canister, this is a very lightweight cleaner. Other similar cleaners can weigh closer to 25 pounds and not have the same capacity. Reaching over the pool to grab this vacuum out will not be difficult.
Four Wheel Drive Technology
One of the largest complaints that pool owners have with robotic pool vacuums is that they get stuck. If it is in a corner or in the deep end or not being able to climb up the stairs, it can be extremely frustrating when the vacuum is continually getting stuck. The four-wheel-drive technology installed in the F9450 makes a huge difference when it comes to getting over obstacles. This pool vacuum rarely gets stuck on something like a bottom drain, and it seems to climb the walls of the pool with ease.
No Remote Control
There is an alternative Polaris model around the same price as this that comes with a remote control. The remote comes in handy when you see a spot in the pool that needs some work, and you can direct the vacuum to it. The machine that comes with a remote is much heavier than the F9450.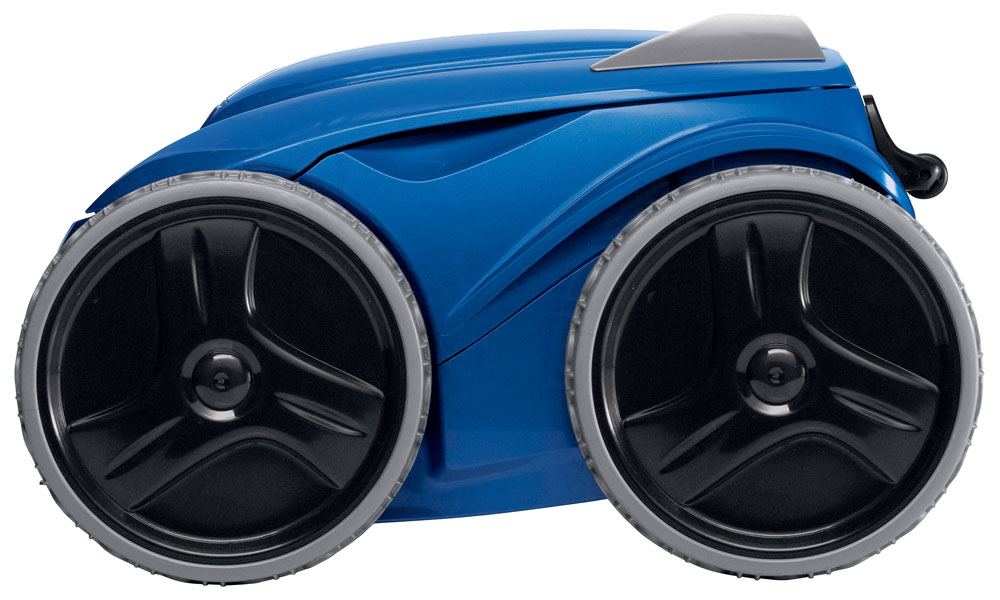 FAQ
Does this vacuum work with an above ground pool?
No, the F9450 is built for in-ground pools only.
Do I have to remove this pool cleaner every day?
It is best to remove your pool cleaner from the pool every day that you use it. Although it would be nice to leave it in and just let it run every few days, you can cause damage by just letting the pool cleaner continually soak in the water. If you want to have your vacuum for many years, take it out each night.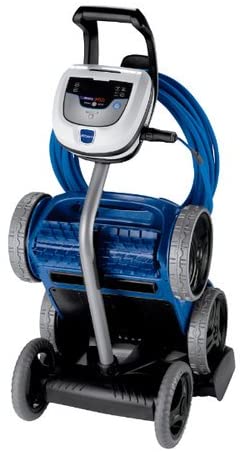 Is the basket challenging to clean?
Several different debris baskets will work with this robotic pool vacuum. Each one can be cleaned by simply rinsing the bag. Over time you may need to replace the bag, but it should hold up for several years without any issues.
Does it come with a warranty?
The Polaris F9450 comes with a two-year warranty. Always make sure to verify this information before purchasing. Many pool companies are specific about the conditions for the warranty to stay valid.
---
What the Users Say
Reading reviews from qualified buyers can give you a lot of insight as to whether or not a product is worth it. The problem is that the process can be quite time-consuming. The good news is that we saved you some time and collected a good amount of data for you. Here is what the users say about the Polaris F9450.
Many people have no issues at all with the F9450 and say it has been doing an excellent job cleaning their pool.
Remember we mentioned how lightweight this vacuum is to pull out of the water? Well, the fact that it is so lightweight is proving to cause problems for some pool owners. It has been reported that although this vacuum will climb the wall, it can sometimes fall off, float down, and end up in the wrong direction. This is a problem as it will take a person stepping in to fix the issue, if you leave the pool vacuum while you are at work and it ends up sitting like this all day, it's a problem.
Some trouble with picking up finer particles was reported. There are other bags that you can buy to help pick up finder particles.
Programming seemed easy for most people to figure out.

Conclusion
If you have had enough with having to vacuum your pool each week manually, or several times a week, the F9450 makes a lot of sense. Robotic pool vacuums are not cheap when it comes to initial cost, but they don't put as much wear and tear on your current pool system, and they don't use a ton of electricity. The problems you will find with the F9450 being a little light, may also be a positive for those who struggle to pull a heavy robotic pool vacuum out of the pool. This is a well-made robotic pool vacuum that works well for cleaning up even a filthy pool. Most people who are satisfied with this product don't mention having to do any additional cleaning or scrubbing to their pool.
Check out our top trending posts:
---
Featured Image Credit: polarispool.com