Best Green Laser Levels 2023 – Top Picks & Reviews
Whether you're working on a big construction site or trying to complete a small job at home, precision is of the utmost importance. That's where a high-quality green laser level comes in handy. It's a great tool that will help you to reach optimal accuracy so that your project will look flawless.
The market boasts numerous manufacturers that claim to offer the best green laser level, but how do you make the right choice? It depends on what features you require to do the best job. That's why our reviews consist of 10 products that list the features, benefits and drawbacks of each product.
This article also features a buyer's guide, which should answer all of your questions regarding green laser levels. The buyer's guide will show you which features you need to look out for, and the reviews will list those features so that you don't have to spend hours or days scouring the market for a product.
---
A Quick Comparison of Our Favorites in 2023
Rating
Image
Product
Details

Best Overall

Huepar 902CG Self-Leveling Cross Line Laser Level

360-degree coverage
Durable
Pendulum lock
CHECK PRICE

Best Value

BOSCH GLL40-20G Green-Beam Self-Leveling Cross-Line Laser

Affordable
40-foot range
Bright
CHECK PRICE

Premium Choice

PLS 180G Cross Line Green Kit

Durable
Good range
Drop tested
CHECK PRICE

DEWALT DW088LG MAX Line Laser

Magnetic attachment
Well defined beam
Durable
CHECK PRICE

Tacklife SC-L07G Green Laser Level

Affordable
Self-levels
Durable
CHECK PRICE
The 10 Best Green Laser Levels
1.

Huepar Self-Leveling Cross Line Laser Level – Best Overall
If you're searching for a laser level that provides 360-degree coverage, then the Huepar might be the perfect one. It's horizontal and vertical line provide all-round leveling coverage and an accuracy of ± 1/9-inch at 33 feet.  Hauepar 902CG has a maximum working range of 130 feet. That is great because it allows you to work in different parts of a room simultaneously. You can operate it indoors and outdoors, and this laser unit is much brighter than the red lasers using the same power source.
It's got a multifunctional mode so that you can project the lines together or independently. Once you've switched off the level, the pendulum locks. This laser level comes with an outdoor pulse mode, enabling you to work in brighter environments or to reach longer distances.
This product is durable because a TPR soft rubber covers the laser level for shock-resistant, and it's also waterproof and dustproof. It should last for the long-haul, but it does come with a 12-month guarantee. You might find that the laser is more powerful indoors than outdoors.
After examining the features of this product and comparing them to the rest on the list, we found that Haupar 902CG was the best green laser level product on the market.
Pros
360-degree coverage
Durable
Pendulum lock
Cons
Laser not as bright outdoors
---
2.

BOSCH Green-Beam Self-Leveling Cross-Line Laser – Best Value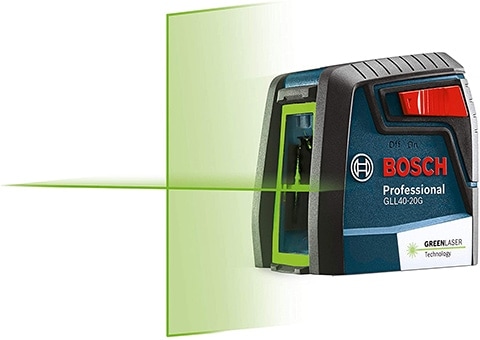 Besides being accurate, the Bosch GLL40-20G is also compact. It's got a 40-foot cross-line laser that boasts the Bosch Visimax technology, which will help you to get maximum brightness. Since it's compact and versatile, you can set this unit up quickly and start working. The two bright lines allow you to get various leveling and alignment.
It also comes with the MM2 mounting device, which you can clamp to various surfaces to get a rotating 360-degree neck. The accuracy will be +⅚-inch at 30 feet. The Bosch GL40-20G also comes with a pendulum system, with the pendulum locking when it's switched-off and self-levels up to ±4 degrees. The GLL40-20G weighs only 8 ounces, so it's light and it comes with 2 AA batteries.
The one aspect to consider is the mounting. It can be a bit of a challenge, but once you get used it, it's relatively easy. Having a product that provides great features is important, but it's also important to find one with a good price. After comparing this product's features to its price and to other products, we found that it was the best green laser level for the money.
Pros
Affordable
40-foot range
Bright
---
3.

PLS 180G Cross Line Green Kit – Premium Choice
You can use this cross-line laser level for tile installation, residential and commercial construction, as well as wall construction and acoustic ceiling installation. The laser is available in red and green, and it's quite durable, especially it has undergone a 1-meter drop test to make sure that it can last if accidents happen. The IP54 provides greater durability because of the water and dust protection.
The PLS 180G has a horizontal fan angle that can do 180-degrees and a vertical fan angle of 130-degrees. It provides a 100-foot range and an accuracy of ⅛-inch at 30 feet. The kit consists of a magnetic L-bracket, floor stand, pouch and battery pack. It's also got a pendulum lock so that you can transport it safely and also lock the laser when it's in tilt mode.
This laser level has several great features, but it's also quite pricey. If you want a premium choice, then the PLS 180G is the way to go.
Pros
Durable
Good range
Drop tested
---
4.

DEWALT DW088LG MAX Line Laser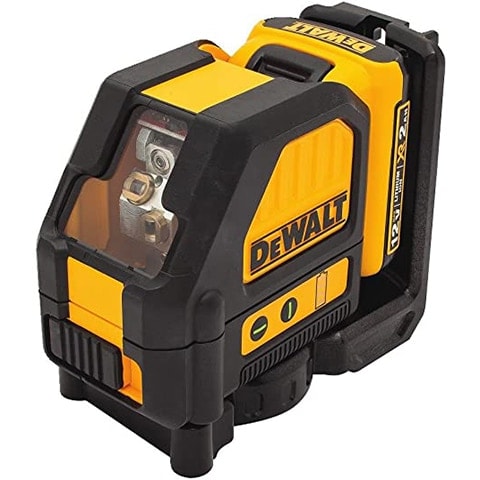 DeWalt has gained a reputation for producing great products that last and offer several features. The DW088LG is no different since it features a magnetic bracket with ¼ -inch and ⅝-inch threads that allow you to attach to metal track and steel. It works on a 12-volt battery platform and has undergone a 2-meter drop test to ensure that it's durable. It's also IP65 water and debris resistant.
The locking pendulum prevents damage to internal components. The green beam laser technology projects 360-degree bright crossing so that you can view it various lighting situations. The package also includes a battery charger, mold case, target card, laser enhancement glasses and 2.0 Ah batteries. The one issue with this product is price. It's quite steep, so it's not for users who want to get their hands on an affordable laser level.
Pros
Magnetic attachment
Durable
Well defined beam
---
5.

Tacklife SC-L07G Green Laser Level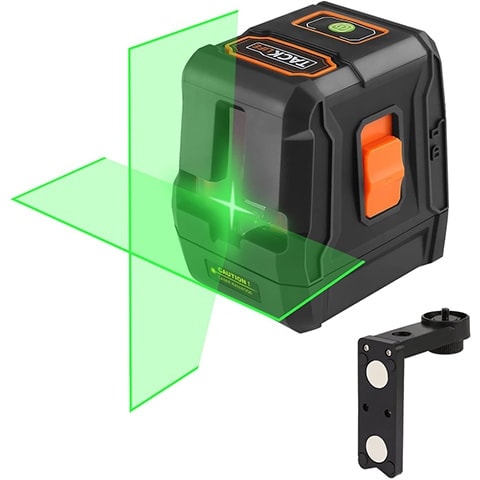 Tacklife fitted an Osram laser unit, which has a reputation for being an extremely effective green laser. It self-levels, which you can do on an inclined surface within 4 degrees when the pendulum is unlocked. The laser will flash to inform you that you're out-of-leveling parameters when the surface inclines over 4 degrees. You can switch to manual mode after locking the pendulum.
The accuracy is ± ⅛-inch at 30 feet, and you'll get the best accuracy indoors when you're working on windows, wall studding and tile alignment. Tacklife covered the laser level with a soft rubber, which makes it durable because it reduces the impact if it hits the ground. Working with this level is easy and convenient because it's lightweight and compact.
This laser level also comes with a magnetic "L" base so that you can use it in a variety of positions, and it comes with a carrying bag to fit the tool and the mounting arm. The only issue is that it doesn't really work outside.
Pros
Affordable
Self-levels
Durable
---
6.

Inspiritech Self-Leveling Green Laser Level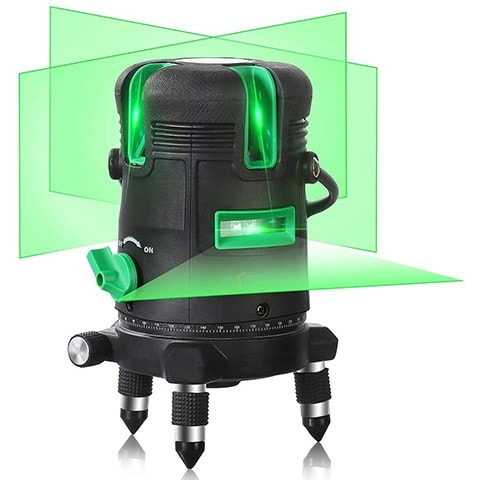 Inspiritech is another self-leveling laser level. You can use it for construction, cabinet installation, laying tiles and ceiling works. It comes with one 110-degree horizontal and two 360-degree lines. You can adjust the projection direction with the 360-degree manual rotary base. Inspiritech designed this laser unit to level at 3 degrees. When it's over the 3 degrees, it flashes and beeps.
Switching to manual mode deactivates the self-leveling function and locks the pendulum so that you can position the laser at the desired angle to project non-level straight lines. It comes with a Li-on battery backup so that you can avoid downtime, and you'll also get a 12-month warranty.
Inspiritech has used a rubber cover, making the product durable because it's water, dust and shockproof. As for the accuracy, it's ±1/25 inches at 16 feet. The problem with this level is that there is a limit to the self- leveling. If it's a really uneven surface, you'll have to adjust the legs to ensure that the bubble is in the circle.
Pros
Multiple lines
Backup battery
Durable
---
7.

SKIL Self-Leveling Green Cross Line Laser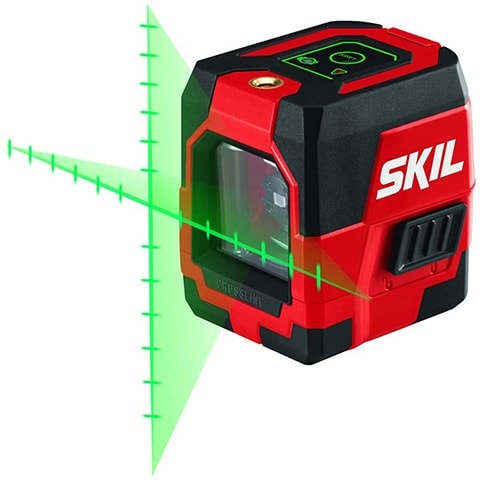 You'll get a project with this laser level of up to 65 feet. This unit is great to work with if you need equal spacing because the projected measuring marks cross the horizontal and vertical lines at even intervals. SKIL has designed this line laser to self-level, and they've included a Lithium-Ion battery that you can charge with a USB port. It's also got an indicator that shows you how much of the battery is remaining.
The accuracy that you'll get is ± 3/16 inch at 30 feet. The self-leveling range is at ±4 degrees. This product comes with a clamp that you can attach to the top or the bottom so that you get a secure placement. It also comes with a locking mode so that you can position the lines at any angle. The feature that separates this level from the others on the list is that it comes with a 5-year warranty. It's also affordable.
You should use this line laser mostly indoors, as the outdoor visibility might not be so great.
Pros
Good warranty
Includes a clamp
Affordable
Cons
Not suitable for outdoors
---
8.

CRAFTSMAN CMHT77630 Laser Level Tool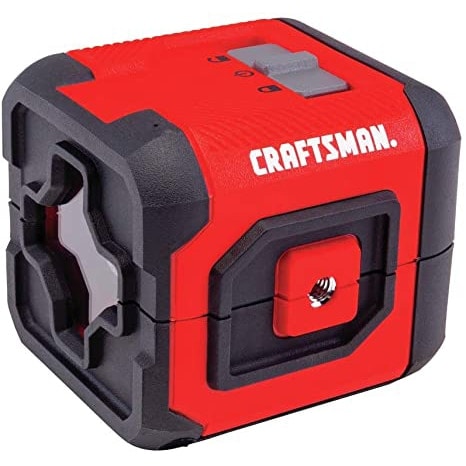 With Craftsman's laser level, you'll only get a 100-degree vertical and horizontal line. It comes with a locking pendulum so that you can lock in the lines at any angle, with the 3-position lock switch with manual mode. This unit will allow you a 55-foot visible range. It comes with a removable quick link bracket, which will allow you to set up the laser level easily.
You won't get decent visibility outside, so keep it indoors. Also, the durability of the product isn't as great as the other laser levels that we've featured in the article. You'll get a pouch, bracket and batteries with this kit, so the accessories are limited. It's also heavier than the other levels on the list, weighing at 1.15 pounds. If you're going to use a tripod, it works on a ¼-inch thread.
Pros
Removable quick link bracket
Cons
Not suitable for outdoors
Durability questionable
---
9.

Firecore Green 3-beam Self Leveling Laser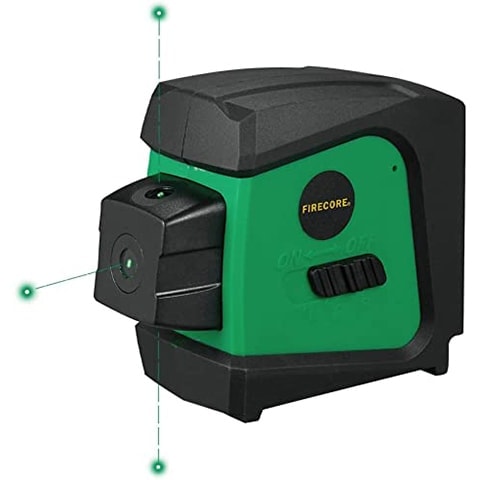 Firecore made an affordable laser level that provides an accuracy of ± ⅛-inch at 33 feet. When the unit out-of-level, which is ± 3 degrees, the sensor with blinking lasers will notify you. It comes with a glass-enclosed cage and over-molded housing, which will help you to prevent damaging the unit but so will the IP54, providing protection against dust and water.
It fits on a ¼-inch thread bracket or if you're going to use a tripod, then it's the ⅝-inch thread. Firecore F333G self-levels and has a working range of 164 feet. You can get about six hours of continuous battery use. There are 3 AA batteries included in the kit.
The issue with this laser level is durability. Although there were some protective features, it might not last as long as other units on this list.
Cons
Durability is questionable
Needs 3 batteries
---
10.

Makita Cordless Self-Leveling Green Beam Laser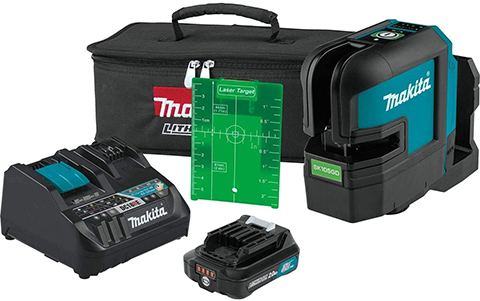 If you don't want to have frequent downtime because of low battery life, then you might like the Makita SK105GDNAX. Its battery provides 10 hours of continuous use. The visibility spans for 115 feet, but it's detectable up to 262 feet, with an accuracy of ± ⅛-inch at 33 feet. The laser detector that reaches 262 feet is sold separately. This laser level works best when applied to windows, floors, curtains, panels and several other spots.
The pendulum lock lets you use the level on an incline, and the protected laser window makes sure that the product doesn't get easily damaged. If you don't mind splurging on a laser level, then you'll go for the Makita. Otherwise, its price is beyond the scope of somebody who is on a tight budget.
Pros
Long battery use
Good visibility
Cons
Expensive
Laser detector sold separately

Buyer's Guide – Choosing the Best Green Laser Level
Knowing the features of a product is important, but it's also important to know what they're about and how they can help you to do the job that you need. That's the purpose of the buyer's guide. It will answer your questions about the different features you need to look out for to find a relevant laser level.
Laser Level vs. Traditional Level
If you need to apply it a straight guideline over a large distance such as chair rails or closet shelving, a laser level is the best option. When you need to complete a small task such as adjusting a framed portrait, then you should use a traditional level.
How To Use a Laser Level
Line Laser Levels
This type of laser projects a line. After leveling the device and adjusting the laser beam height, you'll see a level line on the targeted area, and you won't need to make marks on the wall. If you're using a cross line, you'll see two lines at right angles to each other, which as horizontal and vertical. Depending on the job, you can use one line or both.
Point Laser Levels
Points lasers levels are the most economical and easiest to use as they project a single on a wall. After you've set up the level on a tripod and deciding on the height that you want, you can transfer that level to any other spot in the room by rotating the laser on the tripod. If you want to ensure that the levels haven't changed, you can mark the height of the original spot, then check it again after you've used it at other spots in the room. Another purpose of a point laser level is to align a series of objects – an example could be paintings.
Rotary Laser Levels
It's mostly professionals who use rotary laser levels. Whereas line and point laser levels tend to be more for home use, they are also cheaper than their rotary counterparts. Some of them self-level, so you don't have too much work to do, and once you've secured it on a tripod, it produces a beam in every direction. Most of them can do a full 360-degree rotation. One of the main uses of a rotary laser level is finding a common level on all the walls of a room.
Outdoor vs. Indoor Use
If you're a homeowner, you're most likely to use a laser level that can provide good visibility indoors. Professionals tend use levels that are capable of outdoor reach and visibility just as they are indoors. If you're using it outdoors, you need to make sure that the beam is very bright. Don't look directly into a beam or a laser level unless you're wearing special glasses. Using the level during broad daylight can make the beam seem almost invisible, so special glasses will make the level more visible. If you want to use a simpler level outside, then you can try using it during the times of the day when light level is low such as at evening or on an overcast day.

Important Features
Range
The range of laser levels is extremely important if you're going to use it outdoors. That could be the most important feature if used outdoors. If you're going to use it indoors, then a laser level that can reach 30 feet is acceptable. When you're using certain rotary laser levels, they can provide beams over an extremely long distance. Some have been known to fetch as far as 2,000 feet.
Accuracy
Regardless of whether you are working indoors or outdoors, the level's accuracy is extremely important. Although laser levels use a laser, their accuracy varies from model to model. Don't be surprised to find that indoor lasers are less accurate than the ones that are used for outdoors. There are models that provide excellent accuracy indoors and outdoors. As an example, a good accuracy indoors would be ± ⅛-inch for 30 feet. Rotary laser levels have known to provide an accuracy of 1/16-inch at 100 feet.
Levelling features
One of the most crucial features to be cognizant of on a laser level is the self-leveling feature. Finding out that is accurate will make your life easier since it's much easier to operate it than a manual leveling laser, which requires you to adjust the bubble level and screws.
Colors
You'll find that many models had a red light, whether they were used indoors or outdoors. The problem with a red light is using it outside because it's difficult to determine the level or to see it. Even in highly lit indoor spaces, it can be difficult to see. That's one of the reasons that many manufacturers switched to green laser levels. They're much brighter and easier to spot in sunny conditions. Some green laser beams are so bright that you're going to need to purchase goggles so that you don't damage your eyes.
See our other reviews:

Conclusion
The buyer's guide has shown you the route you should take if you're going to use a green laser level indoors and outdoors. On top of that, we've also reviewed 10 products that will help you to achieve different jobs, whatever they may be. Our reviews have highlighted the features of the product, how they will help you and how they might hinder you from accomplishing your objectives.
Moreover, we have compared the products reviews we have done to each other, and we discovered that Huepar 902CG Self-Leveling Cross Line Laser Level was the best green laser level overall. It had outstanding features and fare much better when compared to the rest. Having a product is great, but it's also important to ensure that its price isn't too exorbitant. After comparing the features to the price, we found the BOSCH GLL40-20G Green-Beam Self-Leveling Cross-Line Laser to be the best value for money. The most premium product was PLS 180G Cross Line Green Kit.
See Also:
---
Featured Image: BOSCH GLL40-20G Green-Beam Self-Leveling Cross-Line Laser, Amazon