Sawyer Squeeze Water Filter Review 2023 – Pro's, Con's & Verdict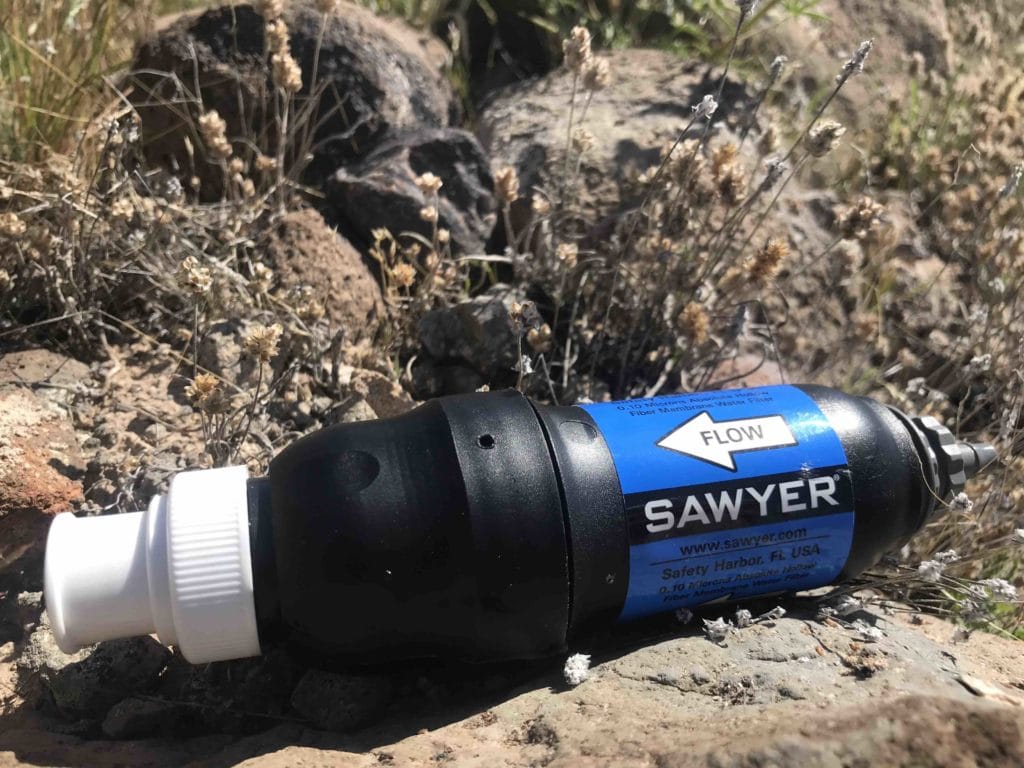 We give the Sawyer Squeeze Water Filter a rating of 4 out of 5 stars. 
When it's just you alone in the backcountry, you need a water filter that's reliable enough to trust in any situation. The Sawyer Squeeze filter aims to be such a device. With an incredible lifespan and unmatched versatility, it's one of the most useful pieces of kit we've had the chance to try out. When you're drinking from questionable water sources, the last thing you want to question is your water filter. But the Sawyer Squeeze never gave us any doubts. It's a rock-solid tool that can be used in many different ways to fit your personal preferences.
After spending some time relying on the Sawyer Squeeze and traveling together through miles of mountain trails together, it has become one of our favorite water filters and it's the one we'll come back to for our next adventure. The Sawyer Squeeze packs simple functionality into a tiny package that will easily fit in your pocket, pack, or on your water bottle, so it's with you when you need it most.

The Sawyer Squeeze Water Filter – A Quick Look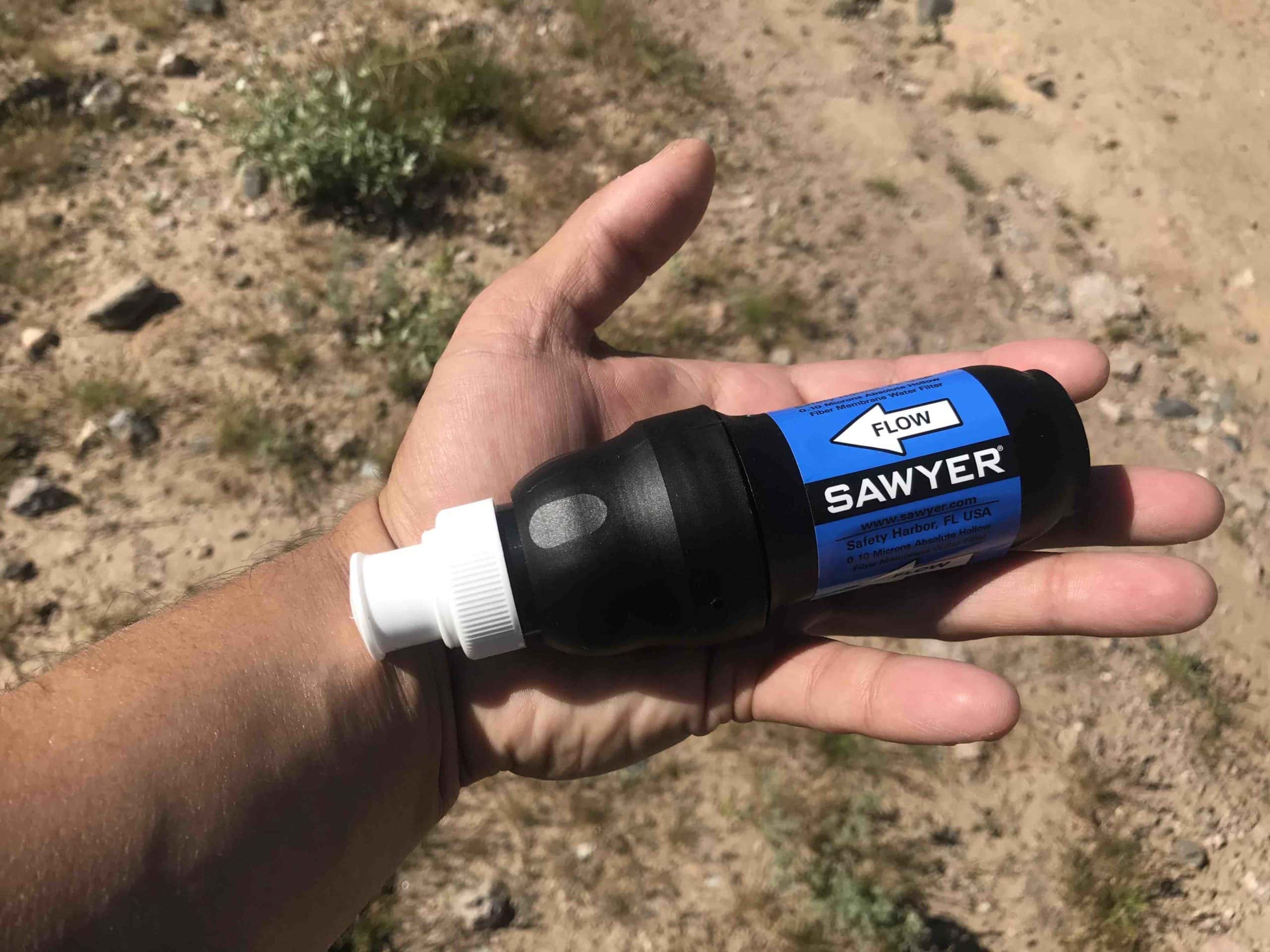 Pros
Versatile filtration can be used in many ways
Small and compact – weighs just 3 ounces
Incredible lifespan of 100,000 gallons
Can easily be backflushed in the field
No moving parts to break
Cons
If the O-ring falls out, the filter won't function properly
Must keep the tool on hand for backflushing
Specifications
Specifications
Brand: Sawyer Products
Product Name: Squeeze
Weight: 3 oz
Length: 6"
Width: 2"
Filtration size: 0.1 microns
Lifespan: 100,000 gallons
Removes: Over 99% of bacteria, protozoa, microplastics, sediment
100,000-Gallon Lifespan
When you're hiking or backpacking in the wilderness, you're probably going to be going through about one to two gallons of water each day. At that rate, it would take you nearly 67,000 days to wear out this filter's lifespan. With an incredible working life of 100,000 gallons, you could drink 1.5 gallons through this filter every day for 182 years before it would stop filtering your water. Of course, there's no way for us to verify that claim, but we've put our Sawyer Squeeze filters through the wringer and they've shown no signs of slowing down.
With most filters, if it has a full cartridge and you didn't bring a spare, you may have no way to filter water for drinking. But with the Sawyer Squeeze, there are no filter cartridges to fill and change. When the filter loses flow, you just need to backflush it to clean out some of the nasty stuff it's filtered already. This means that the Sawyer Squeeze will never leave you without a way to get water, as long as you keep the backflushing adapter on hand!
Simple, Reliable Design
A water filter is one of your most important pieces of kit. If it fails when you need it, you could find yourself in a very precarious situation that could become life-threatening very quickly. When you're in such a situation, a dead battery, broken pump handle, or torn water bag can all be catastrophic failures that leave you stranded with no way to get life-saving clean water. But the Sawyer Squeeze has no moving or breakable parts. There are no pumps, handles, or anything to snap off. It's also extremely easy to use, so even if you find yourself in a panicky situation, you'll still be able to use your Sawyer Squeeze.
Versatile Usage
One of the great features of the Sawyer Squeeze is that it can be used in so many different ways. The included bags can be filled with dirty water that you squeeze through the filter and into a waiting clean water receptacle. But that's just one way to use this filter, and it's certainly not our favorite. The Squeeze can also be used in-line with hydration bladders or even used in a gravity-fed system. Tubing and adapters are included with the filter to allow you to hook up with either type of system.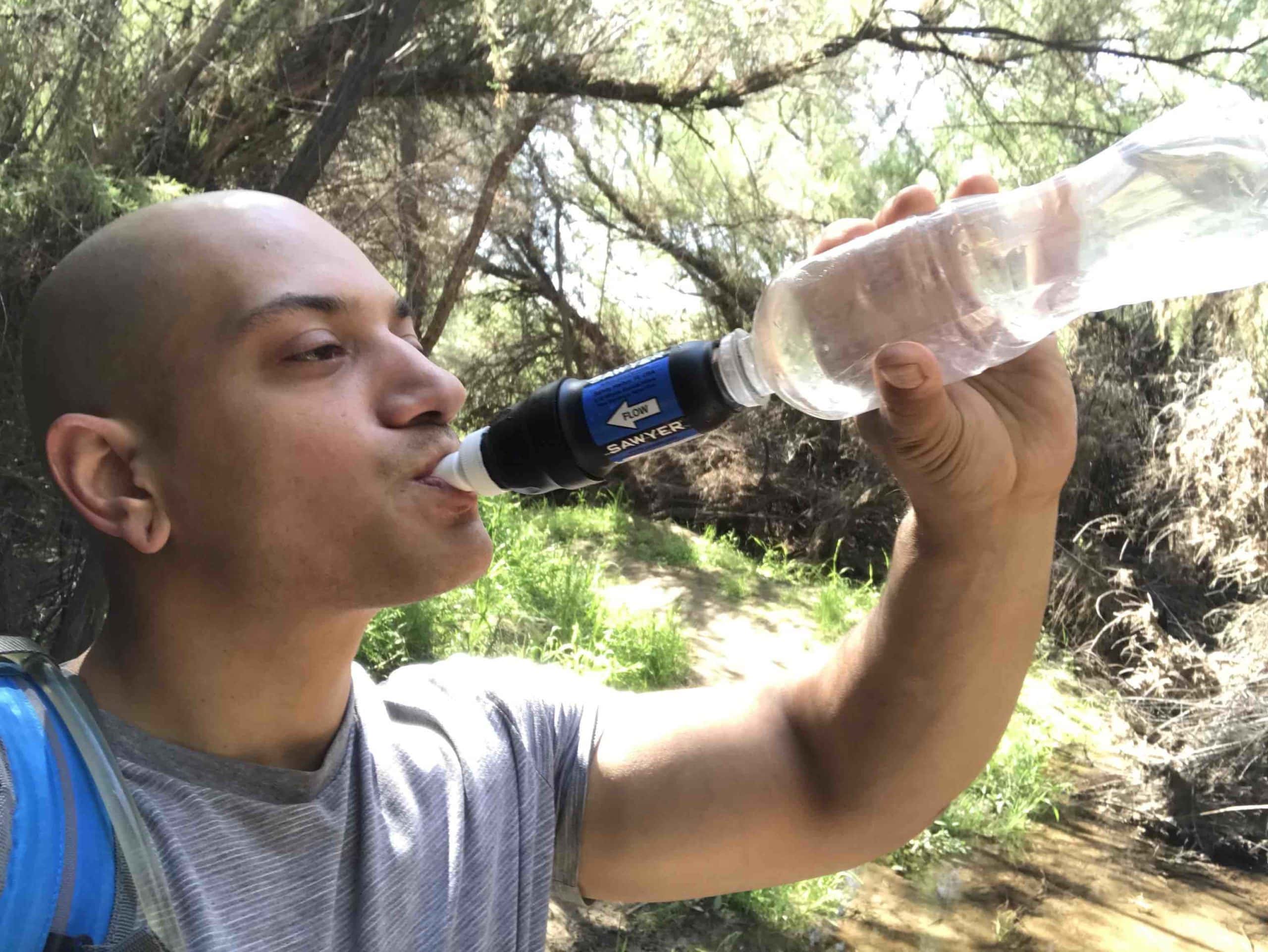 All of those are great ways to use the Squeeze, but our favorite method is to simply screw it on the end of a water bottle and drink straight through it. The Squeeze is threaded on the bottom so you can attach it to any standard-threaded water bottle. Then you can fill the bottle with dirty water from your trailside source and drink straight through the filter. Plus, the included bags were very difficult to fill with water. The water bottle has stiff sides so if you can get the whole under the surface of the water it will fill up very quickly.
O-Ring Issues and Backflushing
While we have loads of praise for the Sawyer Squeeze, it's not a completely perfect device. When using our favorite water bottle method with the Squeeze, we had a small issue that was worth mentioning.
When unscrewing the filter from the bottle, a small white O-ring fell out and we didn't see it. The next time we went to drink from our filter after re-filling from the water source, dirty water poured out all over us. It took a little while to realize that we had lost the O-ring, but the filter won't seal without it. This time, we got lucky and were able to find the O-ring. But if we hadn't located it, it could have been trouble since we were way out on the trail with no other filtration options on hand.
Sawyer Products SP131 Squeeze Water Filtration System w/ 3 Pouches (One 16-Oz, Two 32-Oz)
Lightweight, easy to use portable water filter removes harmful bacteria, protozoa, cysts, sediment, and 100% of microplastics; Perfect...
High-performance 0.1 Micron absolute inline filter fits in the palm of your hand and weighs just 2 ounces; 100% of Micro Squeeze units...
Built-in and removable flip top sports cap; spray water straight into mouth or bottle from included pouch; also fits standard water...
The only other notable issue for us pertained to backflushing. Backflushing this filter is easy, but you need to have the right tool. Included with the filter are a syringe and a coupling. The syringe can be filled with water and squirted through the filter to backflush it. This is not what we recommend. The blue coupling will allow you to screw a water bottle that's full of clean water onto the drinking end of your filter. Then you can squeeze the water through and backflush with more water and higher pressure so it's much quicker and easier.
But whatever you do, don't forget to take that coupling on the trail with you. After several days of drinking water that was full of bugs, dirt, and debris, our Squeeze filter lost most of its flow and severely needed a backflush. If you don't have the tools to perform the backflush, you may not have any way to continue getting clean water.
---
FAQ
If a boil notice is in effect, will this filter remove contamination so you don't have to boil?
Yes. The Sawyer Squeeze removes over 99% of all bacteria and protozoa so you don't need to boil your water if you drink it through the Sawyer Squeeze, even with a boil notice in effect.
Does this filter remove Viruses?
No, the Sawyer Squeeze does not filter out viruses.
Will this filter remove giardia, E.coli, and salmonella?
Yes, this filter will remove all unwanted contaminants except viruses, making biologically-contaminated water safe to drink.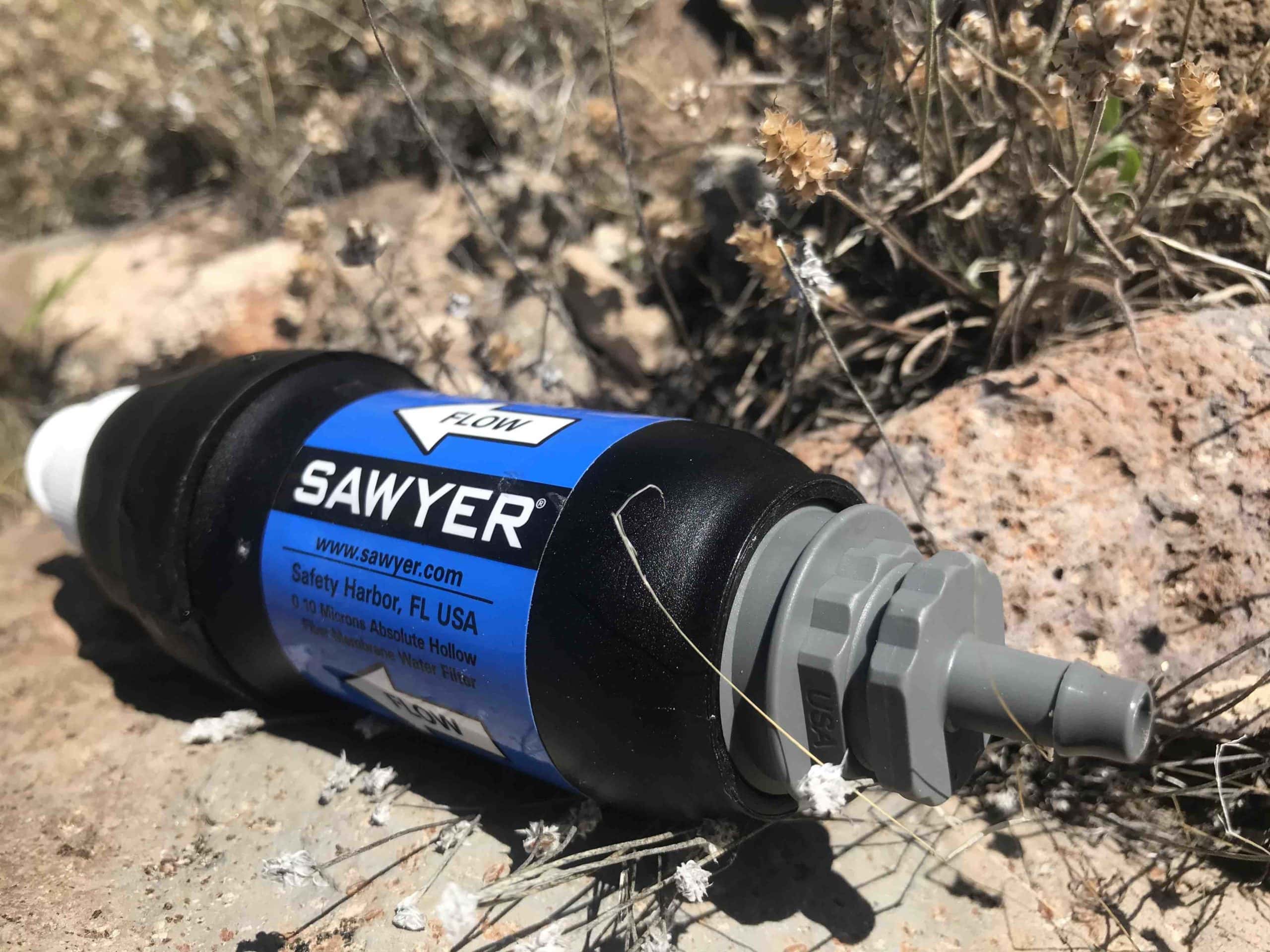 Are there replacement filters for the Sawyer Squeeze?
No, replacement filters are not necessary. The filter lasts for 100,000 gallons total. You just need to backflush it if the water flow starts to slow down and it will return to full performance.
How often does this filter need to be backflushed?
It depends on the quality of the water you're filtering through it. If the water is full of debris, dirt, bugs, and other filter-clogging stuff, then you may get just 15-20 filters through it before you need to backflush. If you're mostly filtering out clear mountain spring water, then you'll probably get thirty or more filtrations through it before a backflush is necessary.
How many times can you use this filter before you have to discard it?
You can use this filter unlimited times. You're unlikely to ever reach the 100,000-gallon capacity of this filter. But if problems do arise, the Sawyer Squeeze is protected by a lifetime warranty and Sawyer will replace the filter.
---
What the Users Say
Many people were thrilled with the compact size and light weight of the Sawyer Squeeze. Especially after switching from some of the other options on the market, the Squeeze seemed tiny to them. If they switched from something like a Katadyn or MSR pump, then they were usually ecstatic about how easy to use the Sawyer Squeeze is.
We certainly weren't the only ones complaining about the O-ring falling out of the bottom of the filter. But some users mentioned replacing the O-ring with one from a hardware store that's meant for a kitchen faucet. We haven't tried this ourselves, but it seems like a good idea in case you lose the one that's included with the filter. Another suggestion was a garden hose gasket, which we think may do just as well as the kitchen faucet O-ring.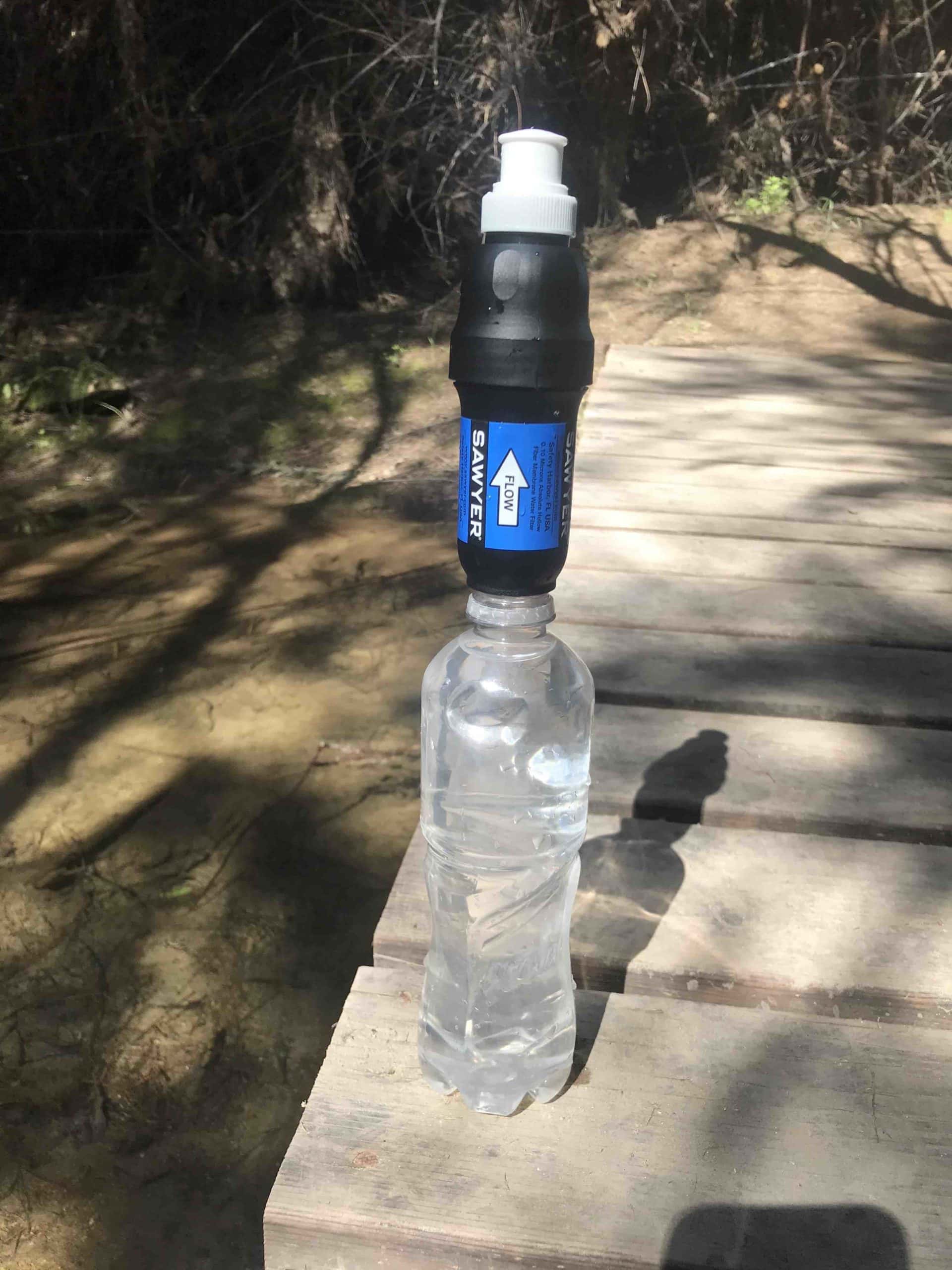 Users were impressed with how quickly the Sawyer Squeeze filters water. Many also liked that they could use it in different ways, depending on the other equipment they had or what they preferred. However, most users seemed to like the water bottle method the best, just like we did. There were often mentions of using the water bottle coupler for backflushing instead of the included syringe, which is a suggestion we also made and stand behind fully.
One of the only complaints is about the included squeeze bags. Many users felt that they were one of the slowest ways to use the Squeeze filter. Worse, after several uses, the bags seem likely to develop tears and leak water all over. We suggest skipping the bags and using the filter on a water bottle; but, if you're going to use the squeeze bags, you should be aware that they're not the sturdiest pieces of equipment.

Conclusion
The Sawyer Squeeze is a simple device with no moving parts to break and no filter cartridges to replace. It's designed to work and keep working for you in situations where you have no other options. For us, the Squeeze represents one of the smallest and most reliable ways to keep yourself hydrated when you're in the backcountry. It's super versatile and can be used in a multitude of ways from a gravity-fed filter to a drink-through straw filter. We'll keep using this filter since it has earned our trust on the trails we frequent.