Sawyer Squeeze vs. MINI: What's the Difference?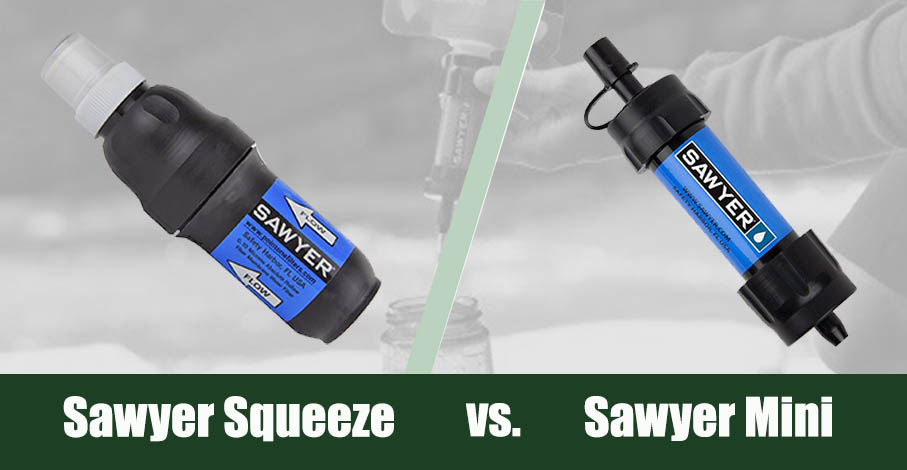 Both the Squeeze and its little brother the MINI are made by Sawyer Products. They're both meant for backcountry use where small size and absolute simplicity are key. We didn't have many complaints about either of these filters, but we put them to the test against each other to see which one was the best choice if you could only pick one.
The MINI is smaller and lighter than the Squeeze, but the Squeeze is pretty small in its own right, so the difference is minimal. Both are versatile enough to be used in many different ways, but the MINI makes it easier with its two-nipple design that allows you to hook it up with a hydration pack or gravity-fed system without needing any adapters.
You can also attach a straw to the MINI and drink straight from any water source you find. But the MINI doesn't have the same flow rate as the Squeeze. We were able to drink more water faster with the Squeeze. And if we needed to filter water for cooking or some other purpose, it was noticeably faster with the Squeeze.
For shorter journeys of a few days or less, we'd prefer the MINI since it's so flexible and tiny. But on longer adventures of a week or more, we feel more comfortable trusting the Squeeze, and the time and frustration you save with the improved water flow are worth the extra few dollars.

What are the differences between them?
Even though both filters are from the same manufacturer and intended for the same uses, they're still very different products. Let's take a look at exactly what separates these two portable water filters.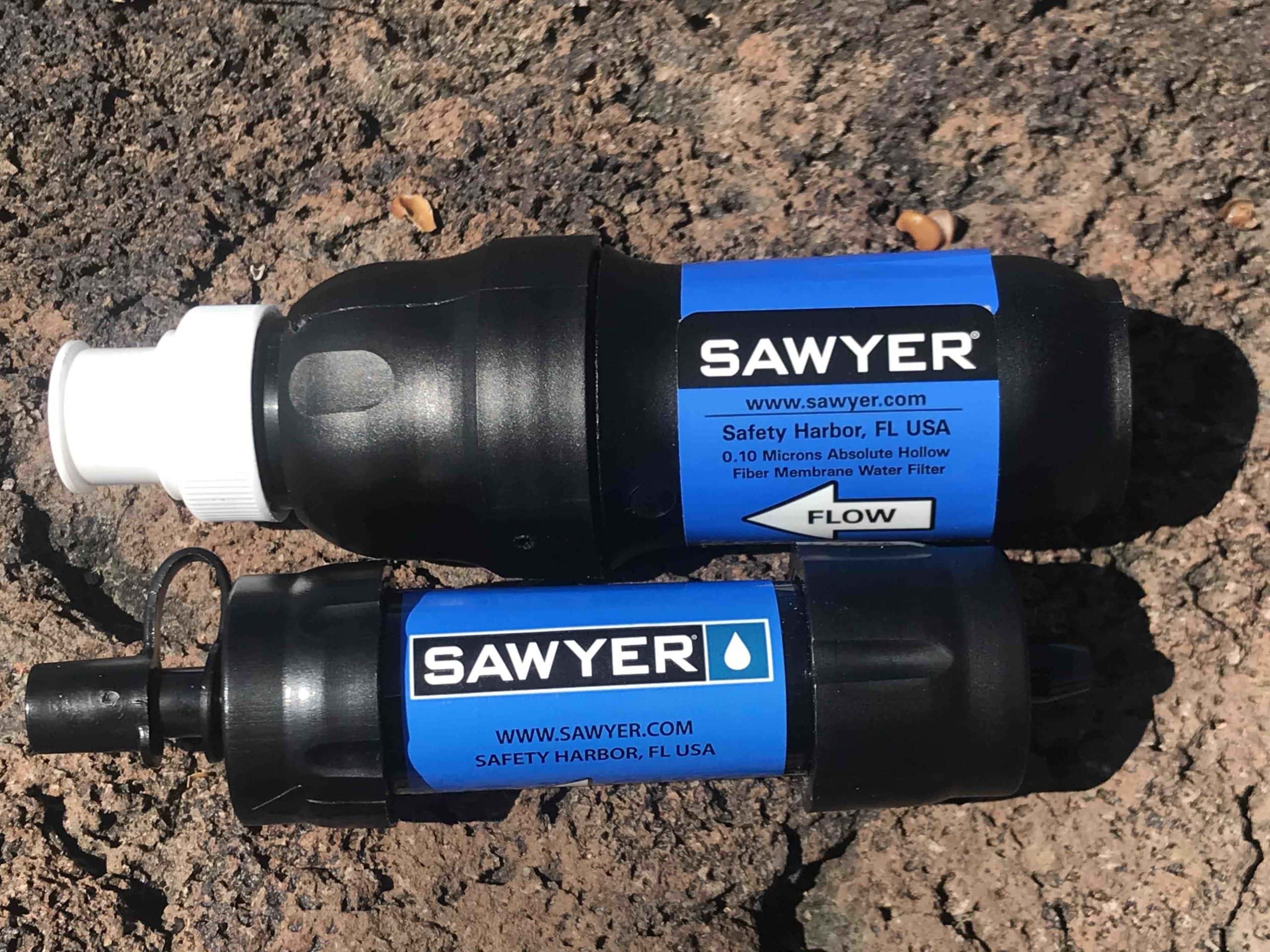 Performance
Performance between these two filters is very similar in many respects. Both have an incredible filter life of 100,000 gallons and a lifetime warranty that means you should never need to replace it. They're both extremely durable and can withstand daily exposure to the elements of nature. But the Squeeze has significantly higher rates of water flow than the MINI. You can still take adequate drinks from the MINI, but the Squeeze creates enough flow to really quench your thirst. The Squeeze takes the performance category.
Price
Even though both filters have similar feature sets and lifespans, they aren't priced the same. The MINI is one of the most affordable water filters on the market. The Squeeze isn't expensive for what it is, but it's definitely more of an investment than the MINI. The MINI wins when it comes to cost.
Durability
These are both pretty rugged filters. But the MINI has small nipples that could possibly break off if it drops too hard. We don't see that as a likely possibility, but the Squeeze seems bulletproof. The MINI is tough, too, but the Squeeze just seems a little bit tougher.
Versatility
Both of these filters are incredibly versatile and can be used in many different ways. You can use them as a squeeze filter by filling the included squeeze bags and squeezing the water through the filter and into a clean water receptacle. Or you can use them in-line with a hydration pack or a gravity-fed system. But our favorite way to use them is to simply screw them on top of a water bottle and drink straight through the filter.
While both filters can do all these things, the MINI makes it easier with the built-in nipples. You can attach it straight to your hose with no adapters needed.
For the Squeeze, you'd have to carry around adapters for each specific use, except as a bottle topper. But the MINI can do that as well, and it has a built-in cap topper instead of a loose one like the Squeeze. The MINI wins the versatility round.
Ease of Use
Because the MINI can attach to more items without adapters, we think it's the easier filter to use. You can even attach the included straw and drink straight from any water source, which is one of the easiest ways you can get clean water.

Quick Rundown of the Sawyer MINI: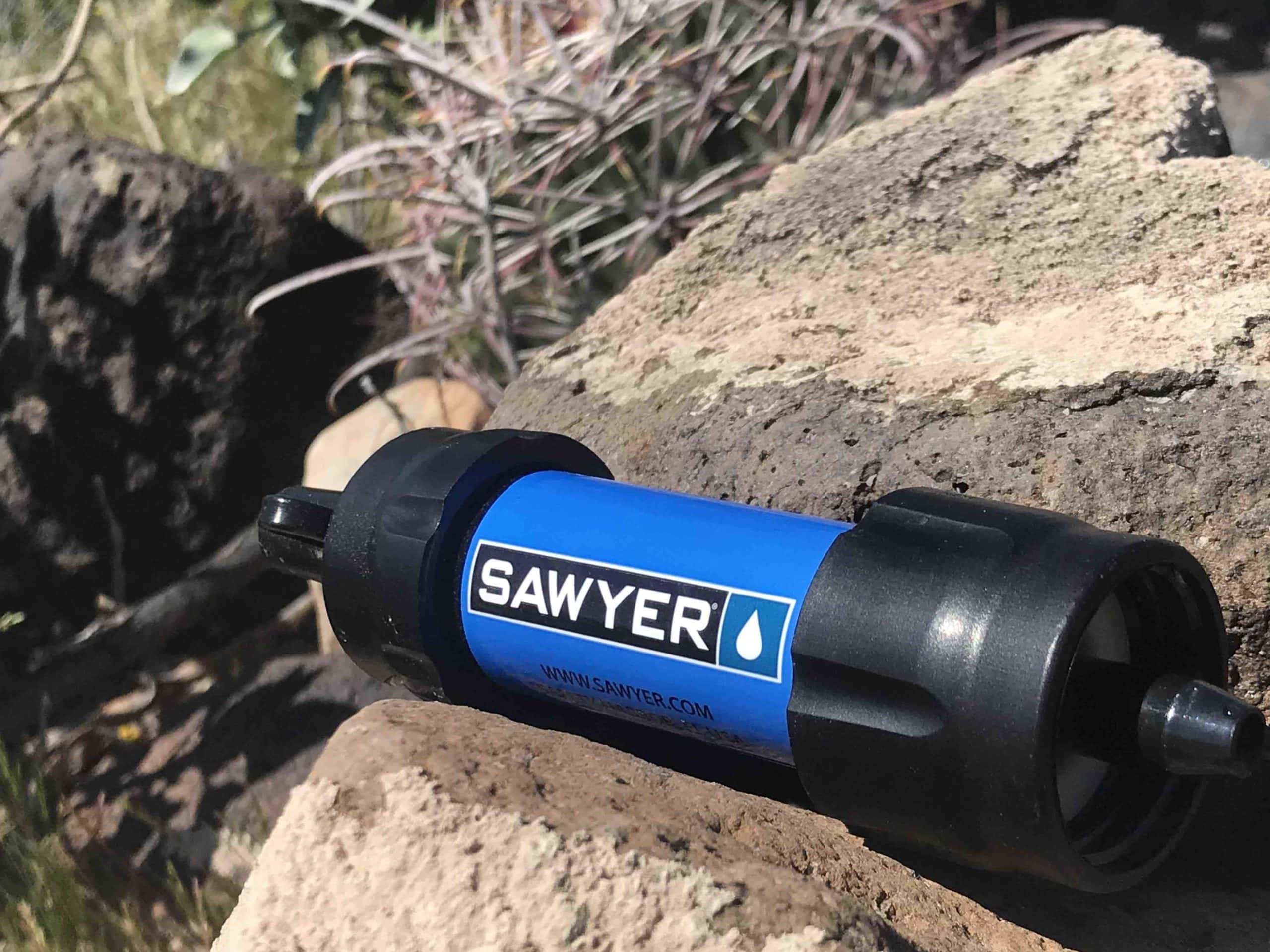 The Sawyer MINI is one of the cheapest portable water filters on the market. It's also tiny enough to fit in your back pocket or store in a first aid kit for emergencies. It's extremely reliable, but it has a smaller filter that fills up pretty quickly. The flow rate is also not the best, so it's a bit more difficult to drink from, which is why some people opt for the larger Squeeze filter. With a nipple built-into the attachment side, you don't need any adapters to use the MINI in many versatile ways. It's very simple to use and can be trusted to work when you need it.
Pros
Absolutely tiny
No adapters needed for attachments
Excellent lifespan
More affordable
Cons
Doesn't get as much flow
Needs backflushing more often
Sawyer Products SP128 Mini Water Filtration System, Single, Blue
Ideal for outdoor recreation, hiking, camping, scouting, domestic and International travel, and emergency preparedness
High-performance 0.1 Micron absolute inline filter fits in the palm of your hand and weighs just 2 ounces; 100% of MINI units...
Attaches to included drinking pouch, standard disposable water bottles, hydration packs, or use the straw to drink directly from your...
---
Quick Rundown of the Sawyer Squeeze: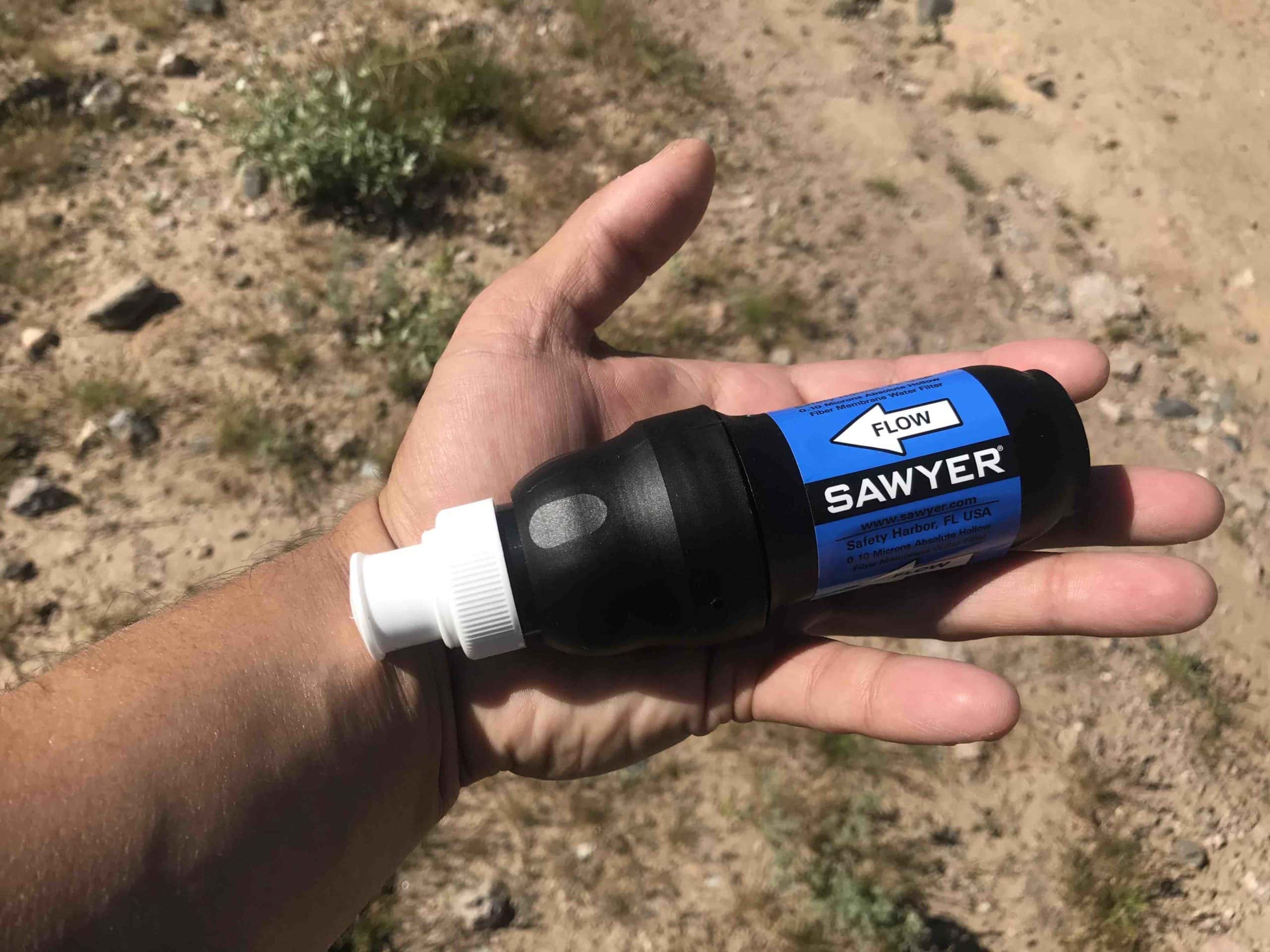 The Sawyer Squeeze is the big brother of the MINI. It's got the same impressive 100,000-gallon lifespan, but it's a bit bigger and weighs an ounce more. We think the Squeeze is a bit more durable, plus the larger filter size means you can go longer between backflushes. It's a bit more expensive, but the Squeeze is the filter we feel more comfortable trusting for longer excursions where you have to rely on your equipment to keep you alive.
Pros
High flow rates
More durable
Incredible lifespan
Filter goes longer between backflushes
Cons
Needs adapters for attachments
A bit bigger and heavier
More expensive
Sawyer Products SP131 Squeeze Water Filtration System w/ 3 Pouches (One 16-Oz, Two 32-Oz)
Lightweight, easy to use portable water filter removes harmful bacteria, protozoa, cysts, sediment, and 100% of microplastics; Perfect...
High-performance 0.1 Micron absolute inline filter fits in the palm of your hand and weighs just 2 ounces; 100% of Micro Squeeze units...
Built-in and removable flip top sports cap; spray water straight into mouth or bottle from included pouch; also fits standard water...
---
What the Users Say
Many people seemed to gravitate towards the smaller size of the MINI. A good portion of those people were very satisfied with their purchase and seemed excited about the great water quality from the MINI. However, another group of people was very vocal about their displeasure with the low rate of water flow the MINI has. Lots of the serious backpackers recommended staying away from the MINI and choosing the larger Squeeze filter instead, for its higher rates of flow and easier drinking.
There were complaints with both of these filters about the O-rings in the back. If you use them on a bottle, make sure the O-rings don't fall out or break. It seems to be a common occurrence with both of these filters. If you lose the O-ring the filter won't seal to the bottle anymore and you'll make a mess.

Conclusion
We think both of these filters are great choices and you're making a good decision with either one. That said, we still have preferences about when each filter is the better option. For shorter trips of just a few days, we'd prefer the lighter weight, ease of use, and versatility of the MINI. On a longer trip, you'll probably settle into a specific routine and you won't need the versatility. Instead, you'll need the durability and higher flow rate of the Squeeze, so we prefer it for any trail trips lasting longer than a few days.