15 Spanish Interior Design Ideas You Can Build Today! (with Pictures)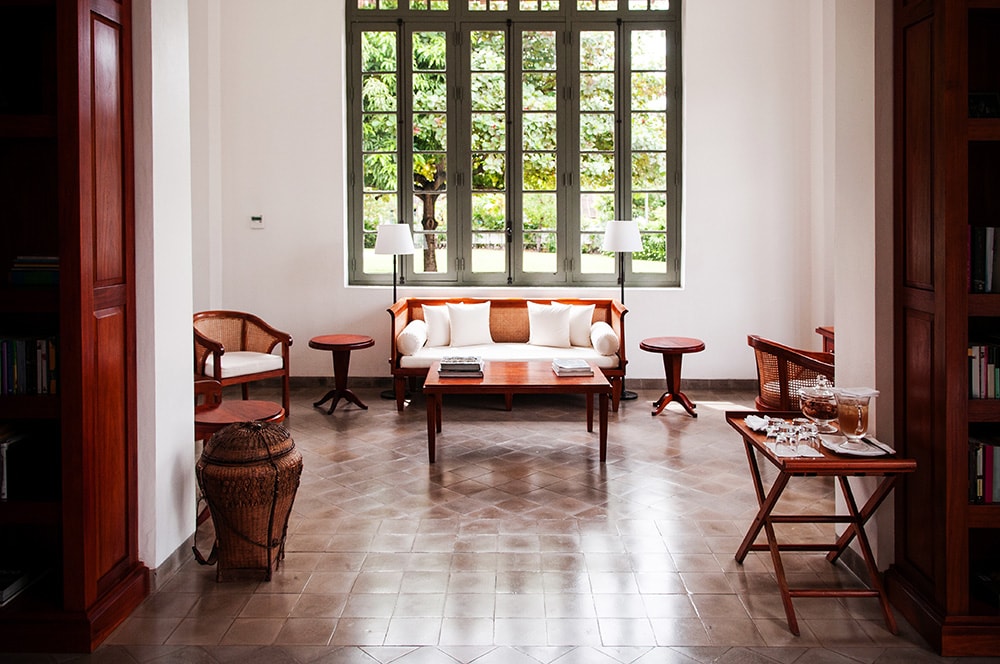 Spanish interior design is often warm, welcoming, and exciting to view. It's impossible to deny that Spanish-inspired interiors are incredibly stylish and cozy while maintaining an unmatchable sense of tradition. Most design components we use today within a Spanish interior stem from the Spanish Colonial Period, and many of the original buildings we use as inspiration still stand to this day. Similar features like adobe structures, wrought iron details, and terracotta tiles are found throughout older, more historical buildings.
Spanish interior design shares common style features with many of its Mediterranean neighbors. Spanish homes share similar designs with Tuscan, Moroccan, and French country styles, and you will find that the elements often coincide and even overlap. Clean white interiors from French country designs pair well with the dark, exposed wooden beams in Spanish styles. In Spanish and Moroccan designs, colorful tiles, neutral pottery, and wide-open spaces with plenty of greenery are common themes.
You can easily decorate your home with a traditional Spanish style without sacrificing your personal flair. Your bold choices should be matched with traditional stucco walls, decorative tile work, and potted plants. If you want to incorporate Spanish styles into your home, look no further.
Whether you are building and decorating a new home, renovating, or simply looking to redecorate your favorite space, here are 15 Spanish interior design ideas to get your creative juices flowing!


The 15 Spanish Interior Design Ideas:
1.

Colonial Living Room
This open-style living room features a ceiling with exposed wooden beams, soft white walls, and rustic wood accents. The Spanish-style wood beams pair well with the decorative, dark iron chandelier that takes center stage. There are pops of color due to the bluish patterned rug and blue couches in the center of the room. The large French windows and warm undertones in the white walls create a homey, calm space reminiscent of both the French Countryside and Spanish-styled homes.
---
2.

Warm Living Room
Warm and inviting, this living room creates a cozy space perfect for lounging and reading a good book. Illuminated by a decorative wrought iron chandelier, the vaulted ceilings and exposed beams paint a shapely contrast to the warmth and color of the tanned hardwood flooring and adobe-like walls. Exposed beams, a worn and colorful throw rug, and cut-out wall displays finish the Spanish effects. A sturdy, iron wine wrack and wooden bookshelves bring even more elements of Spanish design into the space. The overall warm undertones of the room play in sharp contrast with the cream-colored loveseat, making for an inviting visual feast.
---
3.

Colorful Art Deco
The archways, domed ceilings, and stone fireplace bring a Spanish touch to this New Age Art Deco-inspired room. Bursts of color, eye-catching decorative pieces, and gold accents create an old-timey atmosphere intermixed with the hardwood floors and bright, calming white walls. The real centerpiece is the blue-gray arched wall with its brick fireplace, golden mirrors, and picture frames, which creates a modern and delicate balance between the new and the old. Finished off with mismatched sofas, draped windows, and arched doors, this living room is sure to leave a lasting impression.
---
4.

Rustic, Warm Living Room
Spanish-style living spaces like this feel both traditional and sophisticated while also bringing an undeniable aura of warmth and comfort—a common theme in Spanish interior design. This stunning space features white stucco walls contrasting against natural, exposed wood beams. The rustic Spanish feelings don't stop with the gritty white stucco and wooden accents, but this living room also features a tiled fireplace that embodies the rustic look this space was going after. Since it's filled with soft rugs on the hardwood floors, wooden accent furniture, and potted plants, this living room creates a perfect cozy getaway.
---
5.

Elements of Religion
It's no secret that religious elements heavily influence Spanish design and culture. This bedroom, featuring hand-painted religious decorations as its focal point, is a prime example of why it works so well in Spanish design. An iron crown fitted with crosses holds airy netting above the bed and is a great centerpiece showing the wrought-iron detailing popular within Spanish design.
In addition to the creative metal work, the headboard of the bed is a painted divider screen depicting religious figures in a creative, soft style that matches the colors and artistry of the cross artwork on the other wall. The colors and patterns in this room, paired with decorations inspired by the religious iconography of Spanish culture, mixes to create a unique style.
---
6.

Old World Living Room
The open floor plan of this living room creates the perfect playground of fluidity and simple design, showing off the delicacies of Old-World Spanish style. It's almost possible to imagine a room such as this in shows like The Spanish Princess or Reign, even with the room's more modern touches. The wooden support beams in the ceiling enhance the space with a rustic warmth to contrast the calming white walls. Wood accent furniture, a stylized red rug, and open archways work well with iron-work candle chandeliers and finish off the Spanish look.
---
7.

Homey Dining Room
This elegant dining room features expertly carved furniture and honey-colored velvet drapes to recreate the elements of Spanish style. This carefully crafted color scheme brings to mind the calming colors of the sky and the sunshine's warmth in the dining room. The wood-carved, Spanish-style dining chairs pair with the striking wood dining table and accent tables along the walls. With the thick velvet drapes and dark wood furniture, this room creates a predominately historical Spanish space. This dining room even features wrought-iron, glass chandeliers, and a large window view out into the greenery of the courtyard.
---
8.

Lively and Colorful Bathroom
Warm, bright, and colorful, this master bathroom features some amazing elements of Spanish style. This bathroom features colorful tile mosaics, iron light fixtures, earth-tone colors, and wooden accents. The adobe walls and warm color palette recall the warmth of Spanish design while also bringing something exciting and fresh to appreciate. The colorful blues in the tile designs in the sink, walls, and mirrors may make you think of the ocean. It's hard not to feel at home amongst this vanity's contrasting tiles and woodwork.
---
9.

Contemporary Living Room
Soft, red hues shine in this contemporary living room. From the natural terracotta tiles to the tall, arched doors creating a light and airy space, this living room pairs perfect accents of color with a contemporary twist on traditional Spanish designs. The warm reds, oranges, and earth-tone pinks blend with the warmth of the darker wood of the large, open windows. These warm accents look soft and inviting against the crisp white walls and couch. The wooden coffee table and wrought-iron mirror put the finishing touches on this little slice of paradise.
---
10.

Pops of Color
While many Spanish-inspired sitting rooms and living spaces embrace cool whites, natural wood, and warm earth tones, this sitting room embraces vibrant colors and rich textures to create a one-of-a-kind space. Featuring traditional blankets, brightly colored walls, and stand-out wood furniture, this room teleports you into a realm of colors rich in tradition. You don't need to shy away from color in order to fill a space with Spanish design ideas. You can keep your individual flair with colorful walls, textured rugs, and hand-painted wood pieces.
---
11.

Colorful Kitchen
This kitchen is a lively and vibrant Spanish escape, featuring a colorful mix of blue and white painted tiles, golden accents, and oak wood. It retains its Old-World Spanish charm through its use of painted golden yellow colors, natural oak wood in the island, and sturdy, natural tile flooring. When paired with the backsplash tile along the walls, gilded bronze of the chandeliers, and white cabinets and cupboards, this Spanish/Moroccan kitchen is a delight.
---
12.

Elegant Monochrome Bedroom
While the last entries have been full of color and playful textures, this all-white monochrome look is fresh and crisp without feeling like a sterile hospital room. This bedroom breaks up the stark white with exposed wooden beams and floors. We love the different shades throughout the room, accentuated by the soft gray rug on the floor and the cream-colored throw blanket on the lounge. The bright colors from the painting between the windows and green from the plant makes a welcome addition to the depth of the space.
---
13.

Traditional Kitchen Backsplash
Nothing says Spanish style quite like delicately painted tiles. The creative patterns often featured on tiles used in backsplashes, flooring, or decorations scream Spanish influence. This kitchen uses rich wooden cabinets to contrast the more modern white walls and darker island counter. Natural, warm-hued tile balances the colors in the backsplash and cabinets for a genuine Spanish-styled kitchen.
---
14.

Adobe Niche Bedroom
Adobe structures are common in Spanish design, and adobe walls often feature creative cut-outs and niches filled with furniture to make a space cozy. This bedroom is full of warmth with its honey colors of gold and scarlet mixed with the brown leather and the iron bed frame. The archway takes this design to the next level, especially with the built-in cut-outs for the art, pots, and lamps. The floral arrangements, iron bed frame, and low-light wall sconces are ideally suited for the welcoming space, and the colorful bedding and leather give this room the Spanish touch.
---
15.

Modern and Earthy Bedroom
You might not think modern bedrooms can be filled with Spanish designs, but this minimalist space is calming and relaxing with its undeniable Spanish influences. The weathered wooden beams in the ceiling, the large Spanish tiles in the flooring, and the bright, rich colors in the art prints label this room as an undeniable piece of Spanish interior design. This whole bedroom proves Spanish style can mix with other design aesthetics, especially types using the same neutral colors and simple, natural elements. Once you find your perfect color palette and add in exposed support beams or wall cut-outs, you can design your room with vibrant Spanish decorative elements.

Final Thoughts
Whether you're drawn to the more rustic, natural look or find yourself intoxicated by bright colors and traditional patterns, you can't go wrong with Spanish design ideas for your interior. There are many ways to incorporate the wrought iron décor, natural wood, tile backsplashes, and vibrant colors and plants that come with Spanish design. Intermixing Spanish décor into your home is a great way to create sanctuaries that are soothing, stylish, and full of warmth. Let your creativity flow and make your mark in your home with your own designs!
---
Featured Image Credit: PixHound, Shutterstock