10 Italian Interior Design Ideas You Can Try Today (With Pictures)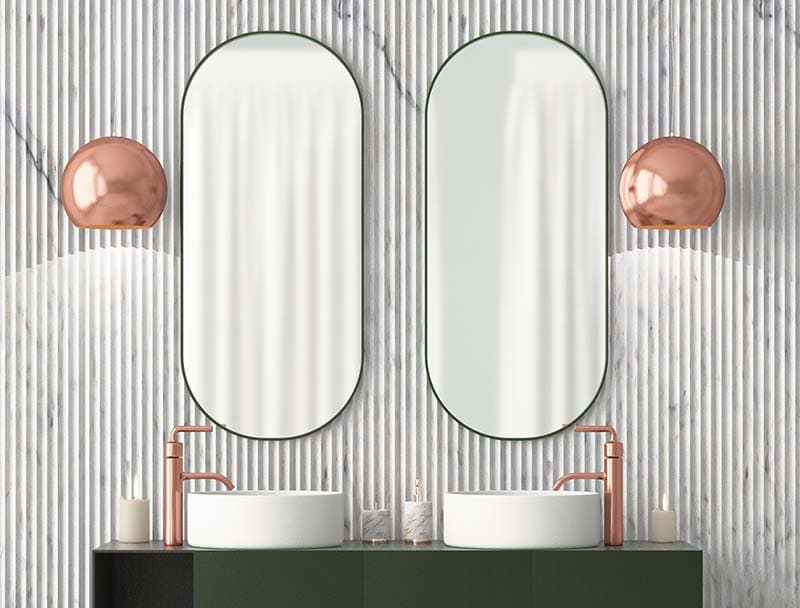 If you're a fan of delightful design ideas, you probably know about Italian interior design. It focuses on the relationship between form and function and combines rustic themes with modern designs, and it has shaped today's modern home in many ways. From lighting and furniture down to the design of everyday appliances, the Italian touch can be seen practically everywhere.
If you're looking for design ideas with an Italian influence, we've compiled Italian interior design ideas that will spark your imagination and creativity!

The 10 Italian Interior Design Ideas
1.

Mix Rustic Interiors with Modern Furniture
One of the tenets of Italian design is mixing rustic, older buildings with new and modern furniture. You may see bare brick walls next to new rugs and sofas, or exposed beams, wood, and metal mixed with up-to-date furniture and accessories.
Think of it like a rustic farmhouse decorated using the newest and most chic styles. You can thank Italian designers for bringing this oddly delightful combination to the forefront of modern design ideas.
---
2.

Use Neutral Background Colors to Make Your Design Elements Pop
If there's one design aspect Italian designers know well, it's that when you have walls painted in bright or powerful colors, everything else in the room gets lost. That's why one of the most common Italian design ideas is to go with neutral colors in the background.
For example, when you have walls painted an eggshell white, your furniture and design accessories will all stand out because they're not competing for your eye's attention. Even better, with a neutral background, you can change your color palette easily since neutral colors blend effortlessly with bright colors. While white is a good choice, beige, cream, and light tan are also neutral colors.
---
3.

Put Down Cementine Tiles for a Splash of Floor Color
You'll recognize Italian cement tiles immediately. Referred to simply as "cementine," these tiles add a splash of color to floors and were a big trend a few years ago. Handmade cementine tiles have been around since the 1850s in Europe.
Although considered an Italian design idea, cementine tiles were first made in Viviers, France! Not only are they gorgeous but cementine tiles bring geometry and energy into any space they're used, whether the dining room, kitchen, hallway, or den. If you want to add a splash of color, these trendy tiles will do the trick!
---
4.

Use Warm Terracotta Colors to Make Your Space Comfy and Inviting
Although we mentioned earlier that many Italian designers like neutral walls, they're not afraid to go with warm, inviting colors inside the home, including their favorite, terracotta. With roots in Tuscany, Italy, terracotta colors bring warmth, comfort, and coziness to any room, making it more inviting and relaxing.
Terracotta also comes in a wide range of hues to suit your taste perfectly. You can pair it with whites, creams, beige colors, and darker accents around windows and doors. If creating a comfy, Italian-inspired room is your goal, terracotta is the way to go. We've even seen it used on ceilings.
---
5.

Open Up Your Space to Truly Live In It
Contemporary Italian design is all about incorporating open space into your home. The emphasis on open space design is truly living in your home rather than just occupying it. Open kitchens that lead into the dining or living room are an excellent example of this style.
Open space design also focuses on not stuffing a space full but leaving a void where all you have is open floor space. Of course, if you're the type that likes to fill your rooms with tchotchkes and knickknacks, this design idea might not be for you. However, if an open space with room to breathe makes you smile, this Italian interior design idea will be right up your alley.
---
6.

Incorporate Your Garden Into Your Home
One trait distinguishing Italians is their love for gardens and growing their food, plants, and flowers. That love for all things green has long been incorporated into their interior design ideas. One of the most powerful examples is the Bosco Verticale, the twin high-rise buildings in Milan, Italy.
As residential skyscrapers, the Bosco Verticale (Vertical Forest) incorporates over 2,000 trees and perennials into the building. It's truly a spectacular sight to see! You can do this in your own home by incorporating plants into your space wherever possible.
---
7.

Don't Be Afraid to Embrace Imperfection
One of the downfalls of modern design is the desire for perfection at all costs. Many would say you've failed in your design attempts if everything isn't perfect. On the other hand, Italian designers would tell you to embrace imperfection and its unique beauty and stop losing sleep when things aren't flawless.
Furniture that doesn't quite match or brick walls that aren't 100% plumb are good examples. You can even display mismatched plates, glasses, and other small items., Italian designers don't believe perfection is necessary, so why not embrace imperfection in your home?
---
8.

Make Adding Natural Light a Priority
Natural light is one of the pillars of Italian design. Not only is it good for your health, but it's also good for your soul. Yes, it can be difficult to bring more light into some homes without big renovations, but if achieving a dreamy living room or beautiful bedroom is your goal, it might be necessary.
Then again, you could always hang lighter, airier curtains rather than heavy, dark ones. Also, Installing solar tubes costs less than a major remodeling, and moving furniture that blocks light is even easier. The more light, the better.
---
9.

Use Antiques to Give Your Space an Italian Villa Aesthetic
This idea might not be for you if you're looking for a modern Italian vibe. One of the key elements of a great Italian villa is the furniture, even if it's not new, trendy, or chic. In many of the most comfortable villas, the furniture is older, weathered, and as far from "modern" as possible.
How can you achieve this look in your home today? Nearly every American town or city has at least one or two antique shops. Yes, some might set you back a pretty penny, but you're bound to find beautiful pieces that stay within your budget.
---
10.

Don't Forget to Include Your Bathrooms
Many of us overlook the bathrooms, especially since they're often small and unassuming. In Italy, however, the bathroom is never overlooked; in many cases, it's especially interesting.
All the Italian design ideas we've touched on can be used in your bathroom. Your bathrooms can be painted in stark black and white, with stone sinks and terracotta-inspired toilets! If you're going for an Italian look in your home, remember to extend it to the bathrooms too!

Final Thoughts
As they say in The New York Times Style Magazine, "When it comes to design, nobody does it like the Italians." They're referring to the fact that, in the last few thousand years, Italian interior design has been the hallmark of the entire world. It's timeless, classic, and eminently chic (without even trying).
We hope the Italian interior design ideas we've brought you today have inspired you to redecorate, redesign, or reinvigorate your home. Whatever you decide, if you let Italian designers guide you, the result will almost assuredly be fantastic!
See also:
---
Featured Image Credit: Philipp Shuruev, Shutterstock