11 Genius Things You Can Do with Tea Bags: Reuse Ideas (With Pictures)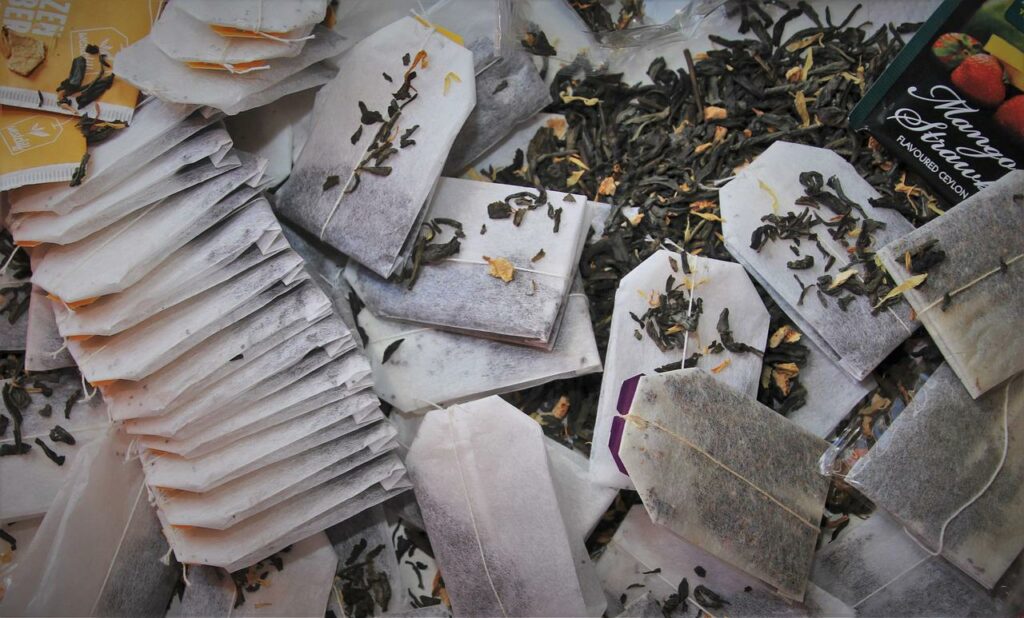 If you're an avid tea drinker, you may cringe at all of the disposable tea bags you go through in a short period of time. We don't want to waste our resources, whether that be paper or the remaining nutrients in the used tea leaves, so thankfully there are some ways to recycle your tea bags once you've used them to brew your perfect cup of English Breakfast.

The 11 Things You Can Do with Tea Bags
1.

Compost
If you have a stapled tea bag, you can simply remove the tag and staple, and dump the bag into your compost bin instead of the trash can. You shouldn't put a fused tea bag in your compost however because it won't break down. Tea gives beneficial nutrients to your plants just like it does to your body.
---
2.

Seed Starters
| | |
| --- | --- |
| Materials: | Used tea bag, seeds |
| Tools: | Scissors |
| Difficulty level: | Easy |
If you planted one seed bag per day, think of how many plants you'd have in your garden by the end of the growing season! Tea nourishes your young plant as it sprouts, and the tea bag itself temporarily protects the seedling until the bag naturally composts, providing yet more nutrients.
To make your first planting, remove the string and staple, and make a small hole in the tea bag. You might want to make a tiny cut at the top of the tea bag just below the staple to accomplish all of these things in a single step. Place a seed or two in the used tea bag and keep it moist for a few days until the seedling sprouts. After the new plant appears, follow the instructions on your seed packet, and plant the tea bag in a pot or in the ground.
---
3.

Rodent and Insect Repellent
Rats, spiders, and other insects despise the smell of peppermint tea. Place used peppermint tea bags around your house, and especially near windows, doors, or other holes where the unwelcome critters could crawl inside. Just be mindful if you have cats because peppermint is poisonous to felines. Most cats shy away from its powerful scent, but others are strangely attracted to the toxin because it's closely related to catnip.
---
4.

Fire Starter
| | |
| --- | --- |
| Materials: | Several used tea bags, old candle, scrap paper |
| Tools: | Stove top, wooden skewer, heat-safe pot, bowl or double boiler |
| Difficulty level: | Easy |
It's best to stock up on used tea bags so that you can dip them all at once. Make sure your tea bags are completely dry before starting this project. When you're ready to begin, simmer some water on the stove in a double boiler, pot, or heat-safe bowl. If your old candle was fashioned out of tin (not plastic or thin glass), then you can place it directly in simmering water to melt the wax.
Alternatively, you can break the old wax into chunks. Just make sure you're not going to need the pot or bowl for food use anymore because candles can contain some non-edible chemicals. Once the wax has melted, dunk the tea bags and turn with a wooden skewer to evenly coat all sides in the wax. Transfer to the paper scraps and let dry. Voila! You have almost free fire starter to welcome in a cozy fire during your next tea break, or to take on a camping trip.
---
5.

Deodorizer
Give your tea bags new life by drying them out and hanging them in your car, house, or stuffing them in your shoes for a deodorizing effect. You could even add a couple drops of a complementary essential oil for extra strength. For example, you could match the scents by adding peppermint essential oil to a used bag of peppermint tea, or you could add a citrus essential oil to ginger spice tea to make your own blend.
We love this idea because it's a cheap, natural alternative to room sprays and you can create any scent you want to correspond with the time of year. Spring into a fresh new season with a fruity tea such as raspberry. Citrus teas provide a whiff of summer. You can make your own pumpkin spice blend with chai or ginger tea in the fall, and peppermint or eucalyptus gives us the slightly evergreen smell of winter.
---
6.

Tea Bag Art "Snippets"
| | |
| --- | --- |
| Materials: | Dried old tea bags, pencil to trace, paint, buttons, scraps of fabric, paper, and ribbon |
| Tools: | Paint brush, glue or needle and thread |
Take inspiration from Carol Ann Webster and recycle a tea bag as the base of an art project. This lady dries her used tea bags and then peels them open, revealing a stained canvas with unique patterns and shades. She then traces and paints her new creation on top of the bags, embellishing with fabric, paper, and ribbon scraps. She even sews buttons and tiny stitches to add texture. She says she loves using tea bags because they're basically free and there's no pressure to be perfect. If she messes up, she simply tosses it away and tries again after her next cup.
---
7.

Stitched Tea Bags
| | |
| --- | --- |
| Materials: | Dried tea bags, embroidery thread, interfacing/muslin cut to size, tea-dyed tags, buttons (optional) |
| Tools: | Embroidery needle, scissors |
| Difficulty level: | Intermediate |
Embroidery is a simple way to embellish a used tea bag. This project uses muslin to provide some stability to the dried tea bag, and then you can use your choice of embroidery thread to make a design. The tea-dyed tags were tied on at the end. You could even embroider a holiday pattern and add a loop of string when you attach the tea-dyed tags to create a Christmas ornament. Or you could merge the deodorizing project with this one to craft a pretty air freshener that will brighten your room with color while giving it a fresh smell.
---
8.

Fabric Dye
| | |
| --- | --- |
| Materials: | Several used tea bags, fabric for dying (preferably plain cotton, linen, or hemp) |
| Tools: | Stove, pot of boiling water, surface or clothesline for drying |
| Difficulty level: | Easy |
Tea is a gentle, natural way to add soft color to your fabric. You can choose your shade based on the flavor of your tea. Chamomile lends a light-yellow color to your fabric, while green tea gives a slight green tint. Black tea turns your fabric brown, and rooibos makes it red. Experiment with how many used tea bags you want to add to the water to determine the shade, and always test a swatch first. Keep in mind since you're recycling old tea, you'll probably need more bags than you typically would with fresh tea.
---
9.

Flavoring for a Pot of Rice
| | |
| --- | --- |
| Materials: | Rice, boiling water, old tea bag |
| Tools: | Stove, pot for cooking rice |
| Difficulty level: | Easy |
Plopping a used tea bag into your pot of cooking rice adds a subtle flavor that's certain to delight your family. Spiced teas such as turmeric should work best in general, but you can experiment to find the flavor that's best for your dish. This is a much healthier seasoning alternative than salt!
---
10.

Herbal Color Enhancing Hair Spray
| | |
| --- | --- |
| Materials: | Empty spray bottle, ½ cup water, 2 tsp. sugar, 1 or 2 tea bags of your choice |
| Tools: | N/A |
| Difficulty level: | Easy |
While this DIY hairspray won't give you drastic results like commercial hair dye, it provides a subtle tint if you're wanting highlights or a slight change in hair color that doesn't rely on harsh chemicals. Boil ½ cup water, 2 tsp. sugar, and one or two used tea bags depending on how bold you want the shade to be. If you want red, try rooibos. Chamomile will lighten your hair, and black tea will give it a darker shade.
---
11.

Dip-dyed Cards
| | |
| --- | --- |
| Materials: | Recently used tea bag, paper for dying |
| Tools: | N/A |
| Difficulty level: | Easy |
You can make this project as you sip on your cup of tea. You can ring out the tea bag into a small bowl to dip the paper into for a light aging effect, or you can blot the tea bag directly onto the paper to form a pattern. Keep in mind that your tea blend determines the color, but the shade probably won't be as dark as other methods. Tea dying is the perfect method if you're looking for a soft, aged effect that gives a slight scent. You can even use it to make vintage-inspired invitation cards to your next tea party.

Other Ways to Help the Planet with Your Tea
If DIY projects aren't your cup of tea, you could always switch to loose-leaf tea and buy a reusable tea bag on Etsy. You can dump the leaves after brewing, wash the bag, and re-use it for your next cup.

Conclusion
Whether you're a gardener, a homebody, or a busy entrepreneur on the run, you can find DIY uses for old tea bags. Buying tea bags without plastic will allow you to find more creative uses for your old bags, such as composting, and it's a better decision for you and the planet, too. If your favorite blend only comes in a plastic pouch, you can still reuse the tea bag for art or as a natural deodorizer. Consider all the ways to reuse your tea bag next time you brew a cup to prevent it from being tossed in the trash.
---
Featured Image Credit: Julita, Pixabay