TorqX vs Torq 10FX: Which One's Best?
Rating
Image
Product
Details

Best Choice

Torq 10FX

Better power
Good mid-level sander
Designed for comfortable control
CHECK PRICE

Best Price

TORQX

Affordable
Good power
Good starter sander
CHECK PRICE
Every Healthy Handyman likes to have the absolute best tools at his disposal. Sometimes, though, it's difficult to decide between two similar tools, especially sanders. And that's the case when it comes to the TorqX versus the Torq 10FX.
Each of these tools has its own strengths and weaknesses. So, how can you know which one is best for you and your projects?
We've put together the ultimate comparison between these two products. Keep reading to learn everything you need to know to make a decision.

Primary Differences
As you might imagine, there are many differences between the TorqX and the Torq 10FX. Each one shines in different categories. That's why our breakdown pits these tools "head to head" in a number of important categories.
Performance Winner: Torq 10FX
Chances are the most important quality of your tools is how well they perform. Between the two choices, which one is the winner when it comes to performance? We're going to go with the Torq 10FX.
Don't get us wrong: if you've never really used a sander, you should start with the TorqX and work your way up. But if you're an experienced sander and want the best possible performance, the 700-watt motor of the Torq 10FX provides the power you'll need.
We also love how easy it is to hold this tool while you work. It is easy and intuitive, and you're not going to experience fatigue for a good, long time when you're working with the Torq 10FX.
Price Winner: TorqX
Performance is one thing and price is another. You may not have a lot of money to spare when it comes to buying new tools. And if you're on a tight budget, it's best to stick with the TorqX.
While the exact prices may fluctuate over time, there is currently a pretty big price difference between these different models. And while the Torq 10FX definitely offers better performance than the TorqX, you are the only one who can determine if the extra power and performance justifies the extra cost.
Durability Winner: A Tie
One of the more "hidden" factors when it comes to new tools is how durable they are. You don't want to replace your sander year after year; instead, you want a sander that will last for many years.
So, who is the clear durability winner when we pit these models against one another? Believe it or not, it's actually a tie!
While the Torq 10FX offers better performance than the TorqX, each one shares a similar (and highly durable) frame. If you put them side by side, each one is going to last the same amount of time in the same conditions.
Long story short? In terms of durability, each one of these orbital sanders is sure to last a really long time. It's just a matter of which one you want to keep in your garage for the next few years.
Design Winner: Torq 10FX
While durability was a "tie," design is another matter altogether. One of these sanders clearly has a superior design when compared to the other one. Which one are we talking about? The Torq 10FX.
It has an improved internal balance that makes operating it move much more smoothly. This is especially important during tasks such as stripping paint.
On top of that, the Torq 10FX is more ergonomic to hold and more intuitive to use thanks to its user-friendly design features. Combine these two features together and you have a sander that offers the raw power you need while also offering the precision handling so you don't cause any permanent damage to your next project.

Overview of the TorqX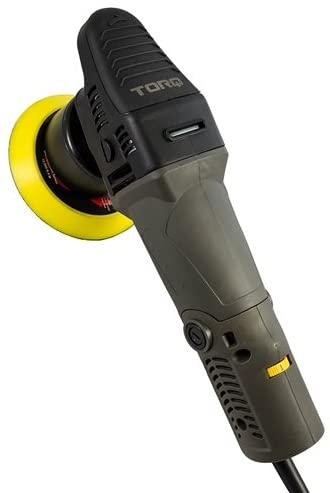 We've compared these two sanders in a number of key areas. Now, we're going to do a deeper dive into the specific pros and cons of each mode, starting with the TorqX.
As we said before, this is the sander choice for beginners. And because it is cheaper, the low cost may help justify you picking up a new tool and learning a new hobby.
It is powered by a 680-watt motor. While that's a tad less powerful than the Torq 10FX, it's enough to tackle most tasks you need a sander for.
Generally speaking, the TorqX is pretty comfortable to use. But there are more expensive models (such as the Torq 10FX) that are even more comfortable and ergonomic. And at the end of the day, this sander can't offer the same level of control as other models.
Pros
Low price
Solid power
Great for beginners
Comfortable
Cons
Harder to control during use

Overview of the Torq 10FX
We've said plenty of kind words about the Torq 10FX so far. And there is a reason for that: pretty much anything the TorqX can do, the Torq 10FX can do better. And the only real downside is that it is much more expensive.
While the TorqX has a 680-watt motor, the Torq 10FX comes roaring in with a 700-watt motor. This provides even more power and can help you tackle even more tasks.
At the same time, the Torq 10FX offers easier controls and a more comfortable grip. It's not that the TorqX is truly bad in any of these categories. But once you experience the luxury of the Torq 10FX, there is honestly no going back.
Pros
More powerful motor
More intuitive controls
Great for experienced sanders
More comfortable grip

The Final Word
So, which sander is the best? In our eyes, it's the Torq 10FX by a country mile. It is simply better in every way but the price. And if you've got the cash to spare, you'll see that the superior sander is worth every penny.
With that being said, there is nothing wrong with the TorqX. It has solid design and performance and delivers good control at an affordable price.
If this is your first sander, you should definitely start with the TorqX. But if this isn't your first rodeo, we recommend treating yourself to an upgrade with the Torq10 FX.
You might also be interested in: Torq 22D Orbital Polisher Kit Review