Where Are Toyo Tires Made? Are They American?
Toyo is a company that produces and sells tires worldwide, but many people are looking for products made in the US because they support the domestic economy and are sometimes higher quality than foreign tires. Toyo was founded in 1945 and steadily expanded its operations to other countries as they grew. Toyo makes tires under the Toyo, Silverstone, and Nitto brands.
The company's main office and factories are in Japan, but Toyo tires are also made in the US, Chile, and China. They have branches in most major countries that source from these factories. They employ over 12,000 people in over 120 countries.
The main Toyo factory in the US is in Bartow County, Georgia. This factory is just as technologically advanced as any other Toyo facility and produces millions of tires per year. As you may expect, most of these tires are then sold all over the US. So, while the company maintains a global presence, the tires themselves are made in the US and held to the same standards as all other domestically produced tires.

What Kind of Tires Does Toyo Make?
Toyo manufactures and sells all kinds of tires, including all-season, car, SUV, high-performance, luxury, light truck, and CUV tires. The most popular types of tires sold by Toyo are tires for SUVs, trucks, and crossovers. According to the company's website, many of their 4×4 off-road terrain tires are made in the American factory.
Are Any Toyo Tires Foreign?
Yes, there are a lot of foreign-made Toyo tires out there, because the company operates all over the globe. Until their American factory was built in 2004, all Toyo tires were made in other countries. Today, Toyo manufactures, imports, and sells tires all over the globe, so it can be a bit hard to tell if your Toyo tires were made in the US or not.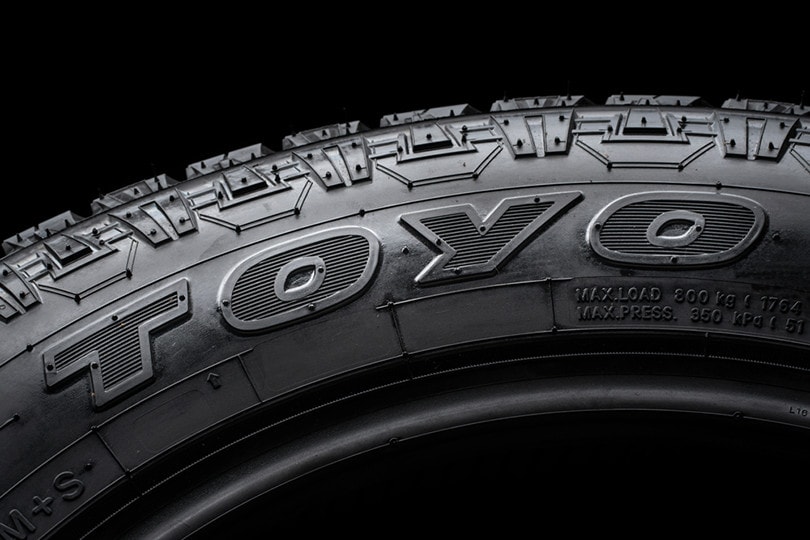 How Can I Tell if My Toyo Tires Were Made in the U.S.?
All tires manufactured in the US have the letters "DOT" embossed on the sidewall, followed by eight to 13 other letters. These letters indicate what factory the tires were made at when the tire was made, and the type of tire.
Because there's only one American Toyo factory, all American Toyo tires have the same plant code. Unless you're set on learning what all the codes mean, you can rest assured your tire is American made if the "DOT" letters are on the sidewall.
Are Toyo Tires Any Good?
While there aren't any bad Toyo tires, they really shine in the off-road segment, which includes their highly-rated Open Country line. Sources indicate that their passenger car tires are decent, but there are better options in the same price range. They also have fewer options for passenger cars than competitors.
Toyo spends millions of dollars researching and refining tire technology to keep up with the market. Their new Nano Balance technology is an effort to make more fuel-efficient tires, and similar initiatives surely continue.
•You might also like: What Vegetables Need a Trellis? 12 Most Common Types
•You might also like:How to Install Landscape Edging in 5 Simple Steps
•You might also like:What Is a Wheel Alignment (And Do I Need One)?

Conclusion
Toyo is based in Japan and operates globally, but they make a lot of their tires at their American plant in Georgia. You can check if your Toyo tire was produced at the US plant by looking for the letters "DOT" on the tire sidewall.
---
Featured Image Credit: Suhaimi Sulaiman, Shutterstock