10 Types of Delphinium Flower to Grow at Home (With Pictures)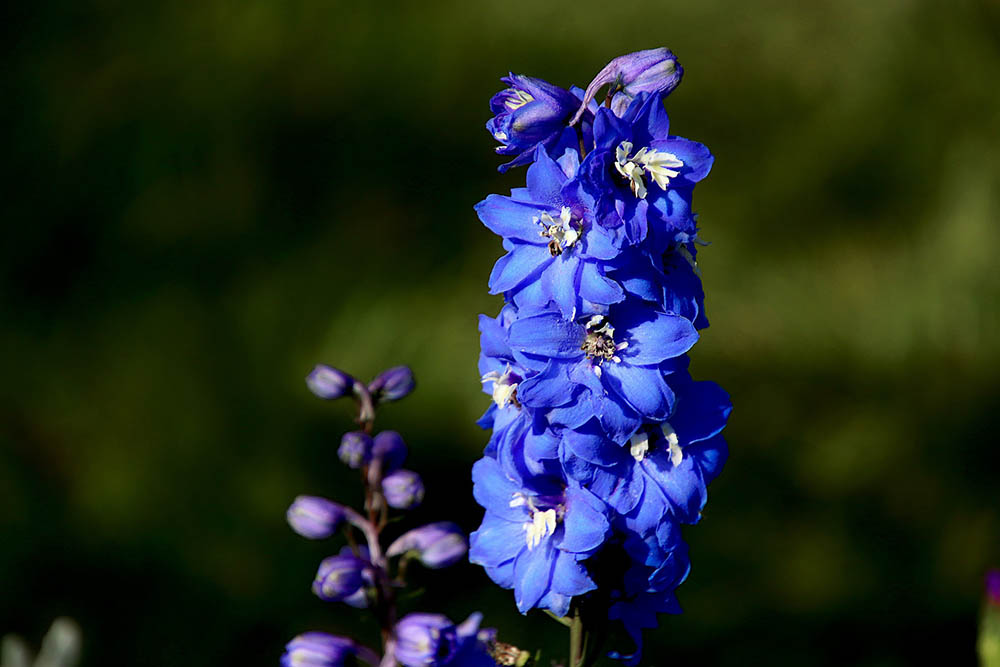 Delphiniums are a popular flower that grows throughout the United States in hardiness zones 3 and above. What most people love about these flowers is the amazing colors of their blooms. Most of them come in blue, purple, pink, or red. They are also ideal plants to add to your garden if you need height and color, or if you want to call upon a few pollinators to visit you. Here's a look at 10 of our favorite delphinium flowers that you can grow at home to make your garden more vivid and full of life.

The 10 Types of Delphinium Flowers to Grow at Home
1.

Delphinium Blue Lace
This variety of Delphinium grows up to 6 feet tall and can grow in both full sun or partial conditions. The bloom is quite unique and has a pink center with a blue lace on the outer part of the petal. Having this delphinium flower in your yard will attract hummingbirds and pollinators like bees to it.
---
2.

Delphinium Galahad
The Galahad has beautiful snow-white blossoms that stand out against the dark green leaves. Like the blue lace, this flower can also grow to be up to 6 feet tall. However, it must have full sun and moist soil with good drainage to prosper. Once planted, this flower can last for a long period in your garden.
---
3.

Delphinium Faust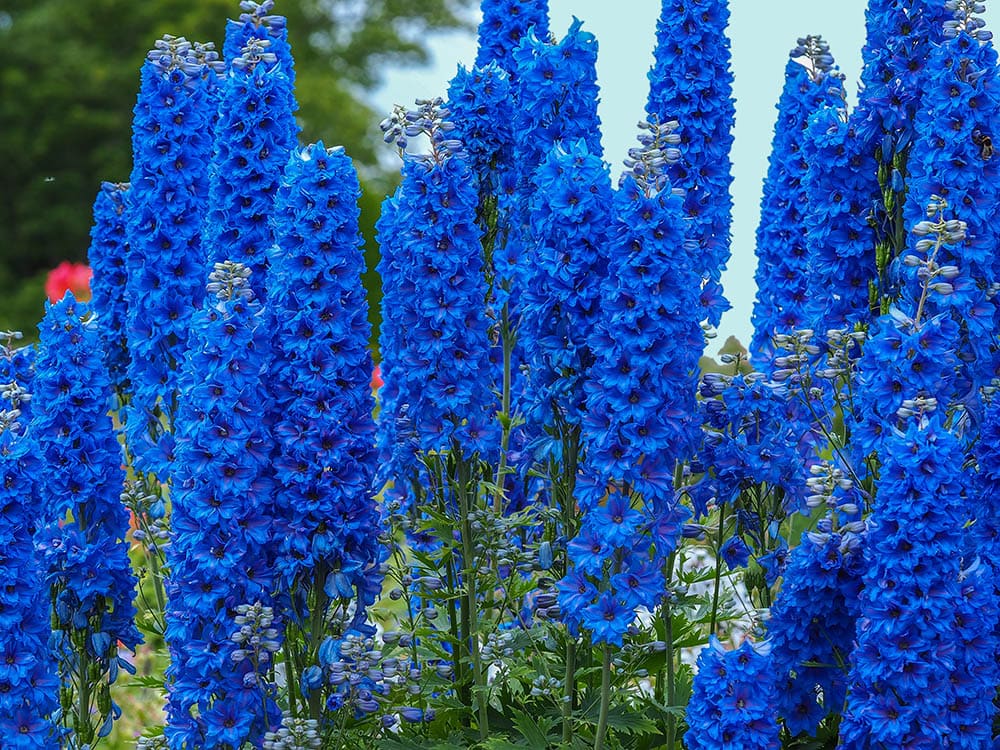 If you want a delphinium that is a true eye-catcher, the faust is your answer. The blooms of this flower are vivid and a true centerpiece of any garden. A faust is very low maintenance and will do well as long as it has full sun and soil that drains well. If you plant these in your garden, don't be surprised if bees visit you as they love them.
---
4.

Delphinium Guardian Lavender
Guardian lavender is a beautiful pale blue flower that can bring your garden to life. Luckily, they can handle most conditions, even full sun. The biggest issue you may find with these flowers is that wind can be harmful to them. Having them in your garden is a great way to attract numerous pollinators to visit.
---
5.

Delphinium Highlander Blueberry Pie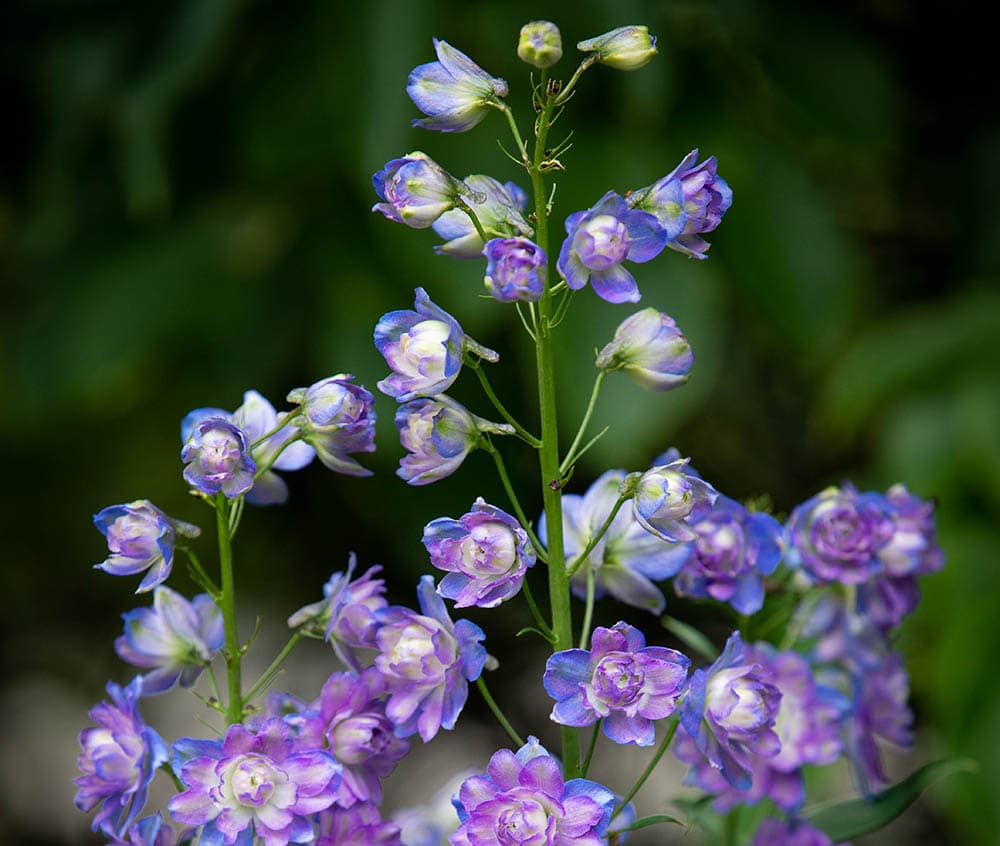 Besides having a cute name, the highlander blueberry pie also has a gorgeous bloom that is light blue with a touch of pink in the center. If you have a spot in your garden that gets full sun and has sandy soil, these flowers will flourish. You'll love their double petals that bloom throughout the spring through to midsummer.
---
6.

Delphinium Guardian Blue
This variation has multicolored blooms of purple and blue. You'll also notice that the centers are white. When fully grown this plant stands between 2 to 4 feet tall. They are also easy to care for and do well in most conditions with minimal watering needs.
---
7.

Delphinium Highlander Bolero
If you're looking for a good way to add a bit of height to your garden in the form of a plant that's easy to care for, the highlander bolero is a perfect choice. This plant does well in most conditions and has pom pom blooms that are quite unique. The petals are white in the center with dark blue and purple making the outer fringe of the bloom.
---
8.

Delphinium Magic Fountain Lavender
The magic fountain lavender features light-colored blooms and is extremely easy to care for. These flowers do well in most conditions and only grow to be around 3 feet tall. This makes them a beautiful addition to a smaller-sized garden.
---
9.

Delphinium Jill Curley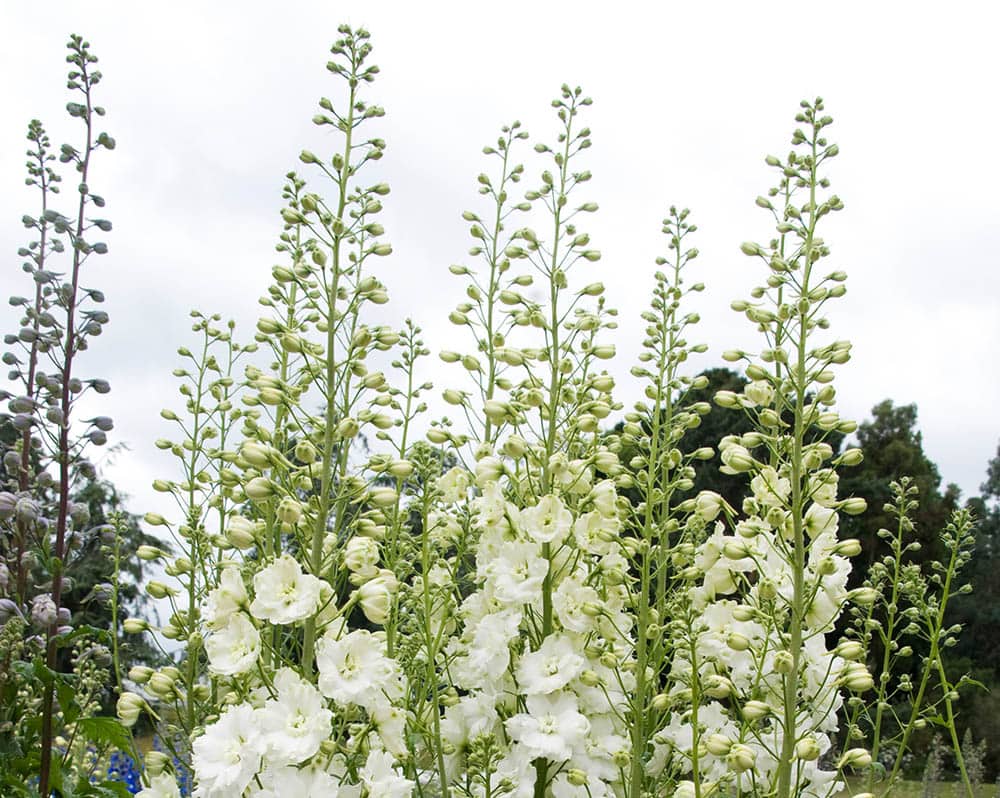 For a versatile plant that can provide your garden with a bit of height and beauty, give the Jill Curley a shot. These plants grow between 6 and 7 feet tall and are relatively easy to care for. They grow in most soils, under full sun, and even require minimal needs when it comes to water.
---
10.

Delphinium Purple Passion
The purple passion is a champion when it comes to heat and humidity. This plant is deep purple with random white petals mixed throughout. They grow up to 5 feet tall and flourish in most environments and situations.

Conclusion
As you can see, there are several types of delphinium out there to make your garden come to life. If you're considering bringing a few of these plants into your garden, expect lots of visits from pollinators and a burst of color you'll completely love.
---
Featured Image Credit: GAIMARD, Pixabay