15 Types of Motorcycle Handlebars (with Pictures)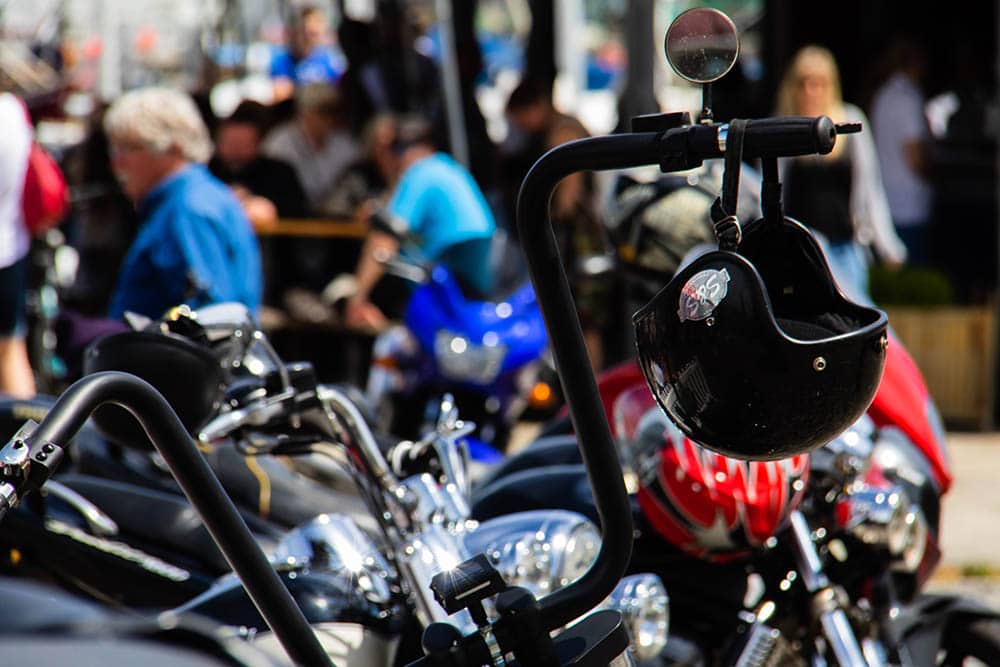 Handlebars are one of the most important parts of your bike. They obviously play an important ergonomic function, but they don't have to be boring. There are tons of different motorcycle handlebar styles that can take your bike to the next level.
Here are 15 different types of motorcycle handlebars to consider:

The 15 Types of Motorcycle Handlebars
1.

Ape Hangers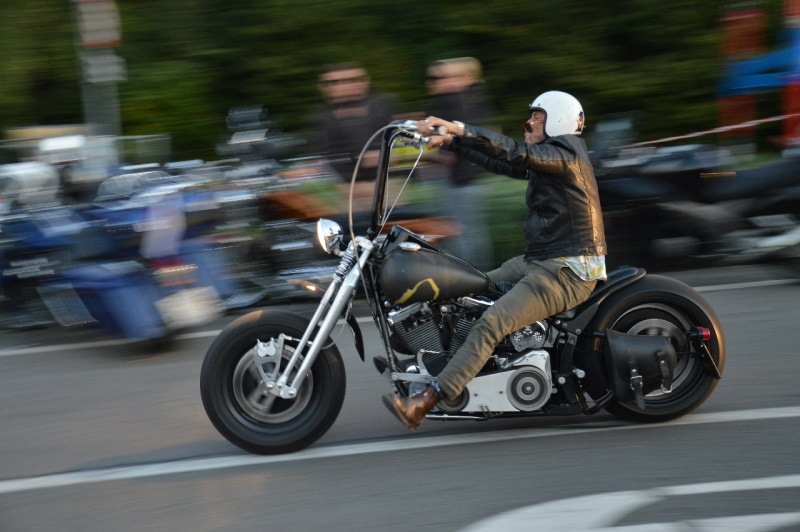 Ape hangers are an iconic design popularly seen on cruisers and choppers. You frequently see them on Harleys. They are named after their unique profile. The handlebars are long, tall, and pushed back. The positioning urges the rider to fall back and grip in an ape-like fashion.
Ape Hangers are not much designed around ergonomics, control, or comfort. Instead, they are style oriented. There are different variations of the ape hanger, including the baby ape, mini ape, and buckhorn.
---
2.

Beach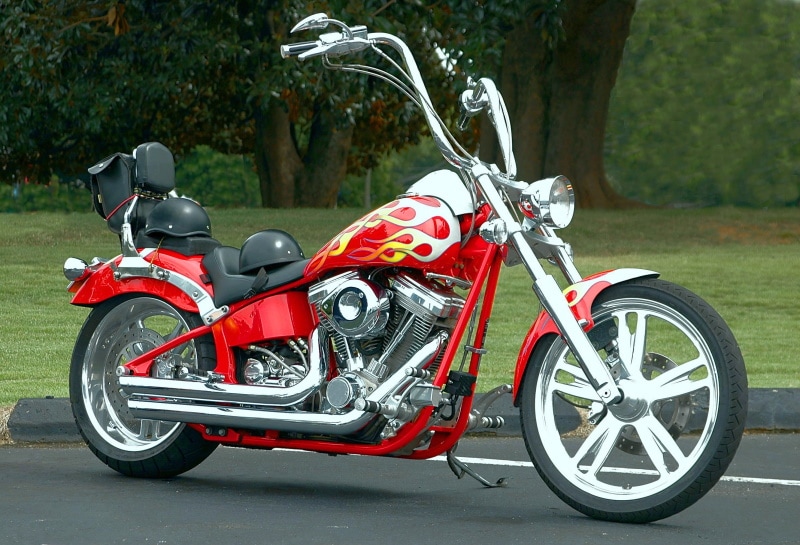 Beach handlebars are similar to ape hangers, but there is one big difference between the Beach and the Ape. These handlebars curve back towards the rider instead of going up. As a result, beach handlebars let you sit in a more relaxed position.
---
3.

Breezer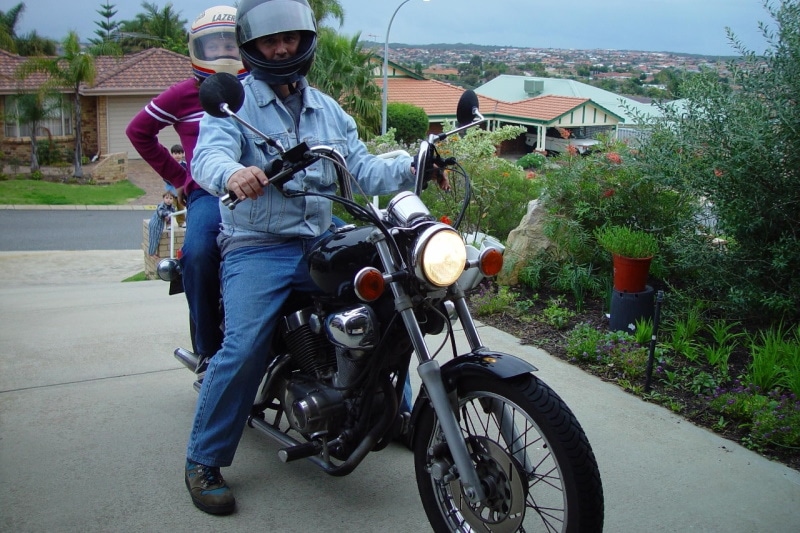 In many ways, breezer handlebars look like chumps, which we will describe next. The only difference is that it has more angular tops and a plummeted inner ascent. Breezers look a bit more aggressive than Chumps.
---
4.

Chumps
Chumps handlebars are some of the most customizable. They can fit on any bike, but they still look sophisticated and subtle. This is a good pick for people who don't want a showy bike but want a laid-back and comfortable handlebar instead.
---
5.

Clip-On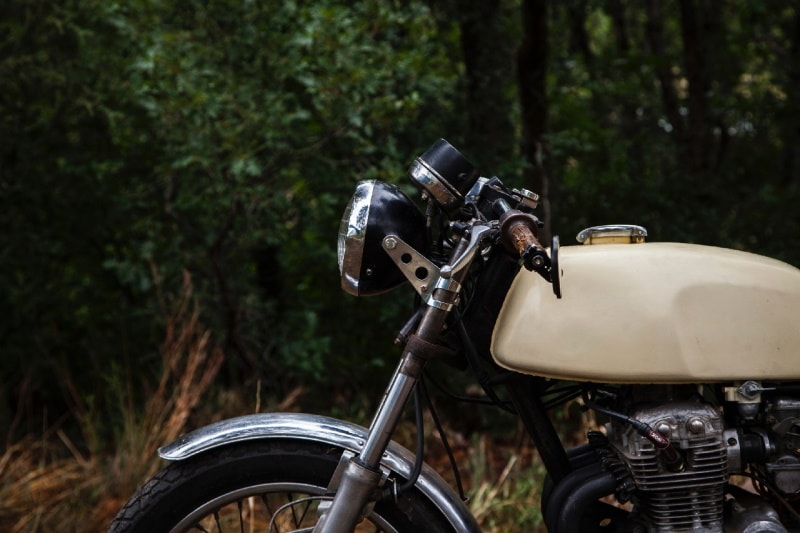 Clip-On handlebars are mainly used on sport motorcycles. They are installed directly on the bike's forks and are positioned low so that the rider has to lean forward. They have a two-piece design for optimal control and adjustment.
For non-sport bikes, there are sometimes faux clip-on handlebars. These handlebars look like the actual clip-ons, but they cannot be modified. So, they are for aesthetic purposes.
---
6.

Clubman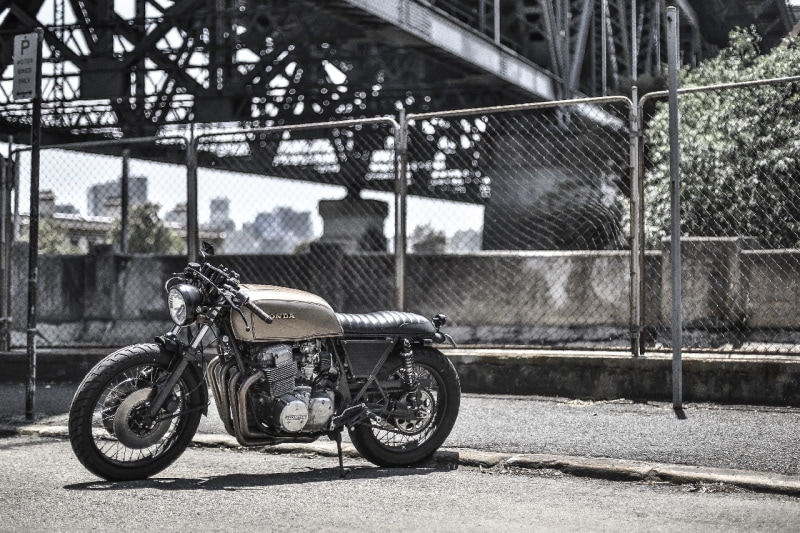 Clubmans have a one-piece design. They have a low set yet sporty appearance. They are designed to minimize air resistance and force the rider to lean forward.
---
7.

Cruiser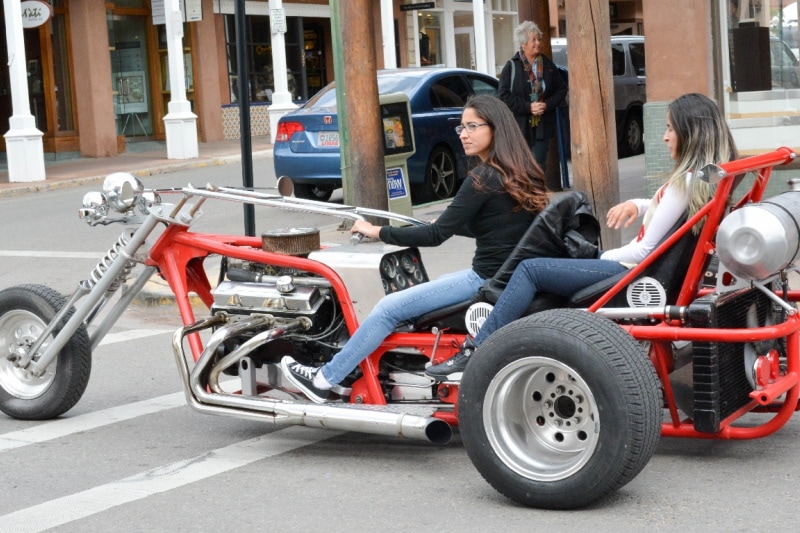 Cruisers are a good choice for you if you like to sit in an upright position. They are long and rear-shaped with a sloped design. This design allows you to sit up naturally, but it isn't ideal if you want to minimize wind resistance.
---
8.

Drag
Drag handlebars were primarily used on drag bikes, hence their name. They forced the rider to lean forward, which lowers wind resistance and increases performance. Today, drag handlebars are found on different types of motorcycles, including choppers, bobbers, and cruisers.
---
9.

Frisco
Frisco handlebars are most like Z-bar handlebars. However, the main difference is that the inner rise is not angular. Instead, the frisco bars have a smoother curvature between the vertical and horizontal parts.
---
10.

H-Bars and Window Bars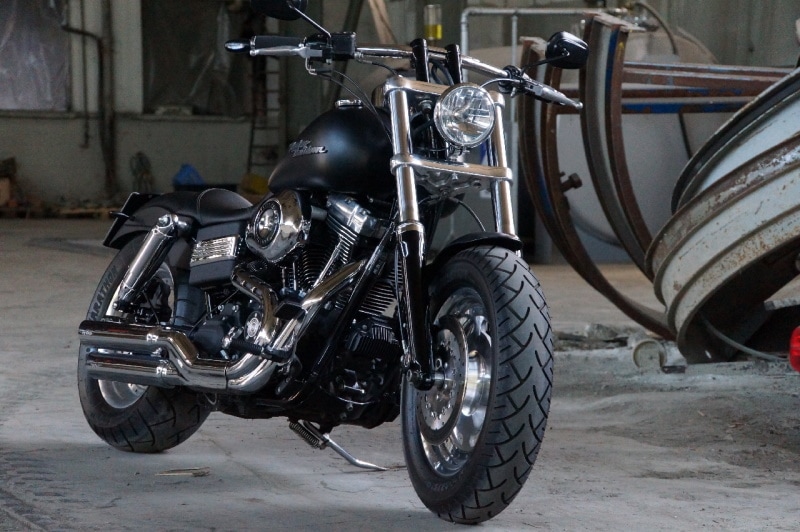 H-bars have a rectangular, high-sitting style. It looks like an H in the sense that there is a cross brace. This design makes the handlebar ideal for bikes that have narrow clamps.
Window bars look a lot like the H-bar. They have an angular design and high risers slanted at 90 degrees. It creates a window shape, after which it is named.
---
11.

Keystone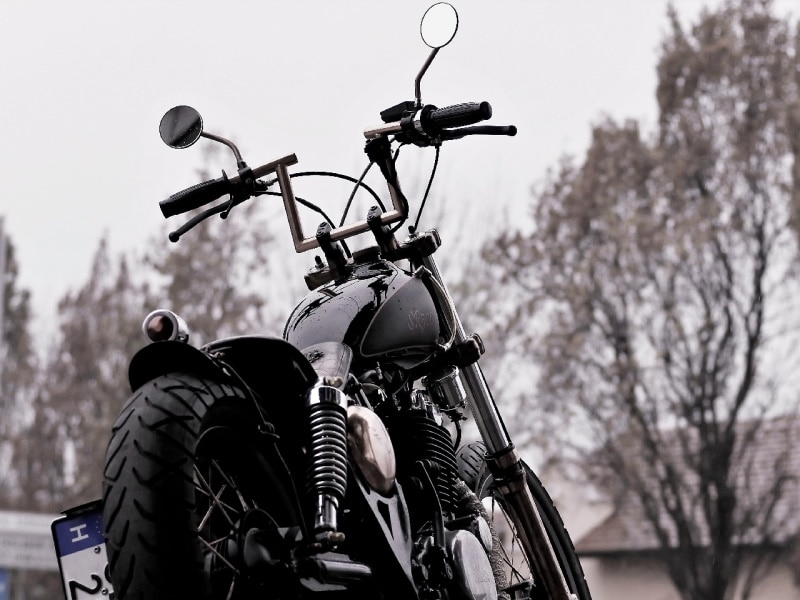 The keystone handlebar is much like the Z-bar in that it has an angular design. It creates a Z-like shape on both sides. However, the main difference is that the keystone handlebar curves on the top, which adds a bit of height on shorter bikes.
---
12.

Motocross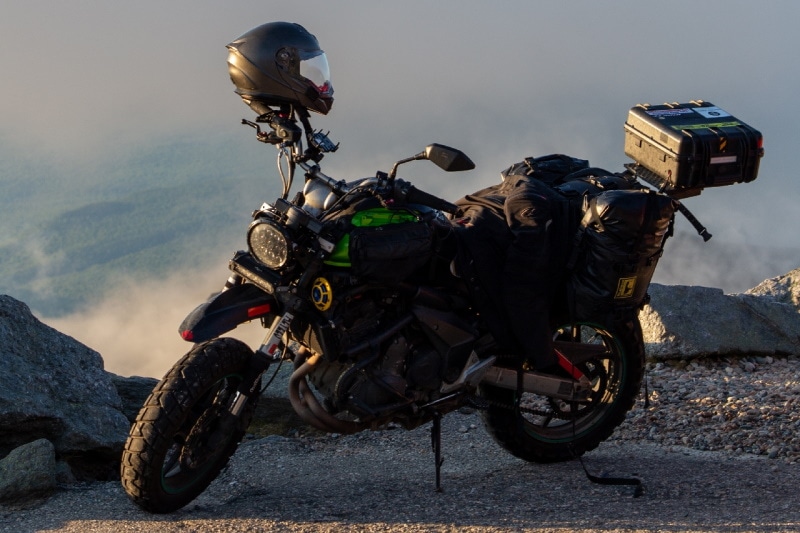 Motocross handlebars are the industry standard for dual sports and dirt motorcycles. The profile is normally short to medium with some forward tilting. For added stability, motocross handlebars often have a cross brace design.
---
13.

Mustache
Whenever you look at the mustache handlebar from the headlamp position, this handlebar looks like a twirling Mustache, after which it is named. The mustache handlebar gives a refined appearance due to its curved design.
In comparison to other handlebars, mustache handlebars are shorter and slimmer. You won't need to replace or lengthen any cables or wiring as a result when installing them.
---
14.

Tracker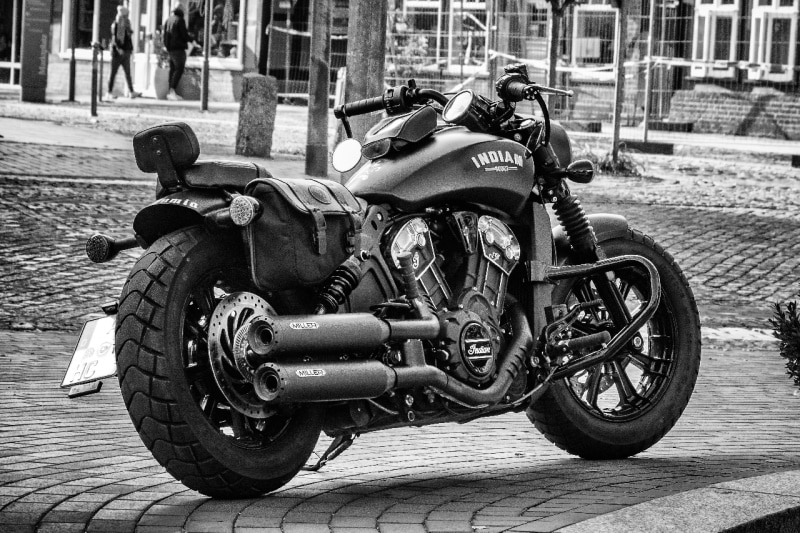 Tracker handlebars are named after flat-track racing handlebars. They are relatively flat, and they allow you to use your existing connections, which makes installation very easy. They fit on a wide range of bikes.
---
15.

Z-Bar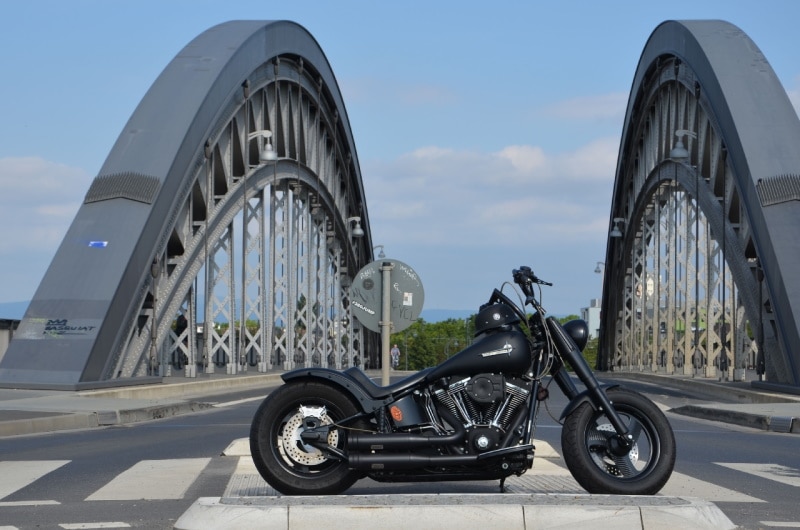 Finally, the last motorcycle handlebar design on our list is the Z-Bar. It has Z-shaped angles at the inner rise. Their angular appearance is unique, and they are popular on custom motorcycles and skinny choppers.

How Do I Choose the Best Motorcycle Handlebars?
Choosing the right bike handlebars is a serious task. You want the handlebars to upgrade your motorcycle in terms of appearance and functionality. Here are some factors to consider when thinking about which handlebars you should get:
Purpose
Always begin picking out handlebars based on their purpose. Do you want handlebars purely for aesthetic purposes, or do you need handlebars to maximize the efficiency of the bike? Starting with the purpose can help you find the best handlebars for your unique needs.
Shape
Once you know what the purpose is for your bike is, you can pick out a shape that looks great and meets the purpose. Pick from one of the 15 styles above based on the purpose you have in mind.
Material
Always select a handlebar made from durable materials. Chrome, aluminum, covered steel, and titanium are best.
Price
Of course, don't forget about the price. You shouldn't go with cheap options, but you don't have to buy the most expensive handlebar to get a good model either. Instead, get a high-quality model that fits your budget.

Conclusion
If you are modifying your motorcycle, selecting one of the 15 motorcycle handlebar styles above will allow you to maximize your bike while upgrading its appearance. Just make sure to consider the factors mentioned to find handlebars that are perfect for your unique needs.
---
Featured Image Credit: Nick Fewings, Unsplash