What Is The Cost To Replace A Garage Door In 2023?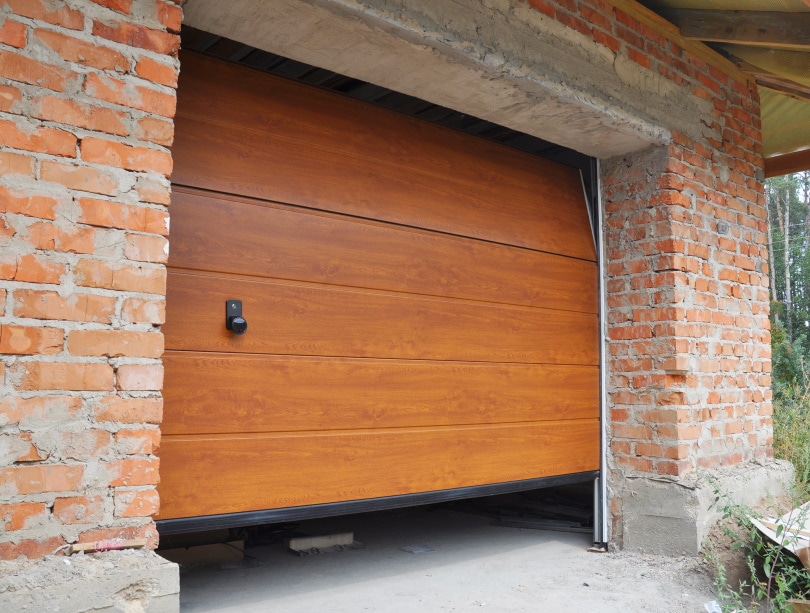 Garages are a useful extension for any house. They actually add to the house value especially when selling. Whether you use your garage for parking cars, workshops, or storage, you will need a durable garage door that will be efficient and reliable. However, the garage door will at some point need some repairs or a total replacement.
This article will take a look at the cost of replacing a garage door, diving into the specifics of the different costs you need to be aware of.

Reasons to Replace a Garage Door
Although garage doors are long-lasting, you may find yourself having to replace it. let's take a look at some of the reasons this may happen and the beefits.
Security: Enhanced security is the primary reason; the better protected you and your family are the better you will sleep. Modern garaged doors are coming with more secure technology such as cameras which help in monitoring and creating an alarm in case of danger. Most homeowners will optfor a replacement so that they get a a door with security.
Appearance: Everybody wants something that looks good and complements the rest of the house. You may be in the market for a garage door to add a touch of class to your house and enjoy the admiration it comes with.
Safety: You don't want your child coming to you injured from a loose or damaged part of the garage door. This may prompt you to buy a new one and at least save yourself the worry and a trip to the doctor.
Energy Efficiency: You need a garage door that will help save you money and at the same time provide the best in terms of heat and insulation. If the old one doesn't offer this benefit, you may opt for a replacement altogether.
Automation: You may want a garage door replacement because you are tired of getting out of the car to open the door manually. You will probably want an automated door0 so that you don't have to do the back and forth of opening and closing. This makes sense to need a replacement as long as your budget allows.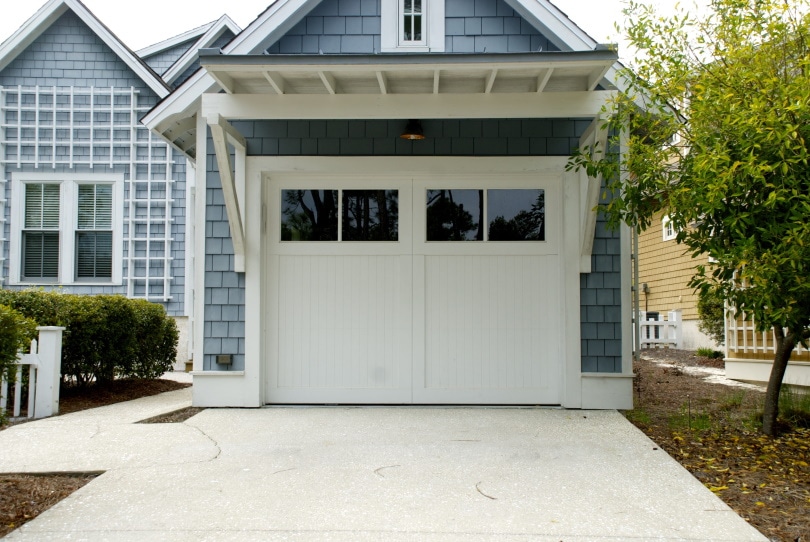 Garage Door Replacement Costs
The garage door installation will cost you between $550 and $1,800 on average with a standard single garage door going for $550–$1,300.
A 2 door garage door will cost you between $800 and $1,800 with labor costs going for between $150 and $700.
This can be further broken down as seen below.
| | |
| --- | --- |
| Door Size | Cost Installed |
| Single garage door | $550–$1,300 |
| Double garage door | $800–$1,800 |
| 3 car garage door | $1,300–$2,800 |
| New garage door opener | $250–$600 |
Pricing Factors
As stated, the average amount of money you will spend will range between $500 and $1,800. But depending on the type of door you want, the features you are looking for, labor, and other costs you may find yourself paying a hefty sum, which can shoot up to $4,000 and above.
On the brighter side, most garage door installers will charge a flat fee for such things as tracks, locks labor and hardware.
Let's take a look at a few factors to consider when determining the price.
Door Type: The kind of door you choose will vary in price depending on a few factors including the material used to make it, size, customizations, weight and style.
Door Features: If you are looking for extra features for your door including windows, screens, walk through doors, hurricane rating, and insulation, it can end up adding to the overall costs.
Labor: This is another important factor to consider as it will make the difference between a professional finish and shoddy work. Do not sacrifice professionalism for the price; rather look for the best deal with a well-rated garage installer. Apart from the person doing the installation, other factors to consider here include transportation fees, customization fees, weather stripping, and removal of the old door.
New Opener: A new opener may significantly impact the price as it may require the addition of a new electrical outlet.
Resizing the Opening: While creating custom door sizes, you may end up resizing the opening which may end up costing you more.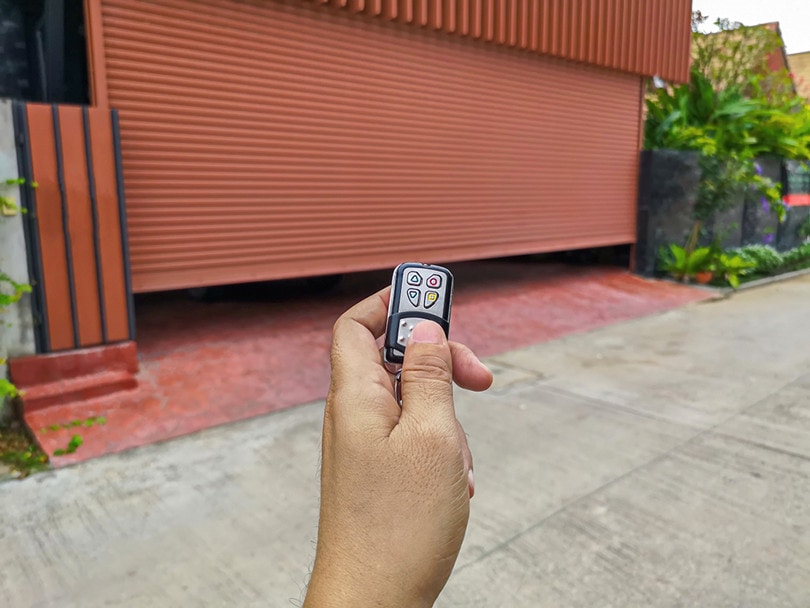 The average cost of the factors above is:
| | |
| --- | --- |
| Factor | Average Cost |
| Door, tracks and hardware | $400–$1,100 |
| Installation labor | $150–$700 |
| Old door removal | $50–$250 |
| New opener | $250–$600 |
| Resizing the opener | $200–$1,000 and above |
Pricing Comparison Between Manual and Automatic Garage Door
The cost of replacement for a manual roller garage doors can be less compared to automatic garage doors. The price difference is brought about by the additional features most automatic garage doors come with.
| | |
| --- | --- |
| Door Type | Cost |
| Manual | $450–$1,400 |
| Automatic | $800–$2,600 |
Consult a garage door expert
Find a garage door specialist in your area, and get free, no-commitment estimates for your project.


Garage Door Openers
You do not want to have to get out of your car and manually open the garage door, get back into the car, park it inside the garage and then manually close the garage door. It is why most people will opt for a garage door opener.
Depending on the brand, horsepower and door system, with the inclusion of a remote system, the cost may run up between $250 and $600. In the case of a new garage door installation with an electrical outlet and wiring, the cost will range between $145 and $200. Electricians will charge between $40 and $100 an hour while adding a new circuit breaker, panel or cutting into walls.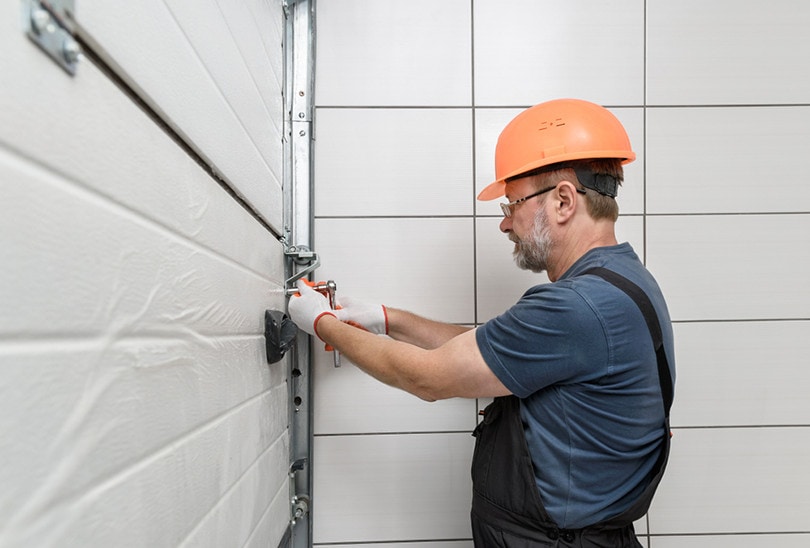 Custom Garage Door Costs
If you are looking for a customized garage door, be prepared to cater for the various design styles, upgraded software, door sizes, soundproofing and other amazing additional features of the doors. This may range anywhere between $1,000 and $8,000
Let's take a look at some of these costs.
Type
Average Cost
Options
Stock
$250–$800
Universal designs

Neutral colors

NNo glass inserts

 

Partially Custom
$800–$2,500
Fixed range of options

Insulation available

Standard window choices

Complete Custom
$2,500–$10,000
No standard sizes

Speciality windows

Designer finish

Soundproofing and superior insulation

Lifetime warranty

 
Average Cost of Garage Door Based on Material Used
As seen garage door costs can shoot up to $8,000 depending on the kinds of customizations you are looking for. However, another important factor affecting the cost of a garage door includes the material used.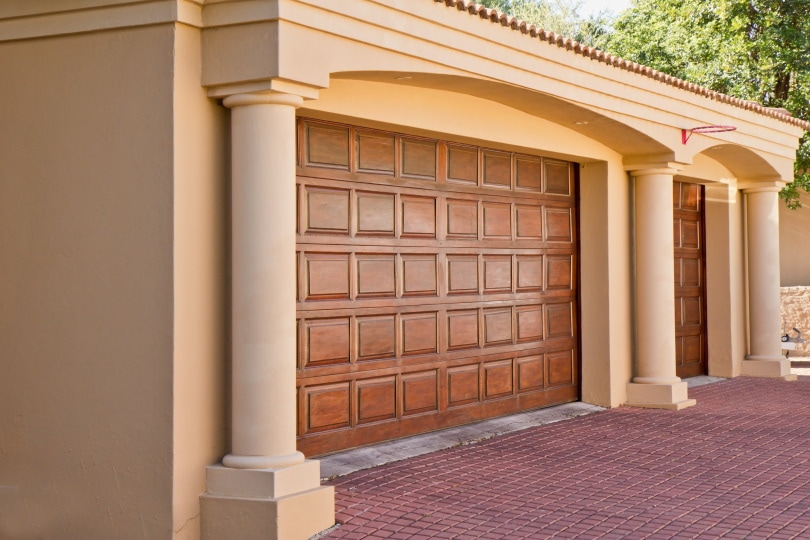 Let's take a look at different materials used for garage doors and their impact on the price
| | |
| --- | --- |
| Type | Average Cost |
| Aluminum | $400–$2,600 |
| Wood | $900–$5,000 |
| Faux wood | $450–$4,000 |
| Vinyl | $650–$2,300 |
| Steel | $650–$3,300 |
| Fiber glass | $600–$3,000 |
| Glass | $1000–$5,000 |
| Screen Doors | $500–$2,000 |
Cost of Different Garage Doors Depending on Style
Apart from the average costs of replacing your garage doors, the costs of customized doors, and different materials, there is another factor that will also affect the cost of a garage door, and it has all to do with the style you are looking for.
Garage door styles can range from the more traditional styles to the ultramodern designs.
Style
Average Cost
Description
Standard Sectional
$400–$2,000
Most popular

Wood panels or steel  aluminium hinged together

Roll up and overhead on a track

Typically comes with an automatic opener

 

Standard Door plus Window
$700–$2,600
Sectional steel doors with

Various Window designs

Single Tilt-up Garage Door
$450–$1,400
Lightweight wood steel or aluminium

Will retract upwards through a slide or swing

Typical manual operation

Single Roll Up
$650–$2,000
Rolls into a bundle

Comes mostly with corrugated panel sheets

Double Roll Up
$1,200–$2,000
Rolls into a bundle, with two aluminium doors
Glass Roll Up
$1,000–$5,000
Glass panels that roll up

With or without insulated glass

Walkthrough
$1,300–$4,500
Pass-through door on frame
Insulation Costs
It will cost you anywhere between $40 and $200 to efficiently retrofit your garage doors. Insulation can be a DIY job as it is easy to install but less energy efficient with a lower R-value than pre-insulated garage doors.
Pre-insulated garage doors will cost you around $150–$800 more compared to non-insulated doors.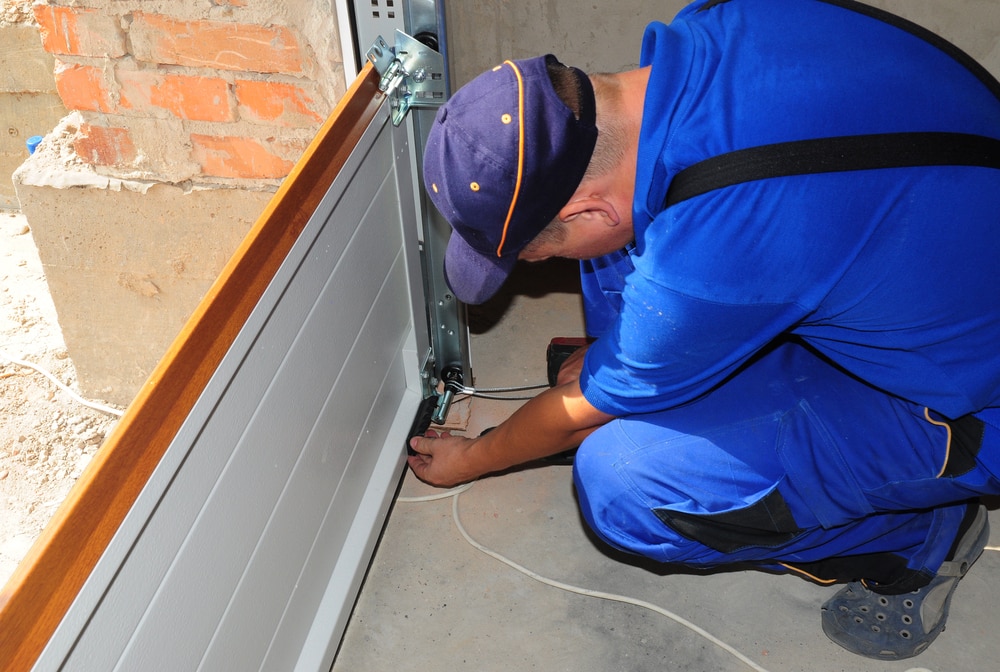 2 Car and 1 Car Garage Doors
Typically depending on whether the garage door is one car two or even three cars, the cost of installing a garage door will go up.
A single car garage door whether it comes with a single door or double door will cost you anywhere between $4,250 and $3,500. For the two-door garage door, whether a single or double door, the cost will range between $450 and $4,600.
See Also: Double Garage Door Installation Costs 2022 (Average Price)

Frequently Asked Questions About Garage Door Replacements
What kinds of warranties are available for garage doors?
There are a couple of warranties including:
A 1-year labor warranty
10-year limited lifetime warranty on most insulated garage doors
Delamination coverage of up to 5 years
1–3 years of garage door springs warranty coverage
Can a new garage door be installed on old tracks?
Using old tracks with a new garage door will be dangerous and ill-advised, as it will be unbalanced, may break the springs, or derail the door.
Can you buy replacement Panels for Garage Doors?
Most retailers will not sell replacement panels to homeowners as it is not a DIY project. You will need a professional who can get them from garage door repair companies, distributors and manufacturers.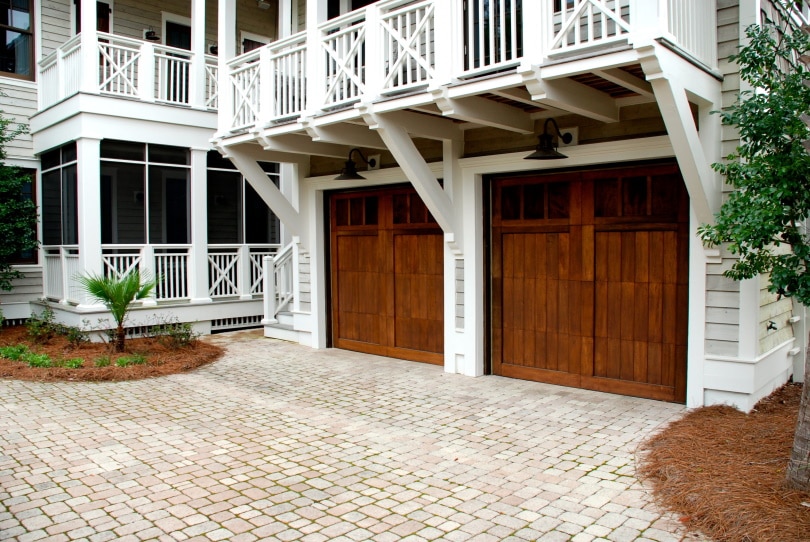 Do Homeowners Insurance Cover Garage Doors?
Home owner's Insurance will cover damages on garage doors in case of fires, vandalism, plumbing leaks and theft. For car impact on the garage, auto insurance should cover that. However, there are certain things homeowners insurance will not cover including:
Detached garage damages
Ordinary wear and tear
Intentional damages

Conclusion
Garage door replacement is evidently not a cheap investment. There a lot going on in terms of cost considerations.
It would help to do a little research before buying a garage door. Get at least three quotes, request references for past work, ask for recommendations from friends and families, select reputable companies to purchase from, ask for bonded insurance, and enquire about warranty.
All this will prove worthwhile as you will get good replacement worth your investment.
---
Featured Image Credit: Radovan1, Shutterstock