10 Essential Wholesale Cleaning Supplies (Updated in 2023)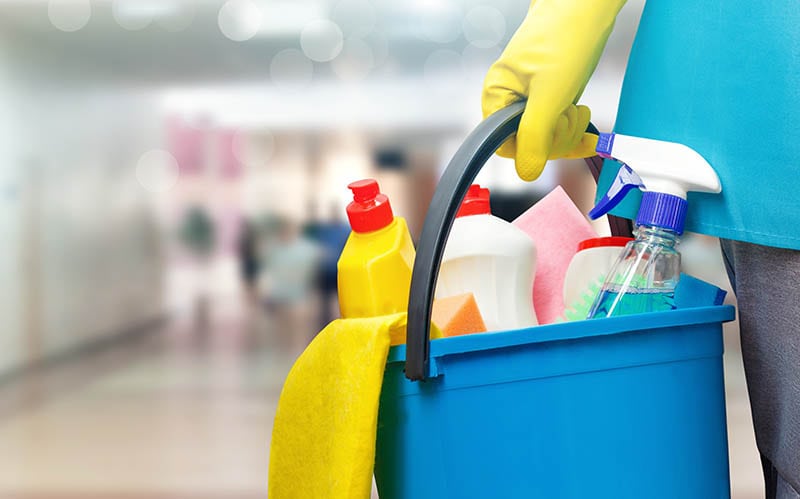 Many people go through plenty of cleaning supplies, especially if they have pets or children, but the cost of these supplies can be higher than expected, especially after price increases due to the COVID-19 pandemic. If you use many cleaning supplies and would like to get them cheaper, keep reading as we list several wholesale cleaning supplies to help you do just that.

The 10 Wholesale Cleaning Supplies
1.

McKesson StayDry Disposable Wipes
Provides: 600 disposable wipes
Disposable wipes are among the most popular cleaning supplies because they make it easy to clean up small spills. You can also use them to clean your hands and face, so it's good to keep plenty on hand. McKesson StayDry Disposable Wipes provides 600 to help you wipe up spills throughout the year.
---
2.

S&T INC. Microfiber Cleaning Cloth for Home
Provides: 100 microfiber towels
If you spend a great deal of time in the garage or are just tired of looking around for washcloths, we recommend the S&T INC. Microfiber Cleaning Cloth for Home set. It provides you with 100 11.5 x 11.5-inch microfiber towels that you can use for everything from wiping down the counter to waxing the car. You get several different colors, and the cleaning cloths are soft and durable.
---
3.

Amazon Basics 2-Ply Toilet Paper
Provides: 30 rolls of toilet paper
Toilet paper is a necessity for most Americans, and it's something that you never seem to have enough of. Amazon Basics 2-Ply Toilet Paper provides the user with 30 rolls of two-ply toilet paper to help keep you stocked up.
---
4.

Inspire Stretch Vinyl Exam Gloves
Provides: 1,000 vinyl gloves
Vinyl gloves are crucial cleaning items because they help protect your skin. The Inspire Stretch Vinyl Exam Gloves do not contain any latex, so they won't cause an allergic reaction, and you get 10 boxes of 100 gloves, bringing your total supply to 1,000. The gloves are medical grade and inexpensive.
---
5.

Lysol Clean and Fresh Multi-Surface Cleaner
Provides: 120 ounces of Lysol
Lysol is a fantastic surface cleaner that kills 99.9% of viruses and bacteria while breaking up grease and grime. You can order it wholesale to receive three 40-ounce bottles, totaling 120 ounces of cleaner. In most cases, you can dilute the Lysol in water to help it go further. The only downside is that it can cause skin irritation, so you will need to wear gloves.
---
6.

Stardrops – The Pink Stuff – The Miracle Cleaning Paste, Multi-Purpose Spray, And Bathroom Foam
Provides: Three-pack of foam cleaner
The Pink Stuff is a popular cleaner that has been helping people clean their homes since 1938. This wholesale pack features a bottle of bathroom foam cleaner that removes hard-water stains from tile and helps bring out the shine. The bottle of multipurpose cleaner is great at removing grease and grime from other surfaces, like window panes, while the Pink Stuff paste is perfect for big projects, like stovetops.
---
7.

Washable Dust Mop Slippers
Provides: Five pairs in five colors
These Washable Dust Mop Slippers are fantastic for keeping the floor clean and are perfect if you have hardwood, engineered wood, laminate, or linoleum floors. Put them over your socks and walk around as usual to pick up dirt, and then throw them in the wash to prepare them for next time. This wholesale item comes in five pairs and five colors.
---
8.

Dawn Ultra Dishwashing Liquid Dish Soap (4×19.4 Fl oz) + Non-Scratch Sponge (2 Count), Original Scent
Provides: 77.6 ounces of Dawn dishwashing liquid
Dawn dishwashing liquid is great at cleaning dishes and is the centerpiece of many DIY cleaning recipes. The wholesale option delivers four 19.4-ounce bottles that total 77.6 ounces for a low cost. This dishwashing liquid is non-toxic and safe to use around children and pets, and it works well to break up grease and grime.
---
9.

Kitchen Cleaning Sponge, Eco Non-scratch for Dish, Scrub Sponge
Provides: 24 no-scratch sponges
If you have a large family and spend a great deal of time in the kitchen, the Kitchen Cleaning Sponge wholesale kit provides you with 24 no-scratch sponges that will help you get and keep your dishes clean.
---
10.

HUAWELL 20 Piece Drill Brush and Scrub Pads Kit
Provides: 20 drill-operated brushes and scrub pads
The HUAWELL 20 Piece Drill Brush and Scrub Pads Kit is the perfect solution for big jobs. This huge wholesale kit has several brushes and scrubby pads that attach to your power drill to achieve fast and powerful scrubbing that removes even the most stubborn dirt and grime without scratching the surface.

Conclusion
You can purchase many different wholesale products that will help you keep your house clean. Since you are buying a large supply, you get a discount that can add up significantly over the years. Beyond common times like Dawn dishwashing liquid, vinyl gloves, and toilet paper, you can also purchase special products wholesale with a little searching.
---
Featured Image Credit: Natali_ Mis, Shutterstock