15 Wildflowers That Grow in Shade (with Pictures)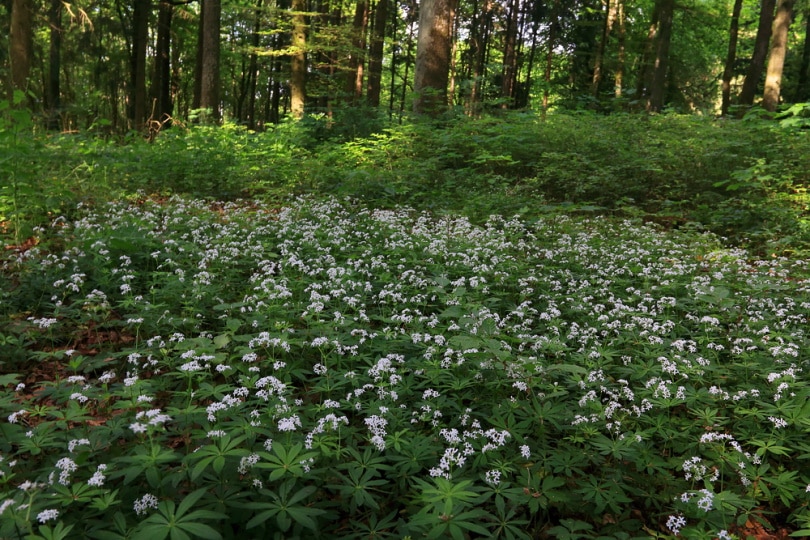 One of the best things about wildflowers is that they can be placed anywhere in your garden. From small spaces to areas covered in shade, many wildflowers can handle it all. The trick is finding wildflowers that are specific to your garden's offerings.
Below, learn about 15 of the best wildflower species that grow in shade. These wildflower species are beautiful and vibrant, but they are perfectly suited for a garden covered in shade. Take a look to find one perfect for your backyard.

The 15 Wildflowers That Grow in Shade
1.

Angelica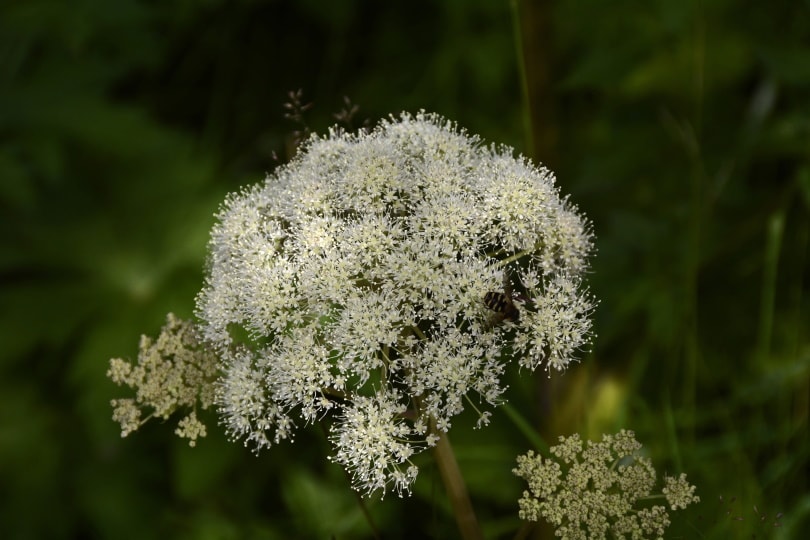 | | |
| --- | --- |
| Scientific Name | Angelica |
| USDA Zone | 4–9 |
Many different species belong to Angelica flowers. Some of the most popular species include Angelica archangelica, Angelica gigas, and Angelica sylvestris. These plants grow wonderful in partial shade, but they require moist, fertile soil. If you are specifically looking for a partial shape plant that attracts bees, this is the plant for you.
---
2.

Betony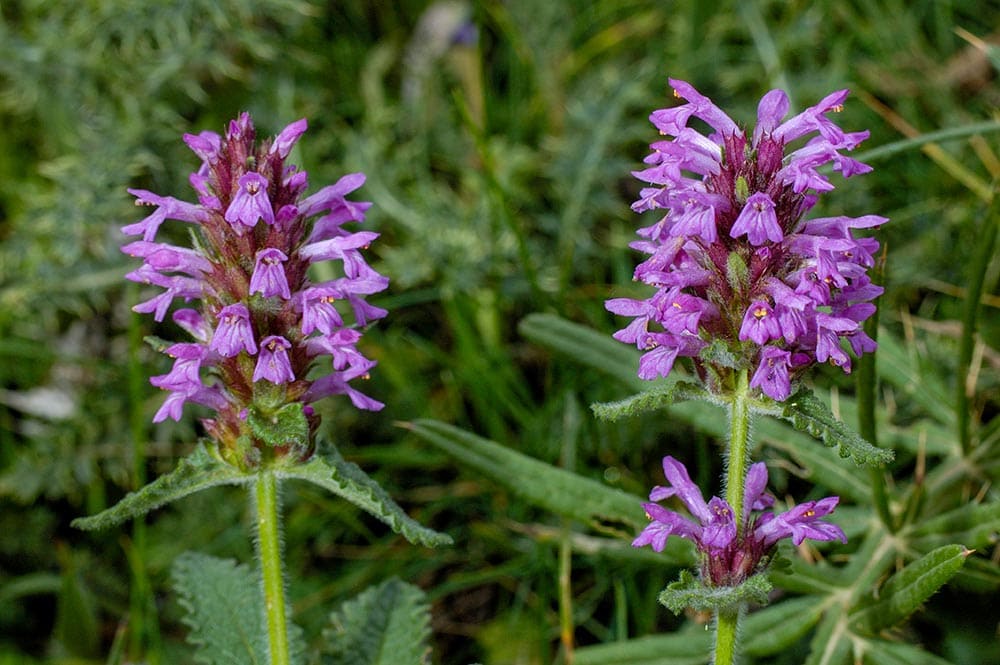 | | |
| --- | --- |
| Scientific Name | Stachys officinalis |
| USDA Zone | 4 |
Betony flowers have been used as herbal remedies for many ailments. They also are used in many bee and butterfly gardens because of their unique flower heads, nectar, and bright colors.
Most people don't realize that this plant is great for shady gardens as well. As long as it receives partial sun and has well-drained soil, Betony plants grow readily for the insects to enjoy around your garden!
---
3.

Blue Columbine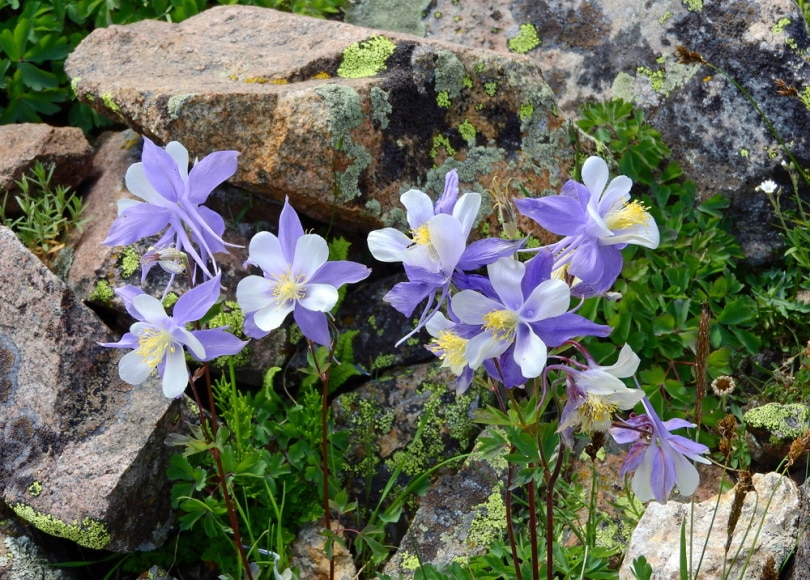 | | |
| --- | --- |
| Scientific Name | Aquilegia caerulea |
| USDA Zone | 3–9 |
If you live in mountainous areas, consider growing Wild Blue Columbine. This flower is absolutely breathtaking and is known to grow in mountainous regions underneath the extensive shade. There are other species you can look out too if you don't live in an area suitable for Blue Columbine specifically.
---
4.

Common Spotted Orchid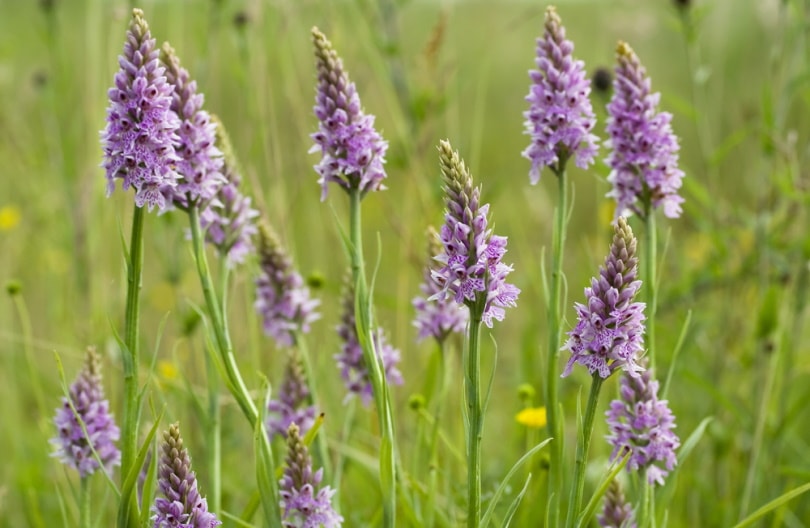 | | |
| --- | --- |
| Scientific Name | Dactylorhiza |
| USDA Zone | 6–8 |
Common Spotted Orchids are one of the most popular shade-friendly wildflowers. Obviously, most people are familiar with orchids, and they're absolutely beautiful. They're also pretty easy to care for. Just sprinkle seeds over undisturbed humus-rich soil, and you can expect the flowers to pop up.
---
5.

Dutchman's Breeches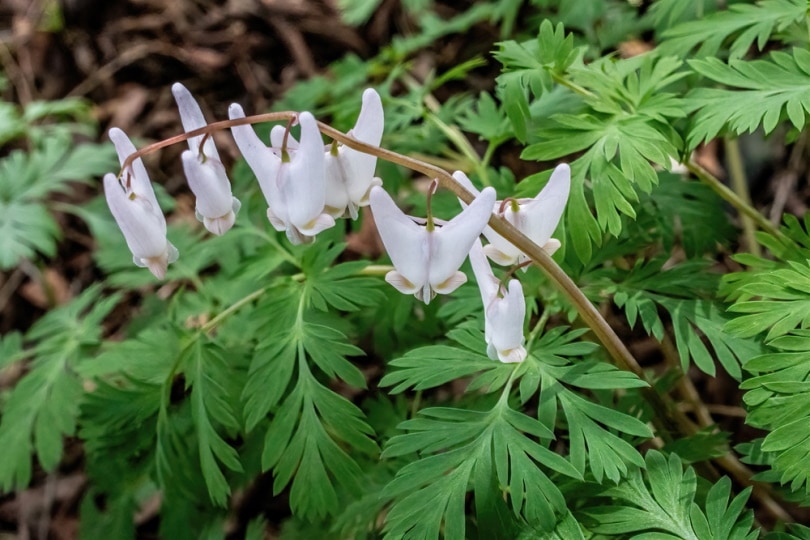 | | |
| --- | --- |
| Scientific Name | Dicentra cucullaria |
| USDA Zone | 3–7 |
Dutchman's Breeches has a unique look. The blooms almost look like white trousers, hence the name of this plant. It's important that you select this plant only if you have moist, well-draining soil. If you do, this is a gorgeous plant that will grow in low shade.
---
6.

Eupatorium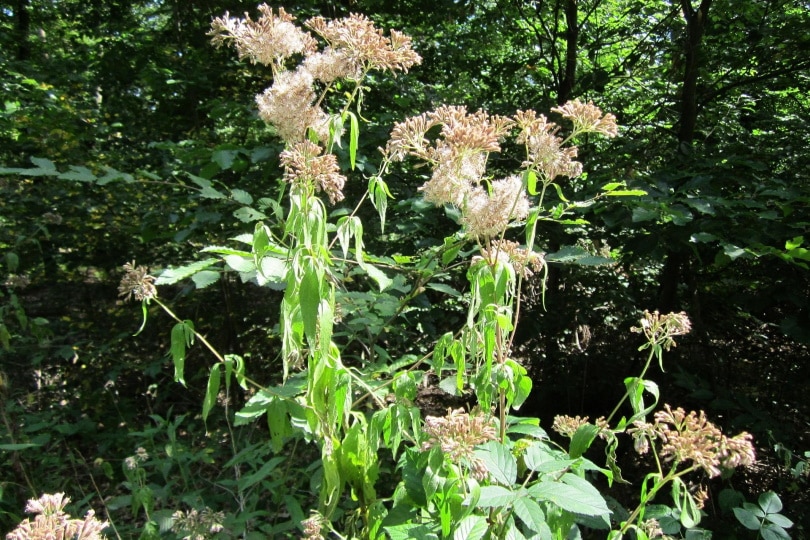 | | |
| --- | --- |
| Scientific Name | Eupatorium |
| USDA Zone | 6–9 |
Eupatorium is a pretty perennial that produces fluffy flower heads. Its stems are tall and majestic. These plants grow in partial shade, but they require moist soil as well. These plants are incredibly great for butterfly gardens and partial shade.
Of the different eupatorium species, the Eupatorium cannabinum is the best, otherwise known as hemp agrimony.
---
7.

Foxgloves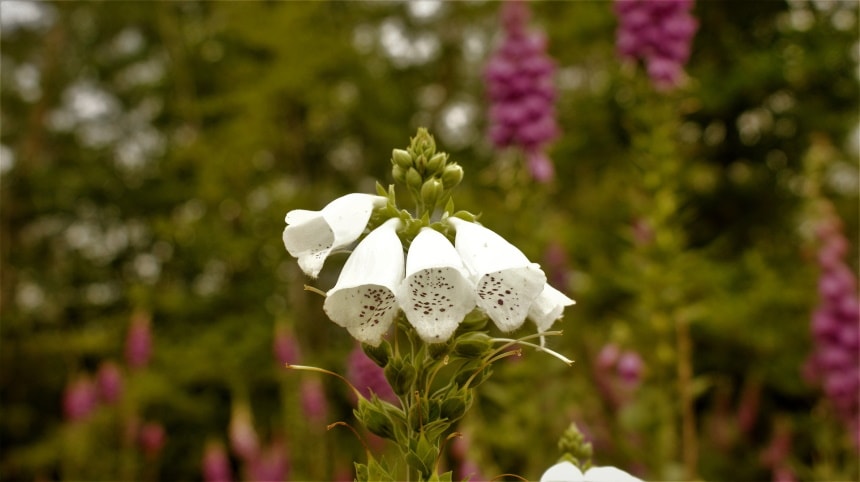 | | |
| --- | --- |
| Scientific Name | Digitalis |
| USDA Zone | 4–10 |
Foxgloves are another garden favorite. They are easy to grow, thrive in shady areas, and are interesting to look at. You can grow them from self-sow seeds, but you can also collect and sow foxgloves yourselves.
---
8.

Mayapple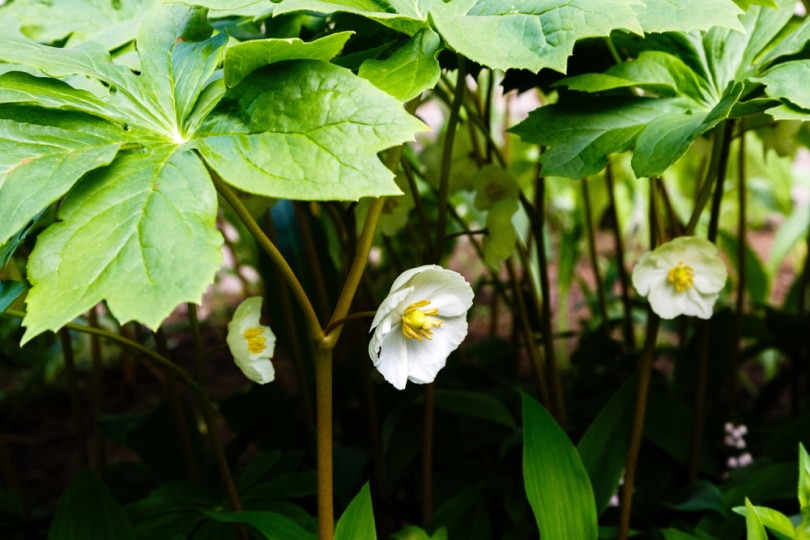 | | |
| --- | --- |
| Scientific Name | Podophyllum peltatum |
| USDA Zone | 3–8 |
Mayapple is a delicate plant that produces umbrella-like foliage. There's a single white bloom that is protected by two twin leaves. In the spring, the flowers bloom, and the flowers transition into crabapple size fruits later on in the summer.
---
9.

Nettle-Leaved Bellflower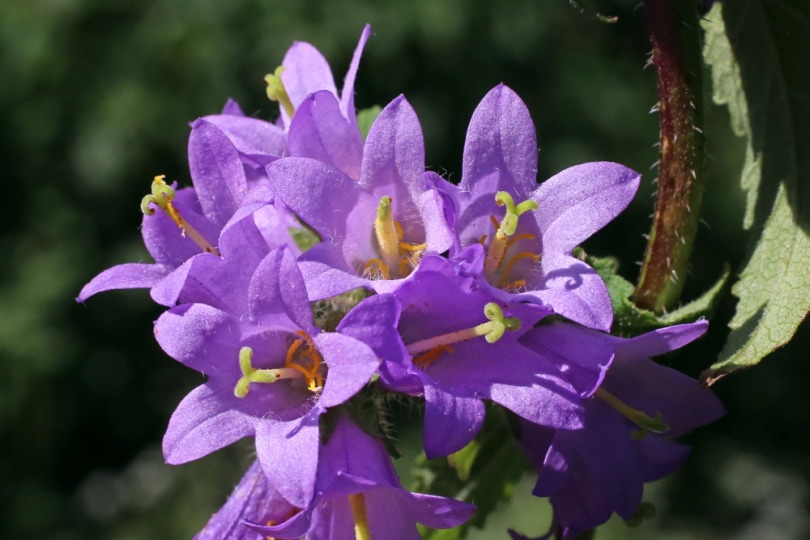 | | |
| --- | --- |
| Scientific Name | Campanula trachelium |
| USDA Zone | 4–8 |
The Nettle-Leaved Bellflower is a large perennial that loves partial shade. This flower is especially good on clay soils. Plus, it is native to many areas. It's a good idea to plant Nettle-Leaved Bellflower with other clay enjoying plants.
---
10.

Selfheal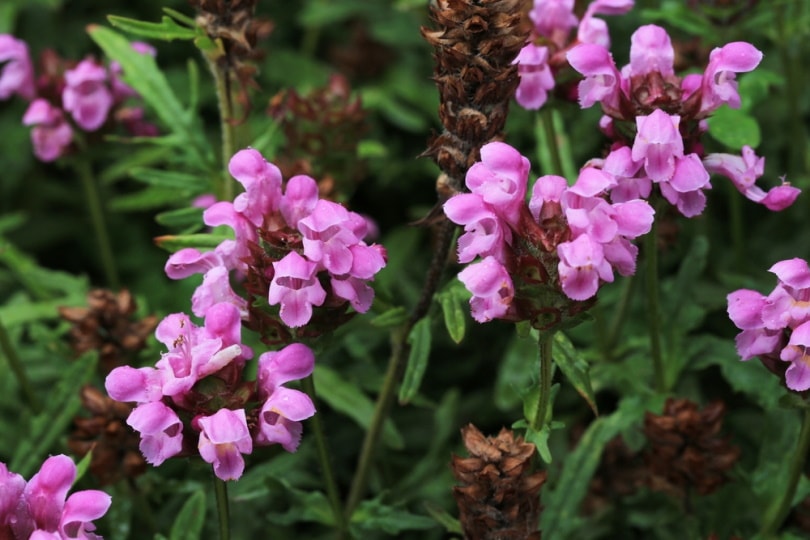 | | |
| --- | --- |
| Scientific Name | Prunella vulgaris |
| USDA Zone | 6–9 |
Selfheal is a great flower to plant in your garden if you have children and other animals around the area. Selfheal is completely edible and can be eaten both raw and cooked, which means you don't have to worry about your child eating something poisonous.
At the same time, Selfheal is super attractive among butterflies and bees. It requires no care either, and it can grow in partial shade.
---
11.

Solomon's Seal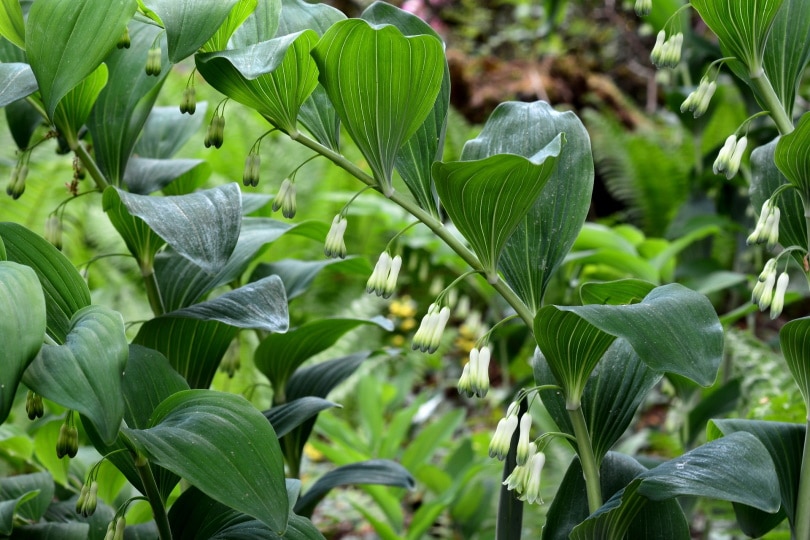 | | |
| --- | --- |
| Scientific Name | Polygonatum biflorum |
| USDA Zone | 3–9 |
Upon first look, Solomon's Seal may appear just like green foliage. However, you will see bell-shaped blooms that dangle from the stem if you look a bit closer. This makes Solomon's Seal one of the most gorgeous and unique-looking and shade-friendly plants on our list.
---
12.

Red Campion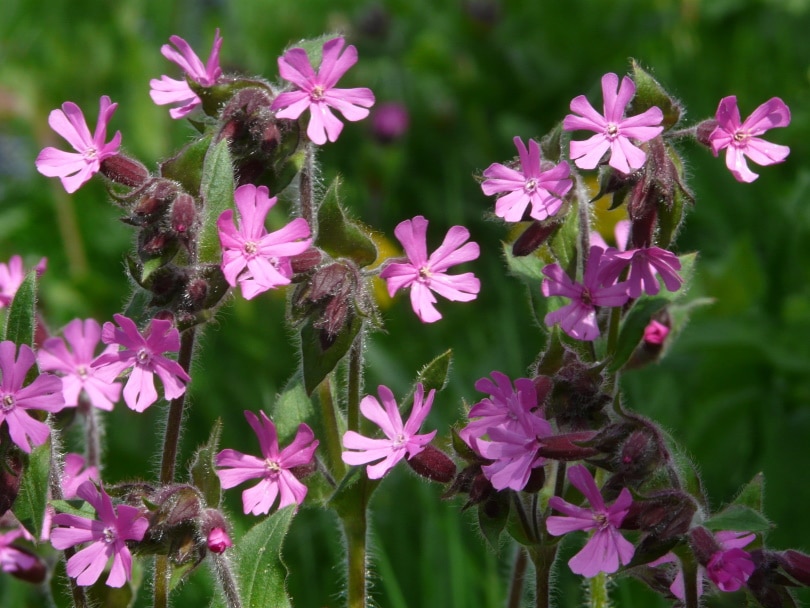 | | |
| --- | --- |
| Scientific Name | Silene dioica |
| USDA Zone | 5–8 |
Red Campions are some of the most bright and vibrant flowers on this list. They have beautiful pink blossoms that are sure to brighten up any dark, shady area. Plus, they are pretty easy to grow.
If you need to grow more Red Campions, just wait for seed capsules to ripen up. After that, sprinkle the seeds in the area, and they will grow quickly and beautifully.
---
13.

Sweet Cicely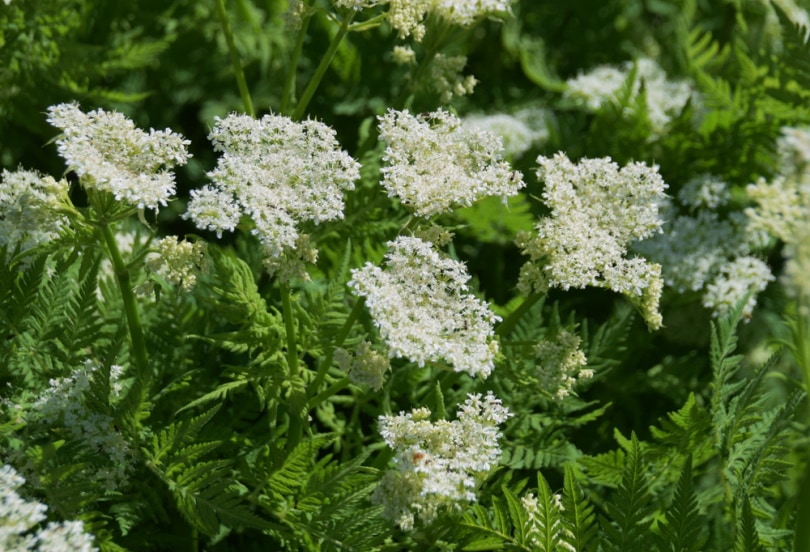 | | |
| --- | --- |
| Scientific Name | Myrrhis odorata |
| USDA Zone | 3–7 |
Sweet Cicely produces beautiful white flowers during the month of May. During the other months, the plan provides a lot of foliage that grows in dappled shade. You can even enjoy Sweet Cicely in certain dishes.
---
14.

Sweet Woodruff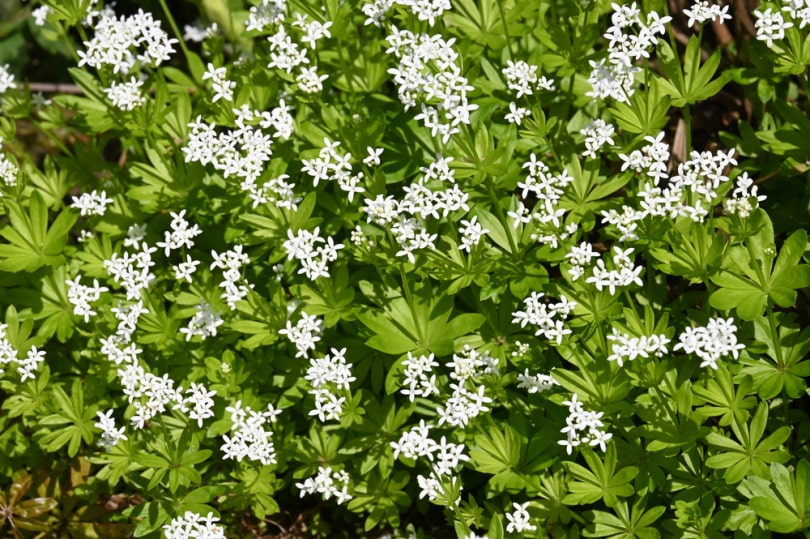 | | |
| --- | --- |
| Scientific Name | Galium odoratum |
| USDA Zone | 4–8 |
Galium plants are often difficult to handle and spread uncontrollably. Although this is true for most gallium species, Sweet Woodruff or Galium odoratum is not the same. It is pretty well behaved, and it will grow in shaded areas. You can even plant it in a little herb container display if you want to put it in your window.
---
15.

Wood Sage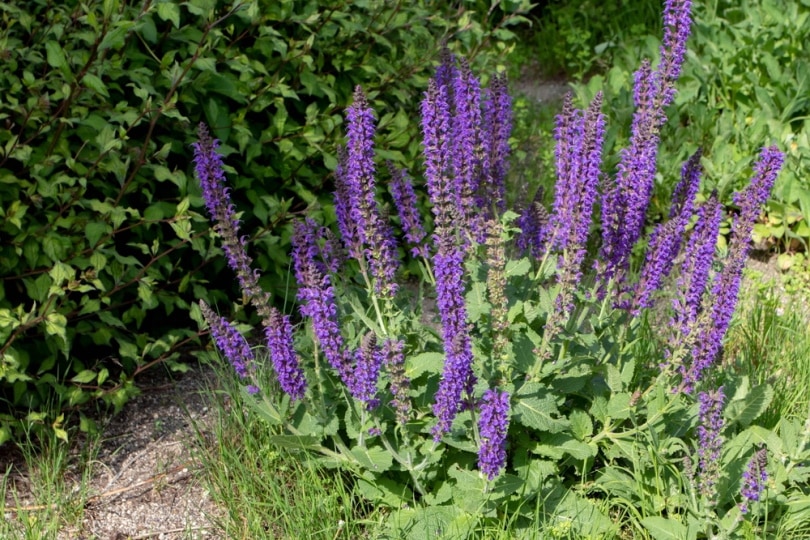 | | |
| --- | --- |
| Scientific Name | Teucrium scorodonia |
| USDA Zone | 4–8 |
Finally, the last plan to check out is Wood Sage. This woodland perennial produces stunning pale green flowers that almost look like salvias. It tolerates most soils, isn't difficult to care for, and can grow rapidly in partial shade.

Tips for Growing Wildflowers in Shade
If you want to have the most successful wildflower garden possible, it's important to keep these tips in mind:
Select Plants Based on USDA Region and Soil
The most important aspect of planting flowers in your garden is to select plants that are right based on your USDA region and soil type. If you ignore these two factors, you may very well select a plant that is not suitable for your area and does not grow.
The USDA zoning regions tell you what flowers are best suited for your area based on temperature. Only select flowers that can grow in your region, or else it may be too hot or cold for the flowers to thrive.
Likewise, different flowers have different soil needs. Test your soil and treat it so that the soil you have is appropriate for the plants you select.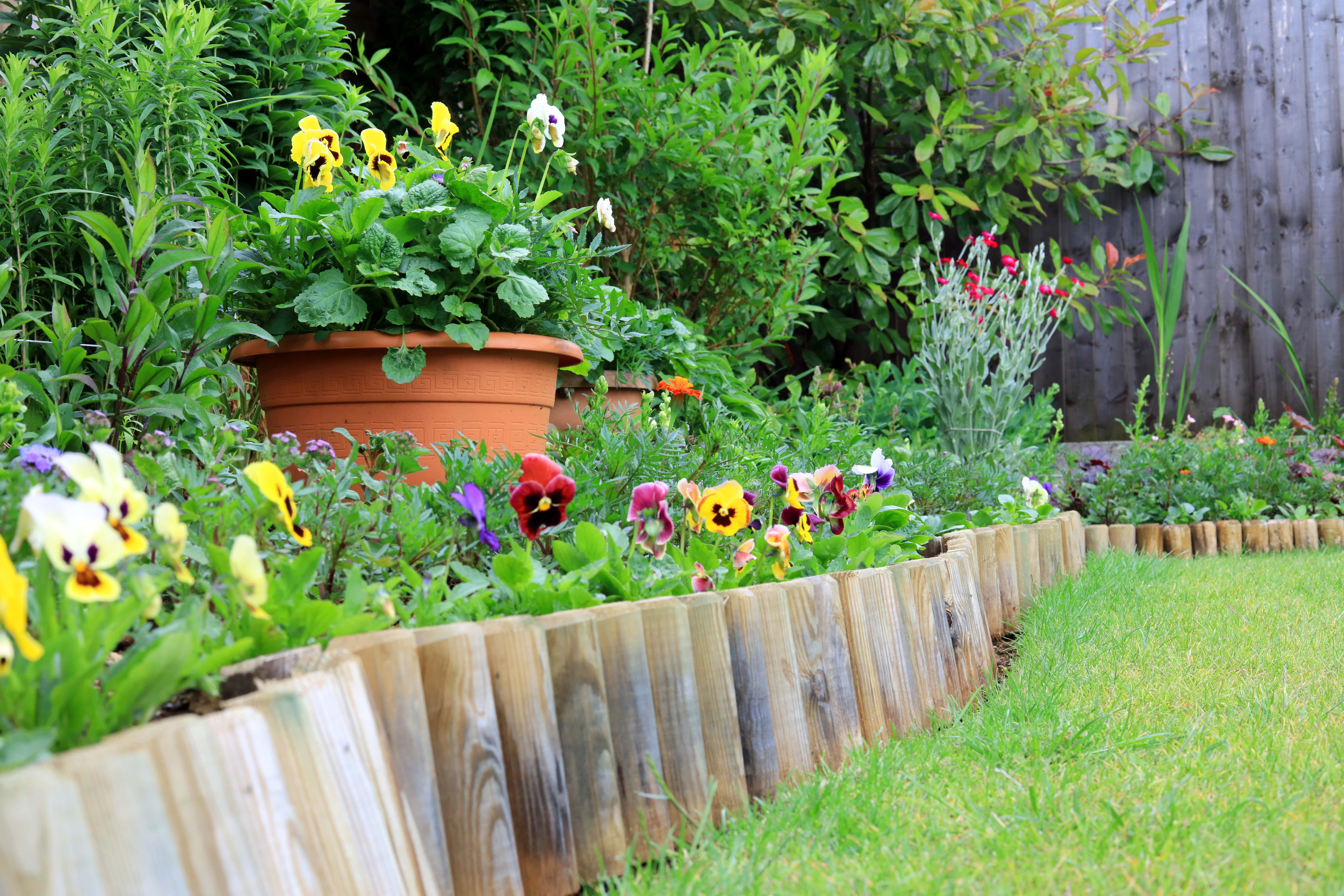 Check if Your Plant Needs Low Sun or Partial Shade
In this article specifically, we looked at flowers that can handle shade. However, some of these plants are better suited for full shade, whereas others are better suited for partial shade. Make sure to know the exact light requirements for your plant so you can select one based on the light your area provides.
Plant Wildflowers, Not Seeds
Wildflowers can sometimes be difficult to plant in seed form. If you don't have a green thumb, the proper tools, or are simply struggling to grow wildflowers, try to plant wildflowers that have already sprouted. The wildflowers will be easier to grow and take root.

Conclusion
Now that you know 15 great wildflowers that grow in the shade, it's time to go pick out the right plants for your garden.
Remember, check out the USDA plant hardiness zone map and test your soil before making your decision. If you do these two things, you are sure to select shade-friendly wildflower plants that grow beautifully in your area.
---
Featured Image Credit: Bildagentur Zoonar GmbH, Shutterstock