Xyron Mini Hot Glue Pen Review 2023 – Pros, Cons, & Verdict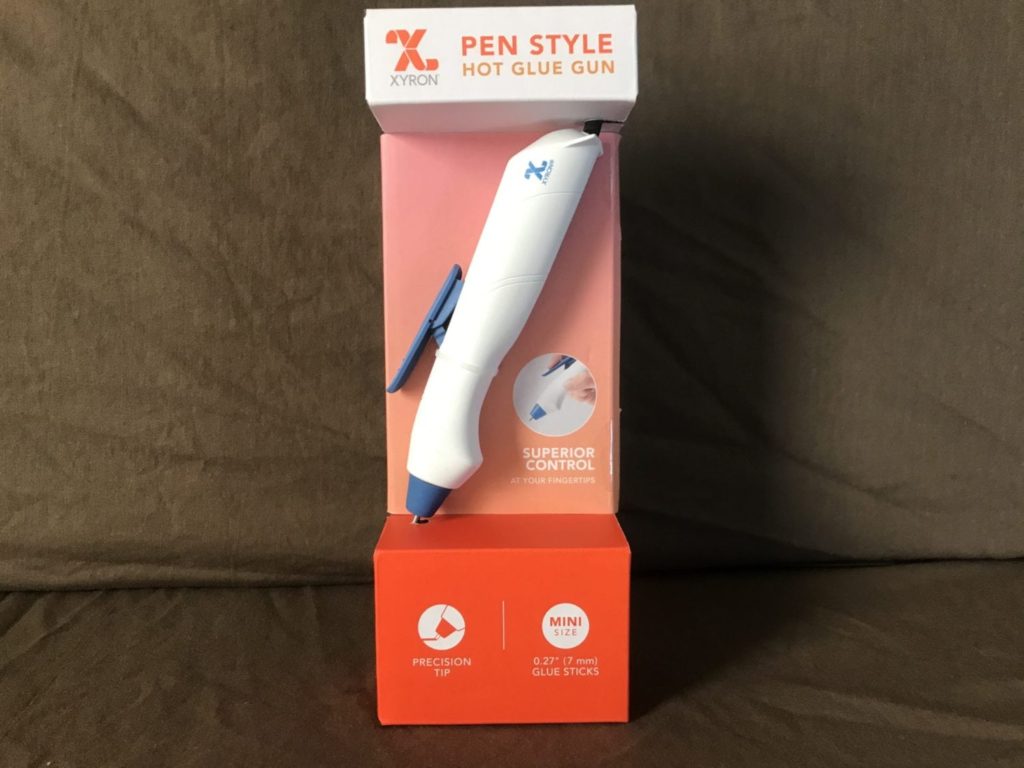 We give the Xyron Mini Hot Glue Pen a rating of 4.5 out of 5 stars. 
Build Quality: 4.8/5
Power: 4.9/5
Features: 4.7/5
Price: 3.7/5
Review Summary
There are loads of glue guns on the market. They all do the same basic thing and most of them are even similarly shaped and sized. But the Xyron mini hot glue pen steps away from all that and breaks the mold. This is no ordinary glue gun. It's a tiny device that weighs practically nothing. There's no handle and trigger like most glue guns. Instead, you hold it like a pen in your hand, allowing perfect access to the trigger and incredible control.
Making full use of that control is the tiny tip, which makes it possible to achieve levels of precision we've never experienced with a hot glue gun before. After using this glue pen, we're not sure we can ever go back to those outdated regular glue guns again!

Xyron Mini Hot Glue Pen – A Quick Look
Pros
Tiny, streamlined design
Offers superior control and precision
Won't tip over or fall
Heats up quickly
Specifications
Brand: Xyron
Model: Mini Hot Glue Pen
Capacity: 1 glue stick
Glue Stick Size: 8" x 0.28"
Warranty: 1 year
Electrical requirements: 120V
Dimensions: 8" x 1" x 2"
Fine Tip for Precision Control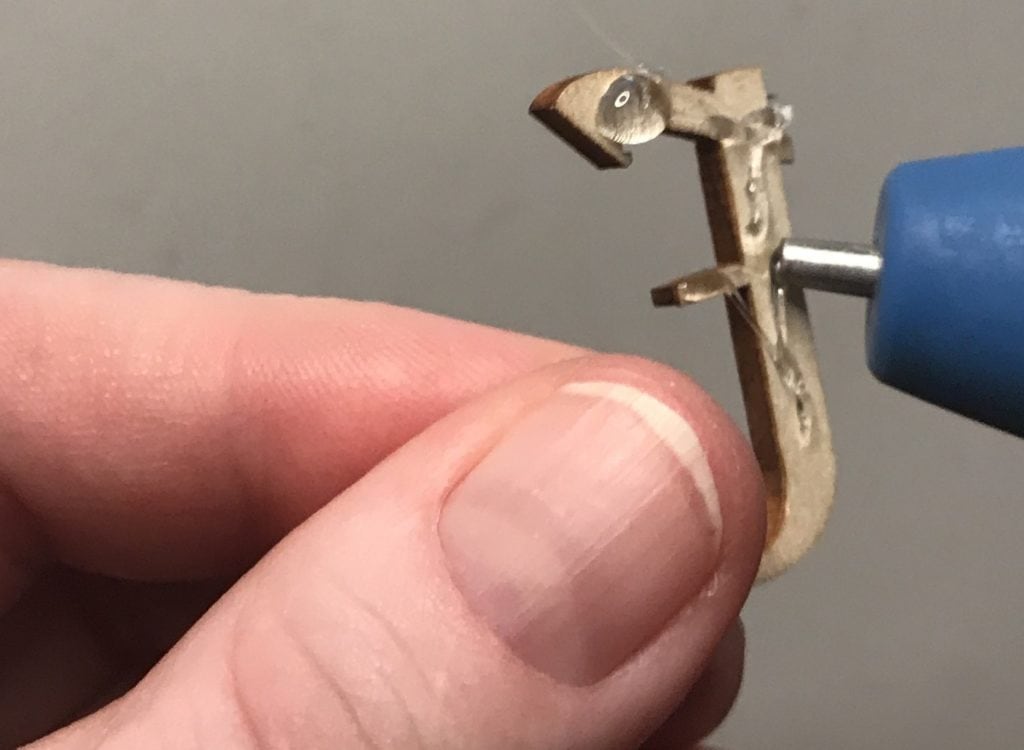 For us, this was the best part about the Xyron mini hot glue pen. Look at the tip of this glue gun and you'll notice that the hole is very fine and the tip is quite tiny. This allows for precision control, unlike what you'll get with a regular glue gun. You'll find this particularly useful when gluing small or intricate items.
Standard glue guns have much larger tips and release a wider bead of glue. But with this hot glue pen, the bead released is very thin, allowing you to work on much smaller objects than you'd be able to with a cumbersome regular glue gun.
Ready to Work in No Time
There are plenty of features to like about this hot glue pen. But one of our favorites is how fast it heats up. We're used to waiting several minutes or more for a glue gun to get hot before it's ready to work. But once you switch to the Xyron mini hot glue pen, you'll never have to wait again.
Unlike standard glue guns that take five minutes on average to get hot, this glue pen is ready in a mere 60 seconds. Plug it in, and by the time you've got your piece ready for glue, the pen is ready to produce.
Silicone Safety Features
We don't normally consider hot glue to be dangerous. But the tips of these guns can get very hot and will easily burn any skin that comes in contact with it. The design of this hot glue pen makes that pretty difficult though.
Rather than a large metal tip protruding from the pen-like you'll find on most glue guns, this hot glue pen has only a very small metal tip; about 0.25 inches. Most of the nozzle is covered by a large silicone ring that will prevent burns and allow you to work near the tip without fear of getting hurt.
Tiny, Light, Easy to Use
We'd be remiss for discussing this little hot glue pen without talking about just how small and light it is. At just an inch wide and two inches tall, this is probably the smallest hot glue gun we've seen. It's also shaped far different than most; taking on a pen-like appearance. This makes it so much easier to maneuver. You have a great grip while holding this glue pen, and it's comfortable since you're already used to holding pens with the same grip. If you've got precision hot glue work to perform, we think you'll find the tiny form factor of this device to be perfect for the job.

FAQ
What size glue stick does this glue gun use?
To use the Xyron Mini Hot Glue Pen, you'll need mini glue sticks that are eight inches long and 0.28 inches wide.
Will other types of glue sticks work with this gun, like glitter glue sticks or other colors?
Absolutely. While Xyron glue sticks are recommended for use with this hot glue pen, any glue stick of the appropriate size will work, including different colors, glitter, and more.
Is there a warranty on this hot glue pen?
Yes. When you purchase the Xyron Mini Hot Glue Pen, you'll get a one-year warranty that keeps you protected in case anything happens, though we don't think that's likely!
What the Users Say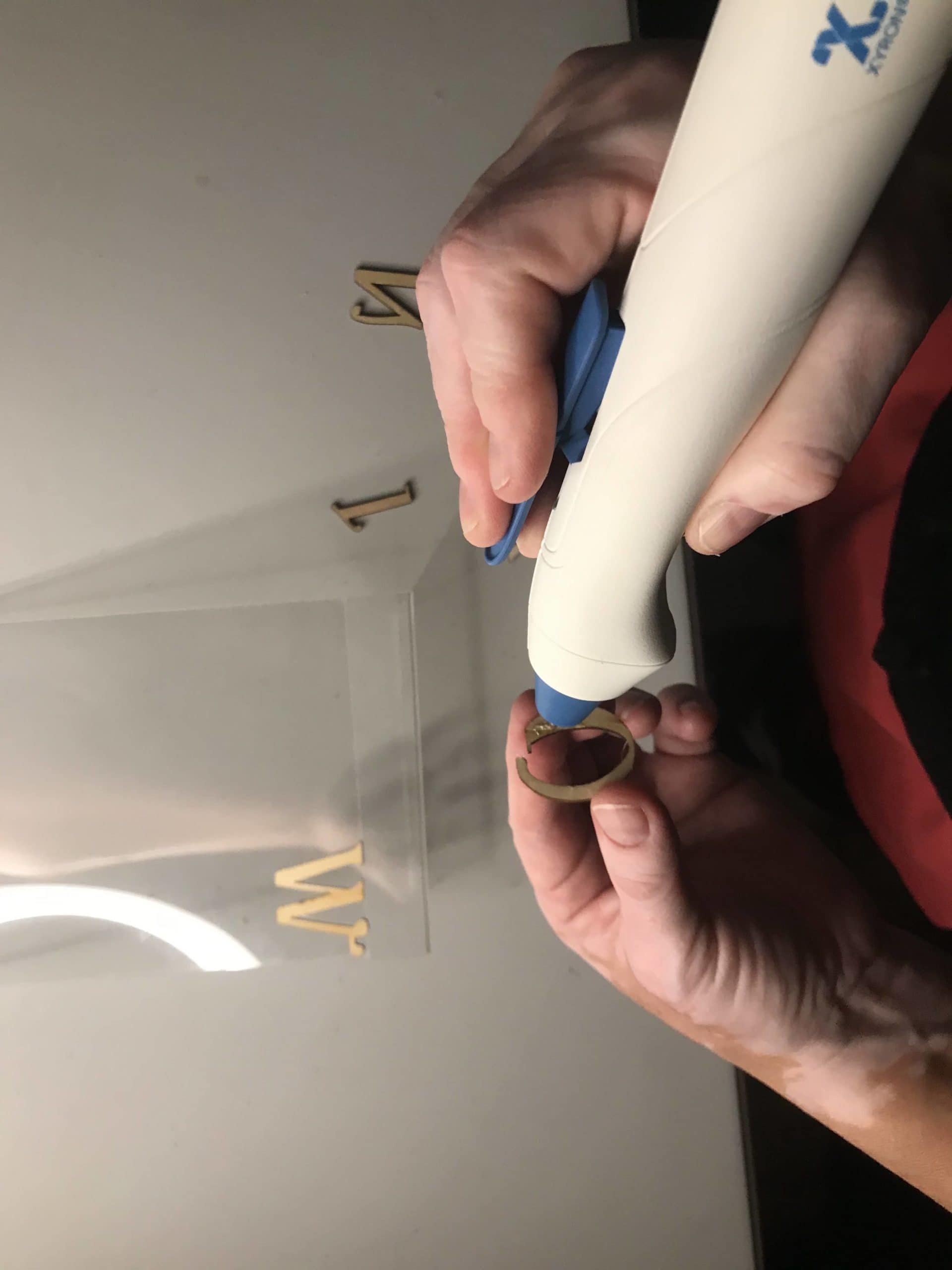 We really loved the Xyron Mini Hot Glue Pen. This might even be our new favorite glue gun. But we're not the only people who have used it. To make sure we're bringing you the whole picture and not being biased, we wanted to see what other users thought of this glue gun. So, we searched the internet looking for reviews and comments about it, and this is what other users had to say.
It was very common to see people saying they were impressed with how fast this glue pen heats up. They seemed pleased with how much time this saves; particularly when doing just a little bit of gluing on a small project.
Another common praise thrown on this tool is in regards to its accuracy and precision. In fact, no one said otherwise that we could find. Users seemed to love the tiny tip and how precisely it allows you to control the glue. But it's not just the tip. Many users seemed just as happy with the trigger.
Most people that shared their opinions on this glue gun seemed to love the tiny size and the shape. Many were thrilled with how light and easy to use it is, requiring no strength to maneuver.

Conclusion
To say we liked the mini hot glue pen from Xyron would be an understatement. It's probably our new favorite glue gun. With this glue pen, you can achieve levels of precision that you've likely never experienced before with a glue gun. This streamlined device provides an excellent user experience and speeds up any project by heating up in just one minute! For us, this is our new go-to glue gun, and we're confident you'll feel similarly after trying it.