10 Best Cordless Hot Glue Guns of 2023 – Reviews & Top Picks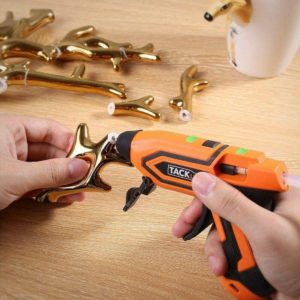 For anyone who loves crafting or making costumes, the value of a glue gun can't be measured in money—but rather, for efficiency, convenience, and versatility. Being able to glue on those sequins or adding just the right number of natural twigs to that decorative bird nest can only be achieved if the glue gun works with optimal performance.
Cordless glue guns are a game-changer in this respect. No longer are you confined to a table within reach of a socket. As long as it is charged, you can take it anywhere.
We have put together a fantastic collection of cordless glue guns for you to peruse—complete with reviews. By the end of this article, you will be able to pick out the best one for you without any trouble.
---
A Quick Comparison of Our Favorites in 2023
Rating
Image
Product
Details

Best Overall

OUTUL Hot Melt Glue Gun

Stand up base
Double trigger
Anti-drip tip
CHECK PRICE

Best Value

TackLife 715 Glue Gun

Copper tip
Rubber grip
Temp light
CHECK PRICE

Ryobi P305 One+ Cordless Hot Glue Gun

Long use time between charges
One+ tool
4-amp hour battery
CHECK PRICE

Neu Master FQ-009 Cordless Hot Glue Gun

On/off switch
PTC heating tech
Ergonomic handle
CHECK PRICE

FL FQ-099AS Hot Glue Gun

Comfortable handle
Fast preheat
Lightweight
CHECK PRICE
The 10 Best Cordless Hot Glue Guns
1.

OUTUL Hot Melt Glue Gun – Best Overall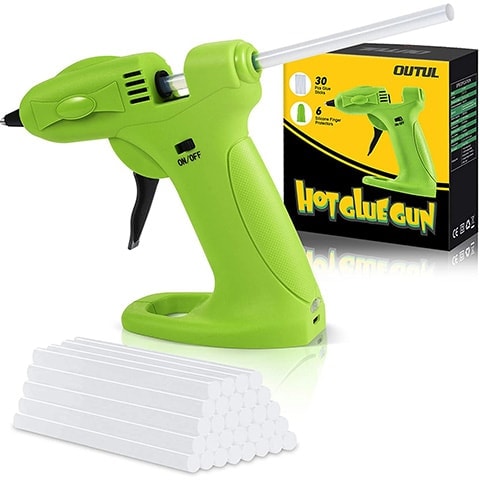 We give the OUTUL Hot Melt Glue Gun five stars across the board. It is not only a fabulous design, complete with a stand-up base and an ergonomic double trigger, it also has a drip-free nozzle so it won't make a mess, plus an anti-dripping heating chamber. So you'll never burn your hand, have glue sticking to the table, or worry about knocking it over.
Using a high-quality ceramic positive temperature coefficient (PTC) heating system, you are provided with glue, preheated to just the right temp, in only three to five minutes. And, it comes standard with automatic temperature control, so your glue sticks won't burn inside the gun. With 30 included glue sticks and six finger protectors, it is obvious why we love this gun so much.
We quite literally have nothing negative to say about this cordless glue gun. It charged quickly, it did its job, and the anti-drip tip never failed us, which is why we rated it the best cordless hot glue gun on the market this year.
Pros
Stand-up base
Double trigger
Anti-drip tip
Ceramic heating system
Fast-acting
USB charge
---
2.

TackLife 715 Glue Gun – Best Value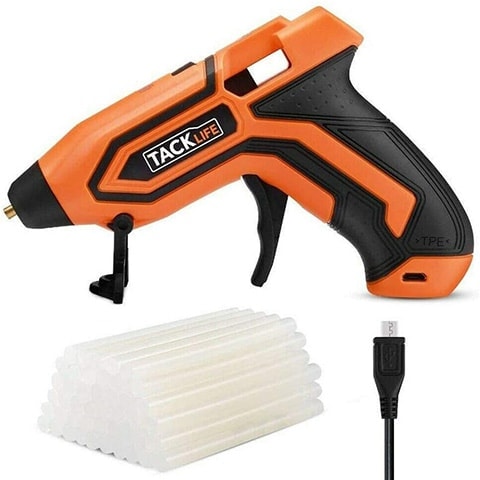 The TackLife 715 Glue Gun is as safe as it is affordable. Its battery lasts up to 35 minutes of constant use per charge, and it has an auto power-off feature when not in use. It is equipped with a temperature and battery indicator light, so you know when the gun is ready and have an idea of battery capacity during your work.
The nozzle is made of insulated copper that will last a long life and is safer than steel. And for a better grip, the soft rubber handle will allow plenty of long work sessions without hand cramps. It uses environmentally-friendly ethylene vinyl acetate (EVA) glue sticks, and it has a built-in safety switch. We think this is one of the best cordless hot glue guns for the money.
It has been found that sometimes the battery doesn't last as long as some consumers might prefer. And sometimes, even with the temperature controls, glue sticks can still melt in the tip, which is very difficult to clean.
Pros
Copper tip
Rubber grip
Temp light
Battery light
Cons
Battery dies quickly
Glue dries in tip
---
3.

Ryobi P305 One+ Cordless Hot Glue Gun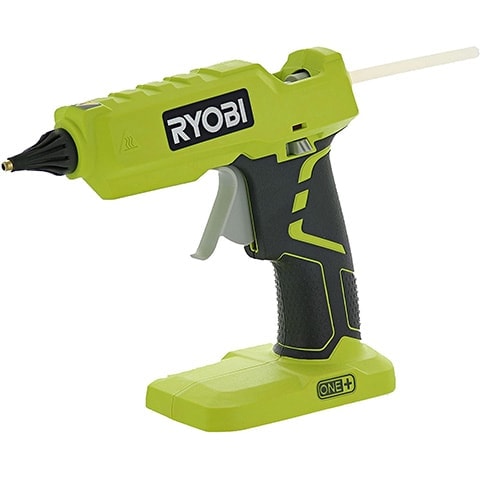 With its large trigger and full-control handle, the Ryobi P305 One+ Cordless Hot Glue Gun fits in with the other One+ tools very well. It comes equipped with safety indicators to let you know when the gun is active, so no one gets hurt by accident. It has a long run time with a 4-amp hour battery and can work for 3.5 hours without needing a recharge.
Its comfortable grip made with micro hex rubber is a trademark of the Ryobi family of tools. That also means as a One+ tool, it is compatible with all 18V batteries used by Ryobi. The grip increases maneuverability and gives you a firm hold, even when the gun is wet.
This model might be too efficient. The glue gets very hot, very quick, and can cause burns if the user isn't paying attention. And it only has one nozzle, which is reasonably wide—so smaller, delicate projects can be quickly drenched in hot glue if not careful.
Pros
Long use time between charges
One+ tool
4-amp hour battery
Rubber grip
Cons
Wide tip
No temp regulator
---
4.

Neu Master FQ-009 Cordless Hot Glue Gun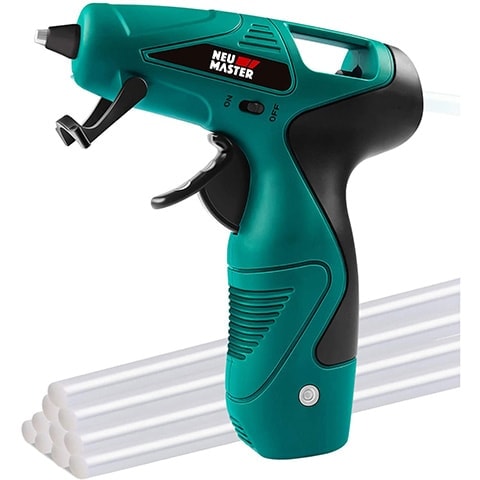 There is an on/off switch on Neu Master FQ-099 Cordless Hot Glue Gun for safe, efficient use. With this simple addition, you know your gun will not burn through its battery life when you aren't using it, and it won't melt the glue sticks in the housing, gumming up the tip. So simple, but it offers so much peace of mind.
It features high-tech electronic PTC heating technology, ensuring a fast preheating time, and it heats to a max temperature of 400°. Its handle is ergonomic, and it has a double-pull trigger for added control with minimal finger fatigue. Throw in the 10 high-purity glue sticks it comes with standard, and you have a very nice glue gun.
The biggest problem we had is the glue stick feed mechanism didn't work very well. We had to physically push the glue sticks into the heating chamber as they melted. It makes for an awkward three-hand job when working on a project. We think it might have to do with reports of a faulty trigger assembly.
Pros
On/off switch
PTC heating tech
Ergonomic handle
Double-pull trigger
Cons
Glue stick doesn't feed
Trigger is faulty
---
5.

FL FQ-099AS Hot Glue Gun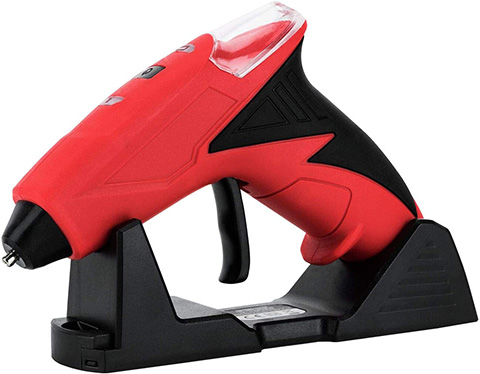 You will never have to worry about a messy craft area when you use the FL FQ-099AS Hot Glue Gun. It has an anti-dripping heating chamber with a sealing ring to ensure you never have drips from the tip. This pairs well with its fast preheating, getting your gun to temp in less than three minutes.
It has a specially designed, ergonomic handle with a double trigger for better control, and is very well-balanced and comfortable to handle. The shell is crafted from premium acrylonitrile butadiene styrene (ABS) plastic for tremendous thermal stability throughout work, and the plastic makes it very lightweight.
This model had trouble with the glue stick feed mechanism as well. And it was awkward in the supplied stand, which made us think it wasn't as well balanced as advertised. Some buyers did not get the items to be included, such as the free 15 glue sticks specifically for this gun.
Pros
Comfortable handle
Fast preheat
Lightweight
Cons
Stick feed issues
Accessories not always included
---
6.

AONOKOY Cordless Hot Glue Gun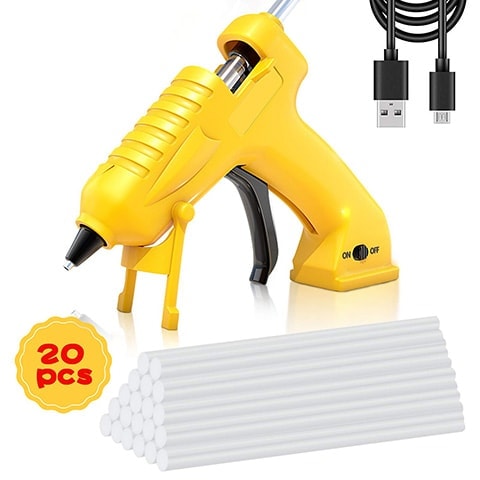 Also featured with an on/off switch, the AONOKOY Cordless Hot Glue Gun has come to get things done. After fully charging the battery, it can be used for a constant duration of 100 minutes, and it has a convenient leg system to keep the nose off the tabletop.
It heats very fast with its high-tech PTC heating unit, and the USB interface is convenient and fast. It makes those craft projects a breeze. And it comes with 20 glue sticks composed of super-strong adhesive, so you know your projects will stay together for a long time.
Some users have found the time to reach full charge is very long, and when it is charged, it doesn't last even close to 100 minutes. Even when used while plugged in, it still dies quickly. And the heat up time is longer than advertised by a considerable margin. It is considered too expensive for the quality you receive.
Pros
On/off switch
Peg stand
Fast heating
Cons
Shorter battery life than advertised
Takes a long time to heat
Expensive
---
7.

Elmer's E6052 Craft Bond Cordless Hot Glue Gun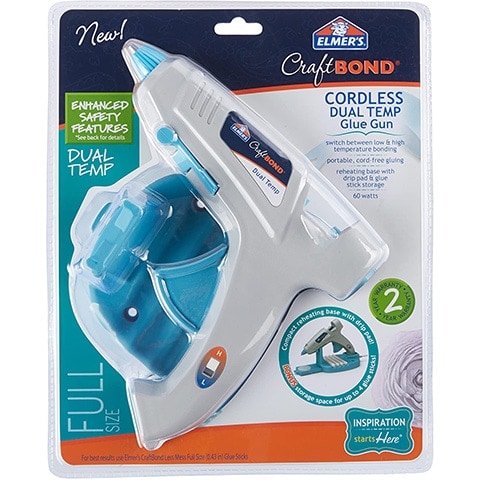 From the people you know and love in the glue world, way back when we were kids, we give you the Elmer's E6052 Craft Bond Cordless Hot Glue Gun. It comes with a precise, dual-temperature feature, which is perfect for all your crafting needs. And the nozzle is insulated to ensure there aren't any accidental burns.
It has a built-in safety fuse and side lifts and can work cordlessly for up to five minutes. Use the high-temperature setting for bonding metal, wood, or other harder objects, then switch it to the low temp side for delicate projects like gluing silk flowers or plastic pieces to a shirt.
Because of the short life of the battery, you will find yourself with a lot of downtime. And the base tends to stick to the gun, which is a safety feature but can get a little bit tedious. Be sure that you are ready to affix the item when you use the low temp feature as the glue cools very quickly.
Pros
Dual temp
Insulated nozzle
Cons
Short work life
Long recharge
Glue cools too quickly
---
8.

Surebonder PRO2-60Kit Cordless Hot Glue Gun
Get everything you need in one neat package with the Surebonder PRO2-60Kit Cordless Hot Glue Gun. A Ryobi 10V battery powers its 60-watt system. With it, the run time can be more than 3.5 hours depending on use. And it comes with both a battery and a charger.
It uses standard glue sticks so you will never have to hunt for the ones you need, and its ergonomic handle and triple-finger trigger make the work a delight. It boasts the ability to adapt to other cordless batteries like Milwaukee and Makita, and its long battery life sets it apart.
However, some of the battery adapter concepts haven't panned out with older Makita and Milwaukee batteries. The new normal for tool batteries is a universal usage style, just like the Ryobi this unit comes with. For those, it isn't an issue. For the older ones, the adapter doesn't fit. We also found the customer support wanting, and the wait time for the glue gun to heat up was quite long.
Pros
Long battery life
Battery and Charger
Standard sticks
Cons
Battery adapter issues
Poor customer support
Long warm-up
---
9.

Werktough Cordless Glue Gun
The Werktough Cordless Glue Gun certainly lives up to its name. It heats in 17 seconds, using its high-tech heating system. It has an anti-drip tip, is well balanced enough to stand up stably on a desk, and has smart-tech that automatically shuts off after a duration without use.
The tip is heat-proof rubber, it comes with a charger and a 2-year warranty. And the ergonomic handle and large trigger will let you work with this glue gun for a long time without hand cramps or forearm fatigue.
But beware: it only takes 4-inch-long glue sticks, so be specific when you buy replacements. And the battery life is not the best. Even using the on and off switch, it only lasts for about an hour. Lastly, it cannot be used while charging, which means a lot of downtime.
Pros
Heats quickly
Heat-proof tip
Large trigger
Cons
4-inch sticks only
Short battery life
Cannot be used while charging
---
10.

Fiskars 119930-1001 Lia Griffith Low-Temp Cordless Glue Gun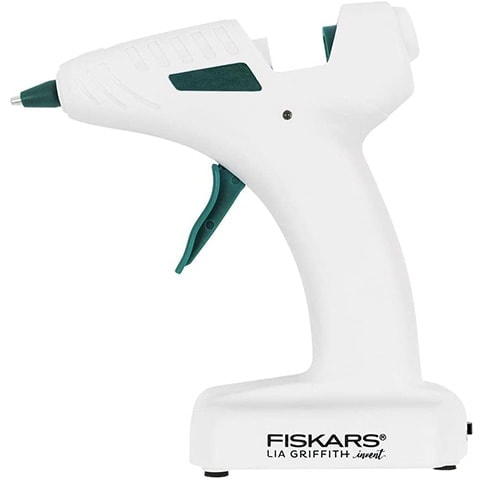 You have used other crafting products from Fiskars, and now you can try their glue gun. The Fiskars 119930-1001 Lia Griffith Low-Temp Cordless Glue Gun is designed with efficient crafting in mind. Its broad base allows it to stand freely, and an added support for your hand when in use. And the double trigger gives you added comfort and control.
Because this is a low-temp model, it is perfect for those more delicate projects. It has an easy access glue port for fast refilling and a handy, attractive design you will appreciate in your crafting area. And it takes four AA batteries, so no USB or battery pack to add weight or charge time.
The biggest red flag we found was the short warranty, at only a year. It doesn't come standard with the necessary batteries, and the batteries you do use are devoured rapidly. It takes a while to heat up, except in the battery compartment that gets dangerously hot.
Cons
Overheats in the battery compartment
Eats power quickly
Short warranty
No batteries included
---
Buyer's Guide – Choosing the Best Cordless Hot Glue Gun
Hot glue guns have a very special purpose. When you hear the words "hot glue," the first thought is usually crafting—making gifts or ornaments for a tree. They also have uses in industrial applications, as is evident by top tool brands getting into the glue gun game, but most of the time, it is more about the creative mind's pageantry.
Choosing the Right Glue Gun
With so many glue gun styles, narrowing down what its use will be is as important as selecting the right one.
First off, you need to decide what you will be using your glue gun for the majority of the time. Will you be crafting, or is it going on the job site for commercial use? Glue guns can be found in toolboxes now if the job requires it.
The gun you pick needs to fit the work it will do, and the reason is in the tip, the glue, and the temperature.
Glue Temperature
High temp glue is for hard items like binding things to wood, steel, and even glass. High temp glue will melt fabric and silk, and the hot tip can burn delicate items. Low temp glue is for silks, textiles, and things that need to be worked within a finesse spirit.
Tip Width
The tip's width can mean the difference between a significant area of glue coverage and a more precise dollop on a sequin or button. And the glue sticks vary in size and material, some cooling harder and faster than others. It is all relative.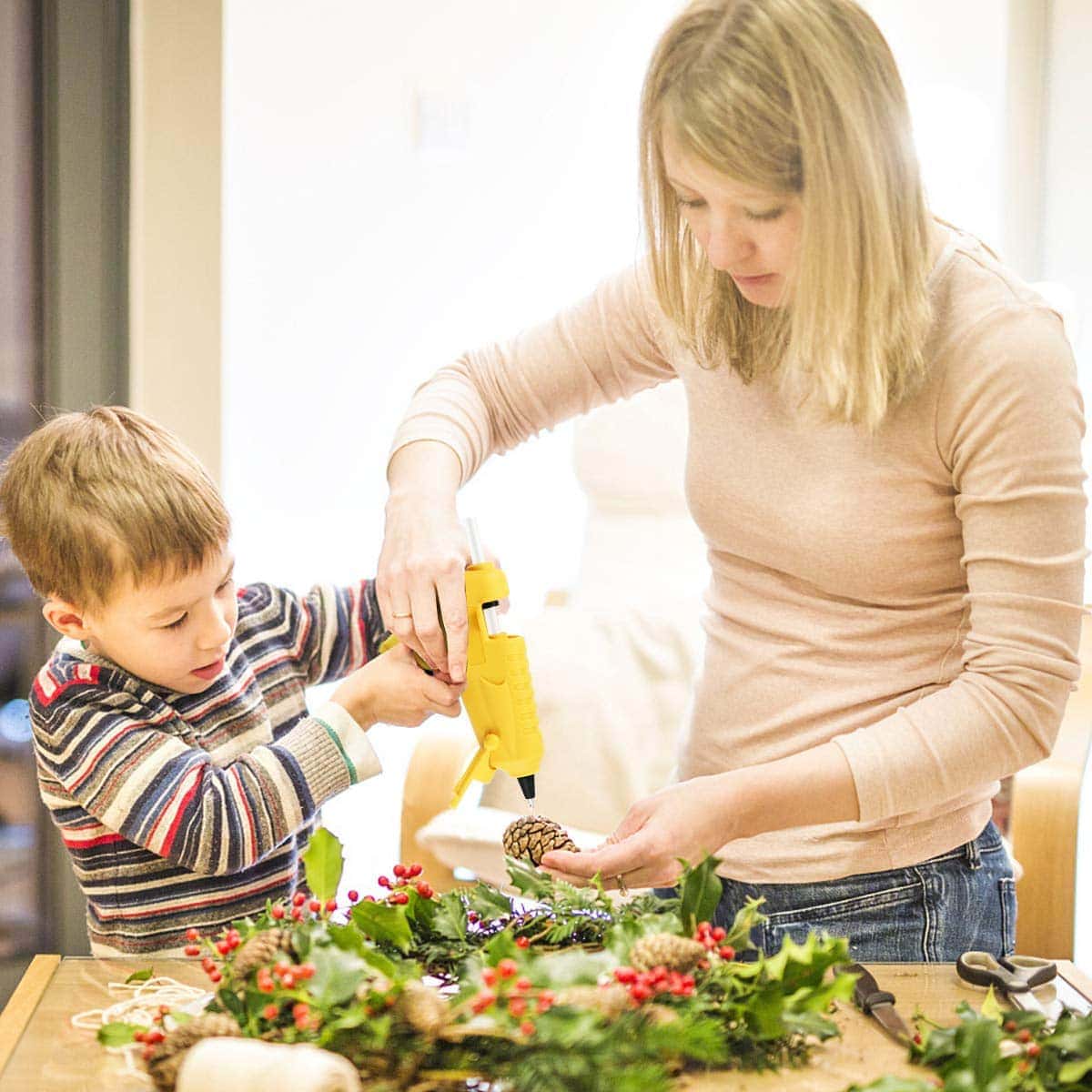 Power Sources
Hot glue guns eat batteries for breakfast. It sounds silly, but when a battery is involved, the heating process shows no mercy as it draws every ounce of power from the battery unit. There are three primary power options for a cordless glue gun:
Cordless charger for the internal battery: This can be hooked up via either a plugin or USB cable. This can be one of the most convenient options, as long as the charging time lasts.
A heavy-duty external battery: The next best option is an external battery that can be recharged, but they are often heavy, cumbersome, and throw off the gun's balance. For long work sessions, the battery's duration is excellent, but the wrist fatigue is noticeable.
Batteries: With the sheer magnitude of power drawn from these batteries to keep the units working optimally, the AA route is expensive and ineffective as a long-term strategy. We discovered that cord charging takes a while, and the internal batteries are often too small to work long term.
When you pick your power source, factor in your physical needs. Most of the glue guns out there are ergonomic for comfort. They have double or even triple triggers for grip. Now, it is down to the weight. Rechargeable internal models are often the lightest, but you may get an hour out of them at best.
So, for your gun, will it be comfort or efficiency?
Here are some other products we recently reviewed and compared:

Conclusion
These reviews started in an exciting way with a cordless glue gun without fault, with the best cordless hot glue gun overall being the OUTUL Hot Melt Glue Gun. It was quick heating, didn't drip, was fantastic with battery life, and had the safety features we would like to see in a hot glue gun.
For our more price-conscious choice, the TackLife 715 Glue Gun was a fantastic value and quality rolled into one. TackLife is a tool company of merit, bringing economically priced tools with very high-quality to the populous for a long time, and they hit it out of the park with this glue gun.
Though we had many interesting options in our reviews, but we hope we helped you sort through some of the more in-depth details that make a glue gun special and necessary in your life. Be it for crafting or commercial applications, glue guns are better to have and not need, than to need and not have.