2-Stage vs 3-Stage Snow Blowers: Which To Choose?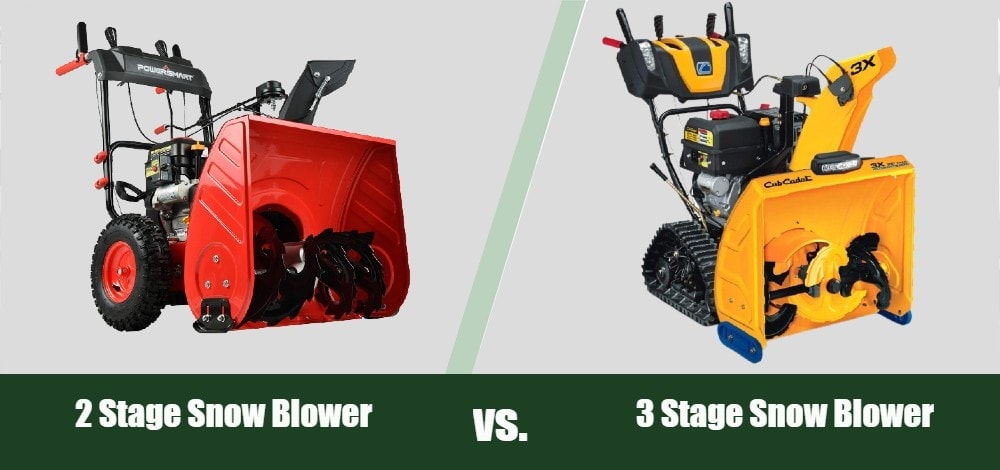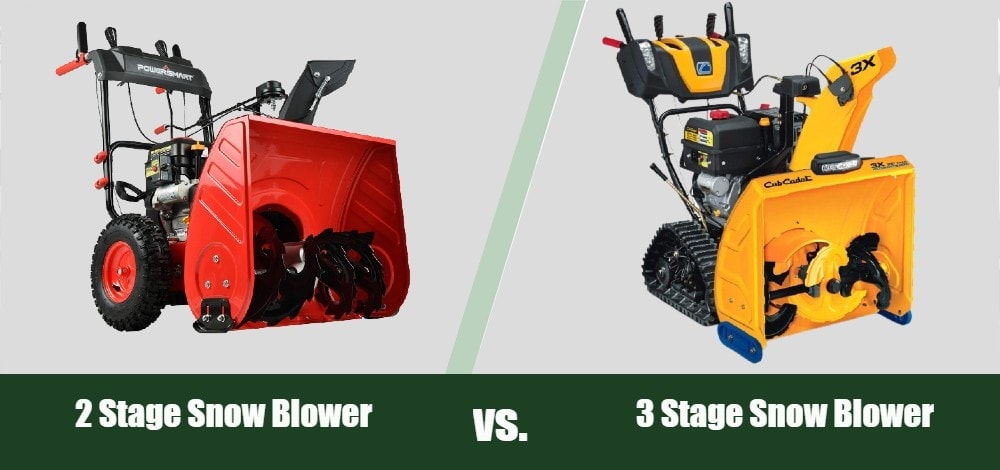 Is there a difference between 2 stage and 3 stage snow blowers? If you're shopping online, it can be hard to tell what makes models of similar machines different from each other. We've prepared this guide to help you understand the differences between 2 stage and 3 stage snow blowers so that you can find the model that is right for you.
First, let's explore 2 stage snow blowers. In the first stage, collection augers take snow and pull it into the machine. The second stage consists of an impeller, powered by the motor, speeding up the snow and shooting it out to your desired destination.
The big question here is: what happens if the snow is too icy or compacted for the collection auger?
If you're using a two-stage snow blower, then you're pretty much out of luck. You'll either have to break it using a shovel, or repeatedly hit it with the collection auger, which may or may not work and will likely lower your snow blower's life expectancy.
A three stage snow blower has the same stages as a two stage but adds a stage before them, where another auger, typically at a 90-degree angle to the collection auger, is used to break up compacted or icy snow. So, you're not necessarily getting more power or faster speed with a three-stage snow blower relative to a two, but what you are gaining is the ability to easily deal with difficult snow formations.
Overall, you'll have the most need for a three stage if you often work with icy or compacted snow. Otherwise, you'll probably be safe with a two-stage.
Our recommended Three-Stage Snow Blower Picks:
Our favorite – Troy-Bilt Vortex 2690 357cc Electric
There are so many upsides to the Troy-Bilt  Vortex 2690 that it is difficult to list them all in one review. It's a self-propelled model that takes things to the next level by including "Just One Hand Operation," so that you can drive the unit with, well, just a single hand. It also has a 4-way pitch and chute control which means that you will always be able to move the snow where you want it to go. Topping off this great unit is its powerful engine that can power through almost any kind of difficult snow, and gets through easy snow at incredible speed. The massive tires also help it get over any obstacle that lies in your path.
The one downside to this unit is that it is very heavy. This isn't a big deal while you're using it to clear snow since while it is on it's self-propelled, but if you're trying to store it in a tight spot, you may have trouble getting it there. Overall this model is so packed with features that you have to check out it for yourself.
Pros
4-way pitch control
Massive tires
Powerful engine
One-handed operation
Our recommended Two Stage Snow Blower Picks:
Our favorite – Husqvarna ST224 24-Inch 208cc
Our favorite two-stage snow blower is the Husqvarna ST224. This model has the power to cut through slushy, tall, or even compacted snow. If you're just working with soft, powdery snow, then this model will get the job done faster than weaker units.
You'll love how easy this unit is to operate, especially since it is self-propelled. No more hard pushing! However, there is only one reverse gear, and it is quite slow, which is a shame.
The electric starter and heated handlebar make you feel unstoppable. You won't even be stopped by darkness, as this model comes equipped with LED headlights. Overall, this is one of the best two stage snow blowers on the market.
Pros
Power
Heated handle grips
Electric starter
LED headlights
Best for the money – YARDMAX YB5765
It's hard to believe that you can find an all-steel frame snow blower at this price point, and yet, here it is. The YARDMAX YB5765 is one of the very best purchases for the money, featuring great power, that allows it to work through the most difficult conditions. While it lacks an electric start option on the 22-inch model, it tends to start just fine without it. If you don't feel safe getting a model without an electric start, then you can always upgrade to the 24-inch or 26-inch models.
This model does require a lot of assembly. Depending on your technical skill, it will probably take you between 30 minutes and an hour. If you don't want to deal with much assembly, then you'll need to get a different unit. Overall, this is one of the best models on the market, and it provides amazing value for the price.
Pros
Power
Easy to assemble
All-steel frame
Conclusion
Troy-Bilt Vortex 2690 was our favorite three stage snow blower, featuring 4-way pitch control and one-handed operation. Our favorite two-stage snow blower is the Husqvarna ST224, which has plenty of power and heated handle grips. The YARDMAX YB5765 is the best two stage blower for the money, coming with an all-steel frame and easy assembly.
You'll mostly need the three-stage model if you plan on working with compacted and icy snow on a frequent basis. Otherwise, you should find the two-stage snow blower to be plenty for your needs. Hopefully, this guide has helped you figure out which model is just right for you.