10 Best Two-Stage Snow Blowers of 2023 – Top Picks & Reviews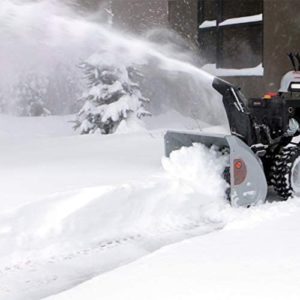 Have you been thinking about purchasing a snowblower for a while? You're probably tired of using a shovel all these years to clear your sidewalks and driveway. Where do you begin in trying to choose the best snow blower for your needs? We have done the research for you and compiled the following reviews of 10 of the best snow blowers. We hope you use our guide to complete your search for the best 2-stage snow blower.
---
A Quick Comparison of Our Favorites for 2023
Rating
Image
Product
Details

Best Overall

Briggs & Stratton 1024 Dual-Stage Snow Blower

Dual-stage blower
Push-button start
Self-propelled
CHECK PRICE

Best Value

YARDMAX Two-Stage Snow Blower

Self-propelled
Ideal weight balance
Value priced
CHECK PRICE

Premium Choice

Honda Two-Stage Snow Blower

Keyed-ignition
Handles heavy jobs
Easy speed control
CHECK PRICE

Husqvarna ST224P Two-Stage Gas Snow Blower

Heavy-duty
3 HP engine
Heated grip handles
CHECK PRICE

Snow Joe iON8024-XR Cordless Two-Stage Snow Blower

Two-stage blower
24 inches wide
Lightweight
CHECK PRICE
The 10 Best Two-Stage Snow Blowers
1.

Briggs & Stratton 1024 Dual-Stage Snow Blower – Best Overall
We chose the Briggs & Stratton 1024 Dual-Stage Snow Blower as our best 2-stage snow blower overall for several reasons. It is designed for heavy residential use. So, when that foot of snow is left in your driveway overnight, you will have the confidence to clear it quickly with a 208 cc engine that produces 9.5 foot-pounds of torque.
It has a 24-inch wide clearing path and a 20-inch intake height for clearing various surfaces. The push-button electric start makes it easy to get your blower started in the coldest of weather, and when you get it running, the friction drive transmission will help you to clean down to the driveway or sidewalk. It has a 12-inch steel auger with 6 forward and 2 reverse settings.
The Briggs & Stratton is a dual-stage snow blower which means you can use it on any solid surface or in your yard. It will get the job done quickly because it is self-propelled to make using the blower a one-handed operation. As you let the 175-pound blower work itself up or down your driveway, you can shoot the snow to the left or the right at a distance of 30 to 40 feet. All in all, we think this is the best overall two-stage snow blower on the market today.
Pros
Dual-stage blower
Push-button start
Self-propelled
Reliable Briggs & Stratton engine
Easy to maneuver
---
2.

YARDMAX YB5765 Two-Stage Snow Blower – Best Value
If you need a snowblower with value written on it, the Yardmax YB5765 Two-Stage Snow Blower is your choice. It is our pick for the best 2-stage snow blower for the money. It has a 22-inch snow-clearing path and is perfect for the person who needs a blower now again throughout the snow season. The two-stage blower has more power to clear those paths quickly than a simple single-stage.
A 6.5-HP 196cc engine powers the serrated steel auger that will cut through the dense, hard-packed snow. The blower has an ideal weight balance which makes it easier to operate the dashboard controls, which include shifting and chute control. The self-propelled drive has five forward and two reverse speeds to guide your blower across your sidewalks and driveways.
The price of this beauty is what is so attractive; it costs less than half of some of the models we reviewed. If you're considering the Yardmax, purchase the extended warranty. It was noted in several of the reviews we read that a warranty would be a good idea since the pull cord doesn't seem to last very long.
Pros
Self-propelled
Ideal weight balance
Value priced
Two-stage blower
---
3.

Honda HSS1332ATD Two-Stage Snow Blower – Premium Choice
Our premium choice is the Honda HSS1332ATD Two Stage Blower. It has several high-end features, including a 32-inch wide housing along with a 21-inch auger that makes cutting a clear path relatively simple.  The blower will clear 2,750 pounds of snow per minute and throw it more than 50 feet. The wider housing allows you to make fewer passes on wider driveways. It is one of the biggest snowblower for the residential homeowner.
Honda has always had a good reputation, and the 389 cc engine single-cylinder engine produces sufficient power with some to spare. Pull the choke out and use the key-operated electric starter to get the engine purring. The simple starting routine comes in handy on cold, snowy mornings.
The track drive gives you stability when clearing sloping paths and driveways. On the dashboard, you will find controls for steering your blower, adjusting the auger height, and the 4-direction chute control.
Pros
Keyed-ignition
Handles heavy jobs
Easy speed control
Wide housing
Cons
Very heavy
More difficult to steer
Expensive for homeowner
---
4.

Husqvarna ST224P Two Stage Gas Snow Blower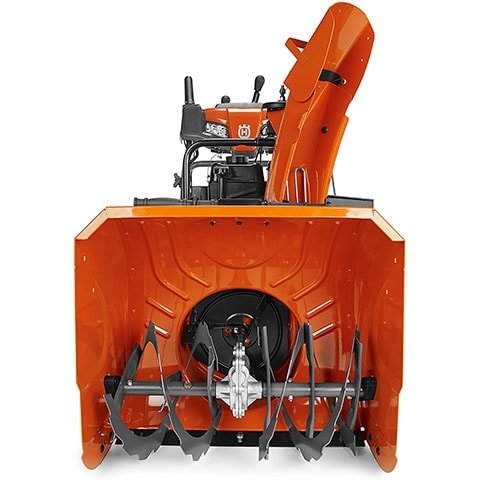 The Husqvarna is a heavy-duty snowblower that can take on larger jobs. The 6.3-HP engine comes with an electric starter, and you will never have to worry about your blower starting if you plug it in. The two-stage blower works best in snow accumulations of up to 12 inches. The ribbon augers will cut through hard-packed snow in no time.
It weighs under 200 pounds, so the power steering will come in handy when driving down the path you need to be cleared. The 15-inch wheels are larger than several others we reviewed, and they make cutting through the deep snow a bit easier.
One of the comfort features of this blower is the heated grip handles. On the cold mornings of moving snow, you have the luxury of a warm handle to keep your hands from freezing. The joystick raises the steel chute up and down and changes the arc.
Pros
Heavy-duty
3 HP engine
Heated grip handles
---
5.

Snow Joe iON8024-XR Cordless Two-Stage Snow Blower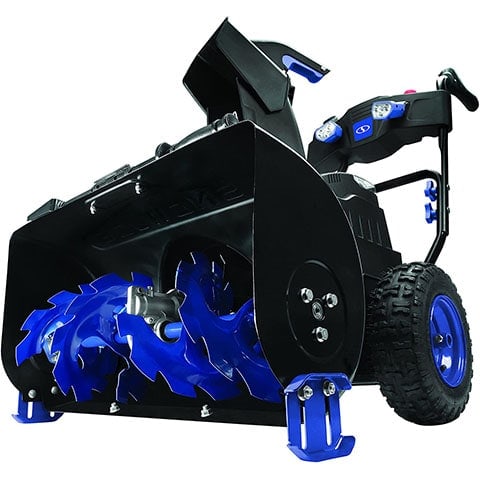 The Snow Joe is operated by a pair of 5-amp batteries that can run the snowblower for 30 minutes with no gas. It's a two-stage, heavy serrated auger that is 24 inches wide and 13 inches deep. Combine this power with this auger, and you can displace 1,000 pounds of snow per minute.
The blower starts by merely pushing the button on the display. Two handles allow you to take a hold of your blower and have ultimate control at your fingertips. This unit weighs only 105 pounds, but because it is self-propelled, it is easy to steer and move around.
This is a snowblower that is suitable for households that require light work. It does not have the capability of running for lengthy periods of time because it is limited by the battery capacity. Additionally, it does not have the ability to cut very deeply, so several passes might likely have to be made to clear a sidewalk or driveway. If you have a need for blowing snow regularly, you may want to look into a gas-powered snowblower.
Pros
Two-stage blower
24 inches wide
Light-weight
---
6.

PowerSmart DB7622H 2-Stage Gas Snow Blower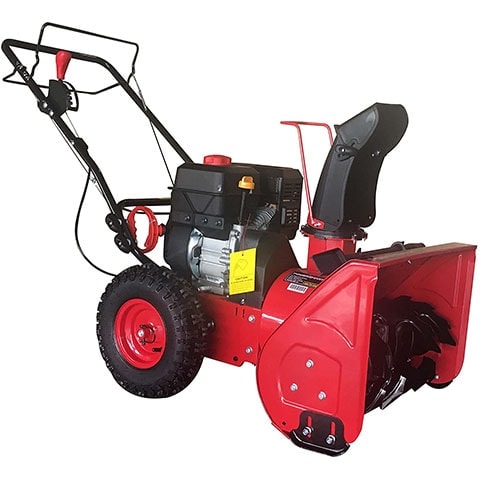 Here is another great household snowblower. Equipped with a 212cc PowerSmart engine it has sufficient power to take care of your snow-filled driveway and walkways. It's 22 inches wide with a clearing depth of 16 inches. The drive system has four speeds going forward and two speeds in reverse.
This blower does not have an electric start, so you will have to depend on the manual pull start, which many reviews say is reliable even in minus-20-degree weather. Located on the versatile control panel is the remote chute control that lets you rotate it 180 degrees to make your job simple. The PowerSmart will give you up to 40 feet of throwing distance, and the heavy-duty steel frame and auger system will provide years of dependable service. For an entry-level snowblower, the price is affordable, and it does the job.
Pros
Affordable
Powerful
Steel construction
Cons
Manual pull start
Small cutting area
---
7.

Dirty Hand Tools 103879 Self-Propelled Dual Stage Snowblower

This machine could quite possibly make snow removal seem fun. As one of the largest models we reviewed, the Dirty Hands Tools 103879 Self-Propelled Dual Stage Snow Blower has a 30-inch clearing width with a 20-inch intake. The auger is an 11-inch three-blade impeller that makes quick work of the snow on your driveway or sidewalk, and if you need to clear the chute, you have a convenient onboard to do so.
The control panel on this one looks like you are working on a fun video game. One lever controls the six forward and two reverse speeds, so you can find the perfect speed for the terrain you're on. The other one lets you operate the 190-degree quick-turn chute. You can use the push-button electric start that is also located on the control panel, or you have the manual pull cord as a backup. There are also two toggle switches: one for the heated handgrip and the other for the headlight, which comes standard.
Dirty Hand Tools snowblower is on the heavier side at 248 pounds, so it can be cumbersome to move in and out of your storage area. It is moderately priced, and for the homeowner who may not have enough snowfall or a large area to clear, it may be a bit too much.
Pros
30-inch wide
Self-propelled
Push-button electric start
Cons
248 pounds
Moderately priced
Not homeowner friendly
---
8.

Ariens ST24LE Deluxe Two-Stage Snow Blower
This is a dual-stage snow blower that has a 254 cc engine, which runs on the loud side but is powerful enough to handle the light snowfalls that you can get overnight. The 24-inch clearing width and the 14-inch diameter serrated auger cuts through compacted snow and even ice fairly easily. It can push snow at a little over 2,000 pounds per minute.
The 24-inch high intake can take on snowdrifts and snow coverage of 12-inches inches or more. It will throw the snow up to 50 feet, so you can clear your driveway in no time. It has been reported that the unit tends to drift a bit to the left and the right, so you must assist in keeping it on a straight path. When it comes to turning, the blower will sense which direction you are turning and then lock the inside wheel to facilitate the completion of the turn. This, too, has been given negative reviews by users because it makes it difficult to complete a turn.
Overall, the Ariens ST24LE Deluxe is a worthy consideration for its mechanical features, but it does sport a higher price tag than most of the others we reviewed.
Pros
Powerful
24-inch clearing width
Steel case construction
Cons
Higher priced
Turning can be tricky
Machine drifts while clearing
Heavy to operate
---
9.

Champion 100434 2-Stage Gas Snow Blower
So you woke up to a foot of new snow, and you want to go to the garage and pull out the snowblower that will do the job of clearing your driveway. You pull out the Champion 100434 2-stage Gas Snow Blower. It has a powerful engine and 21 inches of clearing height, so it should clear your driveway easily.
You push the 120-volt push-button electric start, and your blower is running. As you take your 24-inch blower out to get to work, you notice that the 12-inch auger begins to slip after a bit. Upon further inspection, you see that the belt has been slipping for a while, and it will need to be replaced. This seems to be a common problem that was noted in our reviews.
The Champion has a 21-inch clearing height and will send your snow approximately 25 feet. It has six forward and two reverse speeds to help get the job done. It does not have heated grips to keep your hands warm, but the control dashboard has a lever to control the chute and put the snow where you want.
This blower comes in at a better price point than several of the other snow blowers we reviewed. It has some power, and an average clearing width but lacks a few of the features that would set it apart.
Pros
Push-button electric start
24-inch clearing width
Cons
Lacks some power
Belt needs replacing often
Snow throw only 25-feet
Difficult turning
Heavy to operate
---
10.

Troy-Bilt Storm 2625 Two-Stage Gas Snow Thrower
The last of our reviews is the Troy-Bilt Storm 2625 Two-Stage Gas Snow Blower. It has a 243 cc 4-cycle overhead cam engine that sports a lot of power. You will need to do your usual maintenance and keep track of adding oil. It is quite loud in operational mode but has a 26-inch wide clear-cutting area and a 21-inch cutting depth.
The control handles do not have hand warmers to help keep your hands warm while working. You can drive the blower with one hand and operate the chute, which rotates 200 degrees, with the other hand. You do, however, have to adjust the angle of the chute by hand before you start clearing your path. It also has a headlamp, but it is sometimes obstructed by the chute depending on its position.
The 12-inch serrated steel auger will pick up the snow and deposit it into the 12-inch impeller. Since it is self-propelled, you can be sure it will make its way over just about any terrain. For under $1,000, you get a reliable snowblower that has an above-average cutting width but has some technically flawed features, or lack thereof, that make it tenth on our list.
Pros
26-wide clearing width
Chute rotates 200 degrees
Cons
Quite loud
No warming grips
Chute angle manually adjusts
Oil must be checked often
Headlamp obstructed by chute
---
Buyer's Guide – Finding the Best Two-Stage Snow Blower
Let's consider some aspects of two-stage models before you purchase a snowblower.
Area to be cleared
If you have a large property, you should consider user-friendly features like self-propulsion and two-stage models. A two-stage or dual-stage model will offer you more power to cut through the snow you are clearing. They also give you flexibility in the type of ground that you will be clearing. A two-stage blower works well on concrete and in yards because the auger does not touch the ground.
Having a self-propelled snowblower will be beneficial when you are clearing a larger area because the machine will generally be doing all the work. You are merely directing the blower in the direction it should go and adjusting the chute to have the snow placed where you want it.
Read more:
Usage
Consider the amount of snowfall you receive every year. If you receive high amounts of snow, you may wish to purchase a snowblower, especially if you think it will occur five or six times a year. Another factor to consider is if you feel that you are capable of operating such a piece of equipment. Some of these machines are heavy and require a competent operator. Be sure you feel confident in your skills.
Budget
It is important to have a particular number in mind when purchasing a snowblower. As you review the various products, take account of the variation in prices, and begin to weed out the ones that are out of your budget. Sometimes you have to make sacrifices, and you may have to forgo a few features to buy a higher-quality product. However, you should always try to purchase a product that is high in quality and possesses as many of the key features that you need and desire.
Key features
There are several key features that you should consider as you check out the snowblowers. Some of these features can make all the difference in how a product operates or functions. They can also enhance your experience or make your experience a poor one. Let's look at a few of those features.
Tires
Believe it or not, the type and size of the tires on a snowblower can make a big difference in how it operates. A large tire makes it easier to maneuver the snowblower in deep snow or icy conditions. If the tires are air-filled, they are softer and can move over various terrains more easily. A solid tire is harder, and in icy conditions, it can be difficult for it to grab.
Starting Choices
You have a few choices when it comes to how a snowblower starts. Electrical starts save you time because the blower is always ready to use by pushing a button. When you are done using your blower, you just plug it in, and it will be ready to use the next time you need it. The other option is a manual pull start. This requires a bit more work and often takes more time.
Heated Hand Grips
A nice convenience to have is the heated handgrips. They make it comfortable when you need to clear your driveway on those cold days. Since it can take some time to clear a driveway or walkways, your hands are exposed to cold, and although you may be wearing gloves, the heated grips certainly help keep your hands warm.
Clearing width
As you look at snowblowers, you will notice different widths of clearing paths on the various models. The wider the clearing paths, the fewer passes you may have to take when clearing your blowing site. The average width seems to be 22 to 24 inches, but there are wider ones.
When to Use a Single-Stage Blower
In light snowfall areas
Smooth terrain
Shallow snow depths
Light use during the year
Clearing small areas
When to Use a Double-Stage Blower
In heavy snowfall areas
Variety of terrain
Deep snow over 12 inches
Using blower more than six times a year
Clearing larger areas

Conclusion
A snow blower is an investment and an essential tool for households and businesses in snow areas. Choosing a snowblower that best suits your needs requires careful consideration and a process of elimination. Our pick for the best 2-stage snow blower overall is the Briggs & Stratton 1024 Dual-Stage Snow Blower. It has all of the features you need to clear your snow-covered pathways and is affordable.
Our choice for the best value two-stage snow blower is the YARDMAX YB5765 Two-Stage Snow Blower. You give up the electric start for the manual pull start, but you reap the benefits of an affordable blower. Our premium choice is the Honda HSS1332ATD Two-Stage Snow Blower. It is our highest-priced snow blower but has all the bells and whistles for a two-stage snowblower.
As you decide on your budget, review your options, and consider your choices, use our reviews to help you make a decision. We hope you consider our favorites. In the end, you will have an invaluable tool to assist with your snow-blowing needs for years to come.
More buying guides like this: