6 Above Bed Wall Decor Ideas You Can Make Today!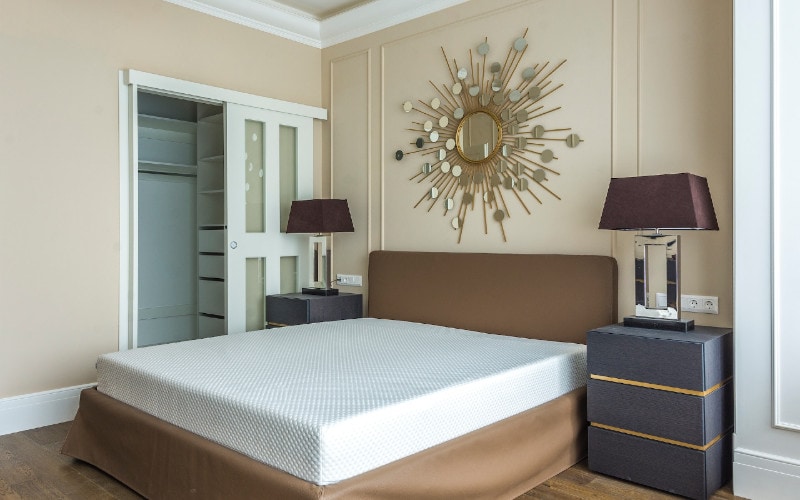 So, you've chosen the perfect bed but now don't know what to do to make it feel special. Well, you can decorate above the bed, of course!
There are so many different things you can hang up to complement your bed's look or pair with other furniture and decorations around the space. Let's check out some of the prettiest ways you can decorate that empty space above your boring bed below.

The 6 Above Bed Wall Decor Ideas
1.

Hang Maps
Invoke an adventurous aesthetic by just hanging up a simple map above your bed. This works best in a minimalist room, but you can lean into the aesthetic and hang up a bottled pirate ship, compass, or other ship-faring memorabilia. You can skip the frame and hang the map up with adhesive hooks or go full-on fancy and frame the map before hanging it up.
---
2.

Add Above-the-Bed Shelving
If usefulness is the name of the game, you may wish to add shelves above your headboard to maximize vertical space. This is a really smart move, and you can even install the shelving in a variety of ways to fit your space.
Add small sentimental tokens, framed photos, or practical items, like wireless chargers, to the shelves. We'd also suggest adding some small plants for a mental health boost, but it's really up to personal preference.
---
3.

Decorate With Wallpaper
Wallpaper can seem gauche, but it's a valuable tool in any home with blank space. A grand, winding botanical mural could be just the thing to refresh that negative space above your bed. Or you could go with a simpler retro pattern that fits any minimalist aesthetic.
Regardless of the design and print, wallpaper is cheap and fun to experiment with. Try browsing a few types today—you never know what will stand out!
---
4.

Strategically Position Mirrors
Adding a single large mirror can work well if there's a vanity mirror opposite, but we'd suggest hanging several small mirrors in a circle or other geometric shape. You could also spell your initials if you have enough mirrors.
Mirrors work well in any space by making it seem brighter and airier, but windows help amplify the effect. So, if you're lacking in ideas, this is one that looks good no matter what your home décor!
---
5.

Drape a Tapestry
Tapestries can seem a bit amateur, but there are plenty of high-quality ones for sale. You can find tapestries in Tarot themes, cartoon themes, abstract art themes, and way more.
Search up a few tapestries that fit your bedroom's aesthetic or go with the old failsafe and put a tapestry of your alma mater. If you're feeling a bit crafty, you can even take the time to craft your own unique art design.
---
6.

Add Wall Lighting
Adding a sconce or pendant lighting above your bed helps fill the negative space with soft accent illumination. Swinging light fixtures are classic bedtime reading fixtures, but any type of lighting will help free up nightstand space that would otherwise be occupied by a lamp. Wall-mounted lights are very modern in the bedroom, and they're a space saver to boot.

Conclusion
That blank, negative space above your headboard doesn't have to stay that way forever. Occupy it with a tapestry, mirrors, or whimsical lights. If you're feeling a little adventurous, hang up a couple of differently-sized maps. Finally, you always have wallpaper to play around with. Take the time to experiment with what works best for your bedroom and really make it yours.
---
Featured Image Credit: Max Vakhtbovych, Pexels