6 DIY Greenhouses You Can Build Today (With Pictures)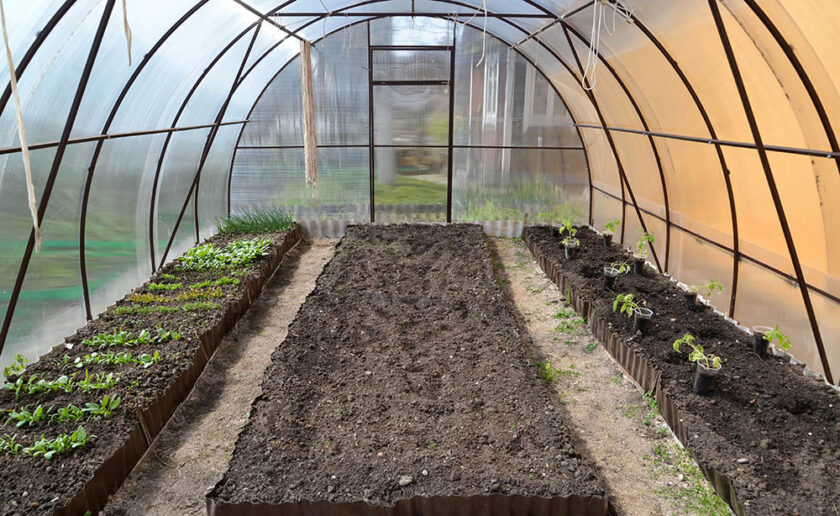 Greenhouses in the backyard are becoming a more achievable goal for homeowners, with shareable DIY greenhouse plans becoming easily available online. With the right materials and an affinity for hard work, you can build your own greenhouse to grow out-of-season crops and extend growing seasons. Let's dive into the plans and learn how to build a greenhouse today.

The 6 DIY Greenhouses
1.

DIY Homestead Greenhouse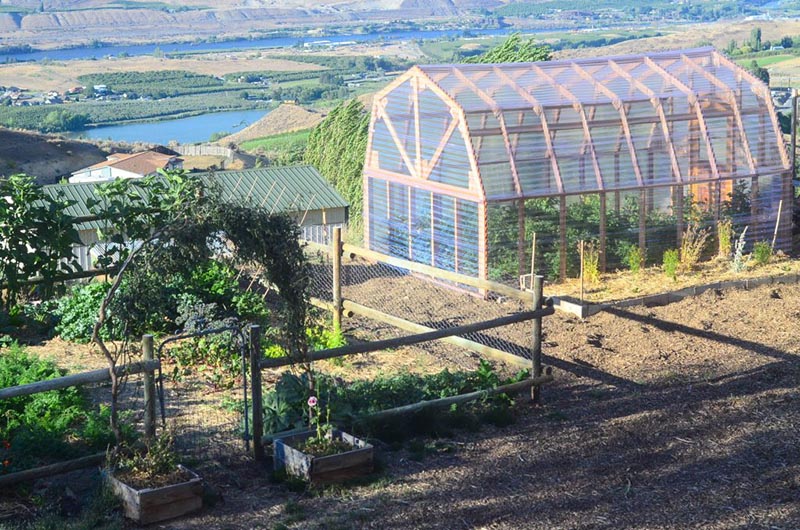 | | |
| --- | --- |
| Difficulty: | Intermediate to expert |
Although the plan laments the greenhouse's simplicity, we think it's quite nice. Not as visually pleasing as the geodesic glass domes of yore, but a transparent plastic greenhouse with a simple, sturdy wood frame has a unique homestead look.
This DIY uses polyethylene greenhouse sheeting, but paneling would also work if that's more cost effective for you. Lastly, there's a nice, detailed inventory of what materials you'll need to finish the job from start to finish.
---
2.

DIY Solar Off-Grid Greenhouse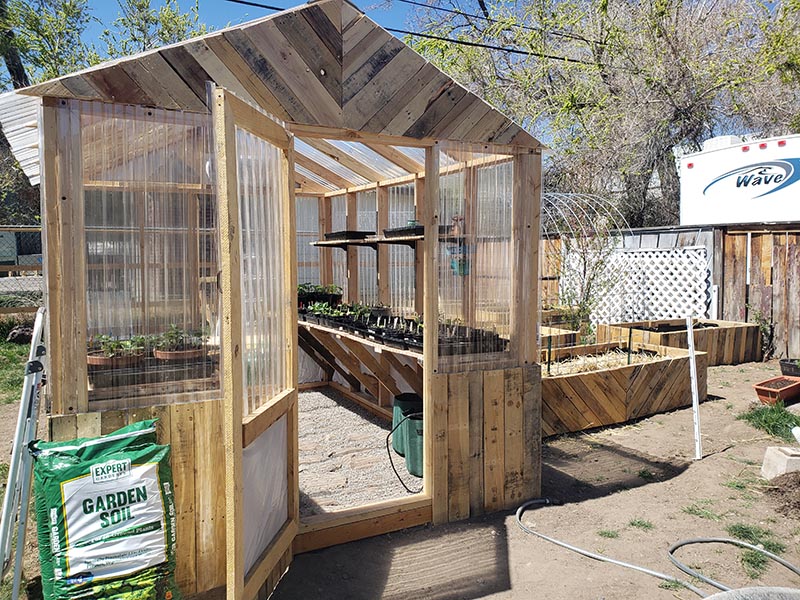 | | |
| --- | --- |
| Difficulty: | Intermediate to expert |
If your greenhouse plans are for a remote homestead or maybe a winter cabin in the mountains, look no further. The plan uses an ingenious yet simple solar panel system hooked up to a water pump and water trough to help enhance weak winter sunlight and maximize crop yields. You can use it to extend the growing season or as a seedling nursery, but it's theoretically self-sustaining.
---
3.

DIY Hoop Greenhouse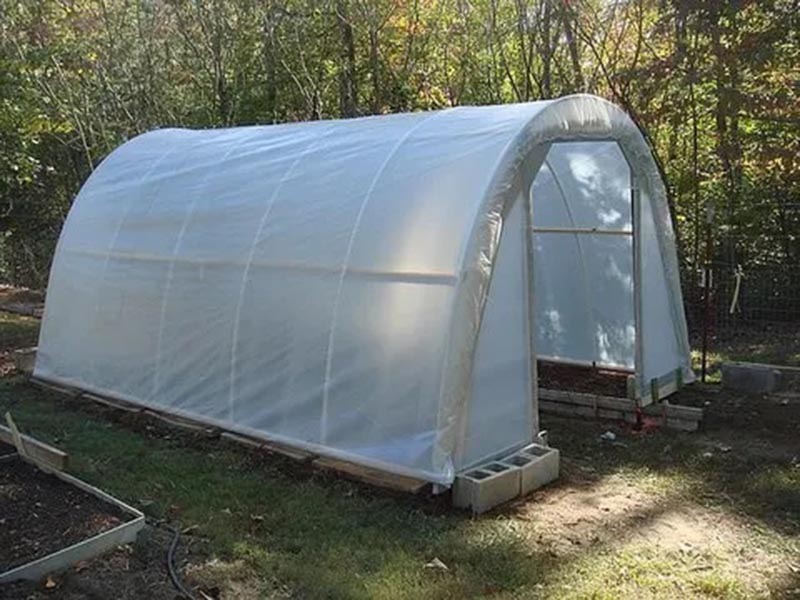 Here's a more basic hoop greenhouse plan for those on a budget. The plan claims you can build it for just $50, but that's assuming you have a lot of luck with dumpster diving, upcycling, and general scavenging.
Still, it's cheap even with brand-new materials and perfect for extending the growing season without needing a ton of complicated work. It's nothing fancy, but it'll protect your vulnerable seedlings and keep the growing season going a little longer.
---
4.

DIY Upcycled Hobby Greenhouse
This whimsical upcycled greenhouse plan uses old discarded windows to achieve a more natural herbalist style for your garden or backyard. The authors note that while most materials can be found for cheap or free, you shouldn't skimp on the polycarbonate external shell for optimal sunlight transmission. Once complete, you have a smallish but surprisingly effective hobby greenhouse at your disposal.
---
5.

Cattle Panel Greenhouse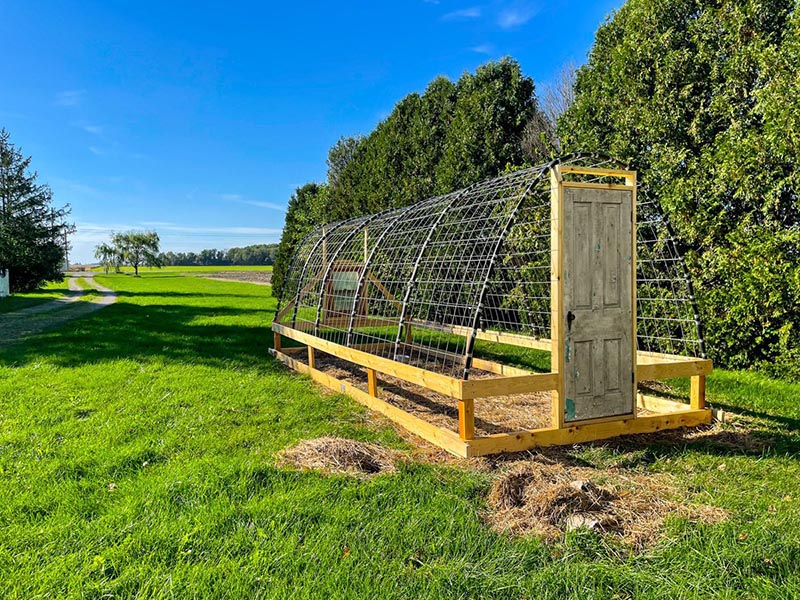 If you happen to have a ton of galvanized cattle panels around your property, give this plan a whirl—you're halfway there on materials already! Note that this is not a heated greenhouse plan, opting for the cold frame style of protecting seedlings from extreme winter conditions and extending the growing season a smidge for some crops.
---
6.

DIY Windproof Hoop Greenhouse
A more permanent take on the hoop greenhouse, this DIY plan makes a 300-square-foot hoop greenhouse with great resistance to high winds that could threaten other greenhouses. An important consideration is an immovable structure used to support and trap heat in the greenhouse. However, it won't be windproof without that support, so adjust your plans accordingly.

Conclusion
Greenhouses are the future of sustainable food production, able to use vertical growing and hydroponic growing techniques for unmatched yields and longer seasons. Whether you're a small-time hobbyist gardener or a serious off-grid homesteader, one of the plans above is sure to fit the bill.
See also:
---
Featured Image Credit: Irina Borsuchenko, Shutterstock