6 DIY Hanging Bed Ideas You'll Love (With Pictures)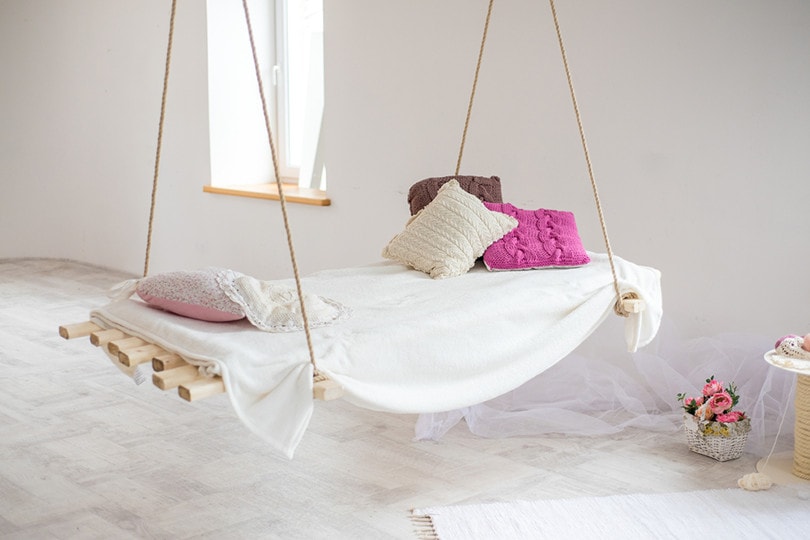 Hanging beds are back in style, and we can all admit that it's hard not to love them. They're comfortable, fun, and can easily turn any room into an exciting and unique living space. Also known as suspended or rope beds, hanging beds look specifically fitting in outdoor spaces such as porches or gardens.
Before we look into some ideas, it's worth noting that we wouldn't recommend taking on a project like this unless you have prior handyman experience. Hanging beds must be installed with care and attention to ensure safety while in use. Let's look at six hanging bed ideas to try out this fall.

The 6 DIY Hanging Bed Ideas
1.

DIY Swinging Porch Daybed by Plank & Pillow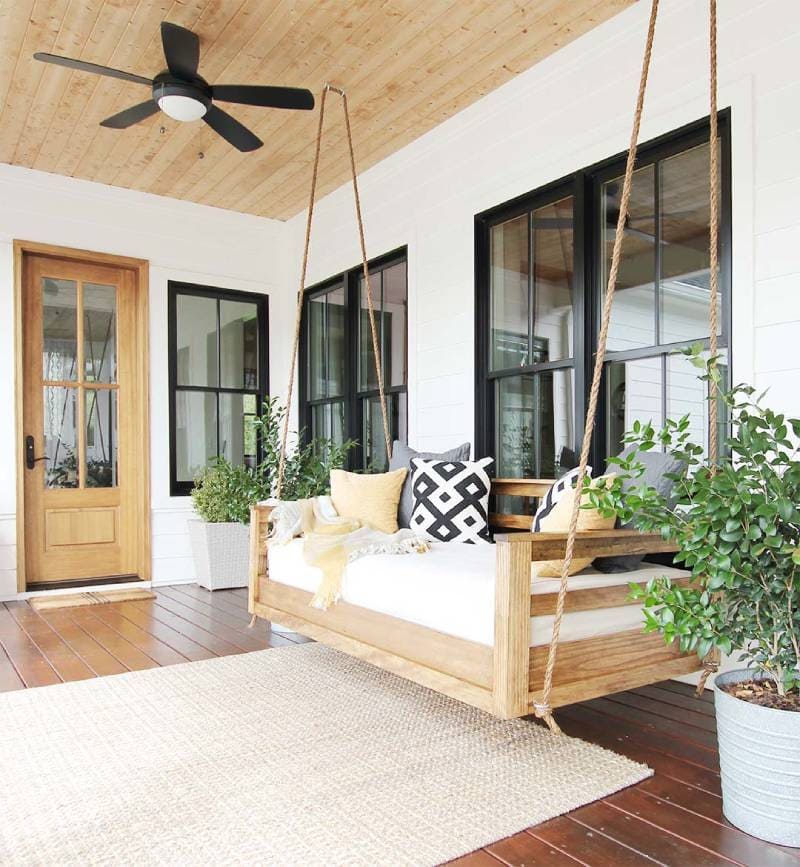 | | |
| --- | --- |
| Materials: | Wood glue, screws, wood, finish nails, wood stain, and filler |
| Tools: | Sandpaper, jig saw, and miter saw |
| Difficulty Level: | Medium |
Your porch is one of the best spots to hang a swinging bed. If you have an old daybed that you don't have space for inside the house, you can use it outside the house instead. In addition, a swinging porch daybed makes for the perfect mid-day nap spot, so get your materials and tools ready.
If you don't have a daybed, you can start by building the frame with three 1×8 pine pieces and two-inch finish nails. Then, use 1×3 clear pine pieces and wood glue to build four posts. Finally, add the rails, fill the holes with wood putty, and stain the wood. You may skip these steps if you already have a daybed.
Add eye screws to the daybed to run the rope through and use the same screws on the ceiling. Fish the rope through each eye screw on the ceiling and secure it to the daybed. Tie a knot underneath the daybed to finish up.
---
2.

DIY Pallet Board Hanging Bed by The Merry Thought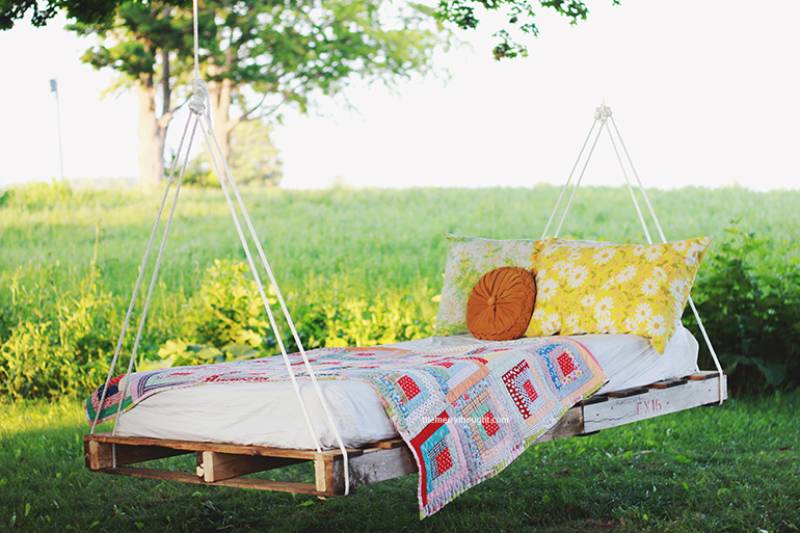 | | |
| --- | --- |
| Materials: | Screws, rope, lumber, pallets, and mattress |
| Tools: | Drill and saw |
| Difficulty Level: | Easy |
If you're not a fan of building the bed frame from scratch, you can opt for a pallet board. It takes the labor out of DIYing a hanging bed but has the same results. Plus, it helps you achieve a rustic look for your hanging bed to fit in if you have a country home.
Start by attaching two or three pallet boards to horizontal pieces of lumber to make a larger pallet board. Drill a hole in each corner that's wide enough to pull the rope through.
Thread the rope through the holes, tie secure knots, and connect it to a hook in the ceiling or a tree. That's how simple it is to make your pallet board hanging board.
---
3.

DIY Floating Canopy Bed by Rancho Delicioso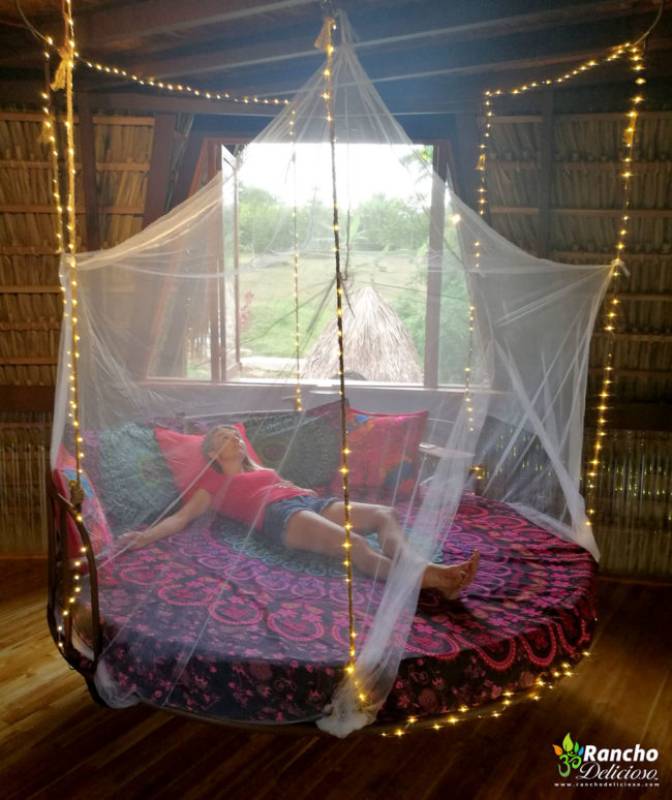 | | |
| --- | --- |
| Materials: | Nails, screws, wood, links, rope, and joist hangers |
| Tools: | Hole saw |
| Difficulty Level: | Hard |
Canopies are the perfect addition to complete a hanging bed's soothing and vacation-like appearance. We can guarantee that your children will love a floating canopy bed, adding a wonderland aesthetic to their room and allowing them to swing on their favorite furniture in the house.
Making a floating bed isn't much different from building a regular hanging bed. Gather your tools and start by building a frame. In this case, a circular frame will suit the ethereal and relaxing nature of a canopy bed, so you may need to invest in a round mattress. Of course, the unique part of this DIY project is in the canopy, so take your time finding the perfect canopy for this bed.
A sheer canopy will work best if you're hoping to achieve a dainty and exquisite finish. On the other hand, a rope canopy will help you achieve a more rustic look. You could also opt for thicker materials for a pop of color.
---
4.

DIY Baby Crib Hanging Bed by Wieg & Co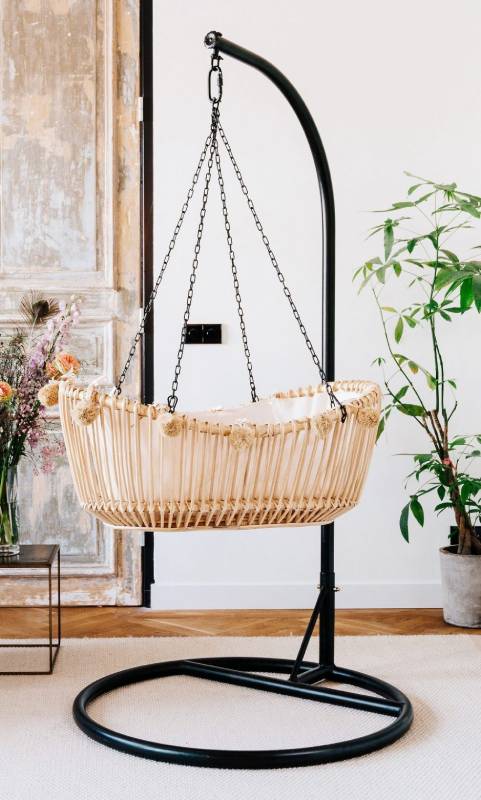 | | |
| --- | --- |
| Materials: | Basket and nylon rope |
| Tools: | None |
| Difficulty Level: | Easy |
Who said hanging beds were just for grown-ups and toddlers? Your newborn baby can enjoy their hanging crib too!
The best part about hanging cribs is that building them is a piece of cake. You only need a large basket and some nylon rope, with no tools.
---
5.

DIY Hanging Bunk Beds by Next Luxury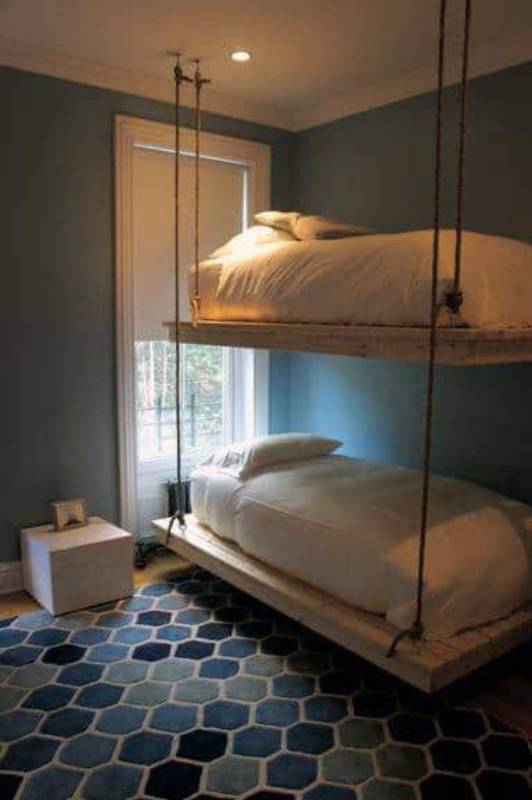 | | |
| --- | --- |
| Materials: | Wood, links, and screws |
| Tools: | Saw and drill |
| Difficulty Level: | Hard |
You can also surprise your kids with hanging bunk beds to upgrade their room. The procedure is similar to hanging twin beds, except the beds are hung above one another. To ensure the top bunk doesn't fall on the bottom, you'll need to screw the bed frames to the wall to create a floating effect.
Hang the first bed from the hooks on the ceiling and the second one from the top bunk's base. This unique DIY doesn't just make their room look fantastic but also saves a ton of space.
---
6.

DIY Swinging Hammock Bed by Instructables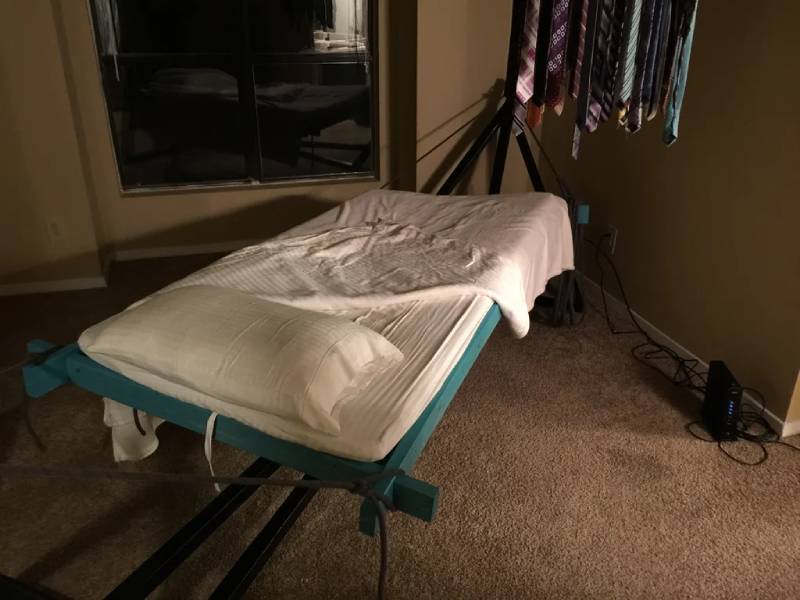 | | |
| --- | --- |
| Materials: | Steel tubing, climbing rope, lumber, bolts and nuts, linens, mattress, and screws |
| Tools: | Welder, sandblaster, steel chop saw, and drill |
| Difficulty Level: | Hard |
A hammock bed may seem an obvious option in a list of hanging bed ideas, but they're prevalent for a reason. It's the perfect midday napping spot for anyone who likes to spend time surrounded by nature or lounge in their backyard with a good book.
There's also a misconception that hammocks are easy to hang up, but this DIY project can be somewhat tricky. But if you're up for the challenge, the result will be worth the effort.

Conclusion
There's nothing wrong with a traditional bed, but hanging it instead can change your space drastically. Hanging beds are especially a hit in outdoor spaces such as your garden or porch. If any of our hanging bed ideas appeal to you, grab your materials and tools and get to DIYing!
---
Featured Image Credit: Julia Pavaliuk, Shutterstock