23 Backyard Office Design Ideas in 2023 You'll Love (With Pictures)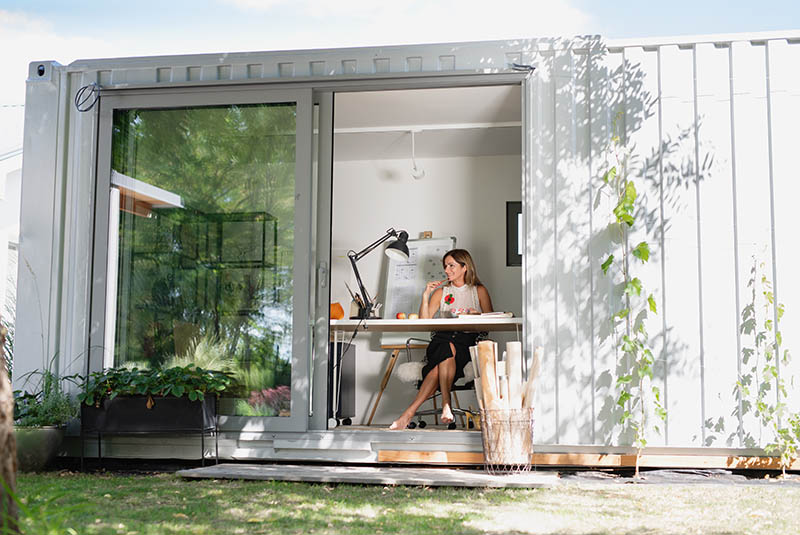 As more people discover the joy of working from home, they also find the frustration of not having the right office. Many, for example, do their best working from a small desk in the kitchen or dining room, while others cram themselves into a damp basement or dry, hot attic. Then, of course, there's the problem of being interrupted every 5 minutes by a spouse, child, or delivery person. The unfortunate truth is that many homes, whether due to the size of the house or the size of the family living there, are too small to set up a decent home office.
If you work from home but are demoralized by the lack of an actual office to call your own, the information below will be a revelation. Read on for 23 backyard office designs and plan your perfect backyard office today!

23 Backyard Office Design Ideas
1.

Green Cube Backyard Office
Talk about getting back to nature! This backyard office is about as natural as they come and is almost completely covered in greenery, including vines that run right up the walls!
Not only does all the vegetation look stunning, but the foliage also keeps the garden office cool in summer, so you're not sweating while you sweat the details of your newest work project. If you've got a green thumb and want a tranquil and private home office, this will be perfect.
---
2.

Tiny Backyard Office
This backyard office was designed professionally but will give you inspiration and ideas about what you can do on your own. It's basically a tiny rectangular building with a small porch out front. The interior is plain, which some may see as a drawback. However, you can also look at it as a positive because the design allows you to decorate and furnish it however you like.
---
3.

Natural, Open Backyard Office
This backyard office design comes from Russia, and the design itself was so good we had to include it. Since it's open, inviting, and airy, you'll have plenty of light in your office. There's a small sitting area for a table and chairs plus an indoor area for your office. That allows you to work, see clients, or entertain friends and family.
---
4.

Large Backyard Office and Video Studio
If you're a YouTube creator who needs a studio and an office, this design idea might be perfect. You'll need a rather large backyard for this one-floor, rectangular, extra-long backyard office if you want to create something similar.
The office is, like most, built on a platform and has many windows for light. Some of the windows are short, long, and raised above eye level so as not to impede space for working and shooting videos. It's modern and spartan but would be a great place to work.
---
5.

Tiny Home Backyard Office
Some homeowners want their backyard office to look homier; if that's you, this design idea is just the ticket. The front is designed to look like the front porch of a classic home you might find anywhere in the US, with exposed beams and a country feel. Of course, it's tiny, but if it's only for your office, that shouldn't be a problem.
One caveat is that building this backyard office is more involved and costly than some of the others on today's list.
---
6.

Repurposed Grain Bin Backyard Office
If you're into non-conventional ideas, this backyard office might interest you. It's a repurposed grain bin like you would find on a farm! That makes it distinctly round, which would make things very interesting when you design the interior.
You'll need a grain bin, of course, and they don't exactly grow on trees. If you're near farm country, however, you might be able to find one for a reasonable price and get started! One thing is certain; you'll have the most memorable backyard office in your neighborhood!
---
7.

Dome Backyard Office Design
Here's a very modern design for a backyard office that takes into consideration a very old design concept; domes. This dome by the company Domespaces was designed to be used for "glamping" but could easily be turned into your backyard office. You could also copy it if you have excellent DIY skills (including sewing) and drop the price even lower than what the manufacturer is asking.
One thing you must imagine is how it would be to work in your dome when it rains, with the soothing sound of the raindrops hitting the canvas roof.
---
8.

Enclosed Gazebo Backyard Office
Gazebos in your backyard are nice, but let's be honest, how much time do you really spend sitting in a gazebo? Turn that gazebo into a tiny backyard office, and you're sure to use it much more! If you've got decent DIY skills, this would be a fantastic project spread out over several weekends. The best part is that the "bones" of the structure would already be in place.
---
9.

Backyard Work from Home Studio
While this backyard office won't set the design world on fire, you'll appreciate that the maker shows you exactly how to construct it in their fantastic YouTube video. It's simple, but inside, it's airy, open, and inviting!  Plus, since it's small, you won't need a huge backyard to fit your new office space. A good selection of tools and better-than-average DIY skills will be necessary, however, and a helper or partner wouldn't be a bad idea.
---
10.

Light and Airy Backyard Office
One of the things you need most when you work is light and natural light when possible. This design idea from Australia provides oodles of light, especially since the roof is made out of semi-transparent lucite! Combined with a front wall that opens up completely, you'll have all the natural light you need to finish your work in peace. It's so open and airy you'll feel like you're outside rather than stuck at your desk!
---
11.

Repurposed Shed Backyard Office
A shed is a shed…until you turn that shed into your new backyard office! This design idea takes your basic backyard shed and envisions it as a home not far away from home. It's been upgraded with a nicer door and window, as well as some windows at ceiling height to allow for more natural light.
Yes, it's tiny, but if all you need is a desk and chair to get some work done, it should be just fine. That said, you could always purchase a bigger shed and thus have a bigger office.
---
12.

A-Frame Backyard Office and Work Area
Who says you need to make a backyard office that looks like a shed? This A-frame design is unique, offers plenty of natural light, and will provide all the workspace you need with a tiny footprint. It also has a very natural feel, thanks to all the bare wood on the ceiling/walls, and it would be a beautiful place to sit and work with the opportunity to gaze outside and enjoy the peace and quiet.
---
13.

Shipping Container Backyard Office
Although this design is presented in the picture as a living space, you could easily turn it into your backyard office. Unlike many shipping container designs, this one doesn't involve a huge amount of cutting or alterations. The front of the container is the only side that's altered, while the rest stay the way they were. However, with the front of the container being almost all windows, the amount of natural light you'll get will be heavenly.
---
14.

Glass Walled Backyard Office
If you're not worried that your spouse might be spying on you to make sure you're working and not goofing off, this backyard office design would be fantastic! Three of the walls are all glass from floor to ceiling! You'll feel like you're working outside while you're cozy inside (and busy working). One thing to note is that the cost of this backyard office might be higher than some due to all the glass. If you can afford it, though, your office will be the envy of your friends and family.
---
15.

Greenhouse Backyard Office
Who says a greenhouse needs to be used to grow plants and flowers? This design for your backyard office uses a greenhouse frame (and its wonderful, fully windowed walls and roof) to set up your backyard work haven.
You'll certainly have plenty of natural light when getting down to work, and since it's already a greenhouse, you can fill your workspace with as many plants as you like! One recommendation; be sure to have some a fan or AC ready to keep you cool as, if you live where it gets warm, you're very likely to need it.
---
16.

All-Glass Backyard Office
While it's called a "garden room," this design would make a fabulous backyard office if you want to feel like you're fully outdoors while you work. Not only are all for walls made of glass, but the ceiling is also. During the day, you won't need any lights!
Of course, you might need some curtains to block the heat on a sunny day, but this backyard office would still be a treat to work from. Think of all the beautiful plants and flowers you could have inside to keep you company!
---
17.

Garden Office Pod #1
If you're not big into DIY, there are many options on the market today for prefabricated (aka prefab) backyard offices. One is this garden office pod, which looks delightful. It has lots of glass in front to let in the sunshine and some uniquely rectangular windows on the side also. The half A-frame design is one you might find appealing, but the most appealing aspect is that, since it's prefab, putting it up in your yard should be no more than a weekend project.
---
18.

Garden Office Pod #2
This garden office pod is similar in design to the previous one but features windows from the floor to ceiling to let in even more natural light. It's also small enough to fit into the corner of your yard, even if your yard isn't all that big. This garden office is another prefab backyard office, so it will come ready to be put together. With a nice desk and a comfy desk chair, you'll be ready to work from home but get away from home at the same time.
---
19.

Cargo Trailer Backyard Office Space
This design idea might be the ultimate backyard office because you can tow it with you wherever you go and get work done while on the road! This idea started life as a cargo trailer but, with some upgrades, makes the perfect office space.
Those upgrades include a side door and windows, plus some skylights also. Drop down the back door, and you'll have a nice porch to drink your morning coffee! Remember that you can do this with any size cargo trailer also, so if you need more space, all you need is a longer trailer.
---
20.

Farmer's Cottage Backyard Office
While this idea is touted as being for a "summer house," it would be an ideal backyard office. This design is, in a word, stunning and probably the most unique we've seen. It looks almost like a wood and glass pumpkin, but with windows all around, you certainly won't feel like you're shelled in. If you decide on this design, be aware that a few interior changes might be necessary, but nothing structural.
---
21.

Backyard Office with a Deck Up Top
Everyone needs to take the occasional break, even when working from their backyard office. With this design, you'll be able to work inside, grab a snack during break time, and head up to your deck! The stairs are built-in and double as planters for some greenery, and there's even room for storage underneath.
This garden office design might be a perfect fit if you're looking for a convenient place to work and play. Plus, imagine inviting over clients and having a drink with them on your garden office's deck. Impressive!
---
22.

Spanish-Style Garden Office
The architectural style of Spain shines through in this backyard office, with small windows, a ceramic roof, and a rounded doorway. There won't be as much natural light coming in as some of the other designs we've seen today, but if you're looking for privacy, that won't matter nearly as much.
Instead, you'll have a sweet little retreat in your backyard where you can escape to get some work done and dream of your next vacation to the Mediterranean.
---
23.

Elevated Backyard Office
While a bit extravagant, this idea is stellar if you're looking for a distinctive backyard office space. It's an elevated office with a front porch, similar to what you might find on the coast of Florida, Texas, or California. Because it's elevated, you'll have room underneath for a wide variety of features.
Put a sandbox there for your kids so they can play while you work. A rock or zen garden would also be a wonderful addition. Whatever you choose, you'll be high on life as you sit above the ground in your new backyard office!

Final Thoughts
All of the design ideas we've shared today would make wonderful backyard offices, although the type you choose to make (or purchase) will depend on several factors. They include how much space you have in your yard, the weather and climate where you live, and how much you want to spend on your new office.
Many of the designs on today's list should be doable for under a few thousand dollars, but some will set you back a bit more than that. If you plan to build one yourself, having decent DIY skills and the right tools would be a good start. If possible, purchasing plans from the maker of the design you like would also be a great idea. That way, you'll have a guide you can use even if you decide to make some changes or alterations to suit your specific needs. Whatever design you choose, best of luck constructing, decorating, and working in, your new backyard office!
---
Featured Image Credit: Ground Picture, Shutterstock