19 Basement Kitchenette Ideas & Design Tips (With Pictures)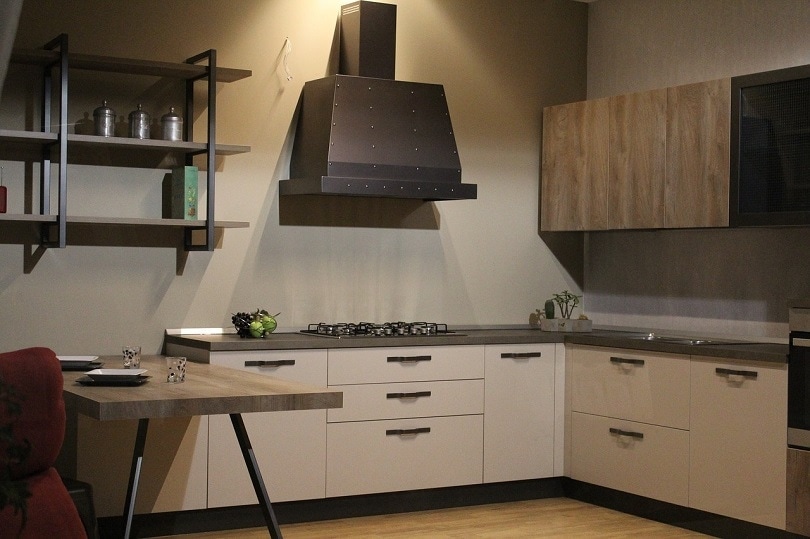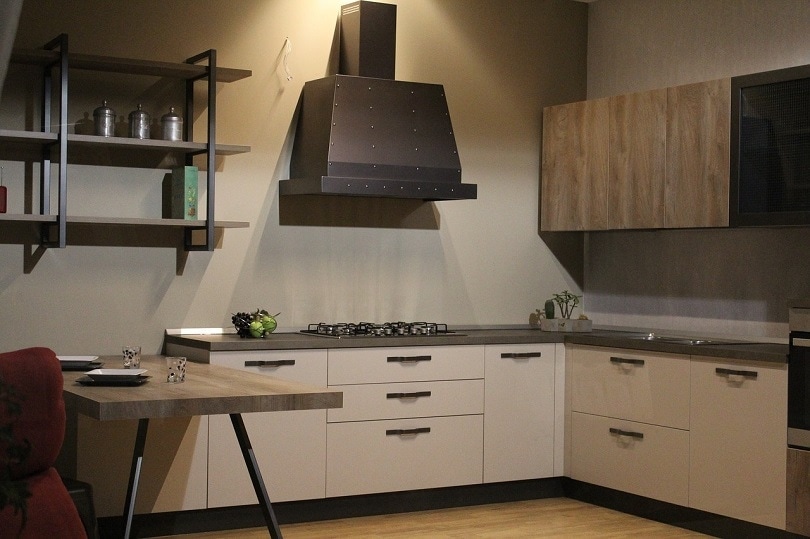 Basements don't have to be that dark, dreary area of your home reserved for storage. With a touch of creativity and some interior design inspiration, transforming your basement into a stylish kitchenette is more attainable than you might think!
The versatility that a kitchenette offers can make your basement an entertainment hub or a functional additional space. Not sure where to start? We're sharing fascinating basement kitchenette ideas and design tips to help you infuse new life into your basement. Let's go!

The 19 Basement Kitchenette Ideas & Design Tips
1.

The Social Hub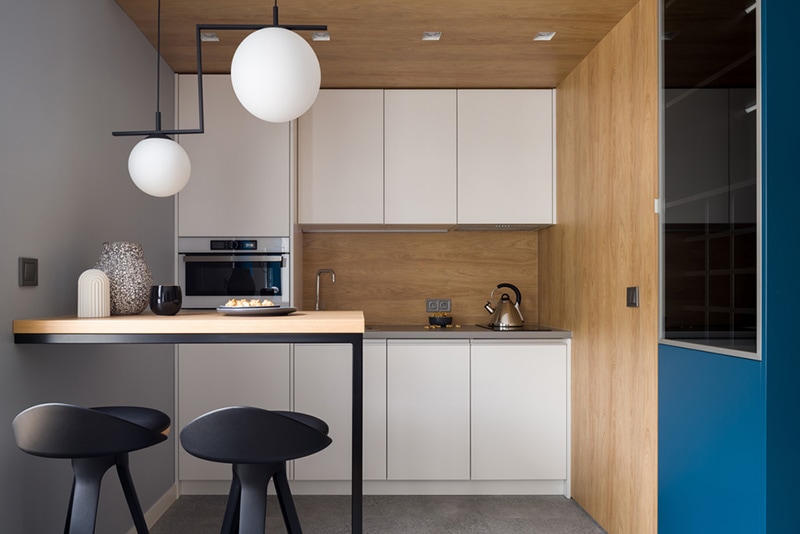 Is your basement the place where friends and family gather? Turn it into a social hub with a kitchenette that encourages conversation and togetherness. Opt for an open plan with bar seating, keeping the space inviting yet functional. It could be the perfect spot for a get-together or watching the big game.
You make the call for how extensive your entertainment area is. Do you need space for two TVs or one? How many people do you plan on hosting regularly? The answers to questions like these will help shape your kitchenette.
---
2.

Brick and Mortar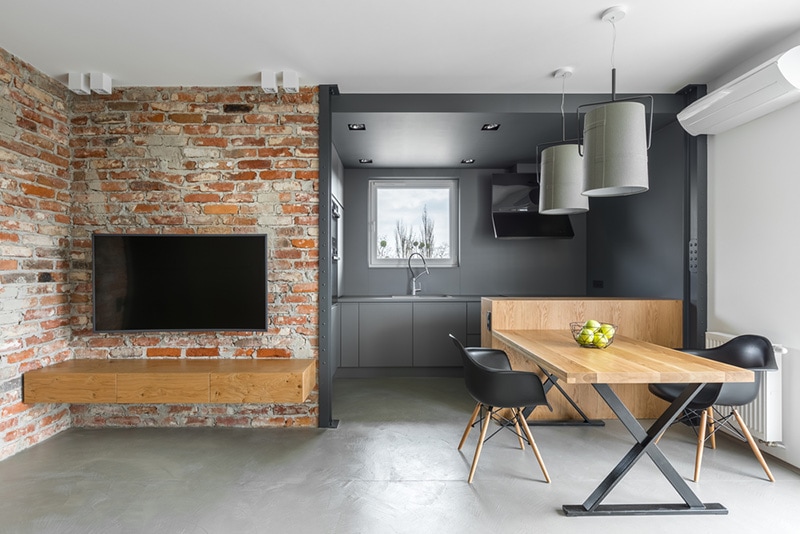 Embracing the natural elements of a space can sometimes lead to the most authentic and inviting designs. For those looking to add a rustic yet modern twist, featuring exposed brick might be the answer.
This design does exactly that, incorporating an exposed brick feature wall with hidden storage. It's perfect for culinary enthusiasts in need of extra fridge storage. The spacious island delineates the kitchenette from a nearby sitting area, creating an organic flow in your renovated basement.
---
3.

The Coastal Comfort Zone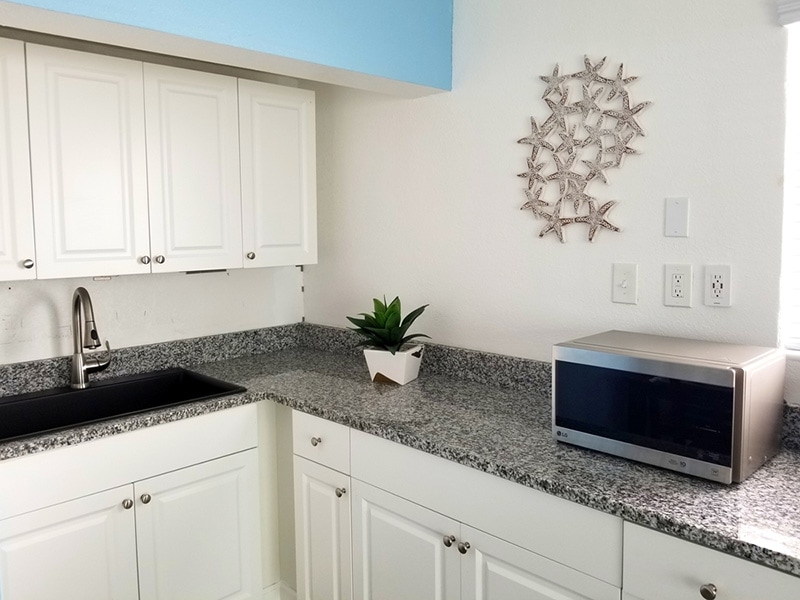 Dreaming of the beach while you're stuck indoors? This design brings coastal vibes right into your basement. Light blue tones, sandy-hued countertops, and cleverly arranged décor create an ocean-side ambiance.
Whether you're hosting a summer party or just want to unwind, this kitchenette is a refreshing escape from the everyday. Only your space limits how much you can do.
---
4.

A Cellar for the Connoisseur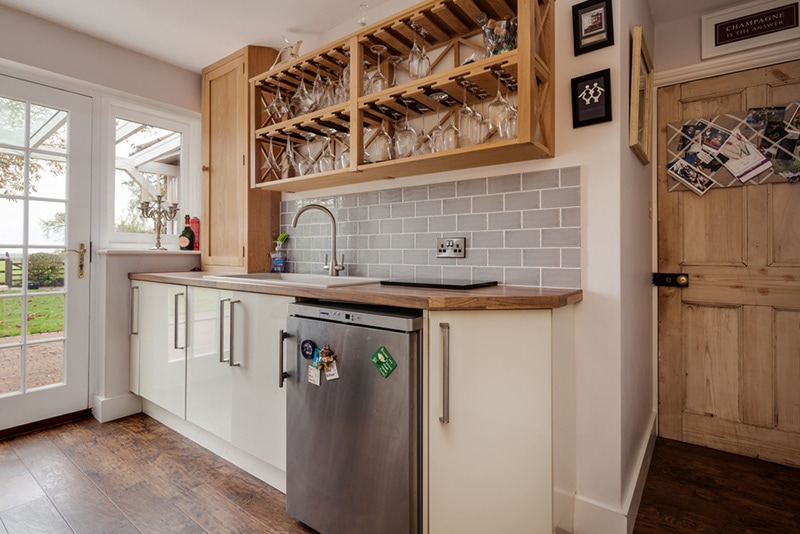 If you have a penchant for fine wines and cocktails, why not consider transforming a part of your basement into a dedicated cellar bar? Elegant wooden elements and creatively designed wine racks can give your basement a sophisticated touch.
A dedicated prep area for cocktails, coupled with storage for your impressive collection of bottles, creates a luxurious atmosphere that's perfect for evening relaxation.
---
5.

Blend of Comfort and Elegance
Marrying comfort with elegance, this design features pale wood cabinetry and a unique patterned tile backsplash that creates visual intrigue.
By balancing aesthetics and functionality, you can have a space that's equally suited for family movie nights or casual get-togethers with friends. An integrated seating area ensures that comfort is never compromised, making it a cozy yet chic addition to your home.
---
6.

The Minimalist Marvel
Less is often more, and this minimalist kitchenette design proves that point. Clean lines, a muted color palette, and efficient use of space allow for an uncluttered appearance that emphasizes functionality.
It's a design that complements a modern lifestyle, perfect for those who appreciate simplicity and elegance in their living spaces. And it's especially ideal when you need a break from your conventional kitchen. Since they serve as the primary hub for food, they need to be cluttered. Now you can enjoy the exact opposite in your new minimalist kitchen.
---
7.

Borrow From the British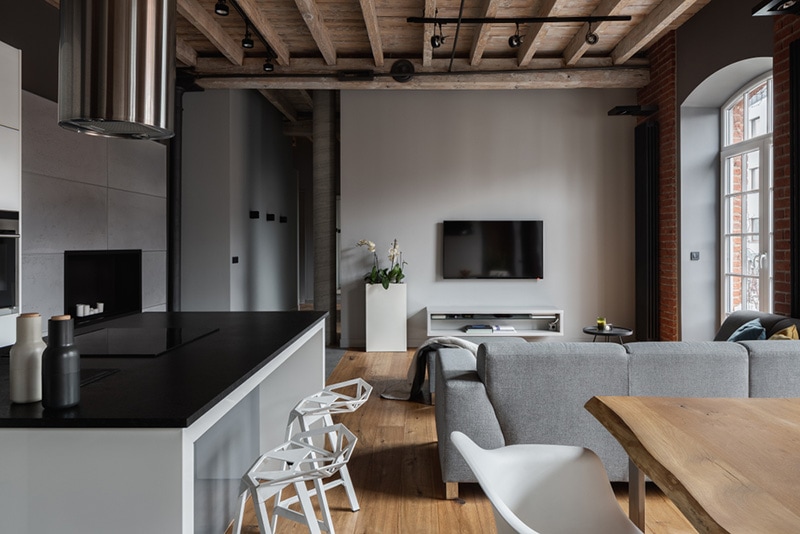 Why not transport your basement to the charming streets of London? The UK's townhouses often boast basement kitchens that spill onto terraces or back gardens. Evoking a traditional English kitchen, this design choice exudes sophistication with its exposed beams and black piping.
Consider adding an open shelf adorned with plant life or family photos to help lend a homey touch. You'll have your very own dash of elegance in an industrial vibe.
---
8.

Art Lover's Retreat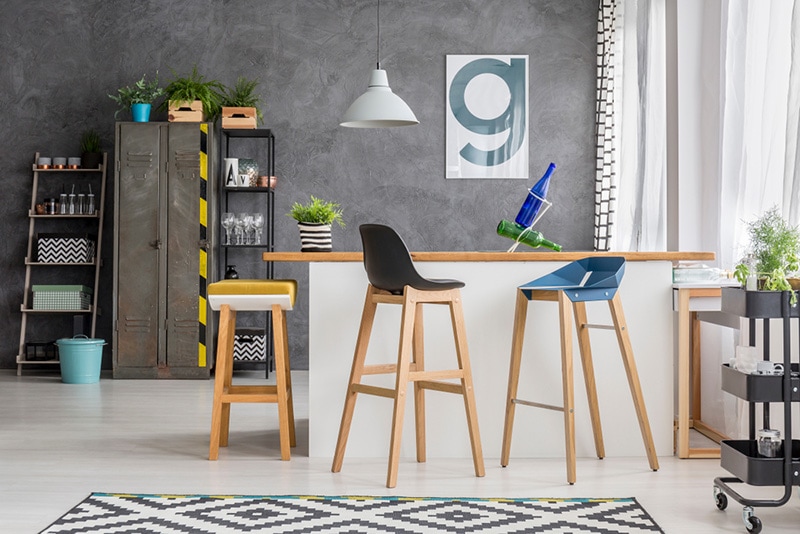 If you consider yourself an art enthusiast, this design is for you. Incorporating elegant framed paintings and tastefully chosen sculptures, this kitchenette becomes more than a place for meal prep—it's a personal gallery.
The tasteful use of gold accents and a well-chosen color palette turn the space into a tasteful celebration of art. If you're into classy and sophisticated, this may very well be the perfect design choice for you.
---
9.

The Snack Oasis
Embrace the joy of snacking with a kitchenette that's designed to make your munching dreams come true. Bright cabinetry and cheerful backsplashes set a fun tone, while an array of storage solutions keep your favorite treats within reach.
It's a smart choice for optimal convenience and accessibility. But best of all, it's a space that's both functional and delightful, perfect for families or anyone who loves to indulge in some tasty delights.
---
10.

The Bar's Open
Dare to be different by incorporating a wet bar. Such a space can be turned into a full-size kitchenette to accommodate gatherings or simple relaxation and retreat.
And because it possesses a relaxing, sophisticated vibe, it's the perfect alcove for everything from family get-togethers to hanging out with friends. A unique twist on conventional designs, it's perfect for those in search of something a bit more avant-garde.
---
11.

Cottage Kitchenette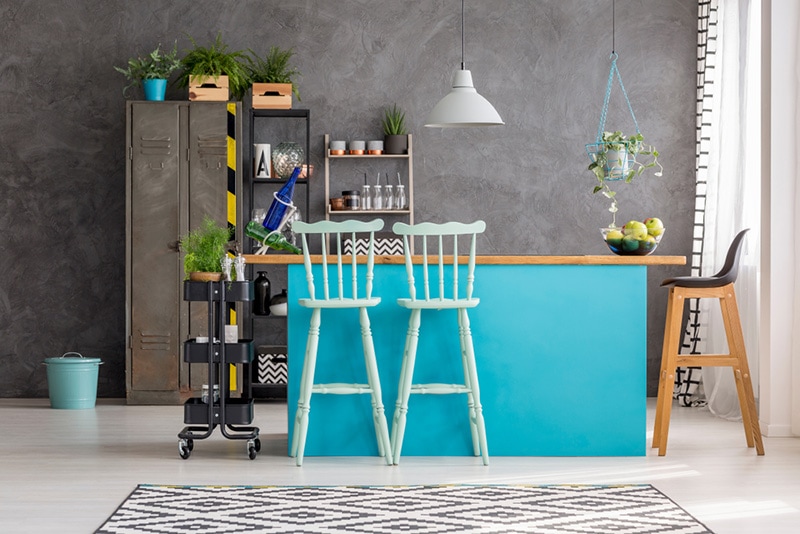 Imagine cozy movie and game nights with a kitchenette that complements your leisure time. This cottage-style design offers a warm ambiance by incorporating features like a built-in pantry and sink.
You're free to pick and choose whatever color scheme best complements your existing décor. Either way you go, the cottage style is an aesthetic that whispers relaxation and invites you to unwind in style.
---
12.

Get Your Game On
When it's game night, having snacks and drinks at the ready can be a real game-changer. A basement kitchenette tucked discreetly in the corner can provide exactly that convenience.
In this coastal farmhouse-style game room, the design achieves a balance of functionality and aesthetics, making it an excellent addition for those who love to host and play. What could be more fun than having a kitchenette as part of the gaming setup?
---
13.

Light and Minimal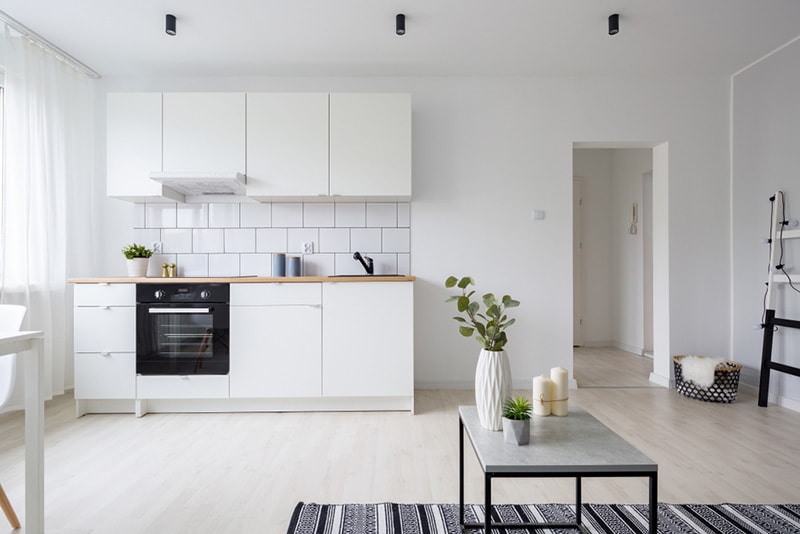 One of the keys to making any space feel inviting is maximizing the natural light. The difference it can make cannot be overstated. It's the key to achieving just the right mood and ambiance in any kitchenette project. This renovation design showcases how to achieve this effect.
The white cabinetry and clean lines help to transform a potentially dark area into a bright and welcoming kitchenette. It's a versatile approach for those looking to create a refreshing ambiance.
---
14.

Light Your Path
Does your basement lack natural light? No problem. It's true that lighting can be a real pain in kitchenettes. Thankfully, this contemporary basement kitchenette design has an ingenious solution.
Harnessing the power of LEDs, the space becomes infused with warm light, making it appear as if you have plenty of natural illumination. It can handily light up the necessary functional space while offering a chic alternative to traditional lighting options.
---
15.

The Artistic Alcove
For those with a creative streak, why not turn the basement kitchenette into an artistic alcove? Mix and match colors, textures, and materials to express your unique personality. With a little imagination, it could become a space that not only serves your culinary needs but also inspires creativity in other aspects of life.
---
16.

It's All About the Atmosphere
For those who seek to create a lively and enjoyable atmosphere in their basement, here's a suggestion that pairs functionality with a touch of whimsy. The crisp, modern look of stainless steel-clad appliances and gray cabinetry gives a cool yet inviting ambiance.
Designed for the young (and the young at heart), it's an ideal spot for after-beach snacks or movie night treats. Who says a basement kitchenette can't be fun?
---
17.

Enhanced Guest Suite
Basement kitchenettes aren't just for entertaining; they can also serve a more practical purpose. By incorporating one into a guest suite, you offer an added layer of convenience and luxury to those staying over.
In this tight space, the use of an L-shaped countertop ensures you have all the essentials needed to cook and feel at home. With a relaxed palette throughout, it keeps the area feeling bright and open around the clock.
---
18.

Real Basements Wear Pink
Who says basements must adhere to dull or neutral tones? Think pink! This innovative basement kitchenette idea presents a pastel pink setting, adding life and color to the space.
With this bold design tip, you can transform your basement into a vibrant lounge area. It's perfect for sipping coffee or engaging in intimate conversations, making it a cheery spot in your home that bursts with personality.
---
19.

The Rustic Retreat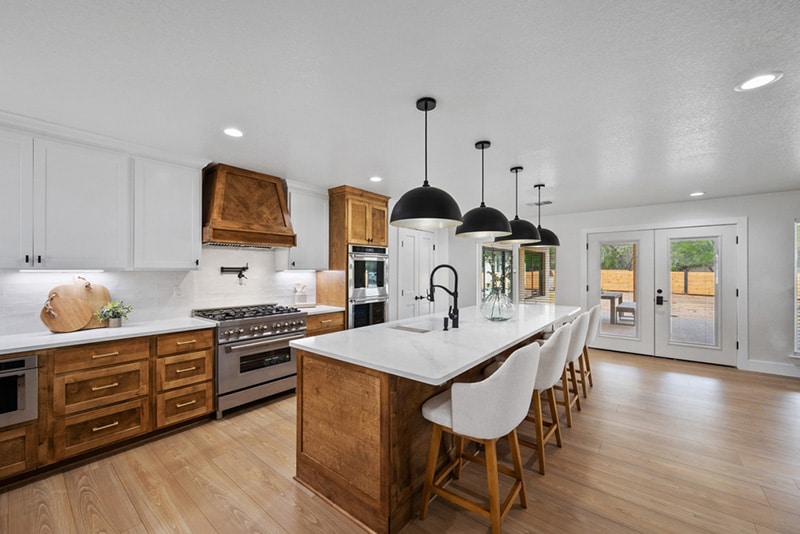 Embrace the coziness of your basement with a rustic kitchenette design. Think wood cabinetry, natural stone countertops, and a calming color scheme. Create an intimate setting that's perfect for a cup of tea, a good book, or a late-night snack.
It's not just a kitchenette; it's a retreat within your home—ideal for relaxing, hosting, or just getting away from it all.

Conclusion
Looking to create a coastal escape or a connoisseur's cellar? Perhaps an artistic alcove or a minimalist marvel? Whatever your desire, the possibilities are boundless and exciting. With the right touch of creativity and a dash of imagination, your basement can truly be transformed into something spectacular!
---
Featured Image Credit: Pixabay