18 Creative Small Basement Ideas & Design Tips (With Pictures)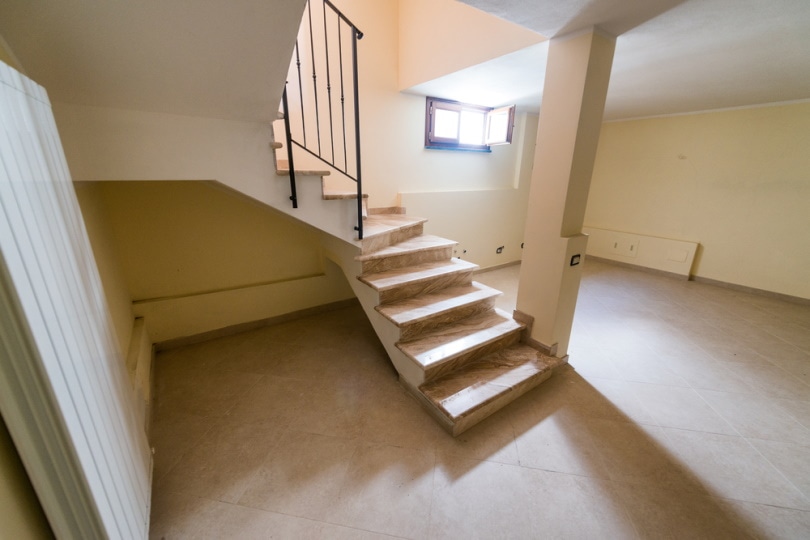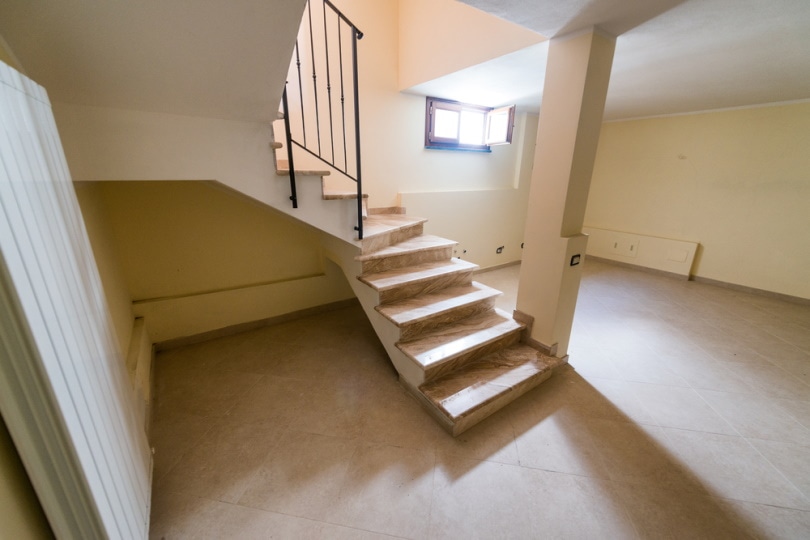 If the thought of a small basement brings to mind visions of dark, damp, or unused spaces, prepare to have your perception completely turned upside down. Small basements have the potential to be creative masterpieces, brimming with style, function, and personality.
By embracing their compact nature and applying innovative design strategies, you can transform these hidden corners of your home into something remarkable. We're here to guide you toward the perfect project for your space with creative small basement ideas and design tips. So, let's begin!

The 18 Creative Small Basement Ideas & Design Tips
1.

Farmhouse-Style Basement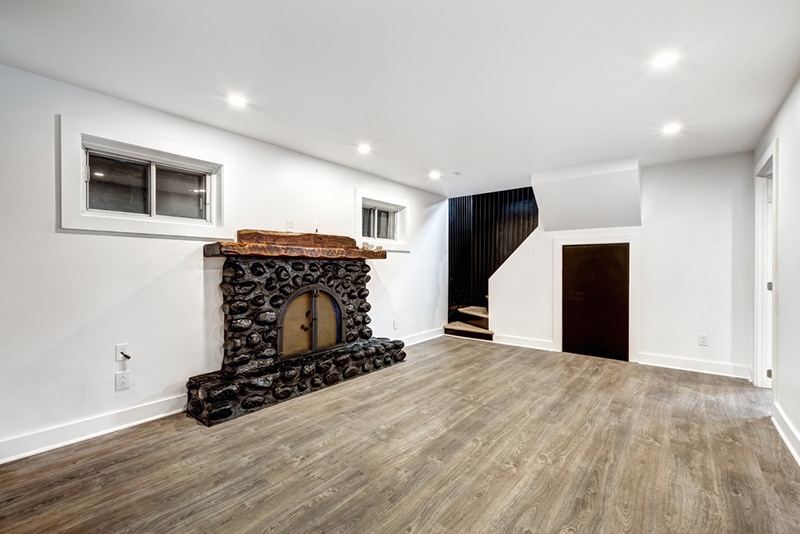 Bringing the charm of rustic living into your small basement can be as delightful as a walk through the countryside. Think of wood-paneled gallery walls adorned with family photos, extending the woodsy touch to the console, and adding storage units to minimize clutter.
An environment rich with familial warmth and pastoral elegance, it's perfect for movie nights or simply lounging with a good book.
---
2.

Photographer's Haven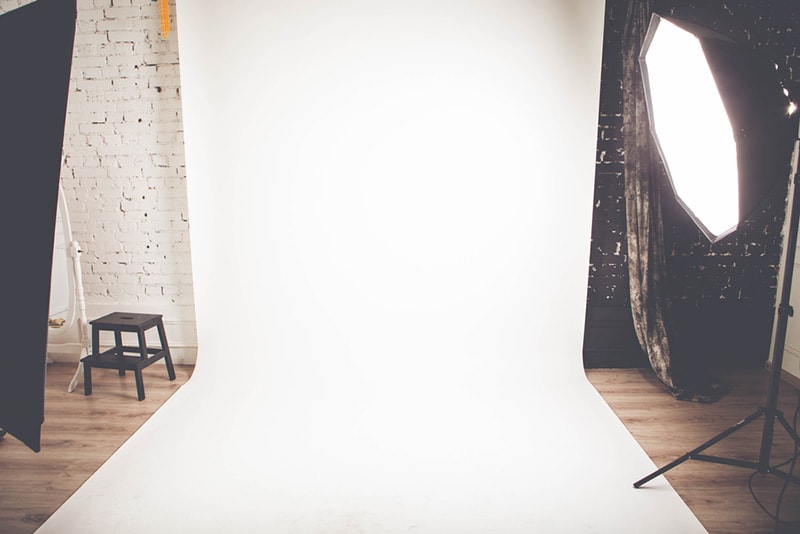 For those with an artistic flair, the small basement can become a haven for creativity. Not solely limited to painting and drawing, your redesigned basement can serve as a space for all manner of creativity.
With the right lighting and a minimalistic approach to furnishings, this space will serve as a sanctuary for all your creative endeavors. What's more, you don't have to be a skilled professional to exercise your desire to create.
---
3.

Vintage Lounge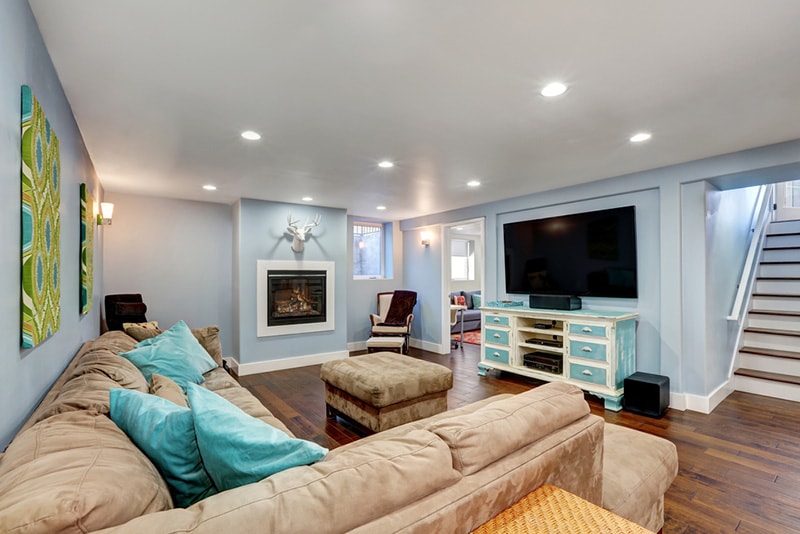 Step back in time with a vintage-inspired lounge. Antique furniture, classic cinema posters, a touch of retro lighting, and even a collection of period-appropriate trinkets can evoke the charm of bygone eras.
Perhaps include a gramophone or jukebox for that authentic feel, all nestled in warm colors that transport you to another era, coupled with patterned wallpaper and rich wooden accents. The right scents, like those from vintage candles, could further enhance the timeless ambiance.
---
4.

Playroom Paradise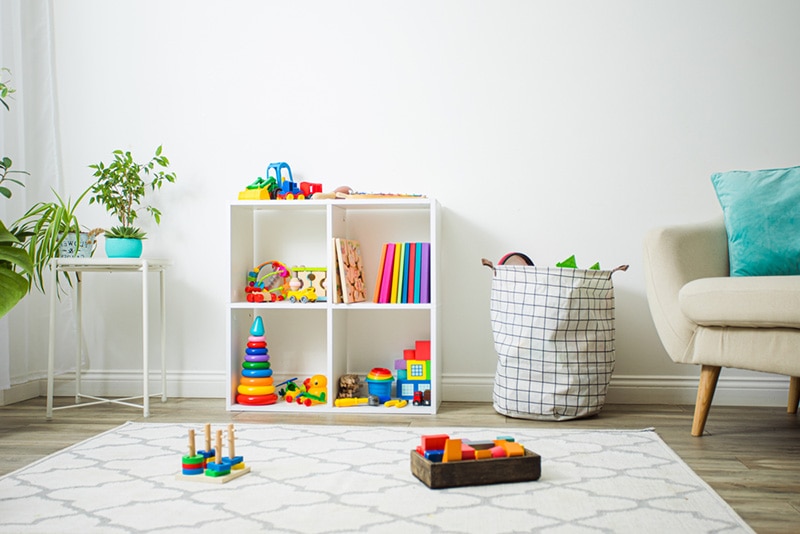 If you have little ones running around, transforming the small basement into a playroom is a splendid idea. Colorful rugs, bean bags, toy storage containers, and whimsical decorations are essential.
Why not add a small stage for impromptu performances? Perhaps include educational games and creative art supplies to fuel their imagination. Playtime just became a full-on adventure, where the basement becomes a sanctuary for creativity, fun, and joyous memories that last a lifetime!
---
5.

Art Studio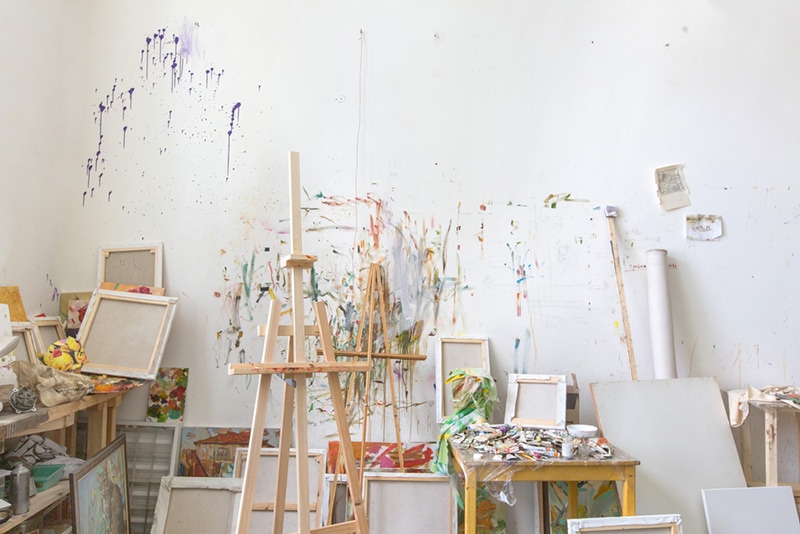 Is creativity calling your name? A small basement can become an inspiring art studio. Adequate lighting, a sturdy table, and storage for all your artistic supplies could make this space an incubator for creativity.
Hang some inspirational art on the walls, and you've got yourself an artistic haven. Fancy painting a masterpiece? This could be the ideal project for you!
---
6.

Mini Library
For book lovers, why not turn that quiet nook into a mini library? Shelves lined with your favorite books, a comfy chair, a reading lamp, and perhaps some framed literary quotes can make for the ideal reading escape.
You could even include a small coffee or tea station for those long reading sessions alongside a cozy throw blanket. Isn't it time to lose yourself in a good book, surrounded by the elegance of your personal reading sanctuary?
---
7.

Yoga Studio
Health and wellness are paramount, and your small basement could be the perfect place for a yoga studio. Lay down some mats, add mirrors to the walls, and maybe even a small water feature or some calming plants for ambiance.
Incorporate soft lighting and perhaps some scented candles to enhance the serene atmosphere. This could be the ideal spot for daily stretches, meditation, and keeping fit, all in the tranquility of your home. Ready to find your inner balance?
---
8.

Home Gym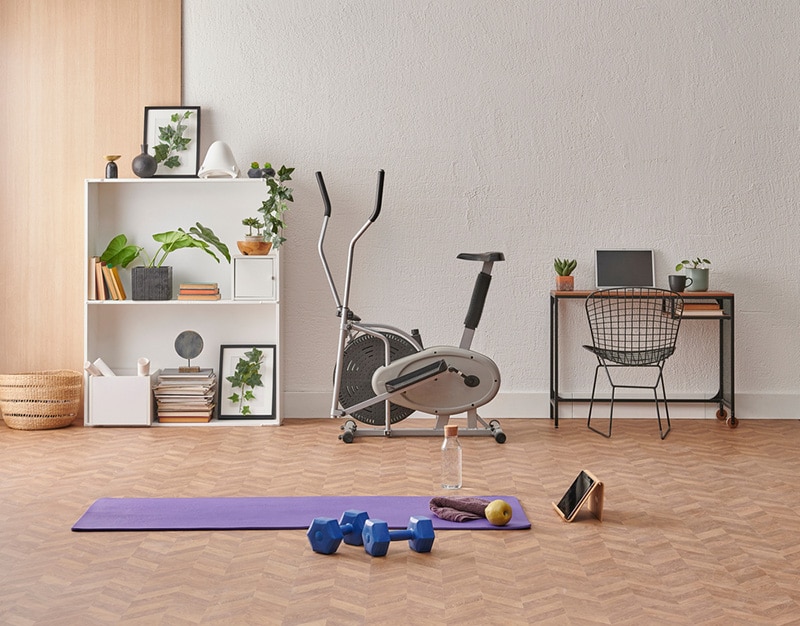 Who said you need a vast space for a home gym? With some clever arrangement, a small basement can host the essentials: a treadmill, a set of weights, a yoga mat, and even some resistance bands or a pull-up bar.
Mirrors on the wall not only create the illusion of space but also help you keep an eye on your form. Let's not forget a sound system to keep you pumped or a small fridge for hydration. Transforming your space into an inspiring workout hub is just a step away!
---
9.

Meditation Room
A small basement offers the perfect opportunity to create a serene space for meditation and relaxation. Soft lighting, cushions, and calming colors can transform this area into a peaceful retreat.
Add some aromatic scents and soothing sounds to truly disconnect from the hustle and bustle of daily life. How does a moment of tranquility sound? It can finally be yours whenever you want it, thanks to this clever small basement design tip.
---
10.

Home Office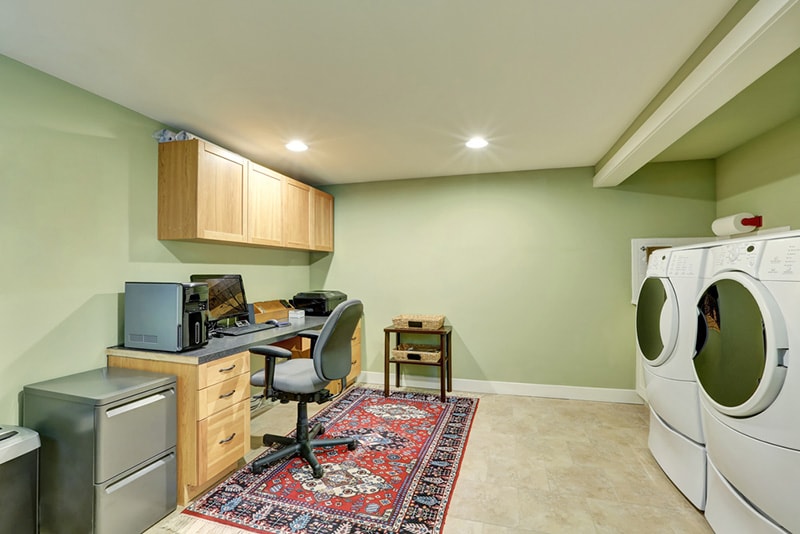 In the age of remote work, a home office has become an essential part of many households. Utilize sleek desks, ergonomic chairs, and ample storage to design a functional work environment within your small basement.
Thoughtful use of space and personalized décor will ensure it's not only practical but also an enjoyable place to work. Ready to redefine productivity?
---
11.

Guest Bedroom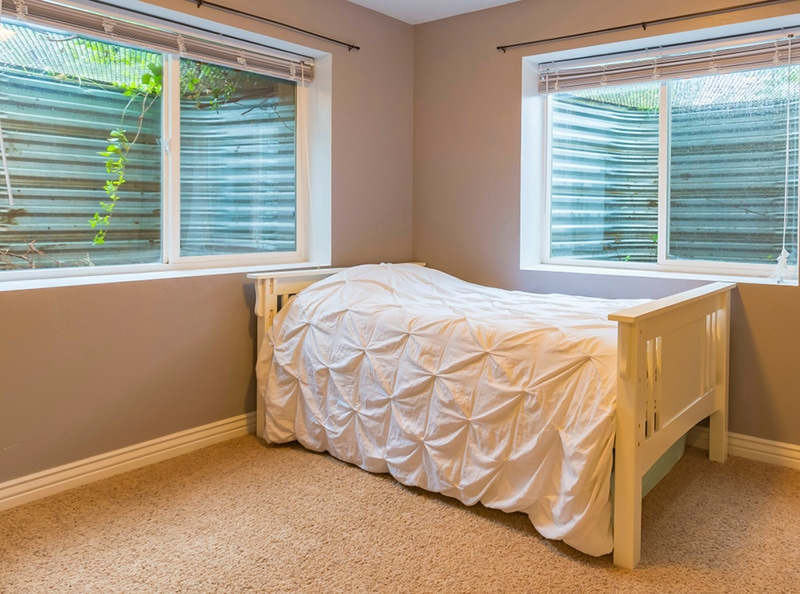 If you have friends or family visiting frequently, why not turn your small basement into a cozy guest bedroom? A comfortable bed, nightstands, and some decorative touches will make anyone feel at home.
Including some local magazines or guides can be a charming way to welcome your guests. What could be more hospitable than a dedicated space for your loved ones?
---
12.

Music Room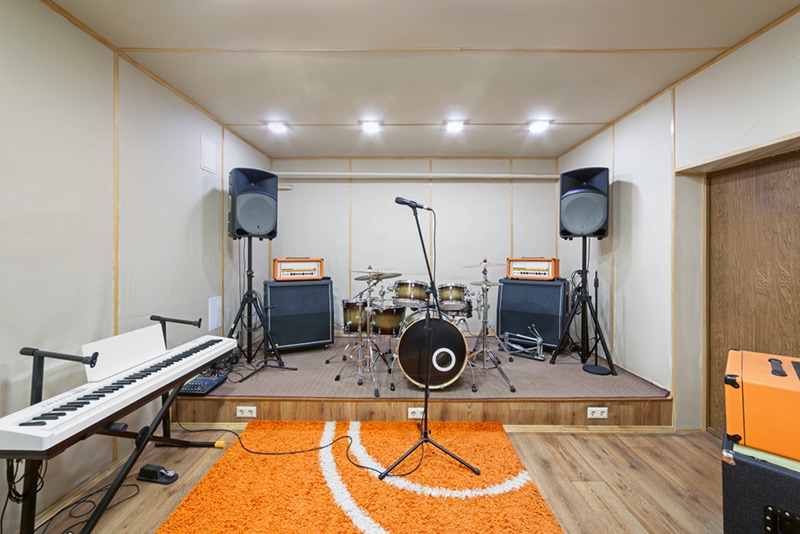 For music enthusiasts, the basement's secluded nature can be ideal for a dedicated music room. Whether it's a collection of musical instruments or a state-of-the-art sound system for enjoying your favorite tunes, this space can become an auditory oasis.
Planning on jamming out? Soundproofing might be a worthwhile investment. It's a preventive measure that ensures you can rock with peace of mind that you won't be disturbing others. Plus, you can practice in privacy if that's important to you.
---
13.

Consolidated Basement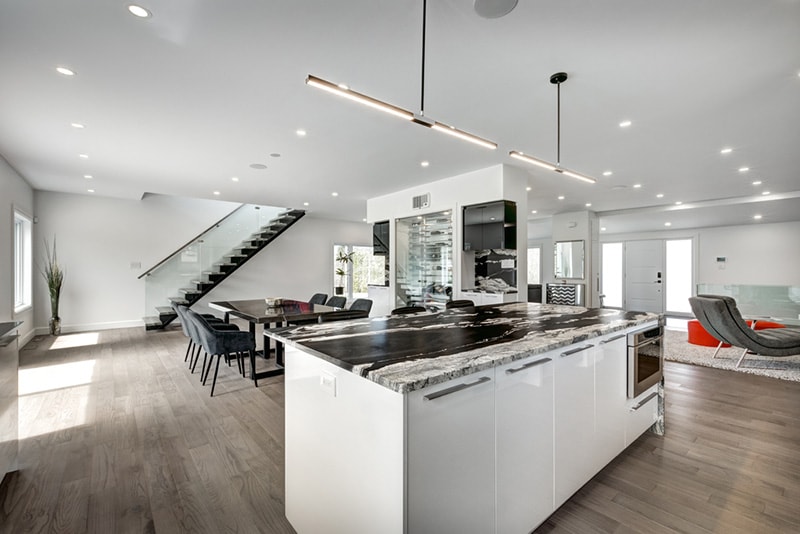 When space is a luxury, creativity must come to the rescue. In a consolidated basement, swap a full-size table for a slim and tall counter-like surface, creating distinct lounging and eating areas.
Add bar stools that tuck squarely underneath to allow for plenty of room to walk around. This design demonstrates that even a small basement can cater to your dining and living room needs with a touch of ingenuity.
---
14.

Mini Movie Theater Basement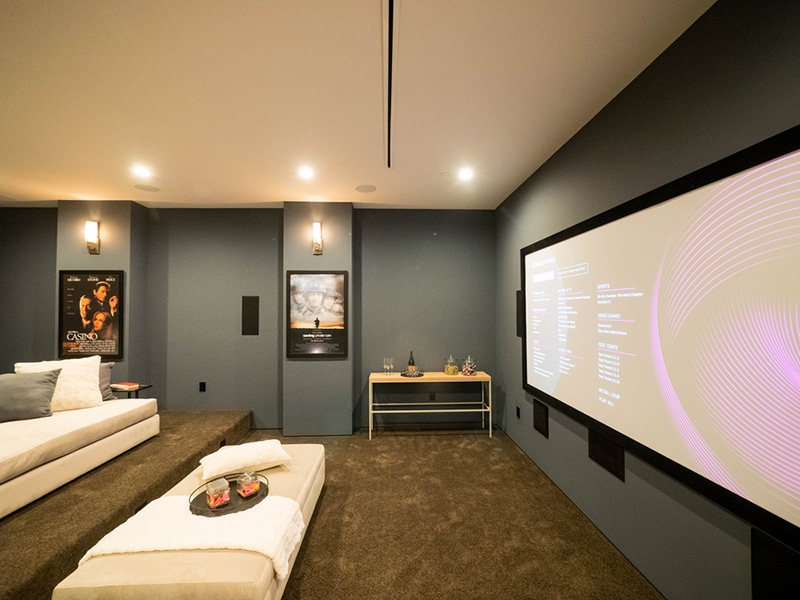 Who said a small space can't be cozy? With a deep sectional tucked into a corner and a ladder to store away blankets, this basement setup is the epitome of comfort. Add floating shelves for knick knacks and plush blankets with lots of pillows, all set in white for a unified look.
Your basement will never feel cramped or crowded but rather a haven of relaxation. Feel free to incorporate other design tips and ideas highlighted here to maximize your small basement space.
---
15.

Kitchen Basement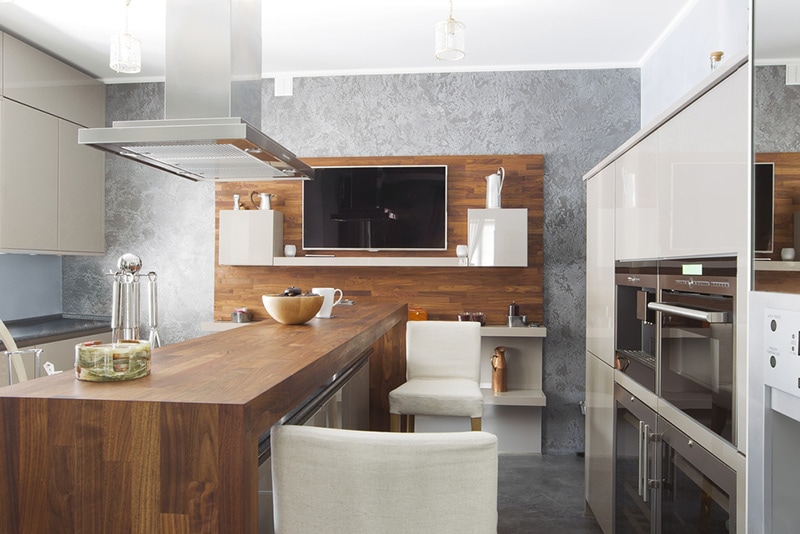 Versatility is the name of the game when it comes to small spaces. This basement, with its clever layout, hides the television in the kitchen without compromising the view.
A long curving countertop doubles as a dining space and game day getaway, all set in a cohesive black and white palette. Textured backsplash adds character, and plenty of cabinets ensure that everything is neatly stowed away.
---
16.

Ambient Basement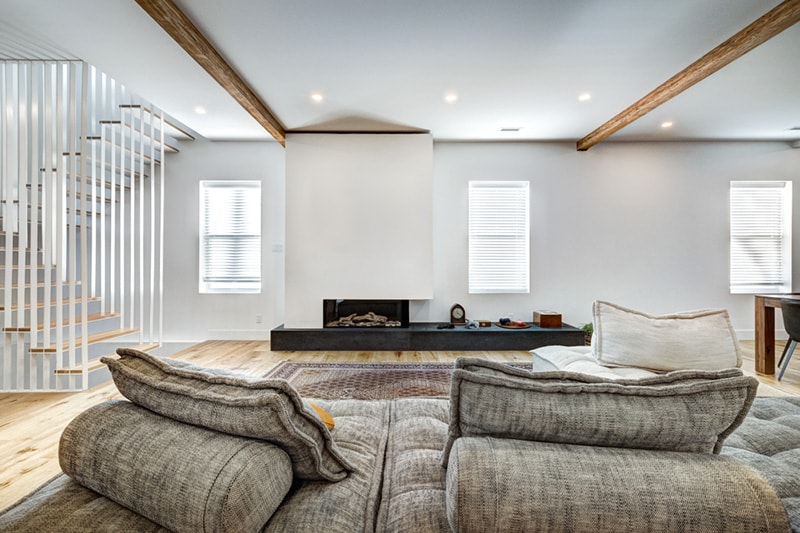 This small basement idea truly proves that size isn't everything. With a bit of creativity, you can create an atmospheric oasis tucked away in the corner of your home. The gray hue, offset by textured monochromatic walls, a sleek marble coffee table, and an intricately patterned rug, delivers a soothing ambiance.
Dramatic pendant lights and symmetrical sconces are the cherry on top, scattering light to dance across the room and offset the dark palette.
---
17.

Massage and Physical Therapy Basement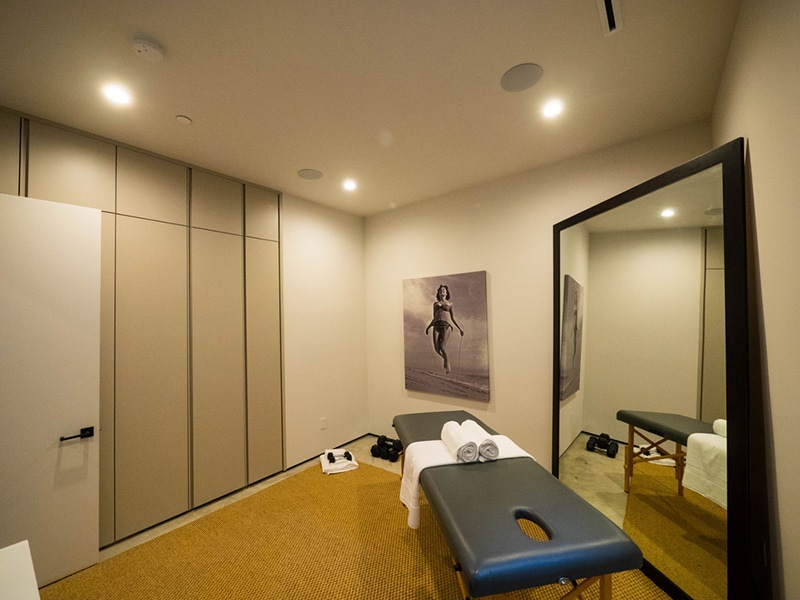 In the age of remote working, who says basements are only for game nights and lounging? A work-from-home basement setup provides a delightful separation from the daily hustle and bustle of the upper floors, ensuring a more balanced work-life environment.
Maybe you're a massage therapist or physical therapist. Perhaps you assemble products and ship them around the world. The sky's the limit. As long as you have the space and can dream it up, your basement can be the central hub for all kinds of business endeavors.
---
18.

Pool and Game Room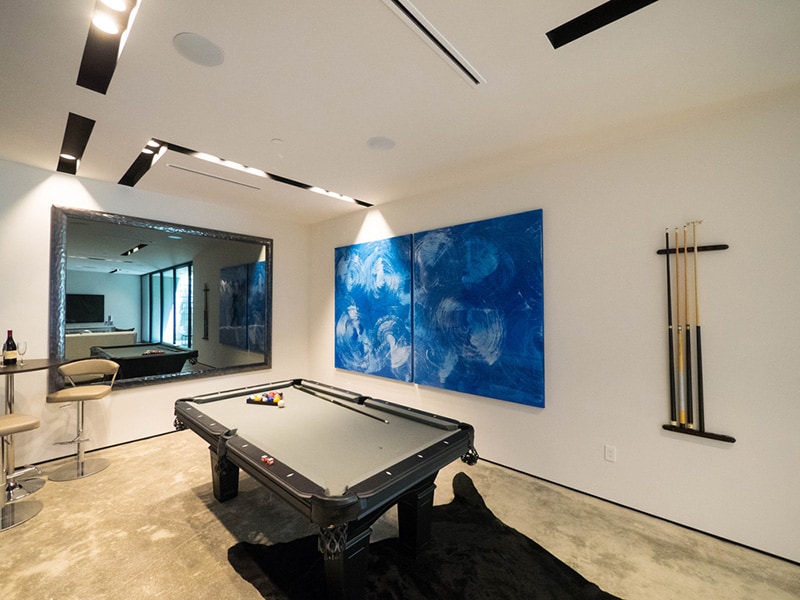 Have a penchant for games? Whether it's board games, video games, or even a small pool table, a game room could be the ultimate fun addition to your home. Comfortable seating, a small fridge for drinks, and storage for games would make this a go-to spot for family and friends.
Go all out with full-size arcade cabinets and billiards, or keep things modest; the choice is yours. Either way you go, you can look forward to having the ultimate hosting space.

Conclusion
This treasure trove of imaginative small basement ideas and design tips will turn that once-forgotten space into a vibrant part of your home. From the rustic allure of a farmhouse-style basement to the endless fun of a game room, the options are as vast as your creativity allows. Who knew that the modest square footage of a small basement could hold so much potential?
---
Featured Image Credit: pisaphotography, Shutterstock