5 Clever and Creative Bathroom Closet Organization Ideas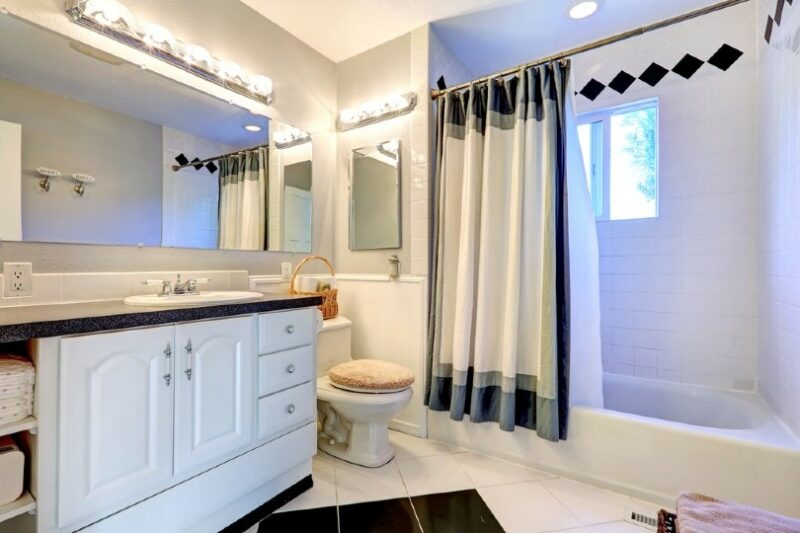 In many homes, the bathroom is often one of the most neglected rooms, regarding space. So, coming up with creative ways to declutter and make the most of the space is an important task. And bathroom closets are prone to getting cluttered up with everything—from spare towels or clothes, to makeup, and other bathroom essentials.
There are only so many "DIY projects" one can come up with before they are simply repeating themselves with different colors or dimensions. However, there are many different ideas that you can adapt to your particular space.
This article looks at five specific DIY ideas you can try. After the plans, we've also included a small section on things to consider when customizing your storage choices.

The 5 Clever and Creative Bathroom Closet Organization Ideas
1.

Inexpensive Closet Organizer by lovelyetc
| | |
| --- | --- |
| Materials: | MDF, structural lumber, dowels, closest rods, white paint, spackling, screws |
| Tools: | Tape, paintbrush, miter or circular saw, Kregg jig, tape measure, drill, level |
| Difficulty: | Easy |
Suppose you're looking for a great looking but inexpensive closet organizer project for your new bathroom or renovation. In that case, these plans will give you a nice challenge. The plans are quite detailed, with a cut list and everything. However, before cutting, ensure your closet size matches the plans. If it doesn't, simply adjust measurements for your situation.
The plans call for white because this is a common closet color. After all, white makes space feel more open. Plus, it prevents losing things—you'd be surprised how easy it is to lose things in plain sight inside a dark cabinet. However, if you want to get a little crazy with your color choices, customize colors to fit the bathroom's theme.
---
2. Bathroom Closet Organization by Sincerely Sara D
| | |
| --- | --- |
| Materials: | Shelf liners, storage bins (various sizes), wallpaper |
| Tools: | Scissors or a knife, wallpaper tools |
| Difficulty: | Easy |
Suppose you're looking for a bathroom closet organization plan that makes use of existing shelves and transforms the space with only a few items. In that case, this is the one for you. The wallpaper choice and shelf liner choices are completely up to you.
Once you're ready to begin, start by pulling everything out of your closet. This gives you a chance to declutter first. Get rid of those expired medicines or clothes that you never use anymore. Then, after you've got everything out and sorted, you can do the wallpaper and shelf liners. Finally, put everything back, organized and in new bins, and enjoy your new bathroom closet.
---
3. Easy Closet Organization by Joyful Derivatives
| | |
| --- | --- |
| Materials: | Storage bins |
| Difficulty: | Easy  |
Want an easy closet organization plan that doesn't require any materials—other than new storage bins, and a little elbow grease that walks you through the step-by-step organization process? Perfect! Check this one out.
Many people can get easily overwhelmed by organizing, especially if the clutter is allowed to accumulate out of control. With six simple steps that begin with pulling everything out, thorough cleaning and reorganizing, then putting everything back, you can follow this plan to easily achieve a newly organized closet.
---
4. Closet System Hack by Southern Revivals
| | |
| --- | --- |
| Materials: | Two IKEA shelving units, closet rods, white shelving boards, brackets, MDF (optional) |
| Difficulty: | Easy |
Suppose you're looking for new organization ideas on a budget. In that case, this closet system hack says you can give a closet an overhaul for under 100 bucks. Remember that this pricing will determine how cheap you can buy the few things the plan uses—so there's no need to opt for the more expensive options, unless you choose to!
The nice thing about this one is you can customize it easily to fit the space you're trying to organize. So, it could be a little more, or even less than the $100, depending on how you choose to go about it.
---
5. DIY Closet Organizer by Home Talk
| | |
| --- | --- |
| Materials: | Various sizes of dimensional lumber, trim and crown molding, white paint, drawer slides, hardware |
| Tools: | Miter saw, drill, Kreg jig, circular saw, nailer, sander |
| Difficulty: | Advanced |
The great thing about this DIY closet organizer is that it can be modified to work with any closet space. This plan is much more in-depth, compared to the previous four we've looked at. So, ensure that you read through the directions before deciding if it's the one you want to tackle.
If this is the one you go with, it may be worth taking a couple of extra minutes to go through, to make any modifications you need to in order for the closest organization to fit your space.
Considerations for Bathroom Closet Organization
You don't necessarily need to follow plans to devise a clever and creative way of organizing your bathroom. Let's look at a few things to consider when organizing your bathroom closet space.
Storage Bins
There are many different storage bin options out there made from materials ranging from metal, to plastic, to cloth. In addition to the type, there are also a ton of different sizes. The right combination is a major key to organizing a particular space.
Labels
Using labels may be beneficial depending on the type of storage you go with. This is especially handy if you're organizing a closet for the whole family to use. Then everyone knows where everything is. Plus, with labels, everything will go back to its spot… in theory.
Less is More
Another thing to consider is what you're trying to keep in a closet. Before you even start organizing, you should go through everything you currently have. Look for anything expired, or things you don't need anymore. This also allows you to make a shopping list to replenish supplies.
Color Schemes
You may not care too much about the color for a bathroom closet that closes, but many bathroom closets are open. So, you may want to try picking colors and patterns that compliment the overall bathroom design.

Conclusion: Why Organize a Bathroom Closet?
You may be wondering what the point of organizing a closet is. A major benefit of putting effort into the organization of your closet is that you may find additional storage opportunities. And over time, as things get jumbled up, massive amounts of space get wasted—so organizing and changing things around can enable you to well utilize that wasted space.
See also: The 6 Best Closet Organizers
---
Featured Image Credit: Artazum, Shutterstock