20 Creative Bathroom Closet Organization Ideas (With Pictures)
Bathrooms have many elements that must be organized perfectly to avoid creating a mess. In a bathroom, you need to store towels, toilet paper, cleaning products, cosmetics, makeup, and more.
There are countless ways to store bathroom essentials, and below, you can find some of the most clever and creative ways of organizing your bathroom.

The 20 Bathroom Closet Organization Ideas
1.

Hanging Baskets for Storing Towels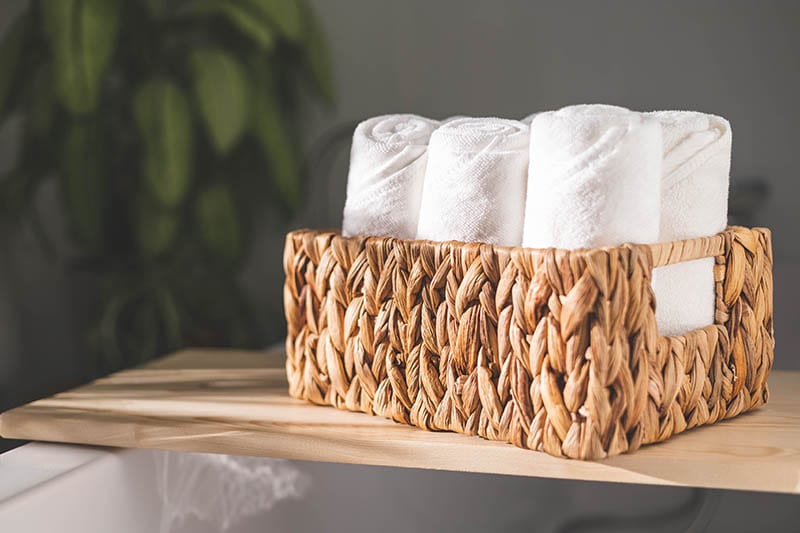 There are hundreds of different ways to store towels. One fantastic and clever idea is to store towels by rolling them and placing them in a basket. You can keep this basket neatly on the ground, on a cabinet, or pin it on the wall for a unique design method.
---
2.

Asymmetrical Bathroom Shelves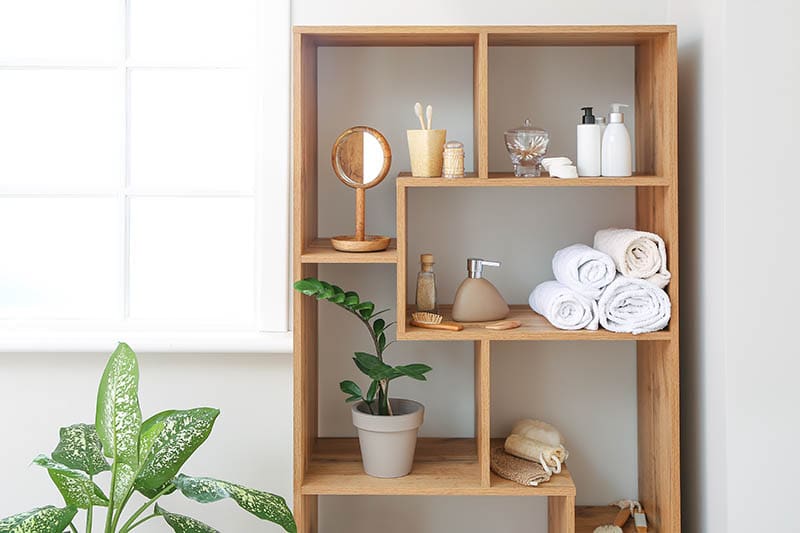 Asymmetrical bathroom shelves are an excellent way to add dynamic to an ordinary bathroom and create a more eccentric look. They are perfect for a linen closet, for storing products and cosmetics, and even for decoration such as scented candles.
---
3.

Essentials Drawer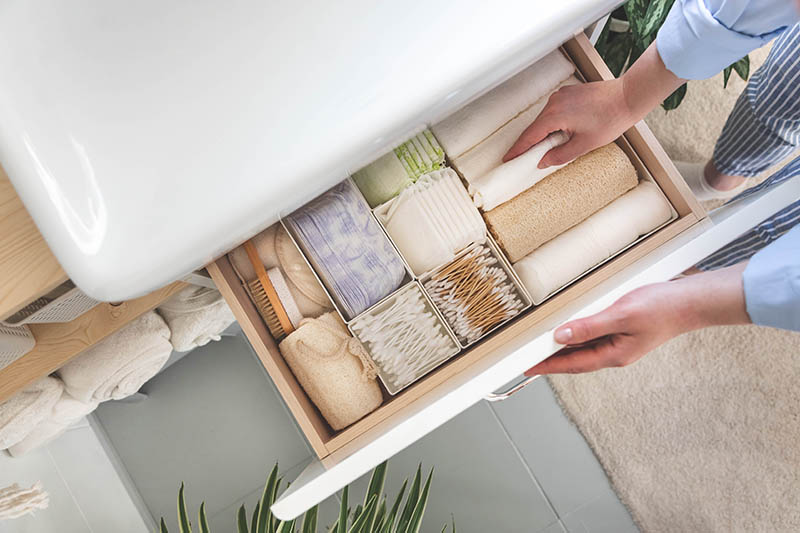 A great way to stay organized is to have one drawer for storing all your necessities. This is an excellent way to keep things neat and clean without creating unnecessary clutter visible to all the guests. You can keep all the essentials in this drawer, from Q-tips, tissues, wet wipes, and small towels to hygiene products.
---
4.

Baskets Instead of Drawers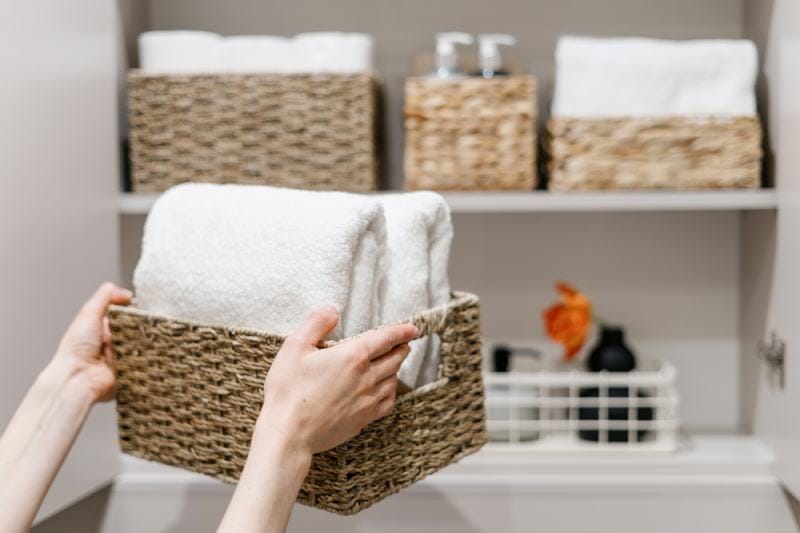 Instead of having a large cabinet with basic drawers, you can opt for placing baskets in their place. This will make the cabinet much more interesting and stylish while maintaining its functionality and providing ample storage space.
---
5.

Upcycle a Vintage Wardrobe into a Bathroom Unit
If you've got a stylish, vintage wardroom without any use, consider placing it in your bathroom as a small linen closet. It can be perfect for storing towels, toilet paper, and other necessities. This excellent organization unit will be an excellent way of staying clutter-free while giving your bathroom a beautiful vintage makeover.
---
6.

Match Decorations with Functionality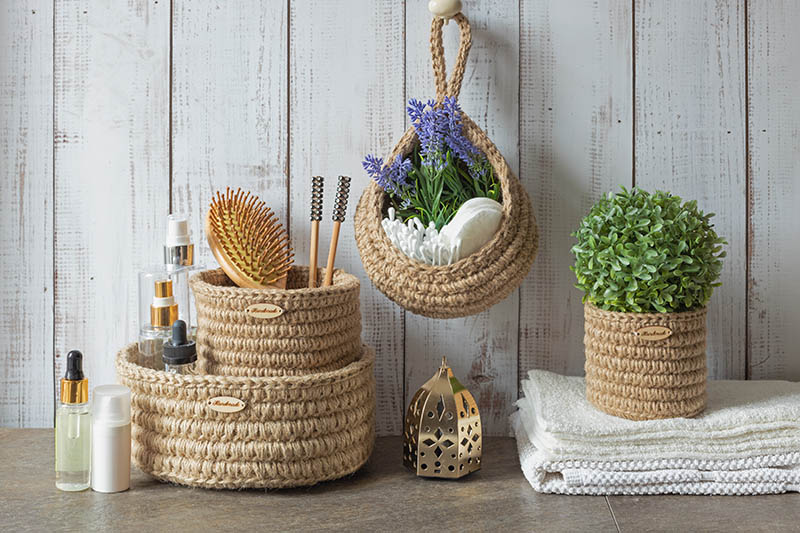 Make sure to match some of your decor pieces with some functional elements. For example, you can use a plant pot that matches your make-up storage bin. These are most often small baskets that give off a cute and boho style.
---
7.

Keep Decoration Minimalistic and Effective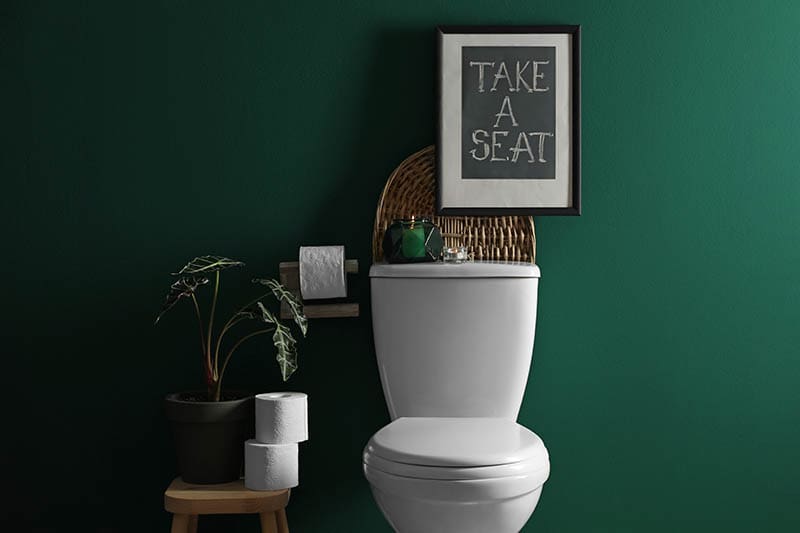 While you may want to spend all your time finding the perfect decor pieces for your bathroom, sometimes less is more. Try a more subtle, minimalistic approach that can be quite effective. Plants and flowers paired with one or two frames can go a long way in making your bathroom feel more creative.
---
8.

Store All Your Essentials in Mason Jars
Another cute way to store all your essentials is to place them in mason jars. This will appear much more organized and sanitary, and you can even use small stickers on the jar and label the items inside.
---
9.

Stylish Ladder Storage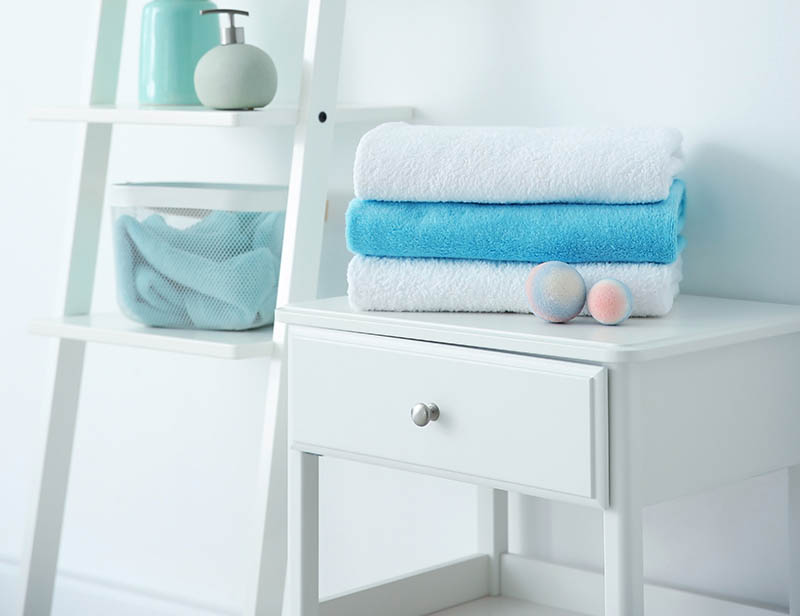 Stylish ladder storage is becoming very popular across the world. This decor piece is so popular because it's affordable, readily available, and adorable. It is a perfect way to store hand towels and give your bathroom a rustic, eccentric appearance.
---
10.

Incorporate Vintage Iron Shelves
Vintage iron shelves are another way to create a timeless appearance in your bathroom while providing more space to store items. It is also an excellent way to give your old furniture pieces a second chance instead of throwing them out. Give that vintage shelf a paint and place it in the bathroom as the perfect storage unit.
---
11.

Rustic Screen for Added Privacy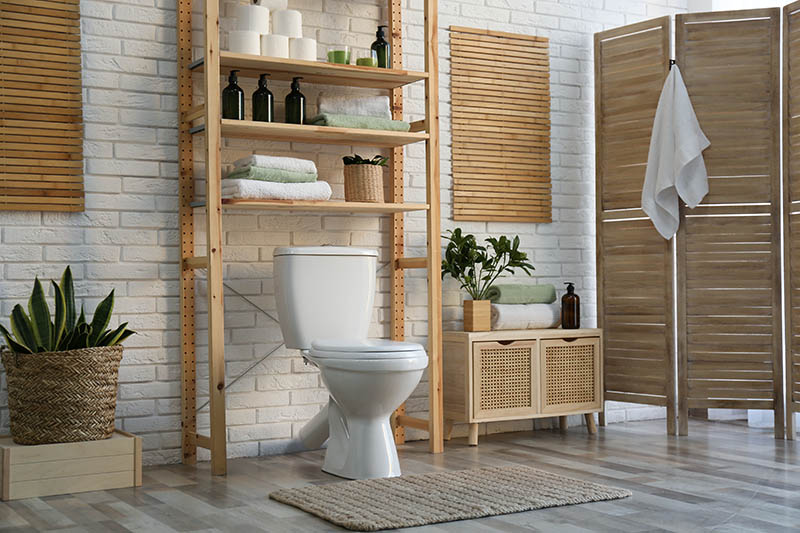 Screens are gorgeous, classic pieces of furniture that provide owners with privacy. They can be used in bedrooms or bathrooms, although they will serve mainly a decorative purpose in bathrooms. However, placing a screen in your bathroom will give off a feeling of added privacy.
---
12.

Brass Items for a Modern Touch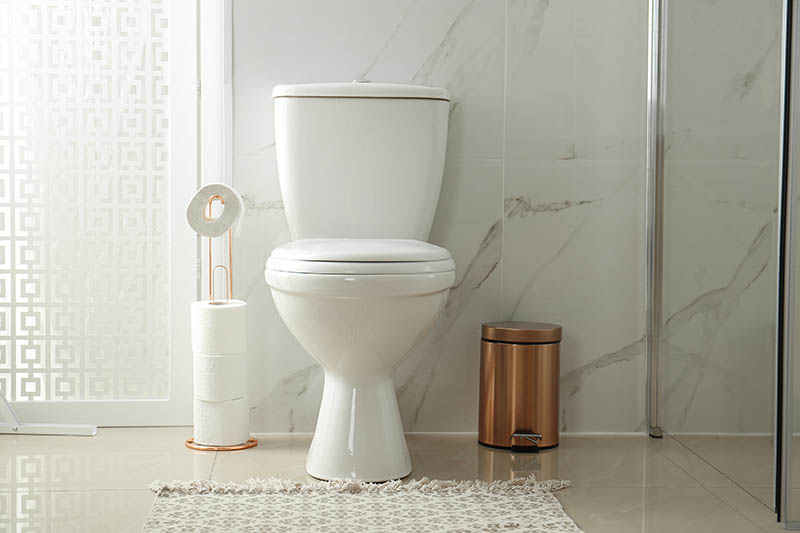 If your bathroom is minimalistic, using only natural colors and shades, it would be a great idea to add a pop of color. You can do this by adding brass elements to your bathroom, which will make your bathroom seem much more sophisticated.
---
13.

Keep Necessities and Decor on a Tray
Every bathroom has those small everyday necessities near the sink, such as soap, liquid soap, hand towels, and toothbrushes. Consider using a stylish tray to keep these necessities as neatly stored as possible. This tray will still stand beside the sink but will keep it organized and reduce the clutter around the sink.
---
14.

Windowsill for Additional Storage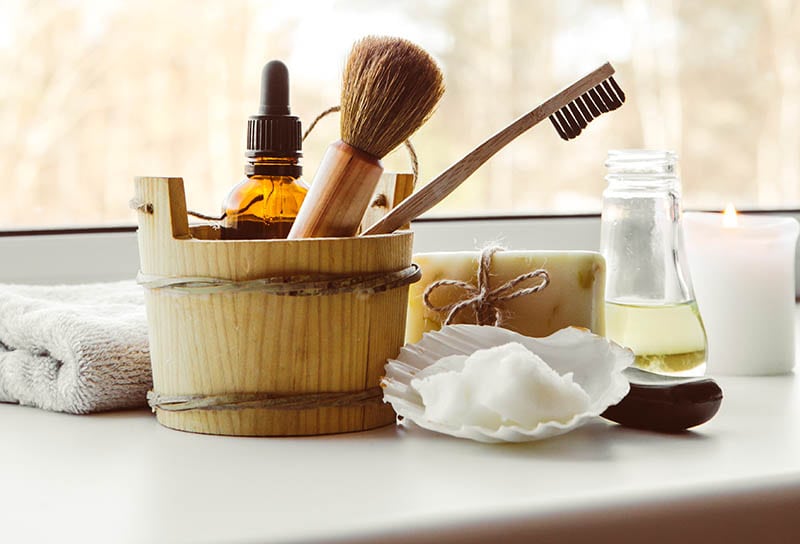 If you've got a windowsill on the inside of your bathroom, this is a perfect chance to place some decoration pieces on there. You can also use it to add some storage baskets and even planters.
---
15.

Use Matching Bottles for Products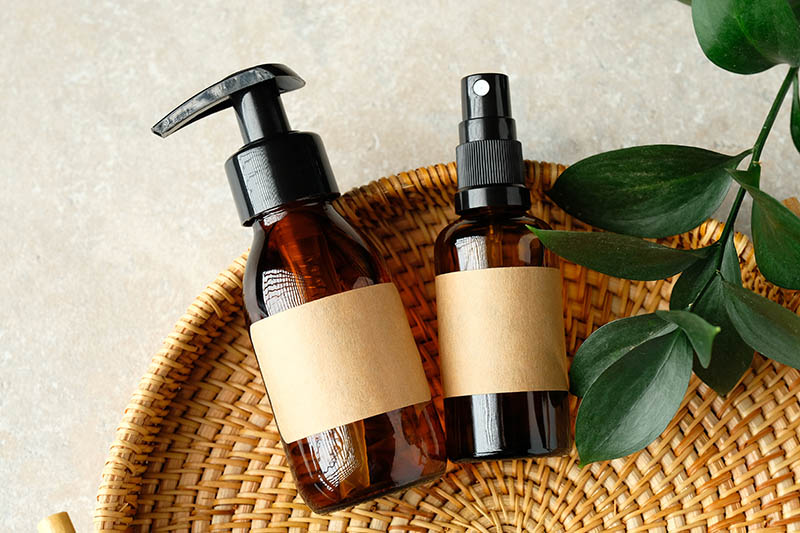 Most people don't look at the package when shopping for products such as shampoos and shower gels. The packaging tends to be colorful and different from each other, so you can choose matching bottles to store your products in. This will look adorable in a bathroom and will match the interior perfectly.
---
16.

Upcycle a Small Coffee Table as a Bathroom Organizer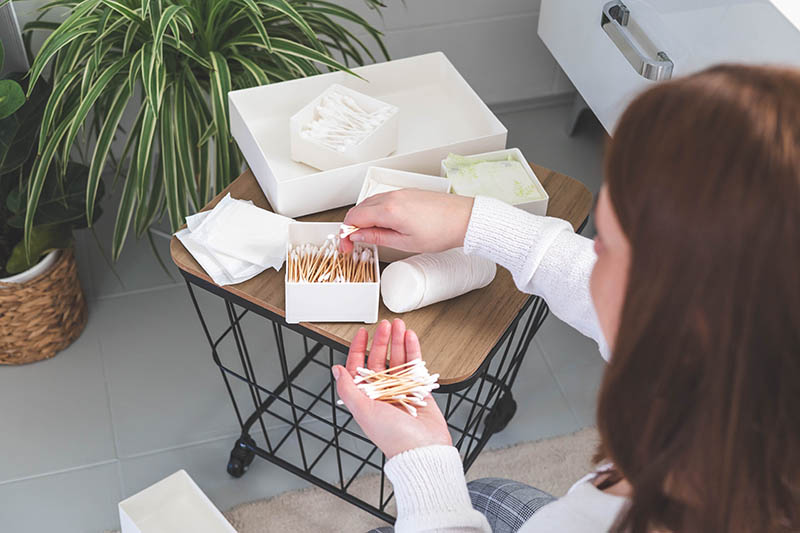 If you've got a small coffee table without use and want to repurpose it, try placing it in your bathroom. This coffee table can become the perfect bathroom utility for storing toilet paper and making it easily accessible.
---
17.

Add Storage Beneath the Sink
Beneath every sink, there is enough storage space. Sometimes, you can fit an entire cabinet under the sink, but sometimes, a few floating shelves will do the trick. This area beneath the sink can be an excellent storage space for bathroom cleaning products.
---
18.

Use a Bath Tray
If you enjoy taking baths, you need to have a bath tray! This beautiful decoration makes a bathroom appear so much more charming while giving you more space for storage. You can store scented candles and even towels on this tray.
---
19.

Install Hooks on the Bathroom Door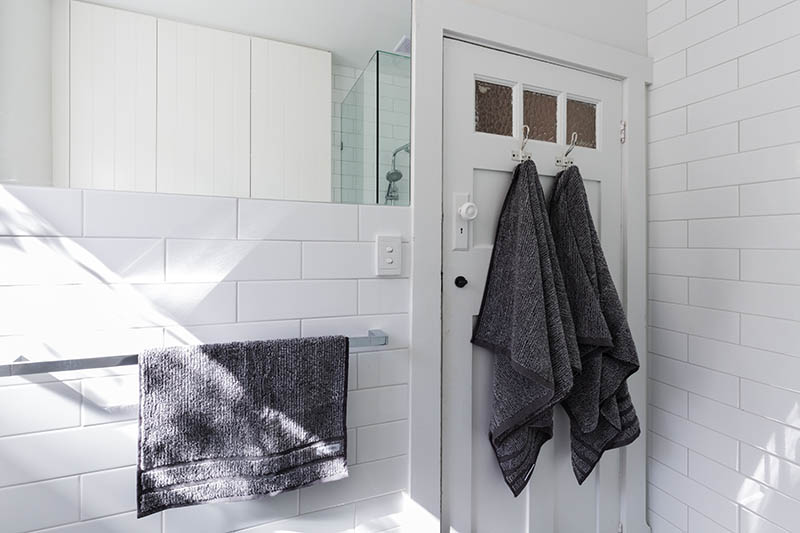 Making your bathroom door useful is another excellent storage technique. Adding hooks to a bathroom door is incredibly convenient and practical, allowing you to store several towels.
---
20.

Storage Wire Baskets
Wire baskets are another timeless storage look. They go great with any style and provide enough space to store towels, toilet paper, and other necessities. They are simple yet cute and modern.

Conclusion
You can function efficiently in the bathroom if you know where you store all your necessities. Luckily, there are plenty of storage and organization ideas that allow you to stay tidy. These ideas will help you arrange your bathroom in a neat way that allows you to keep your bathroom organized and aesthetically pleasing at the same time.
See Also:
---
Featured Image Credit: hxdbzxy, Shutterstock