Bathroom Counter Organization Ideas: 9 Clever & Creative Ways (With Pictures)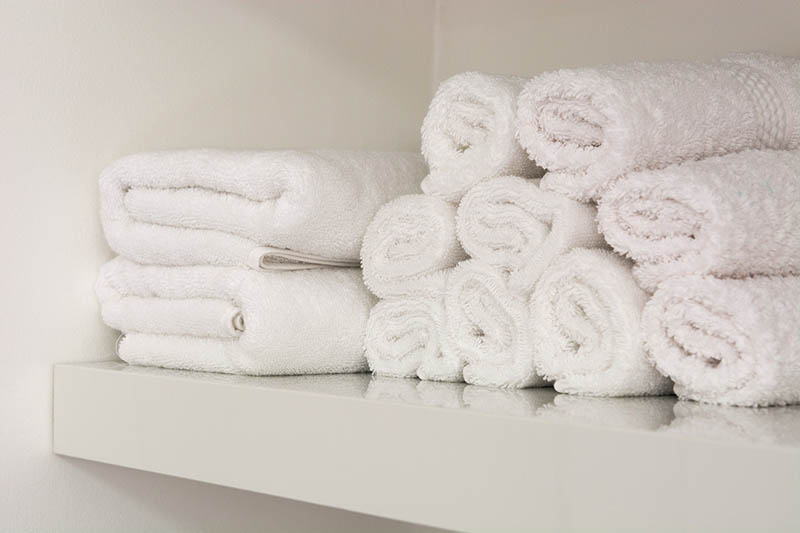 Bathroom counters are well known for being cluttered, but you don't need to accept that as the de facto status quo. There are many clever and unique ways that you can free up counter space and help organize everything; you just have to figure out what works best for you.
To help get you on the right track, we highlighted nine different organization options. While not every idea will be the right fit for your bathroom counter, we're confident that there are at least one or two ideas here that you can use to clear up space.

The 9 Bathroom Counter Organization Ideas
1.

Side Counter Space by Dream Green diy
| | |
| --- | --- |
| Materials: | Metal bins and screws |
| Tools: | Screwdriver |
| Difficulty Level: | Easy |
When you're trying to find a way to organize your bathroom counters, think about using all the available space around the counter. Besides the space on top, most bathroom counters have space on the sides that you can use.
You don't have to get too fancy with it either. This container on the side of a bathroom counter isn't much more than wire mesh, but it provides additional storage space that opens up everything else. It's a simple design, but it's highly functional and looks great.
---
2.

Vertical Wicker Baskets by Sun Lit Spaces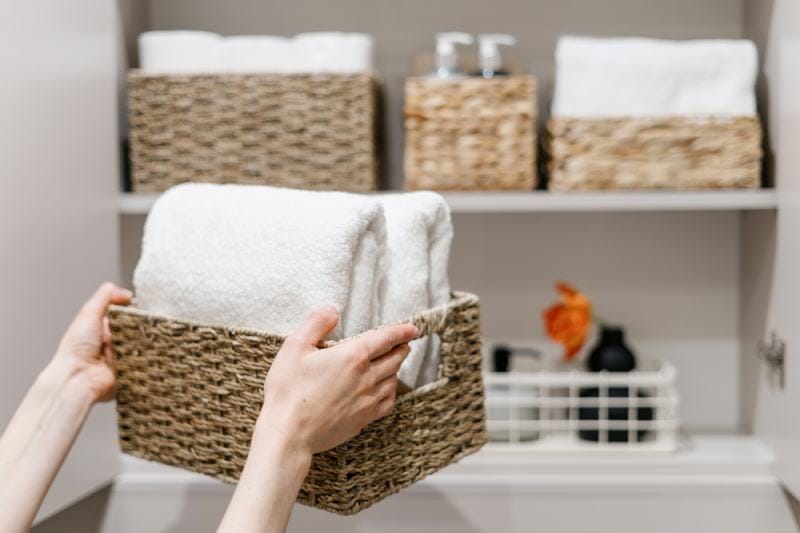 | | |
| --- | --- |
| Materials: | Wicker baskets and screws |
| Tools: | Screwdriver |
| Difficulty Level: | Easy |
While most people tend to think of using wicker baskets with the bottom on the floor, have you thought about hanging them up? This is a great way to open up extra space around your bathroom counters, and the décor fits in with most bathrooms.
You can either use the wicker baskets as a towel holder, as demonstrated here, or you can fill them up with just about anything else that you need in your bathroom. They're cute and affordable shelves, and they help open up space.
---
3.

Tiered Plates by The Pin Junkie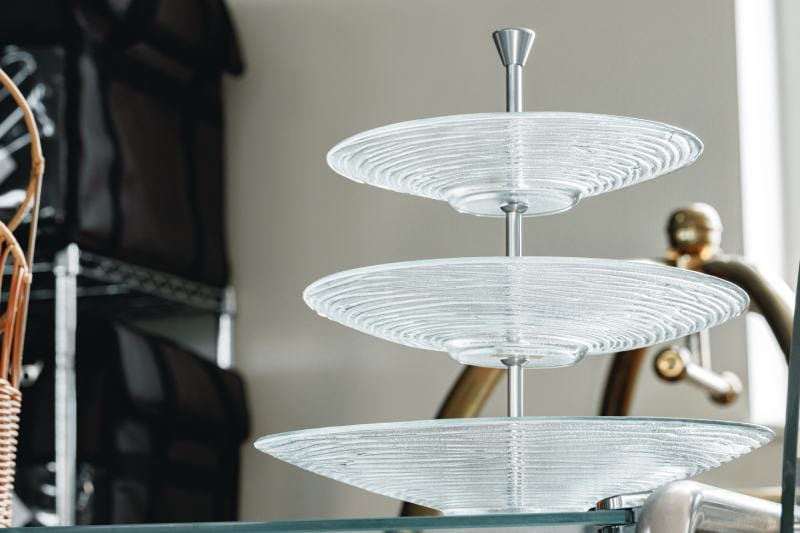 | | |
| --- | --- |
| Materials: | Metal shelf and plates |
| Tools: | None |
| Difficulty Level: | Easy |
If you're looking to open up extra space on your bathroom counters, one of the best ways that you can do it is to put vertical shelves on the counters that multiply the amount of usable space.
For instance, these tiered plates give you three shelves in an area with space for only one thing before. Also, with something like this, it's all about finding the right piece to build around. The plates themselves are easy enough to swap out and decorate if you want something else, but you do need the stand.
---
4.

Glass Jars by The Steen Style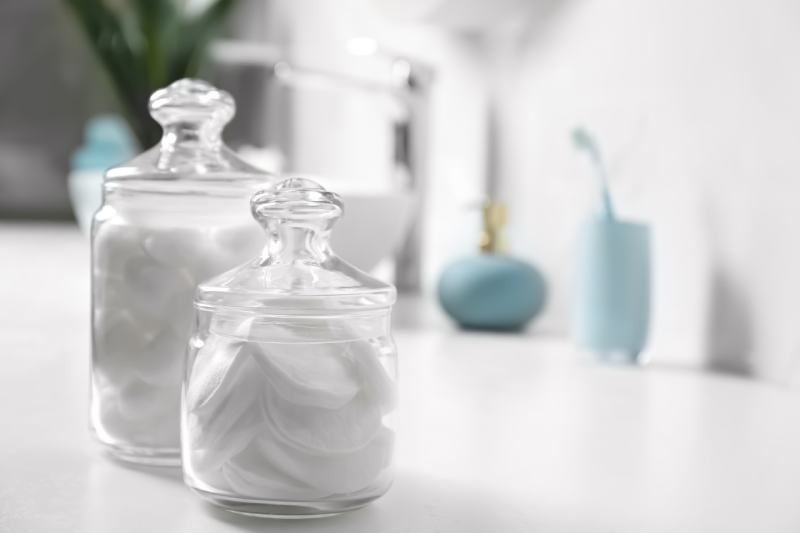 | | |
| --- | --- |
| Materials: | Glass jars |
| Tools: | None |
| Difficulty Level: | Easy |
Many people use jars to categorize, collect, and store things for easy use. If you don't already have a few of your own, you can find them at many different stores, and they don't typically cost that much.
Depending on the size of the glass jars that you go with, you can use them to hold various bathroom supplies. While we like these see-through glass jars for most things, if you want more style and privacy for whatever is inside, you can also paint them.
Get a few jars, and strategically place them on your bathroom counter. You can store far more things by utilizing the vertical space that they provide.
---
5.

Decorative Trays by Whimsy Girl Design
| | |
| --- | --- |
| Materials: | Decorative trays |
| Tools: | None |
| Difficulty Level: | Easy |
One of the best ways to open up and organize your bathroom counters is to make use of vertical space, such as with these decorative trays.
Whether it's towels, jewelry, makeup, or something else, small shelves that you can place on the countertop go a long way in freeing up and organizing your bathroom counter.
If you're crafty, you can build these trays. It's going to take more work, but there are many low-priced materials out there for you to pick from.
---
6.

Baby Wipe Container Storage Bins by DIY HSH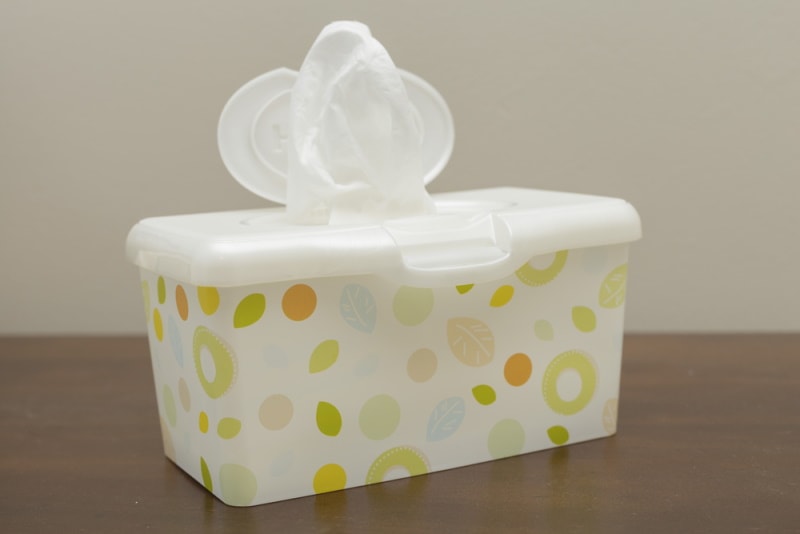 | | |
| --- | --- |
| Materials: | Baby wipe container |
| Tools: | None |
| Difficulty Level: | Easy |
If you have kids, you likely already have baby wipe containers lying around, so why not repurpose them into something to help free up counter space in your bathroom?
As an added perk, many baby wipe containers have floral designs that help add to the décor, and if you're trying to store things that you'd rather not have in plain sight, they also provide more privacy.
But what's nice about repurposing baby wipe containers into storage bins is that you don't have to do anything special. You can find ways to spruce them up if you want, but you certainly don't need to.
---
7.

Mason Jars by The DIY Playbook
| | |
| --- | --- |
| Materials: | Mason jars and paint |
| Tools: | Paint brushes |
| Difficulty Level: | Easy |
Mason jars can help with everything, and they're a stylish touch that goes great with any farmhouse décor. So, why not take that idea and use it in your bathroom too?
These easy-to-make bathroom counter mason jars work for just about everything that you have on your counters. You can turn them into storage containers, soap containers, and anything else you can think of.
We recommend painting the outside of the mason jars to match the rest of the décor in the bathroom, but you don't have to if you like the look of the glass.
---
8.

Hanging Shelves With Containers by The 36th Avenue
| | |
| --- | --- |
| Materials: | Shelves, jars, and screws |
| Tools: | Screwdriver |
| Difficulty Level: | Easy |
This is a hanging shelf option that you can use to clear up counter space in your bathroom if you have wall space around your bathroom counters.
This shelf is quite large, so you can combine it with other ideas. You can use glass jars or mason jars to store things, or you can use small containers to hold specific objects on the shelf.
It's all about opening up space by taking things that you'd ordinarily keep on the counter and moving them to a shelf, and this is a highly effective method of organizing your bathroom.
---
9.

Corner Shelf by Instructables
| | |
| --- | --- |
| Materials: | Pine board, biscuits, glue |
| Tools: | Miter saw, biscuit jointer, orbital sander, clamps, tape measure |
| Difficulty Level: | Advanced |
The key concept behind this idea is to use every inch of space on the countertop. This project is for more advanced DIYers, but you get to customize it exactly the way that you want it and make it fit perfectly in your bathroom.
Get creative, and figure out what works and looks best for your bathroom counter.

Final Thoughts
With any of these great bathroom counter organization ideas, you can transform your bathroom counter from a disaster zone into an organizational and functional paradise in no time. Just find what works for your bathroom, and go from there.
But whatever you do, don't settle for clutter. There's no reason that you can't organize everything in a way that's functional and practical for you.
---
Featured Image Credit: Positive_Images, Pixabay