10 Best Bathroom Countertop Materials: Pros & Cons (2023 Guide With Pictures)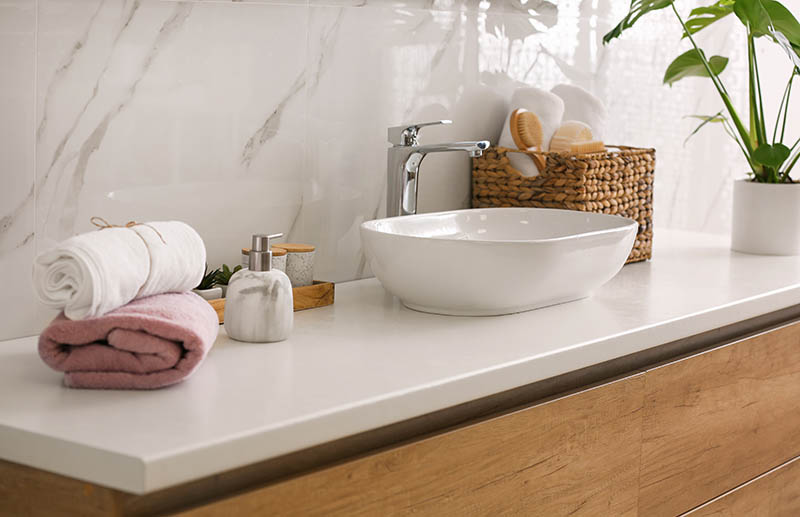 Bathrooms are more forgiving environments for countertops than kitchens, but they have unique challenges you should consider. Bathrooms get steamy, so you need something that will stand up to moisture, but you want something beautiful too.
Let's check out the pros and cons of the top 10 bathroom countertop materials below.

The Top 10 Bathroom Countertop Materials:
1.

Stainless Steel
Despite its plain, utilitarian look, stainless steel is a great countertop material for the bathroom. It's nonporous and won't allow bacteria or mold to grow, which is critical for moist, humid bathrooms.
As far as durability, steel will withstand all the abuse you can throw at it and more. The only caveat is that you can scratch the burnished surface, but that shouldn't be a problem in the bathroom. It's still something to keep in mind, however.
Pros
On-porous
Extremely durable
Low maintenance
Cons
Can be scratched
Fairly expensive
---
2.

Natural Stone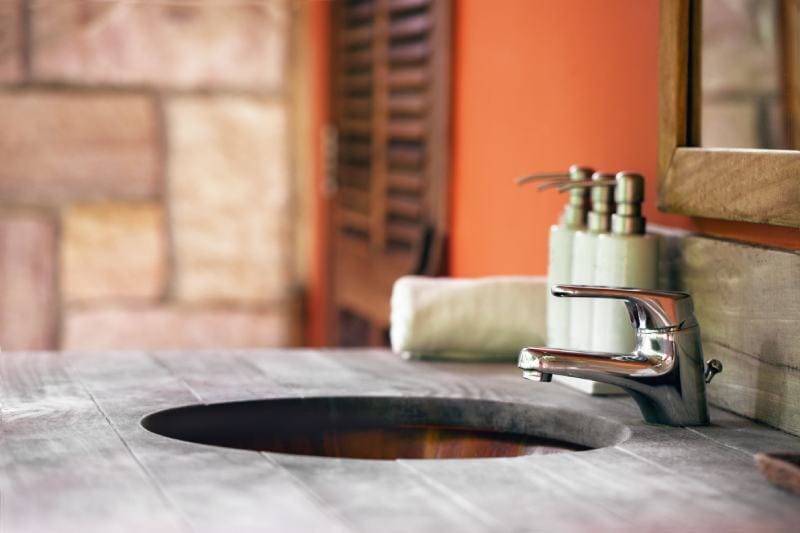 Natural stone includes numerous materials, including marble, granite, travertine, limestone, soapstone, and more. The biggest benefit of choosing natural stone for a bathroom counter is unlimited visual choices, but certain types aren't the best because they're porous. Limestone and travertine, for instance, do poorly in bathrooms unless it's repeatedly sealed and cared after.
Pros
Premium building material
Durability
Numerous varieties
Unique look
Cons
Expensive price
Not all types are suitable for bathrooms
---
3.

Granite
Granite is the king of natural stone countertops for several reasons. It's nearly impervious to heat, humidity, or any other damage, which is great in any room of the house. Not only that, but you can find granite in a huge array of colors, veining, striations, or flecks.
We should note that granite has less prominent veins than marble but tends to have more multicolored flecks in the stone.
Pros
Extremely durable
Variety of colors and patterns
Adds resale value
---
4.

Marble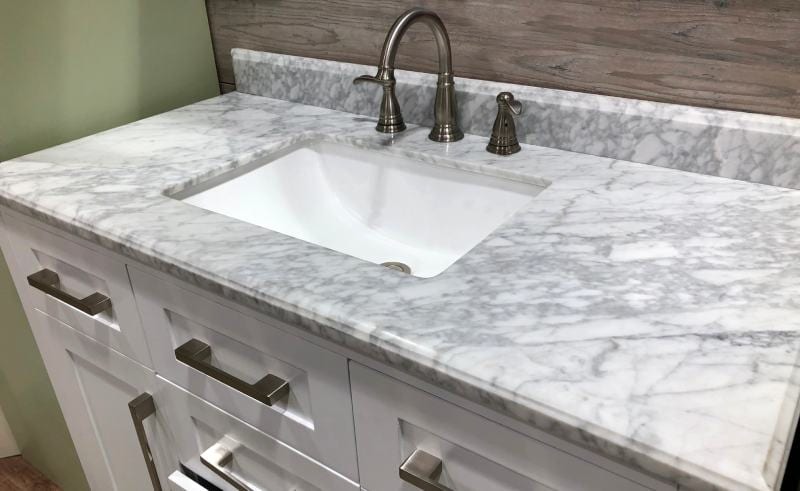 Marble is sometimes considered the apex of countertop materials, with an unparalleled elegance and color variety. These are reflected in its high cost but belies the stone's main problem: it's porous.
If it isn't regularly sealed and buffed, marble can quickly absorb moisture and grow mold or mildew. Marble is the high-maintenance counter material, so be ready to pay a lot upfront and over time in maintenance costs.
Pros
Luxury material
Huge visual variety
---
5.

Quartz
Quartz countertops are a relatively new creation, composed of ground quartz, resin, other ground stone, and pigments. Because of its unique look and low-maintenance nature, quartz is considered one of the most premium materials for counters.
You don't need to seal it frequently like marble, and it's naturally resistant to heat, humidity, and mildew. Be prepared to pay a lot for quartz if you want to reap the rewards.
Pros
Durable
Doesn't need sealing
Nonporous
Most premium material available today
Cons
Must be special ordered
High price
Some finishes smudge easily
---
6.

Laminate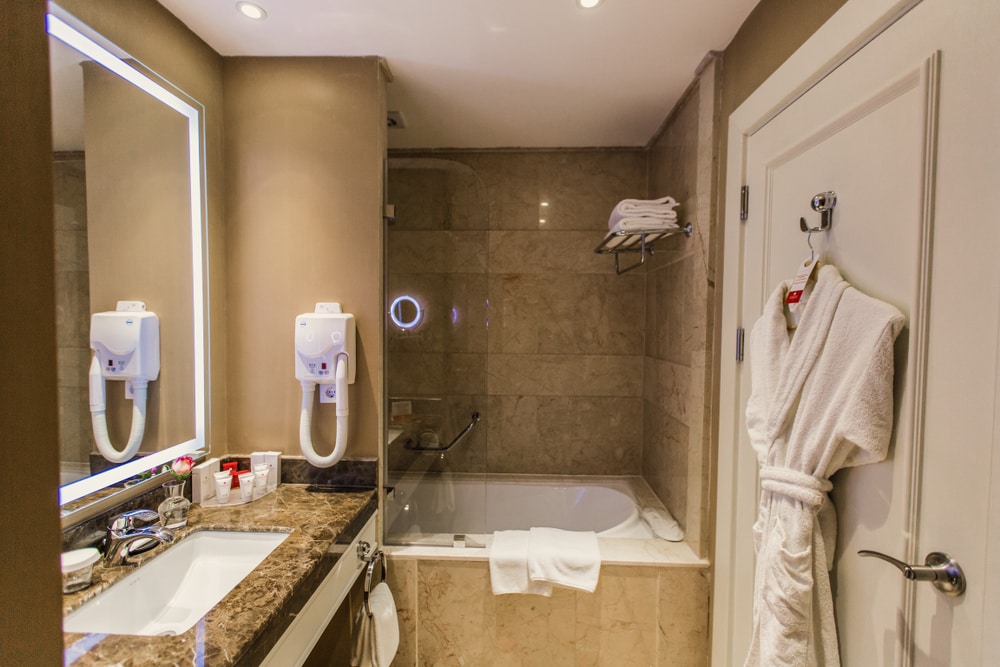 If quartz is the most expensive counter material today, laminate is definitely the most affordable. Composed of printed plastic and particleboard fused together with resin, laminate is widely available in an unlimited variety of colors and patterns. The bad news with laminate is that it has pretty subpar durability, and you have to completely replace damaged counters. Sadly, you can't just repair the damaged portions. Finally, laminate tends to fade, thin, and crack when it gets old or worn.
Pros
Affordable
Wide variety
Easy to clean
Easy installation
Cons
Low durability
Short lifespan
---
7.

Ceramic
Ceramic and porcelain tiles are a classic choice for bathroom floors, so why not try a matching countertop? Ceramic is perfectly suited to bathrooms because it's naturally resistant to heat (no more curling iron accidents), scratches, stains, and moisture.
Not only those, but you can find tiles in nearly any color or pattern you want. It can be a pain to deal with grout upkeep, though, and the tiles can chip under heavy impacts. Thankfully, you can just replace individual tiles when that happens.
Pros
Stain, scratch, heat, and moisture resistance
Affordable
Wide range of styles and colors
Easy to install and repair
Cons
Grout is annoying to care for
Tiles can break, crack, or chip
---
8.

Concrete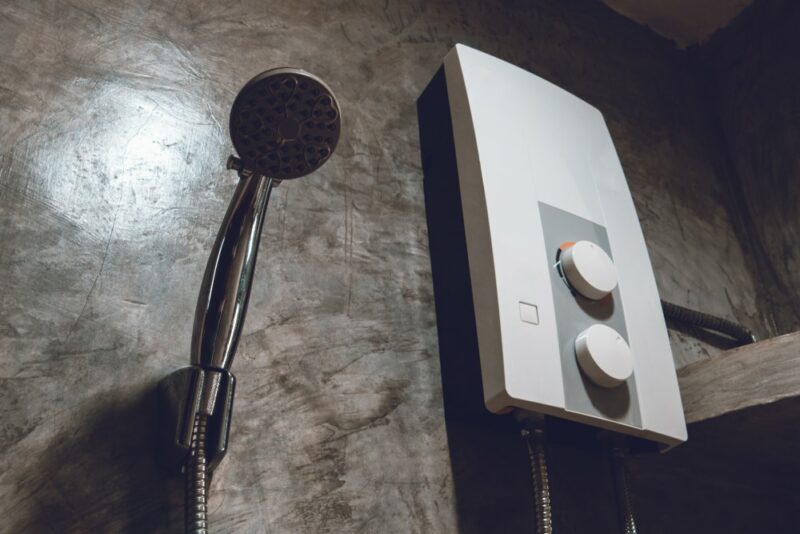 No longer just an industrial surface, concrete countertops can be ordered completely finished, painted, and textured to mimic natural stone or other materials. You can simply plan out the dimensions of your counter and place the order, and professionals will cast the counter and come install it for you.
These days, concrete is often mixed with recycled material, so you don't have to worry about your impact on the environment, unlike with some other materials.
Pros
Customizable
Durable
Eco-friendly
Easy to order
Cons
Porous
Needs to be sealed
Expensive
---
9.

Solid Surface
Solid surface countertops are gaining popularity as a way to imitate natural stone at a fraction of the cost. Crushed stone is mixed with acrylic resin to achieve a seamless, mirror-like finished surface.
As you might expect, it's impervious to moisture and mildew, but can be damaged by heat, scratches, or heavy impacts.
Pros
Contemporary style
Mimics natural stone
Seamless look
Affordable
Cons
Vulnerable to heat
Scratches
Impacts
---
10.

Crushed Glass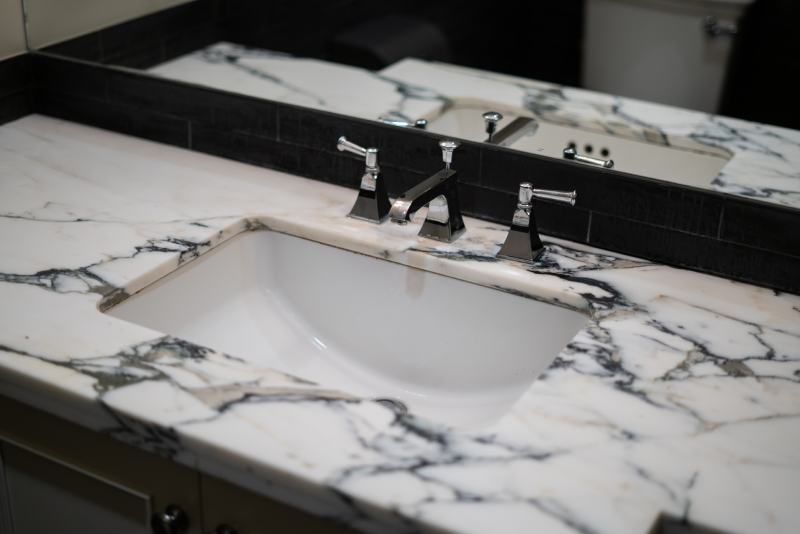 Crushed glass is another big craze like quartz, where you pay a lot for a luxurious, one-of-a-kind countertop. The crushed glass can be suspended with resin or concrete, both of which have their unique appearances.
Concrete counters, though, are known to be more susceptible to impacts and cracking. Overall, crushed glass counters with resin offer greater durability with the same color variety.
Pros
Resin or concrete choices
Trendy
Unique appearance
Cons
concrete glass counters can be brittle and vulnerable to impacts

Conclusion
Bathrooms don't get the rough treatment that kitchens do, but it's still important to put some thought into what counters you want. You'll want something non-porous unless you like doing a lot of high maintenance! Resistance to moisture, impacts, and heat alike are other factors to think about when choosing the right material for your bathroom counter.
---
Featured Image Credit: New Africa, Shutterstock