10 Best 12V Cordless Drills of 2023 – Top Picks & Reviews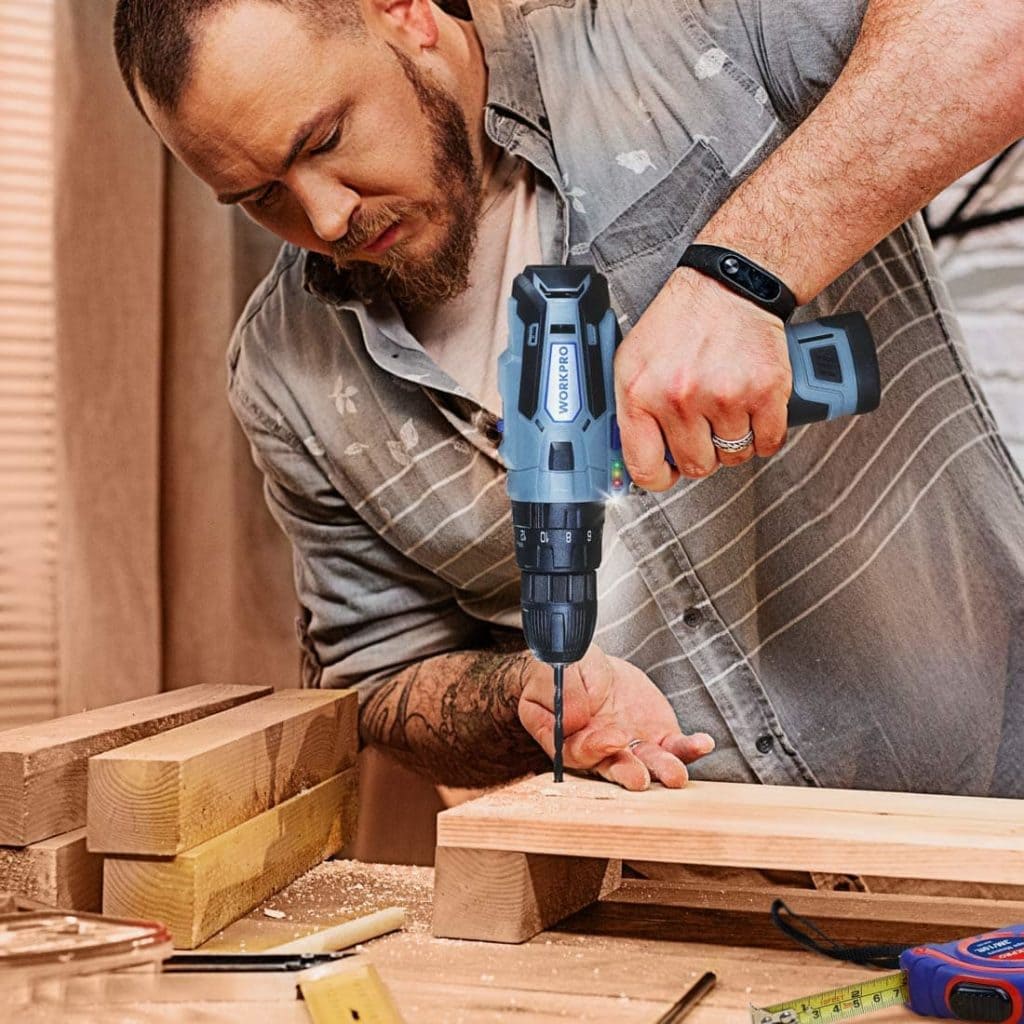 Whether the project is big or small, nothing makes a difference like a good cordless drill.
We'd go so far as to say that a cordless drill is one of the most important tools any handyman can own. But that means it's especially important to find the right drill. If you end up with a bad cordless drill, you're just setting yourself and your projects up for failure.
How, then, can you make sure you get the best cordless drill available? We put together a series of reviews examining the main drills on the market. This, along with our buyer's guide, will help you make the best possible choice.
Ready to take on your next big project? Keep reading to discover which cordless drill you're going to need!
---
A Quick Comparison of our Favorites (updated in 2023)
Rating
Image
Product
Details

Best Overall

Bosch PS31-2A Power Tools Drill Kit

Versatile kit
Multiple batteries
20 clutch settings
CHECK PRICE

Best Value

TACKLIFE PCD01B Cordless Drill

Good price
Lots of accessories
LED light
CHECK PRICE

Premium Choice

Makita FD07R1 Cordless Drill

Long-lasting battery
Lightweight
Ergonomic design
CHECK PRICE

Milwaukee M12 Drill

Stylish color
Ergonomic design
Metal ratcheting chuck
CHECK PRICE

Avid Power MZ0911 Cordless Drill

Complete kit
Ergonomic design
Multiple speeds
CHECK PRICE
The 10 Best 12V Cordless Drills
1.

Bosch PS31-2A Power Tools Drill Kit – Best Overall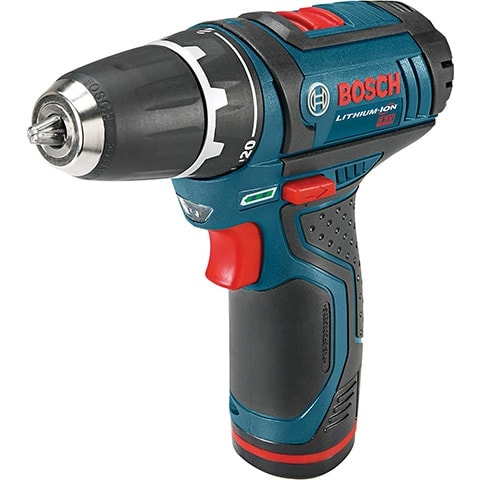 In a hurry to get the next project started? In that case, you probably want to get your hands on the best drill available. And when it comes to the best overall pick, we love the Bosch PS31-2A Power Tools Drill Kit.
This kit includes several items, including a drill, charger, screwdriver bits, and a nice carrying bag. But our favorite feature is that it comes with two batteries, allowing you to pop one on the charger as needed and basically work for as long as you need to.
The clutch has 20 settings, giving this drill versatility. And we love the LED light that helps when you're working in the dark. Really, the only issue with this kit is that the batteries are hard to change out. Despite this, we think it's the best 12v cordless drill on the market right now.
Pros
Versatile kit
Multiple batteries
20 clutch settings
Cons
Batteries are hard to change out
---
2.

TACKLIFE PCD01B Cordless Drill – Best Value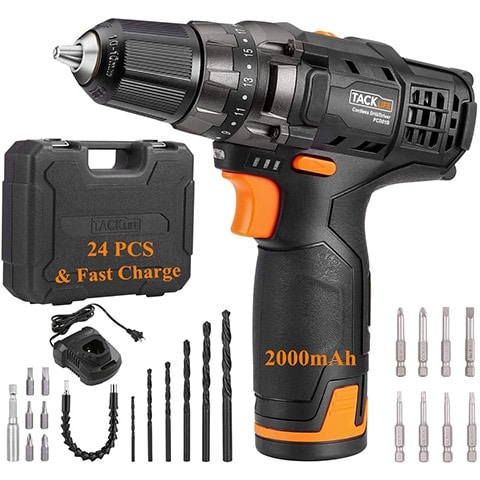 When you love to buy tools, it's important to make your dollars stretch as far as possible. And if this sounds like you, then it's important to find the best 12V cordless drills for the money. And your best bet would be the TACKLIFE PCD01B Cordless Drill.
You get a lot of kit for the money, including 24 pieces so that you have all the bits you need right away. And we were really impressed by the 19+1 clutch on this budget model, giving you premium performance on a tight budget.
Other great features include the compact and lightweight design, convenient LED light, and 2 drilling speeds. But what keeps this drill from being our best overall pick? The drill bits are not high quality, and it can be difficult to find a replacement battery for this tool.
Pros
Good price
Lots of accessories
LED light
Cons
Low-quality drill bits
The battery is difficult to replace
---
3.

Makita FD07R1 Cordless Drill – Premium Choice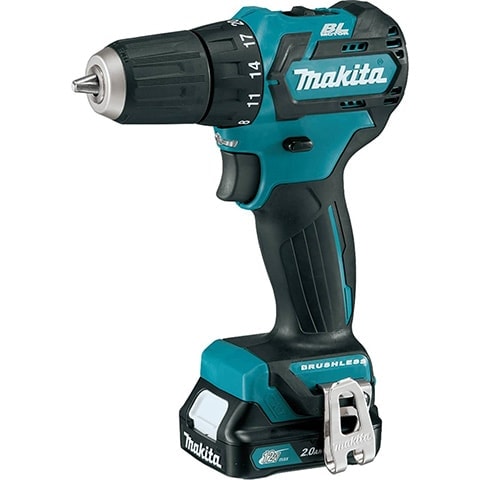 What if you're not on a very strict budget? If you've got money to burn, then you have many more great options for cordless drills. And our pick for the best premium choice is the Makita FD07R1 Cordless Drill.
The "premium" nature of this drill is mostly in the details. For example, the electronically-controlled motor means that the battery will last a long time. And it is lightweight (2.3 pounds) and features an ergonomic design that makes it easy to hold and work with this drill.
The LED light is nice in theory, but in practice, this light is partially covered by the drill tip. And the chuck will easily loosen on its own unless you are constantly vigilant.
Pros
Long-lasting battery
Lightweight
Ergonomic design
Cons
Obstructed LED light
Chuck loosens on its own
---
4.

Milwaukee M12 Drill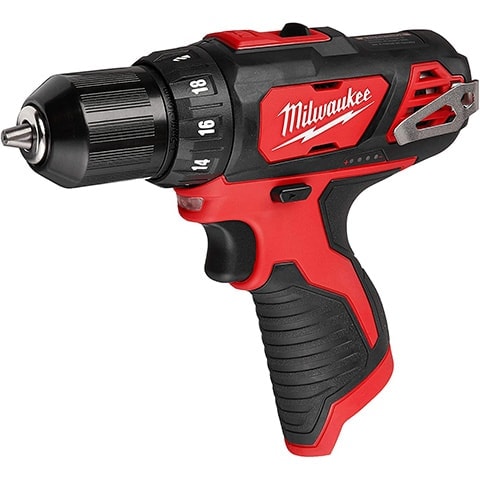 There are plenty of cordless drill kits out there. But what if you just need a simple drill for your toolbox? In that case, the Milwaukee M12 Drill is a solid choice.
We enjoyed the metal ratcheting chuck that helped improve the durability of this tool. And the design is both ergonomic and stylish, helping this drill look and feel great.
Both the battery fuel gauge and the 275 inch-pounds (in-lbs) of torque are very convenient. So, what's not to love? The power is a bit low on the model, and unless you already have a battery and charger, you'll need to to track some down before using this drill.
Pros
Stylish color
Ergonomic design
Metal ratcheting chuck
Cons
Low power
Lack of battery and charge can be frustrating
---
5.

Avid Power MZ0911 Cordless Drill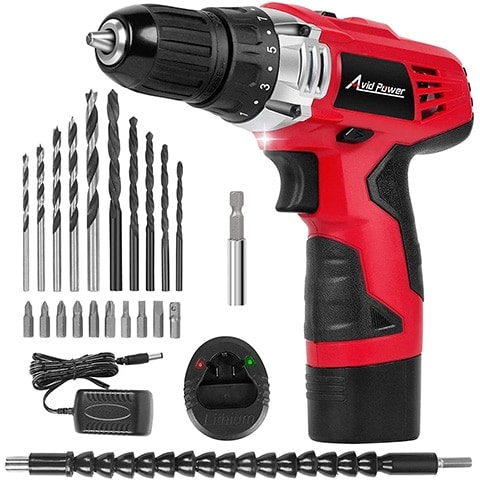 Looking more for a good cordless drill kit instead of a solo tool? In that case, the Avid Power MZ0911 Cordless Drill is one of the best available choices.
The set comes with 22 pieces, which is enough to help you hit the ground running on your next project. And with 2 variable speeds and 15+1 torque options, you've got a lot of versatility in a single package.
The ⅜-inch keyless chuck is convenient, and the ergonomic design makes for a comfortable grip. Unfortunately, the drill bits break very easily, and some users report issues with keeping the lithium-ion battery charged.
Pros
Complete kit
Ergonomic design
Multiple speeds
Cons
Flimsy bits
Battery issues
---
6.

DEWALT XTREME DCD701F2 MAX Cordless Drill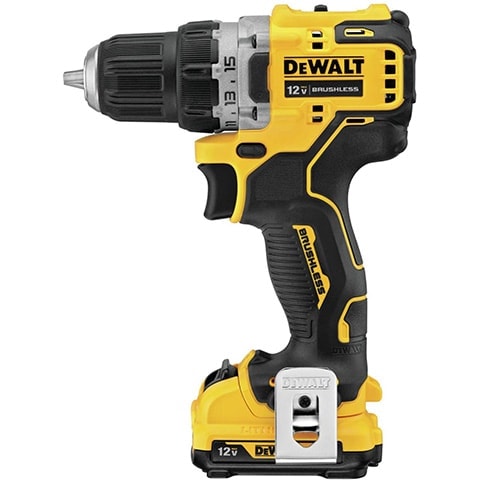 What makes for a good cordless drill? Beyond power and extra goodies, it's important to have versatility on your side. And if that's important to you, the DEWALT XTREME DCD701F2 MAX Cordless Drill may be a good choice.
We liked the brushless motor and the 15 clutch settings. The LED footlight also makes this drill easy to use even in the darkest of conditions.
You get 2 speeds as well as a versatile ⅜-inch ratcheting chuck. In fact, there is very little we didn't like about this drill. But it's a bit expensive for what it is, and some users reported issues with the drill bit falling out.
Pros
Brushless motor
LED footlight
15 clutch settings
Cons
A bit expensive
Issues with the drill bit
---
7.

WORKPRO W004548A Cordless Drill

The WORKPRO W004548A Cordless Drill is another kit that comes brimming with features. But is there anything that really sets this kit apart from the rest?
You get a whopping 34 pieces with this set, which is a better value than most kits. The 18+3 torque adjustment comes in handy, and the ergonomic handle and LED light makes using this drill very convenient.
The real standout feature is the 2 lithium-ion batteries, allowing you to work indefinitely. But this kit isn't perfect: it's not powerful enough for really large projects, and some users report that the drill itself is not very durable.
Pros
34-piece set
Ergonomic handle
2 lithium-ion batteries
Cons
Low power
Drill is not durable
---
8.

Metabo DS10DFL2 HPT Cordless Drill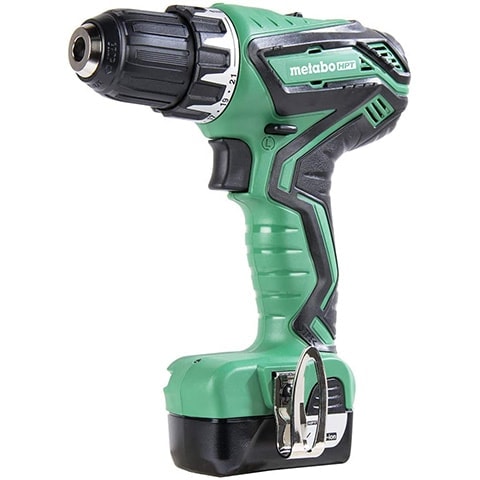 The Metabo DS10DFL2 HPT Cordless Drill is similar to some of the other kits out there. However, there are a few more drawbacks than benefits when it comes to this purchase.
On the positive side, the 2 lithium-ion batteries are very convenient. We liked the lightweight design and the convenience of 21 different torque settings.
However, the rubber trim along the handle has a tendency to come off, and it's very difficult to reattach. You also don't get much power with the drill, the chuck drops drill bits, and the runtime is lower than you'd expect (even with the ability to swap batteries).
Pros
2 lithium-ion batteries
Lightweight design
21 torque settings
Cons
Rubber trim comes off
Low power
Chuck drops drill bits
Low battery runtime
---
9.

Ridgid R82005 Cordless Drill
Compared to all the kits out there, the Ridgid R82005 Cordless Drill is a no-frills option that only includes the tool. And despite some nice features, the tool itself is a bit disappointing.
There are a few nice touches, including the ergonomic grip and the 18-position chuck. And the LED lighting was an especially nice touch.
However, the lack of a battery gauge is frustrating, and the drill head is a bit loose. Some users report that the drill isn't very durable, and the lack of an included battery can be frustrating.
Pros
Ergonomic grip
18 position chuck
LED lighting
Cons
No battery gauge
Loose drill head
Not very durable
No battery
---
10.

ACDelco ARD847 Compact Drill
Last on our list is the ACDelco ARD847 Compact Drill. But does last make it least, or will this drill really surprise you?
Unfortunately, most of the surprises with this drill are negative. There are some convenient touches, including a nice carrying case and the fact that it comes with 2 batteries. Aside from these nice features, though, there isn't much to say.
For example, the clutch is pretty poor quality on this model. The bad light placement is annoying. And it provides less power than other models in this price point. The only real conclusion is that this a waste of your money.
Pros
Carrying case
2 batteries
Cons
Poor clutch
Bad light placement
Low power
Not a good value
---
Buyer's Guide – How to Purchase the Best 12 Volt Cordless Drill
Hopefully, our reviews have helped you learn about some of the main 12V cordless drills on the market. But simply studying the benefits and drawbacks of each model is not always enough to help you make a decision.
That's why we put together a comprehensive buyer's guide. It covers types of drills, the benefits of cordless drills, safety considerations, and much more.
With both the reviews and the buyer's guide, you'll be able to answer every question you have about these drills. And that will help you make the best decision before you tackle your next project.
Is the 12V Drill Right for Me?
Our guide has focused entirely on 12V cordless drills. Before you make a purchase, though, you probably have a basic question: is this the right drill for you? To answer that, we need to review the different kinds of drills on the market.
Generally speaking, cordless drills fall into 3 different categories. These include light-duty, heavy-duty, and general use.
Light-duty drills include 12V models and range up to 20V. These are the kinds of drills best suited for things like assembling furniture, working on dry wall, and other simple duties around the house.
Heavy-duty drills start at 18V and range to 24V. These drills are powerful enough to drive the largest fasteners and can even bore holes through thick boards thanks to their half-inch chucks. All of this power comes at a price, though: these are the most expensive models, and many handymen don't really need such drills.
In between are general use drills. These are usually powered by a 12V battery, but they pack more of a punch than their light-duty cousins. These drills can bore holes through wood and can drive screw after screw into the surface of an object. However, performance is limited by battery life, so many hardcore handymen prefer having two batteries that they can swap out as needed.
Depending on your needs, 12V cordless drills are good for both light-duty and general use. Pay close attention to the features of these drills before you make a purchase.
Corded vs Cordless Drills
Our reviews focused entirely on cordless drills. However, corded drills are always an option. So it's important to answer the question: do you need a corded drill or a cordless one? Each type of drill has its own benefits and drawbacks.
The biggest advantage of a corded drill is the power it provides. Because you aren't limited by a portable battery, these drills can provide power and performance that cordless drills can't really match.
At the same time, corded drills are naturally limited by the cord in question. The power of a plugged-in drill is great, but you won't be able to easily plug in a drill everywhere you go. It's in situations like that where the versatility of battery-powered cordless drills comes in handy.
Historically, corded drills have been sturdier and lasted longer than cordless drills. However, there are more durable and premium cordless drills on the market. While they can't rival corded drills in terms of pure power, many modern cordless drills offer other convenient features.
At the end of the day, your choice centers on whether power or portability are more important to you.
Battery Selection
Every cordless drill is powered by some kind of battery. Before you make a purchase, it's important to understand what your different battery options are.
Certain models still rely on nickel-cadmium batteries. This has been a traditional choice for cordless tools, but nickel-cadmium is very bad for the environment. That's one reason why so many handymen now prefer lithium-ion batteries.
Lithium-ion is the other battery choice, and it's better for the environment. In terms of performance, you need to pay attention to the voltage. In order to achieve higher torque, you must have a cordless drill capable of a high-enough voltage.
Long story short? More voltage equals more power. It all comes down to how much power and performance you really need for your upcoming projects.
Chuck
Our reviews often touched on the chucks of the different cordless drills. But what makes the chuck so important?
Basically, different types of chucks let you use different types of accessories. And the primary chuck will hole width (for example, many smaller cordless drills produce holes of 10mm).
Some cordless drills feature a keyless chuck. That simply means you can take out and replace various accessories without needing a chuck key. That may sound like a small thing, but it can save you a lot of time over the course of the project.
LED Lighting
Many of the drills we reviewed featured some kind of LED lighting. But what is this lighting, and what makes it so important?
Such lighting simply provides additional illumination while you work. That means it is particularly useful when you are drilling outdoors at night or drilling in areas with poor lighting.
If you only plan to use the drill in and around the house, then LED lighting may be a non-issue. But it's the kind of feature where it's better to have it and not need it than to need it and not have it.
Storage
When it comes to "boys and their toys," we mostly focus on how fun it is to take out our tools and get to work. But when everything is done, you need to find the best way to store your tools.
And storage should be one of your big considerations when it comes to finding a drill. For example, corded drills offer more power, but they are generally harder to store than their cordless cousins. And as for cordless drills, you may want to take a second look at kits that come with their own carrying cases for easy storage.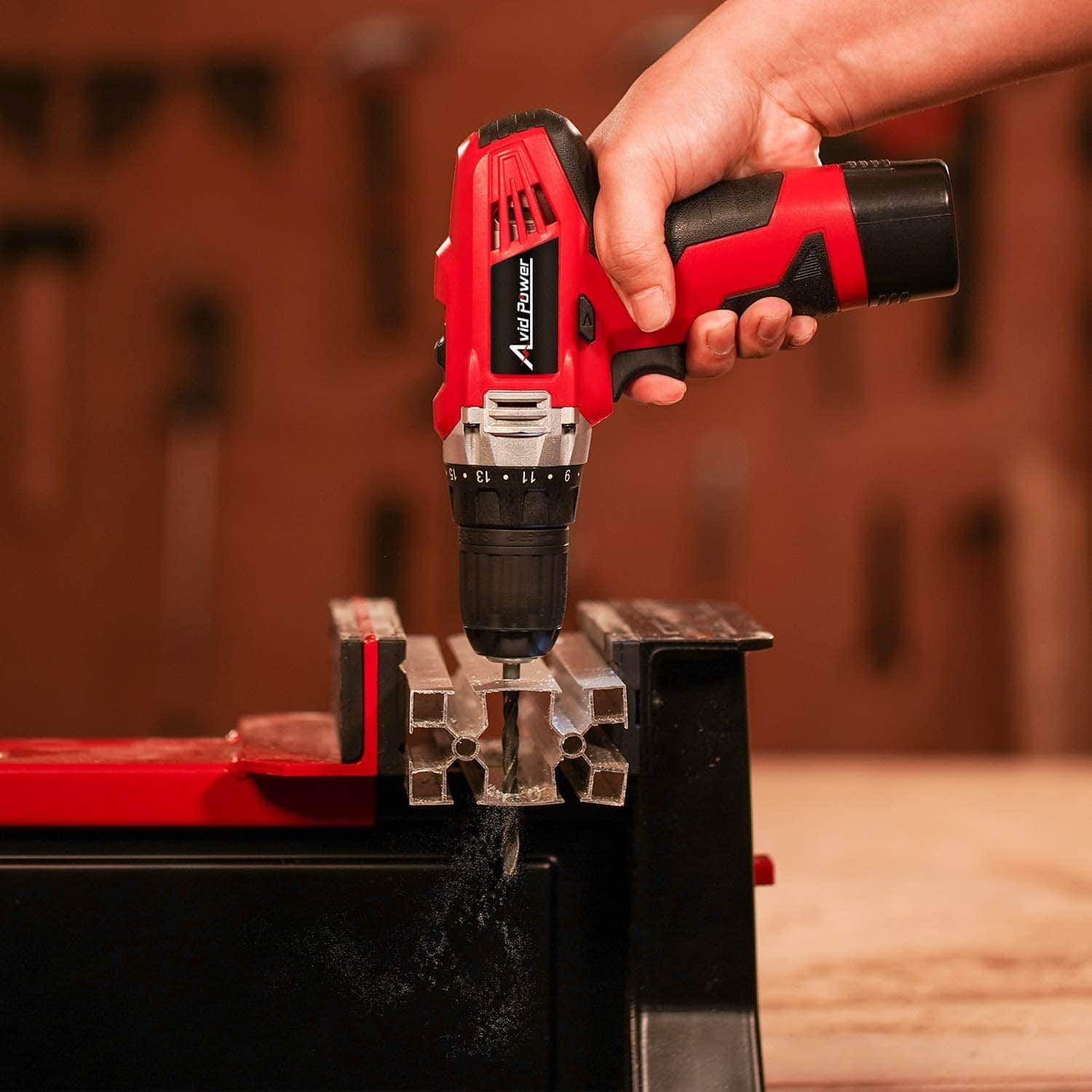 Safety First
Because they are small and lightweight, you may not immediately think of cordless drills as a risk to your safety. In reality, though, improper storage and use of these drills often results in serious injury.
For example, all cordless drills are louder than you might think, and you're likely to have this tool very close to your ears during use. If you want to protect your hearing, it's important that you wear some kind of ear protection while using the drill.
And the fact that cordless drills are mobile and lightweight means they can cause injury very easily. All it takes is one slip and you'll be headed to the hospital! For maximum safety, we recommend investing in guards to help keep the drill in place and protect you from harm.
The best safety tip of all, though, is also the simplest: start small. If you've never used a cordless drill before, try to get a few smaller projects under your belt before you try anything bigger. This will help you learn the ins and outs of your new equipment while also making you less likely to cause an accident.
When to Use a Corded Drill
You need a lot of power
You are close to an electrical outlet
You have a heavy-duty project
You are very experienced with drills
You have ample storage space
When to Use a Cordless Drill
You need a portable solution
You have reliable batteries
You have smaller projects
You are still learning to use drills
Storage space is at a premium

Conclusion
Now that you have read our reviews and our buyer's guide, you should have a pretty solid idea of the kind of cordless drill you need. And that leaves one major question: who were the biggest winners in our cordless drill roundup reviews?
If you're looking for the best 12V drill that's out there, you can't really do better than the Bosch PS31-2A Power Tools Drill Kit. The kit is very handy for newbies and veterans alike, and the drill offers the kind of power and performance you need. Consider this a long term investment in your tools!
If you'd prefer a cheaper investment, then the TACKLIFE PCD01B Cordless Drill gets our vote for the best value. It packs a surprising punch for its price range, and you certainly won't think it's a "budget" drill while you're working.
It can be very difficult reviewing all of the different drills out there and learning everything about each one. And let's face it: you don't have the time to personally check out every cordless drill on the market! But with our reviews and buyer's guide, this process is easier than ever before.
And once you have the right drill in your hand, take it from us: that's one of the best feelings in the world!
More of HealthyHandyman's Guides about Drills
–> A closer look at lightweight cordless drills – What to look for, and which product is best for the money?
–> Right-Angle-Drills: Reviews & Comparisons
–> Which is our all-time favorite cordless models? (not limited to 12V)