8 Best 6-Gallon Air Compressors of 2023 – Top Picks & Reviews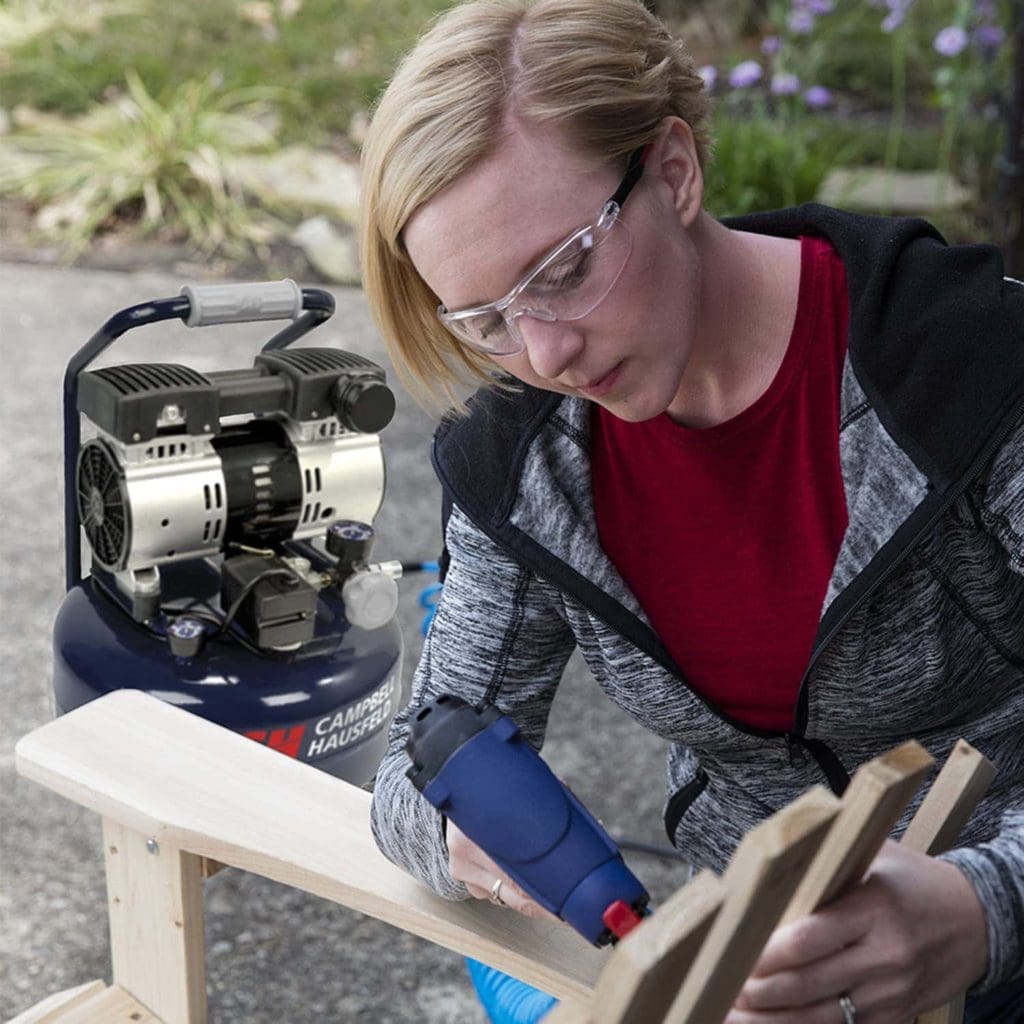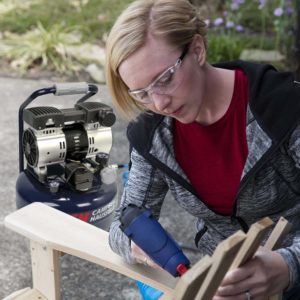 Six-gallon air compressors are smaller, which makes them better for use indoors on pneumatic tools. Because these compressors are quite popular, especially among professionals and homeowners who own pneumatic tools, there are many different options on the market.
Some have different features than others. Many work great, but others underperform. Having a poorly performing air compressor can leave your tools underperforming as well, which can be frustrating and make your project take far longer than it should.
To make your projects go as smoothly as possible, we recommend choosing a high-quality six-gallon air compressor. This is an easy piece of equipment to cut corners on, but this can handicap your whole project. Check our reviews below and our buyer's guide to help you figure out which compressor is best for you.
A Quick Comparison of Our Favorites in 2023
Rating
Image
Product
Details

Best Overall

PORTER-CABLE C2002 Air Compressor

150 PSI
Pancake-style
120-volt motor
CHECK PRICE

Best Value

WEN 2287 6-Gallon Horizontal Air Compressor

Reinforced steel
Onboard handle and wheels
Two-year warranty
CHECK PRICE

Premium Choice

California Air Tools 6010LFC Industrial Air Compressor

Only 60 dB
Lasts a long time
Oil-free pump
CHECK PRICE

BOSTITCH BTFP02012 Pancake Air Compressor

150 PSI
Oil-free
High-flow regulator
CHECK PRICE

CRAFTSMAN CMEC6150K Air Compressor

150 PSI max
Many accessories included
1-year warranty
CHECK PRICE
The 8 Best 6-Gallon Air Compressors Reviews
1.

PORTER-CABLE C2002 Air Compressor – Best Overall
We reviewed many different air compressors for this article. However, our favorite, by far, was the PORTER-CABLE C2002 Air Compressor. This tank has 150 pounds per square inch (PSI) max, which should be plenty for most users. It can run most tools for quite a whole, which is precisely what it was designed for. It is pancake-style, making it more portable and more comfortable to carry around. The design makes the tank very stable and prevents it from tipping over. It has rubber feet to prevent injuring the flooring and a water drain valve.
The low-amp, 120-volt motor starts up quickly in even cold weather. It is very reliable, so this machine should work whenever you need to. It can even be used with an extension cord in most cases. You can purchase this air compressor with an accessory pack, which includes stuff like a tire gauge. However, we did not review these accessories in particular, but they are likely high-quality.
This motor is oil-free, so there is less maintenance required. It is also less messy.
Pros
150 PSI
Pancake-style
120-volt motor
Works with an extension cord
Oil-free
---
2.

WEN 6-Gallon Horizontal Air Compressor – Best Value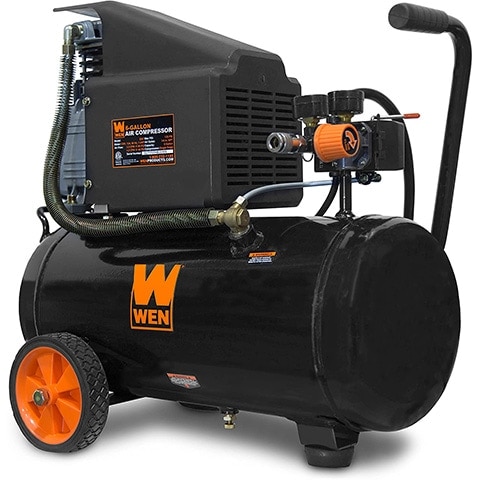 WEN is well-known for making high-quality yet inexpensive tools and equipment. The WEN 2287 6-Gallon Horizontal Air Compressor is no different from any of their other tools. This is by far the best 6-gallon air compressors for the money. It has an airflow rate of 3.2 cubic feet per minute (CFM) at 90 PSI. At 40 PSI, the flow rate is a bit higher at 4.2 CFM. These stats do mean that this machine is a bit lower-powered than other options on the market. However, it may work for some.
We do recommend checking your tools for the amount of PSI they need to work. This machine will work for many tools. However, some more powerful tools may need a more powerful air compressor.
This tank is constructed with reinforced steel and features a quick drain valve. The valve is in an easy-to-reach location and is simple to use. It has two pressure gauges and a quick coupler. The onboard handle and wheels make it very easy to carry this air compressor around the workplace as you need to.
We also liked that it was backed by a two-year warranty. This warranty is quite good, though we do recommend reading it before you make your purchase decision.
Pros
Inexpensive
Reinforced steel
Onboard handle and wheels
Two-year warranty
---
3.

California Air Tools Industrial Air Compressor – Premium Choice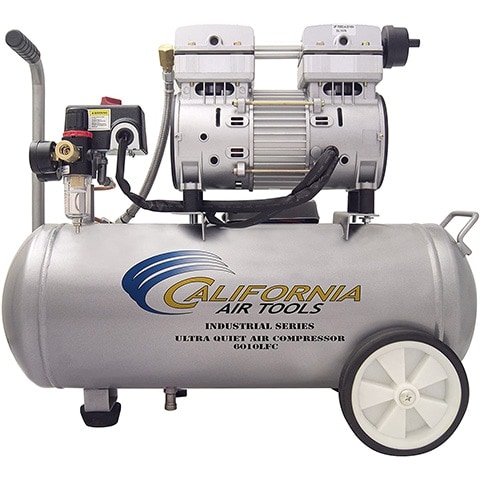 The California Air Tools 6010LFC Industrial Air Compressor is a bit more expensive than other options. However, it is also more powerful and has extra features you may find useful. If you're going to use an air compressor a lot and have the money, this may be a good option.
We liked that this machine is decently quiet. It is only 60 decibels (dB), which makes it perfect for indoor work. This is probably one of the best features this machine has and is a massive plus for anyone who plans on using it inside. The oil-free pump requires little maintenance and overall cost. It can be used in cold temperatures with no problem at all. It produces 4 CFM at 40 PSI and three CFM at 90 PSI.
It has a minimum life span of 4,000 hours of use, according to the manufacturers. In a real-world setting, this isn't easy to measure, so you have to trust that they are telling the truth. Furthermore, we also don't necessarily know what settings they used to test this. Drops and other normal wear-and-tear will likely lower the battery life even more.
Pros
Wheels and a handle
Only 60 dB
Lasts a long time
Oil-free pump
---
4.

BOSTITCH BTFP02012 Pancake Air Compressor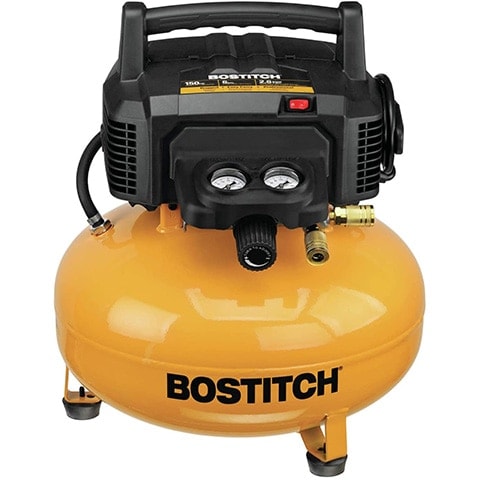 The BOSTITCH BTFP02012 Pancake Air Compressor isn't our favorite, but it isn't a low-quality option either. It has a high-efficiency motor that starts up quickly in cold weather. It can even work with an extension cord, which is not something we can say for all air compressors on the market. It is a bit louder than some other options we mentioned at 78.5 decibels. But this is quieter than some other options on the market currently.
It has a maximum of 150 PSI, which makes it quite powerful. It can last a long time when running most tools. The high-flow regulator and couplers maximize tool performance, making this the perfect air compressor for pneumatic tools. It has an oil-free pump, which is maintenance-free.
The drain is poorly designed and is a knurled knob. There are higher-quality options available, so we are somewhat disappointed that they chose this design. This air compressor isn't cheap either, so it isn't like you're saving any money and sacrificing some durability. It is just a poor design choice.
Pros
150 PSI
Oil-free
High-flow regulator
Cons
Poor drain design
Not high-value
---
5.

CRAFTSMAN CMEC6150K Air Compressor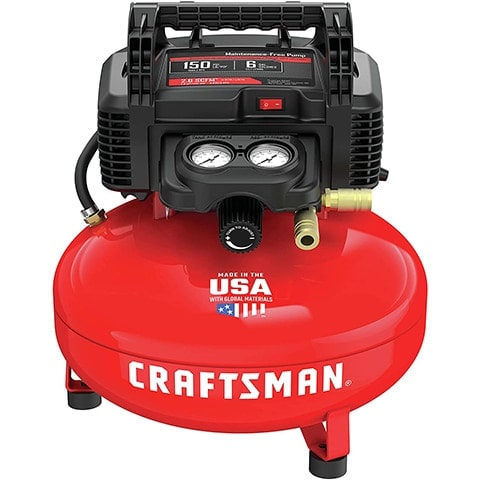 With plenty of accessories, the CRAFTSMAN CMEC6150K Air Compressor is one of the more complete models on this list. It is durable and oil-free, so it requires less maintenance than other options. It has a decently long lifespan as well, so you should expect it to last quite a while. The motor starts up quickly in colder weather, and it has 150 PSI max. This makes it moderately powerful, especially when compared to other options on the market.
It comes with quite a few accessories, including a PVC air hose, blowgun, and similar tools. This air compressor comes with practically everything you need to use it right away for various purposes. You won't have to spend extra money purchasing the accessories you need, which is almost always the case with other air compressors.
It does come with a one-year limited warranty. This is a minimal warranty, though, so be sure to read it before making your purchase. Defects seem to be standard on this air compressor, and the warranty does not always cover them.
Pros
150 PSI max
Many accessories included
One-year warranty
Cons
Minimal warranty
Defects are common
---
6.

DEWALT Pancake Air Compressor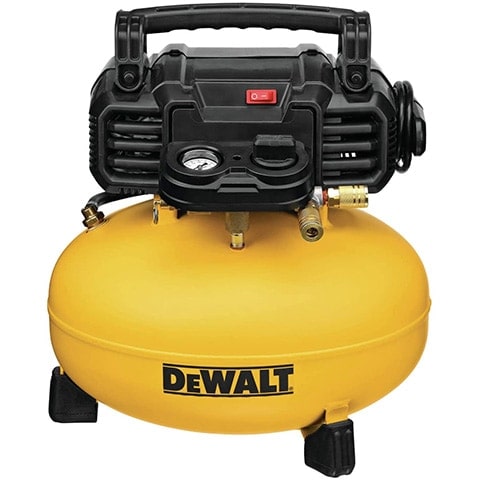 While the DEWALT DWFP55126 Pancake Air Compressor was not our absolute favorite, it isn't the worst on the market either. It has a 165 PSI max, which makes it usable with a massive variety of tools. Most pneumatic tools will be able to use this air compressor without any problems. The high-efficiency motor makes it easy to start in cold weather and be used with an extension cord.
One downside of this machine is that it is quite loud. It has a noise level of 75.5 dB, which makes it a bit louder than most other options on this list. Despite this, though, it is advertised as "quiet."
It does have two universal couplers, so it can easily support two users. The pump is oil-free, which decreases the amount of maintenance the machine needs. We also liked the cord wrap for easy storage, since we expect most users will have this machine put up most of the time.
Pros
165 PSI max
Two universal couplers
Only weighs 30 pounds
Cons
Five dB
Poor quality control
---
7.

Campbell Hausfeld Portable Air Compressor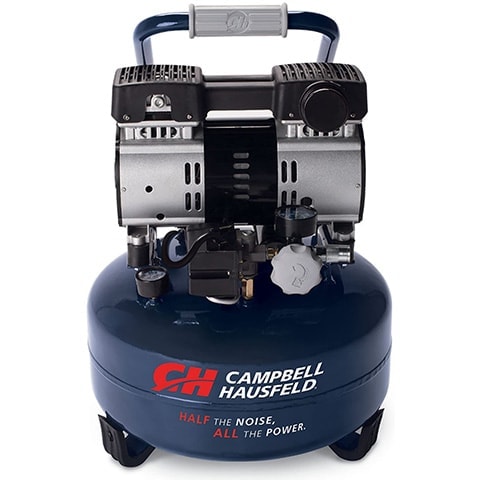 The Campbell Hausfeld DC060500 Portable Air Compressor is up to 50% quieter than other options according to the description. However, realistically, this means it makes about 68 dB. This isn't the quietest on the market, but it isn't the loudest either. It is suitable to use indoors and works well for tools. It can last up to four hours longer than some of the competition, however, this is only according to the manufacturer. In practice, it will depend on the tool you're using, the environment, and precisely what you're comparing it to.
The pancake-shape keeps it from falling over, which can injure your tank. The steel handle has a soft grip and makes the machine easy to move around. It does not have wheels, however, so it isn't exactly as portable as other options.
Leaks seem to be standard on this air compressor according to many reports. Returns and repairs are not always possible, which means you're out of luck if this happens to you. Not holding pressure is a common problem on this machine and is one of the big reasons we rated it so low on our list. An air compressor that doesn't hold pressure is essentially worthless.
Cons
Defects are common
No wheels
---
8.

Ridgid Portable Electric Pancake Compressor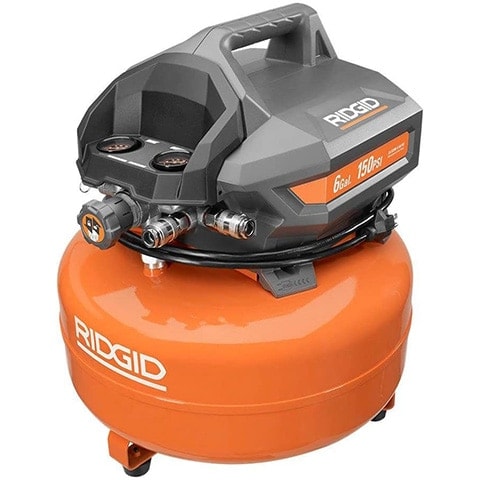 As an average-priced air compressor, the Ridgid Portable Electric Pancake Compressor is an under-performing option. It weighs 35 pounds, which makes it easy to carry around. This is a bit less than other options. However, it does not have wheels, and the handle is quite uncomfortable. Because of that, carrying it around can be a bit of a pain even though it weighs lower than other options.
We disliked that this compressor only has a one-year warranty, and it's limited and doesn't apply most of the time. It is also quite loud at 80 dB, which means that it is nearly impossible to use it indoors. Because it is designed to be used indoors, we do not recommend this air compressor in general.
Cons
Limited warranty
Loud
Expensive for what it is
---
Buyer's Guide – Choosing the Best Six-Gallon Air Compressors
Air compressors are an easy-to-overlook machine. However, they are needed to make many tools work and a must-have for many professionals and homeowners alike. It is essential not to cut corners on this purchase, as it can make your high-quality tools perform like low-quality tools. For success, a high-quality air compressor is necessary.
Portability
When you purchase a six-gallon air compressor, you are probably not planning on leaving it in the same spot. Instead, you probably plan on carrying it to wherever you're using your pneumatic tools. Because of this, portability is going to be essential. How portable an air compressor depends on two key factors.
The first of these is the weight. More massive air compressors are going to be harder to move around than lightweight options. If your air compressor is 50 pounds, you're going to have a more challenging time hauling it than you would a 30-pound air compressor. Generally, lightweight options are always going to be better if you're planning on changing locations often.
At the same time, features like handles and wheels also play a role. A massive air compressor might be easier to move around if equipped with wheels and a comfortable handle. A lightweight compressor might become a pain if it has a low-quality handle and no wheels.
Cost
Most air compressors of this size are around $200. However, you also have air compressors at either side of the cost margin. Some are very expensive, while others are much cheaper. Usually, the cost is directly tied to the quality of the air compressor. More expensive options will have more features, a longer lifespan, and be easier to use. An inexpensive option might be cheaper upfront, but it will likely break sooner and not be as robust.
We recommend purchasing the most expensive model you can afford. You'll thank yourself later if you invest in a decent air compressor, rather than more expensive pneumatic tools. After all, a pneumatic tool is no good with a low-quality air compressor.
Accessories
Some air compressors come with a variety of accessories, like PVC air tubing and tire gauges. If you already have these accessories lying around, then you can probably ignore this feature. However, if you're a new homeowner, you may want to consider purchasing an air compressor that comes with plenty of accessories.
Air compressors aren't very useful if you don't have the right accessories to go with them. Purchasing all the accessories you need separately can cost a bit of money, so you may save by purchasing them with your air compressor.
Of course, the quality of the accessories matters too. Some are not going to be high-quality in the least, which can make them practically worthless. However, others will be exceptionally high-quality and may end up saving you money in the future.
Noise Level
Specific air compressors are noisier than others. It can be challenging to gauge how noisy a compressor is before you purchase it. For this reason, you have to rely on reviews like ours to figure out which units are quiet and which will wake the neighbors.
If you're planning on using your air compressor inside, it needs to be quiet. In an enclosed space, these machines can be noisy. We highly recommend choosing an air compressor that is quiet in these cases.
In our reviews, we found some very quiet air compressors and some that are extremely loud. The more expensive options seem to produce less noise in general, so you may have to pay a premium for a quiet machine. However, this is not always true, so we recommend doing your research before making a purchase.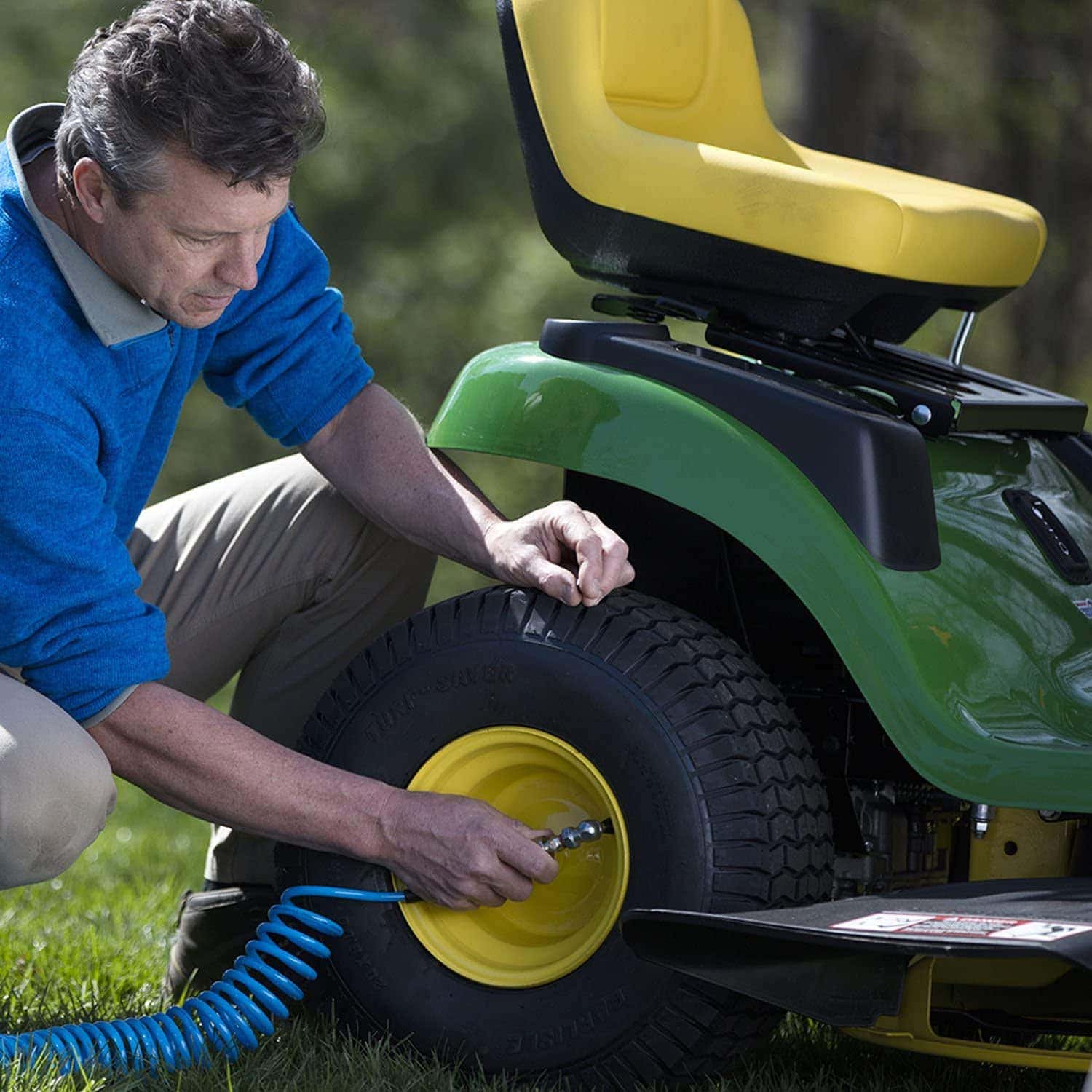 Ease of Use
Most air compressors are easy to use. They don't have many controls or functions, after all. However, some are surprisingly difficult to figure out. You want to spend as little time figuring out your air compressor as possible, so we recommend choosing a model that is decently easy to use. Otherwise, you may make a mistake, resulting in damage to your air compressor or tools.
Easy Start
Some air compressors do not perform well in the colder months. If they are cold, they may not turn on altogether. However, that doesn't mean you don't need them, which can be quite frustrating. You'll probably appreciate an air compressor that can run all year-round.
In this case, you should invest in a quick-start feature. These features allow you to operate the air compressor no matter the temperature. They are perfect for those who live in colder climates.
Luckily, this feature is pervasive in higher quality units these days. However, that still doesn't mean that they all have them. Because of this, you need to check to ensure whatever air compressor you purchase has this feature. If it isn't listed and you live in a cold climate, you may want to look elsewhere.
Durability
Many air compressors are made out of steel. This is a durable material that typically isn't going to shatter or anything like that. But some compressors are made out of different materials. Furthermore, even if the body is made out of steel, it doesn't mean the rest of the machine is durable. Many air compressors have delicate handles and wheels, which can be a problem if you're planning on moving them around often.
No company is going to tell you that their machine is breakable. Because of this, you need to rely on reviews, like the ones in this article, to make a judgment call on durability. Machines that break a lot or come with defects are probably not the best option for you.

Conclusion
Six-gallon air compressors are the perfect size for running pneumatic tools. They are large enough for most tools but aren't so large that they become difficult to move around. Not all of these air compressors are made equal though. To help you choose the best option, we reviewed some of the best air compressors on the market.
We preferred the PORTER-CABLE C2002 Air Compressor. It is made to be moved around easily and is powerful enough for most tools. It is also quite durable and is designed to be stable, preventing damage from tipping.
If you need to save a bit of money, we also liked the WEN 2287 6-Gallon Horizontal Air Compressor. It is made of steel and has a two-year warranty, so we expect it to last a very long time. It is a bit less potent than other options on the market, but it should be sufficient for your average homeowner.
We hope these reviews and buyer's guide provided you with all the information you need to make the perfect purchase for your project.