10 Best Above Ground Pools of 2023 – Reviews & Top Picks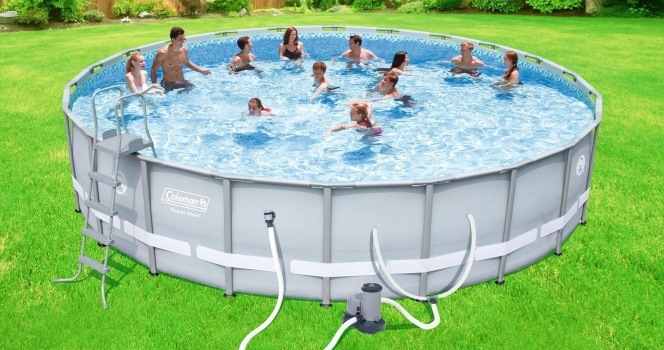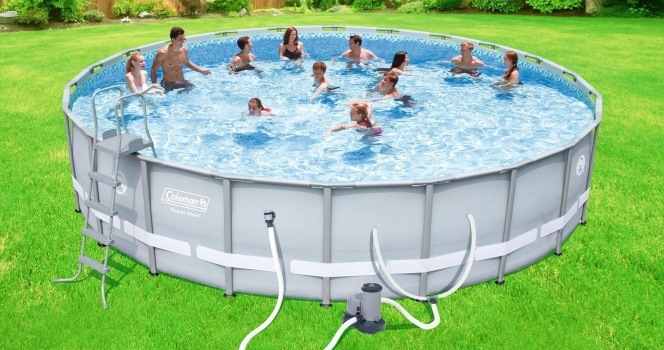 Have you ever wondered what is the best above ground pool? Pool ownership is a dream that can be realized more easily than many think, but to navigate the many factors that go into the decision, you need help.
The guide is the result of many hours of research. We've combed the above ground pool market to find options suitable for every type of buyer. Assembled below are the 10 best pools we found. Read on for some above ground pool reviews!

A Summary of Our Favorites for 2023
Rating
Image
Product
Details

Best Overall

Intex 15ft X 48in Above Ground Pool

Triple strong
super-tough laminated sidewalls
Ready for water in 45 minutes
New dual suction outlet fittings improve water circulation
CHECK PRICE

Bestway Steel Pro 12ft x 30in Above-Ground Pool

DuraPlus 3-ply liner is durable and puncture-resistant
Corrosion resistant steel frame
330 gallon filter pump included
CHECK PRICE

Best Value

Intex 8ft X 30in Easy Set Above Ground Pool

Ready for water in 10 minutes
Convenient drain plug connects to a garden hose
Super tough laminated PVC sidewalls
CHECK PRICE

Intex Ultra XTR Above Ground Pool

Engineered for strength
Durable frame made of high-quality
galvanized steel
CHECK PRICE

Intex 15ft X 48in Easy Set Above Ground Pool

Inflatable design allows for easy setup
Filter pump & cartridge keeps it crystal clean
CHECK PRICE
The 10 Best Above Ground Pools
1.

Intex 15ft X 48in Above Ground Pool – Best Overall
The spacious, durable, and affordable Intex 15ft X 48in Metal Frame Pool Set features everything you need to get started. It's an easy-to-assemble set made of rust-resistant stainless steel.
A filter and pump mean you'll be able to use the pool safely right away once it's been set up. The pump even features new "hydro aeration" technology that keeps the water clearer than ever before. It's the perfect option for buyers looking for a reasonably priced above ground pool that will last more than a few seasons.
One area of concern pertains to the pool liner. The elegant soft blue pattern looks very nice at first, but fades quite quickly—often just months after the point of purchase. This issue does not affect the performance of the pool, but does deteriorate its appearance.
All in all, we think this is the best above ground pool available this year.
Pros
Reasonably priced
High-quality pump
Easy to assemble
Extremly durable
Great size
Cons
Liner color fades quickly
---
2.

Bestway Steel Pro 12ft x 30in Above-Ground Pool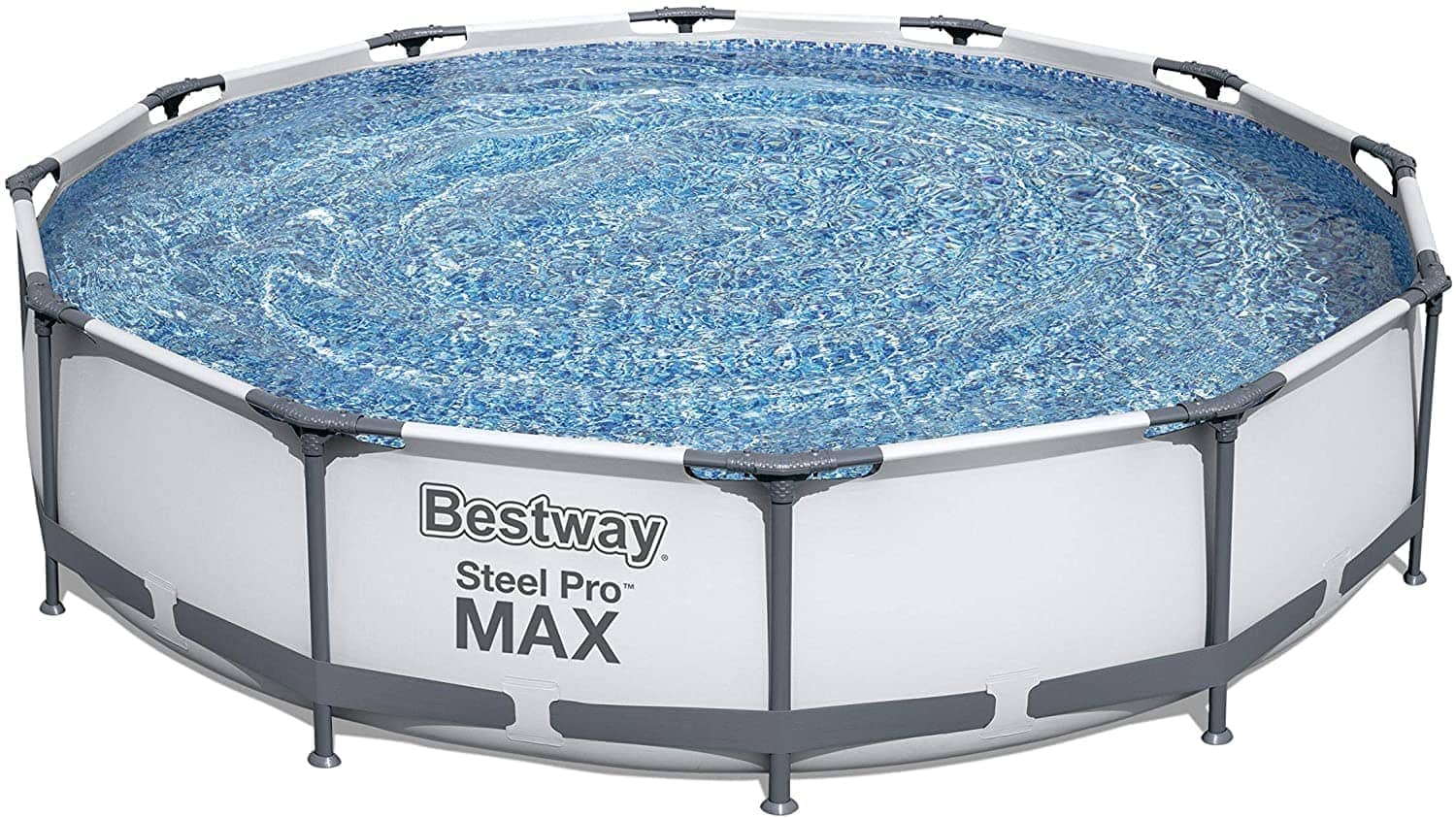 The Bestway Steel Pro has smaller dimensions than most of the pools we reviewed, so it won't be optimal for large families, but it does make for a perfectly sized personal pool.
Thanks to a reasonable price tag, it will also be an enticing option for buyers who are looking to save some money. Despite keeping things simple, the Bestway has value where it counts. The stainless steel frame means a pool that will last many seasons. It's also very easy to set up and even includes an instructional DVD to further simplify the process.
Keep in mind that this is a bare-bones package that includes only the assembly materials. You'll have to purchase vital accessories—pumps, ladders, etc.—separately. The low sticker price makes this more palatable, but some may still find it to be a drag. Otherwise, it's a good option for budget buyers.
Pros
Very affordable
Stainless steel build
Easy assembly
Cons
No accessories
Fairly small
---
3.

Intex 8ft X 30in Easy Set – Best Budget Above Ground Pool
For buyers who really need to keep costs low, there's the Intex 8ft X 30in Easy Set Pool Set. This unit sticks to the bare necessities: a compact, simple inflatable base, and a pump that keeps the pool's modest dimensions nice and clean.
Because this is an inflatable pool, assembly involves an air pump and a few short minutes of waiting. Its size makes this pool best for young children, or one to two adults, at most.
Unfortunately, like most inflatable products, the frame is not made to last forever. Inflatable pools last for a few seasons, at the very most, and many survive only one. Still, for the price, most buyers won't worry so much about the durability factor.
All in all, we think this is the best budget above ground pool on the market.
Pros
Best for the money
Easy to assemble
Pump included
Cons
Very small
Will only last a couple of seasons
---
4.

Intex Ultra XTR Above Ground Pool
For buyers willing to drop a decent amount of money, we have the Intex Ultra XTR Rectangular Pool Set. With its galvanized steel frame, this unit should last for many years.
The exterior of the pool features a powdered coating that will maximize its resistance to rust. To ensure the pool's efficiency, it also comes with a high-end Intex sand water filter to keep impurities out, and a two-year warranty to protect against unforeseen problems. It is one of the more expensive options on our list, but for your money, you get generous dimensions and quality components.
Assembling the pool will be something of a challenge for the average buyer, requiring qualified assistance or even professional help.
Pros
Galvanized steel frame
High-quality filter
Rust-resistant coating
---
5.

Intex 15ft X 48in Easy Set Above Ground Pool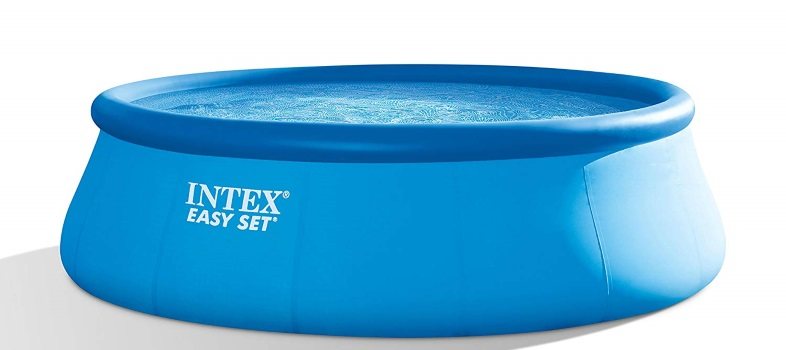 The Intex 15ft X 48in Easy Set Pool Set is ostensibly the same product as our best for the money pick—an affordable and easy-to-setup inflatable pool that comes with a filter pump.
The tough PVC walls keep the pool in working order for at least the duration of a season, while the drain function makes it easy to empty out the pool at summer's end. The reason to choose this pool over the last Easy Set is simply the dimensions. It's roughly twice the size of the other Easy Pool, making it better for groups of several people.
The sticker price is still low on this unit, but it's more expensive than our best for the money pick. It may be more than some want to spend on a pool that will need to be replaced regularly.
Cons
Not very durable
A little pricey for a pool that will need replacing
---
6.

Bestway Steel Pro 102x67x24 Rectangular Above-Ground Pool
The affordable Bestway Steel Pro 102 x 67 x 24 Rectangular Frame Above Ground Swimming Pool happens to be one of the largest options featured on our list. The steel frame will keep the bones of the pool stable for years to come, while the quick drain feature will make it easy to close at the end of the season.
There are, however, some issues with the PVC walls. Some users have reported premature leaks from the first season of use. These issues can usually be resolved through patchwork, but many prefer not to have to do repairs on a new pool. It also has a complicated setup and does not include any accessories.
Pros
Affordable
Very generous dimensions
Cons
Siding may require regular maintenance
Difficult setup
No accessories included
---
7.

Summer Waves Above Ground Pool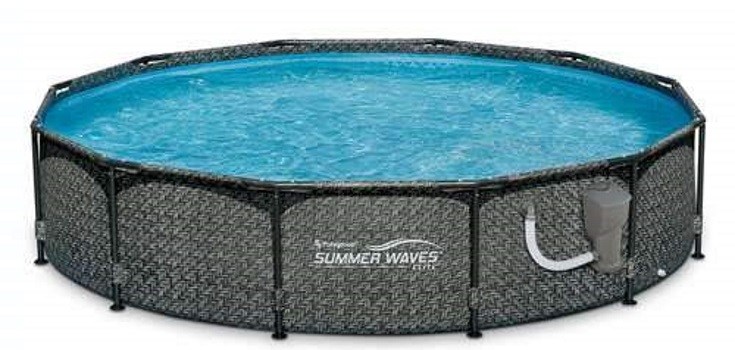 The Summer Waves 12′ x 33″ Above Ground Pool features an attractive design, simple installation, and a quality filter pump that keeps the pool in pristine condition at all times.
However, durability will be more of a concern with this unit relative to many of the others on our list. It has a mostly PVC build, which, though passably durable, will not last as long as stainless steel. Many users report holes within just weeks of use, which means you should expect regular maintenance, at the very least. It also does not come with a ladder, so you'll need to spend more money than the sticker price implies.
Pros
Filter pump
Easy to install
Cons
Not very durable
Some accessories not included
---
8.

Bestway 56631E Power Steel Pool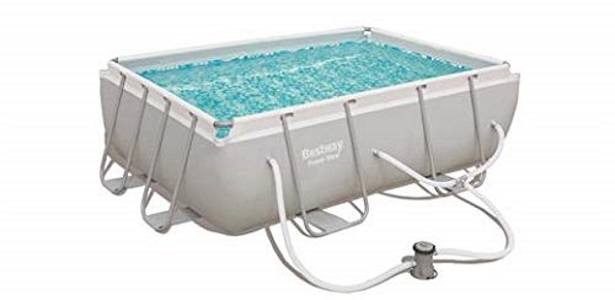 The Bestway 56631E has a stainless steel frame protected from rust by a lock and seal system that keeps water from getting past the walls and into the inner workings of the pool. The walls are made of PVC mesh, and the liner provides several layers of protection against leaks and foundational compromises.
The pool also comes with a pump, though you'll still need to buy a ladder separately to maximize the safety of the unit.
The Bestway 56631E is somewhat challenging to assemble, and customer service is notoriously unreliable, so you'll essentially be on your own if any problems arise.
Pros
Stainless steel frame
Pump included
Lock and seal system
Cons
Ladder not included
Difficult to assemble
Poor customer service
---
9.

Coleman 22-x52 Power Steel Frame Pool (Above ground)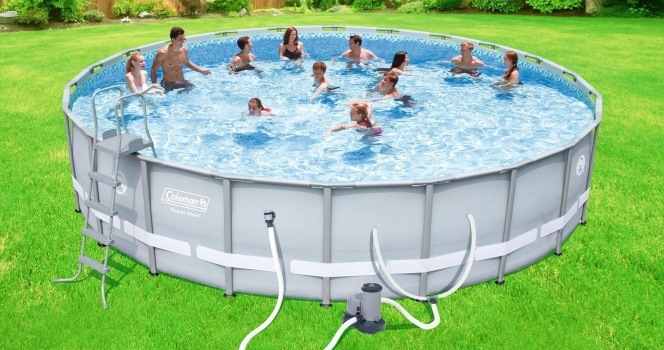 Though relatively basic in its own right, the Coleman 22-x52-Power-Steel-Frame Above-Ground Swimming Pool earns points for inclusivity, with a ladder, pool cover, and pump.
However, it does not have much else going for it. The bargain package is undercut somewhat by several complaints. Assembly is complicated, users have reported many leaks, and the steel frame corrodes prematurely—in some cases as early as the second summer of use.
Pros
Comprehensive, affordable package
Cons
Hard to assemble
Corrodes over time
Leaks
---
10.

Splash Pools Oval Deluxe Above-Ground Set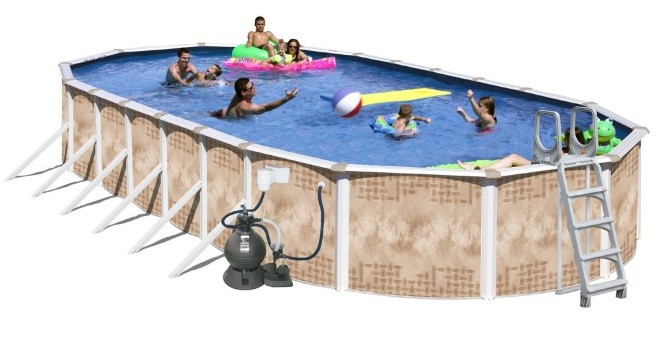 The Splash Pools Oval Deluxe Pool Package is the most expensive option on our list by a significant margin. Only buyers with a substantial budget will even consider this pool as an option.
Your money does get you a few solid features. Most notably, the deluxe package comes with a quality ladder, skimmer, and pump.
This said, the Splash Pools package does not outperform most of our other picks in ways that are significant enough to justify the disparity in price. It's challenging to assemble, its dimensions are comparable to many of the other pools here, and it is known to suffer leaks. In short, it's a good pool, but value concerns keep it at the very bottom of our list.
Cons
Very pricey
Challenging to assemble
Suffers leaks
Serious value concerns

Buyers Guide – Things to Consider When Choosing the Best Above Ground Pools
Now, here are some buying considerations that will help you pick out the perfect above ground swimming pool.
Pump, Filter, Etc.
Without a pump, filter, and ladder, your pool is effectively just a pond. The water will stagnate and become green, smelly, and quite possibly, dangerous to interact with.
Some pools come with the necessary equipment in the package. This is convenient because you can start swimming the day your package arrives, and bundling also saves you money.
If you do have to buy the additional equipment separately, it's not necessarily the end of the world. There are lots of good pools that come a la carte. Just remember that you may still need to spend a few hundred dollars after getting the pool itself.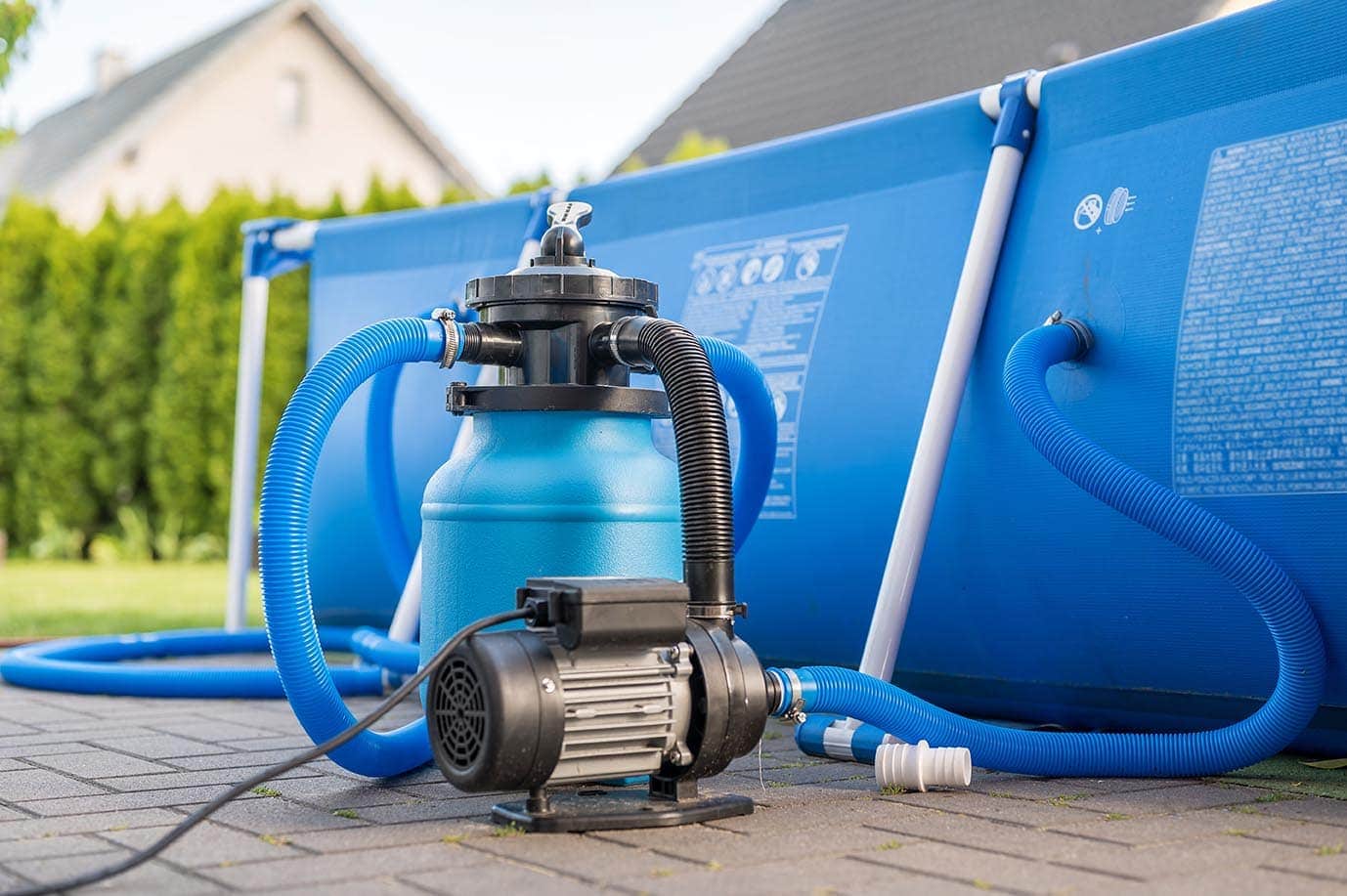 Size
There are a few different things to keep in mind when deciding on pool size. How big is your yard? How many swimmers are in your family? Do you intend to entertain? What is the purpose of buying your pool in the first place?
Smaller units may be suitable for households with one to three people, but they do suffer limitations. For example, it's hard to swim laps or play pool games in smaller-sized units.
The bigger a pool you get, the more you can do in your backyard oasis. The average swimming pool features dimensions of around 14×28. This isn't massive, but it will leave you with enough room for pool parties, family swims, and personal exercise.
Of course, bigger pools also come with their own set of consequences. They take longer to set up, clean, and maintain. They are more expensive and they eat up a larger slice of your yard.
As with anything, it's a matter of give and take. You just need to figure out what qualities are the most important to you.
Materials
A rust-resistant steel frame is the gold standard when it comes to backyard pools. These frames will be able to last for many years without problems, and because they are well-fortified against wear and tear, structural maintenance (patching, repairs, etc.) should be minimal. Steel-framed units typically cost more, but for longevity's sake, they are well worth the money.
However, there are lots of other materials to choose from. For example, plastic can serve as a suitable option for buyers looking for something only meant to last a few seasons.
At the very bottom end of the spectrum, you have inflatable pools. These are often available for under $100 and are only really made to last for a single season at most. Though most of these units are associated with kids, they come in a variety of lengths and depths and can be used the same way as any other pool.
RELATED READS: 10 Best Robotic Pool Cleaners: Reviews & Buying Guide
Cost
The cost of an above ground pool can be separated into several categories. The most obvious of these is the sticker price. You can expect to pay anywhere from $100 to several thousand dollars for your pool.
Then you have accessories and mandatory pieces of service equipment: pumps, filters, ladders, cleaning chemicals and tools, and a deck, if you want one. Depending on what your pool cost, these factors could add nothing to your overall expense, or they could raise the price tag by several hundred dollars.
Finally, there is the matter of upkeep to consider: repair work, the cost of running the pump, and the cost of keeping the pool full. Pool upkeep even on a basic above ground unit can cost between $300-500 each year.
Naturally, your own net cost will be subject to lots of variables. However, these ballpark numbers can help you establish a firm idea of how to budget for your pool.

Conclusion
It's time to wrap things up with a final decision. Every option on our list has its strengths. Now you must decide which strengths matter the most to you.
Are you hoping to get a quality-built, comprehensive package? If so, our top choice will probably be right up your alley. The Intex 15ft X 48in Metal Frame Pool Set is a high-performing pool that comes with everything you need to get started.
On the other hand, budget buyers may take special note of our 'best cheap above ground pool' pick, the Intex 8ft X 30in Easy Set Pool Set with Filter Pump.
There are lots of great pools out there. Pick the right one for your needs and enjoy summer like never before!
Note: we also recently reviewed inflatable hot tubs. You can see our top picks here.