Hammer Drill vs. Impact Driver: Which is Right for Your Needs?
It is easy to confuse the hammer drill and the impact driver. When placed side by side, it is almost impossible to differentiate the two.
The hammer drill and impact driver are potent tools that deliver high torque. Both tools store energy in a rotating mass then produces it to the output shaft fast.
Are there differences between a hammer drill and an impact driver? Yes. Read on to learn more.

Hammer Drill Overview
As its name suggests, a hammer drill has a hammer and drill action. It is engineered to drill holes through brick, stone, concrete, and masonry materials with ease and speed.
Hammer drills are pretty loud and feel like a jackhammer. But how do they work?
How a Hammer Drill Works
A hammer drill uses a percussion hammering mechanism or cam-action, where two discs of toothed gears interact mechanically to hammer and rotate the drill bit simultaneously. The action occurs when one disc rises and falls as it slides past the other drill disc to create a pounding action on the chuck.
It turns out that a single blow has relatively low force. Besides, the drill bits travel a small distance when punching in and out. However, since the hammer drill makes thousands of blows per minute, the hammering action combined with rotational bursts deliver more than enough force to break through brick, concrete, and masonry.
Hammer drills have a specifically designed clutch to spin and punch the drill bit in and out along the axis. Most hammer drill models have a keyless self-centering three-jaw chuck. Heavy-duty drills feature a keyed chuck for a tighter grip on the bit. You'll find spring-loaded chucks on SDS hammer drills with ball bearings to lock into grooves.
When to Choose a Hammer Drill
A hammer drill is built specifically for drilling holes in rigid materials. It is the go-to tool for professional contractors when drilling holes in concrete, brick, masonry, and even rock.
It would be best if you chose a hammer drill when installing house numbers on a stone-veneered wall or hanging shelves on a brick wall. You can also use it to drill holes on block walls when installing water pipes or electric conduits.
Most hammer drills offer more than the hammering option. Once you turn the hammering function off, you can use the standard drill bits for simple tasks like a cordless drill/driver. However, keep in mind that hammer drills have a lot of power even without the hammer function.
What to Look for in a Hammer Drill
These are the features to look for in a hammer drill.
These motors are more efficient, have higher torque, run cooler, and have innovative features.
The switch allows you to use the hammer drill as an ordinary drill once you turn off the hammer function.
Look for a hammer drill with an ergonomic build, grip, extra handles, and a chuck design that prevents the bit from flying off when drilling.
This feature ensures you have a consistent depth when drilling multiple holes.
The auxiliary handle allows you to grip the hammer drill with both hands. This helps you make controlled and accurate drilling.
It gives you control over the drill bit speed. This way, you can use the hammer drill for wood, concrete, and masonry projects.
You need a reliable and durable hammer drill at the job site, which the metal gear housing provides.
It lets you have greater control and increases comfort.
You have increased visibility when working in dark job sites with LED lighting.
Pros
Delivers a more significant force with its hammering action
Drills through hard materials like concrete and masonry
It works like a standard drill when the hammering action is turned off
It drills masonry holes three times faster than a regular drill
Cons
It feels like a jackhammer when in action
Not suitable for woodworking projects since the immense force can damage the material

Impact Driver Overview
An impact driver is designed to install and remove nuts and bolts. Unlike a hammer drill, the driver does not feature a chuck.
Instead, it uses a quick-release clamp with a ¼ -inch hexagonal shank to accept a variety of bits. These bits are used mainly for driving, but you can purchase the HSS drill bits for drilling duties.
Impact drivers are compatible with different fasteners because they come in different shapes.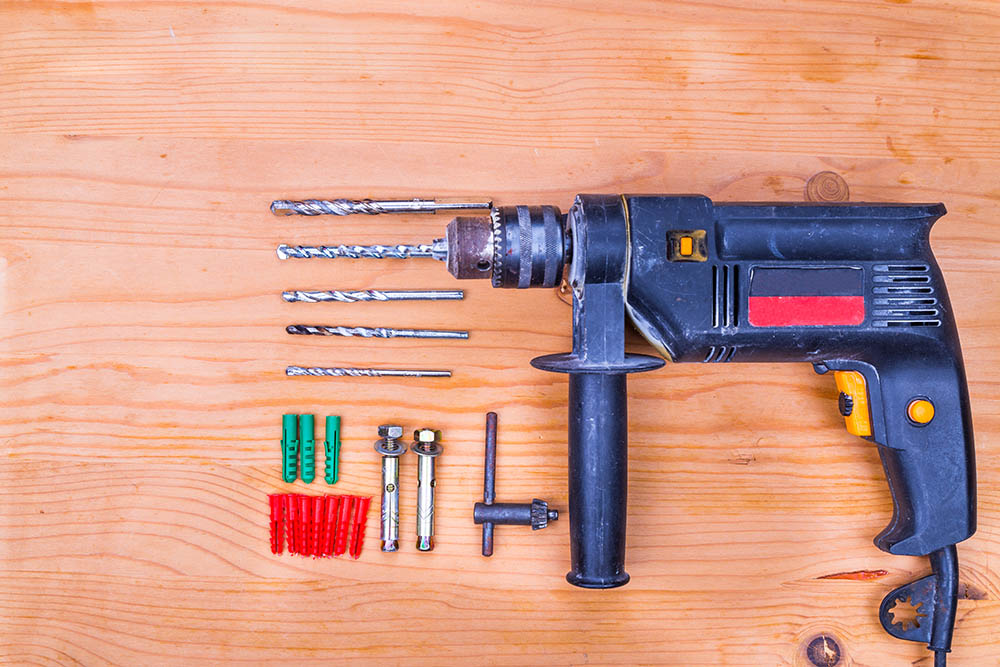 How an Impact Driver Works
An impact driver features a heavy-duty compression spring, weight or impact mass, and a T-shaped anvil. The spring is compressed with every half turn to deliver a tremendous force when released. The pressure is exerted in the same direction as the chuck rotation.
When you switch on the impact driver, the spring and weight rotate at the same speed to abut the anvil. But as resistance increases, it slows the rotation speed of the weight.
However, the motor retains its original rotational speed as well as the spring rotational speed. Since the spring has a higher speed than the weight, it exerts greater pressure, pushing the anvil. The tremendous perpendicular pressure, in turn, increases torque and control.
When to Use an Impact Driver
These high-torque tools are suitable for driving screws and tightening nuts (nut setting). Use an impact driver to drive long screws and large fasteners in wood, whether hardwood or pressure-treated lumber. The driver will automatically add more rotational force when it encounters resistance and delivers up to three times more torque than a drill.
An impact driver will make your work more manageable if you drive large fasteners on a deck or pergola. Additionally, use it for lag bolts or machine bolts. However, avoid drilling it into hard surfaces like concrete and brick.
What to Look for in an Impact Driver
If you settle that an impact driver is right for you, here is what to look for during purchase.
Impact drivers come in 12V, 18V, and 20Vpower versions. The 12V impact driver has a torque of 800 to 1200, which is sufficient for many jobs. However, if you are a professional, the 18V and 20V models can deliver up to 2250-inch pounds.
Brushless motors are more expensive yet more efficient than brushed motors. They produce less heat and are compatible with smart electronics.
Even though impact drivers are built to exert force, not all projects demand this force. Therefore, choose an impact driver with variable RPM ranges to give you control.
Look for a rubber over-mold impact driver as it is more comfortable.  It should extend from the handle to the motor housing base.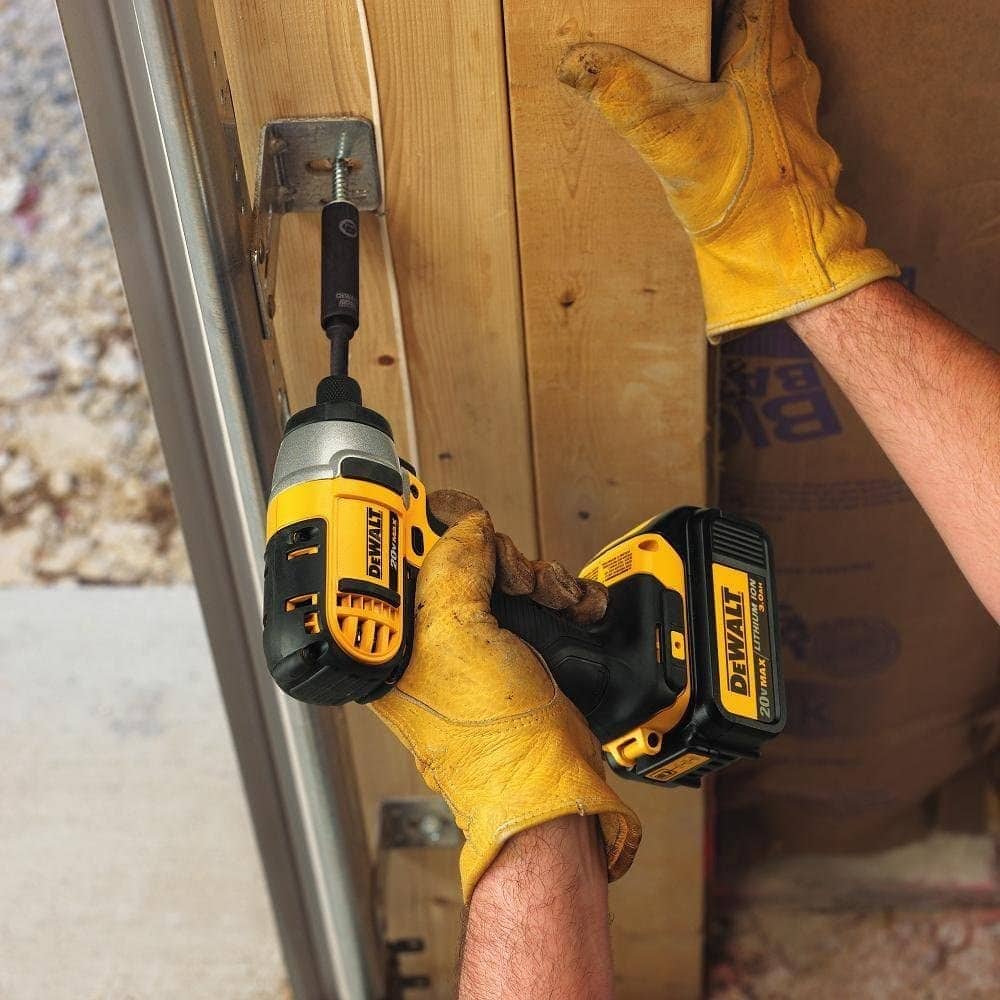 Pros
Drive-in fasteners and screws quickly
It feels comfortable on wrists and hands
Does not strip screws during action
Cons
Not as efficient in drilling holes in brick and concrete.
No variable speeds
---
Difference Between a Hammer Drill and an Impact Driver
A hammer drill features a built-in impact mechanism to hammer the drill bit back and forth to achieve a high momentum. This enables the bit to drill through hard surfaces like concrete, stones, rocks, hard bricks, and mortar.
On the other hand, the impact driver is purposely built to fasten screws, particularly long screws that can break if you use a hammer or regular drill. It uses rotational force, not hammering motion, to get the desired output.
Related Read: Rotary Hammer vs Hammer Drill – Which Is Best for Your Needs?
Conclusion
The hammer drill and impact driver are rotary driving tools that will come in handy when building or making repairs.
The hammer drill provides great hammering motion and punching torque to drill into hard surfaces like masonry, concrete, and brick.
The impact driver uses rotational force to loosen and fasten screws into wood, light concrete, or metal surfaces. Both tools are ideal for home DIY, HVAC, and construction projects.