10 Best Robotic Pool Cleaners of 2023 – Reviews & Buying Guide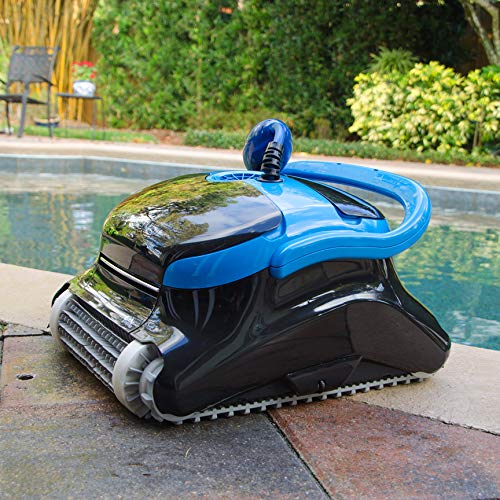 If you have a dirty pool and limited time to deal with it, you probably need a robotic pool cleaner. These great machines take the hassle out of keeping your water crystal-clear and help make your pool like those you see on TV.
Shopping online is supposed to be equally easy, but the truth is it's no longer the fast, simple process that it used to be. Misleading product descriptions make it harder than ever to get a good feel for a product, and with an investment as important as a robotic pool cleaner, you don't want to go into the deal with less than full knowledge.
We think that it shouldn't be that way. Our reviews of the best robotic pool cleaners this year are designed to show you the upsides and downsides to every model, as well as help you find the one that's right for your pool. We've also included a buyer's guide, which will help you understand the buying process, even if you've never owned a pool cleaning robot before.

Comparison of Our Favorite Products in 2023:
Rating
Image
Product
Details

Best Overall

Dolphin Premier In-ground Robotic Pool Cleaner

Cleans walls and floor
Multiple cleaning functions
Smart Control
CHECK PRICE

The Runner Up

Polaris F9450 Robotic Pool Vacuum

Efficient cleaning
Scrubs walls and floors
Seven-day programmable cycle
CHECK PRICE

Best Value

Dolphin Nautilus CC Plus Robotic Pool Cleaner

Easy operation
Two-year warranty
Works on floor and walls
CHECK PRICE

Aquabot Breeze IQ Robotic Pool Cleaner

Cleans floors and walls
Long cable
Great filters
CHECK PRICE

Aquabot X4 Robotic Pool Vac

Very large cartridge
Automatic pool mapping
Four-wheel drive
CHECK PRICE
The 10 Best Robotic Pool Cleaners:
1.

Dolphin Premier In-ground Robotic Pool Cleaner – Best Overall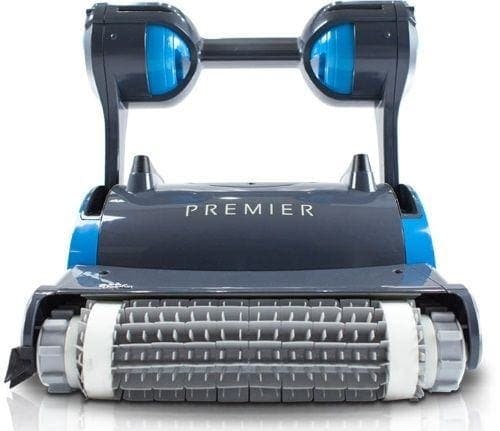 The Dolphin Premier Robotic 2018 is one of the best robotic pool cleaners on the market today. In addition to cleaning the floor of the pool, this cleaner is versatile enough to climb the walls and clean those as well. Its smart technology keeps track of where it has gone in order to maximize pool cleanliness. It comes with three cleaning accessories, including an extra-large leaf bag, a standard cartridge for a pool that needs a good cleaning, and a microfilter, perfect for keeping pools at their peak level of cleanliness.
The Dolphin Premier also includes a smart control with a weekly timer, so you don't have to remember to set the cleaning. It also comes with a tangle-free swivel, so you'll never come home to discover that the robot got stuck in a corner and didn't do a good job. This model works extremely well, though it's the most expensive model on our list. It's not going to be the right thing for all pool-owners because of its high price, but if you want the best, this is the model for you.
Pros
Cleans walls and floor
Multiple cleaning functions
Smart Control
Tangle-free swivel
---
2.

Polaris F9450 Robotic Pool Vacuum – The Runner-Up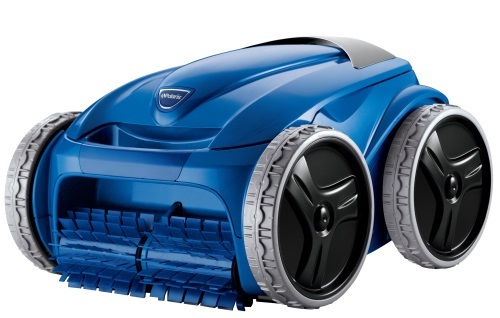 The Polaris F9450 is one of the more efficient cleaners on our list. Its vacuum is up to four times as effective as those found on similar models, giving you a cleaner pool in less time. This model is also capable of scrubbing both the walls and bottom of the pool clean, so you won't have to touch up any spots by hand. Unique to this model is a waterline-only mode, which drives this model along the waterline—often, the worst-looking part of many pools and a spot that many robotic pool cleaners struggle to reach.
The F9450 is very programmable. You can set it on a seven-day cycle, allowing for multiple different cleaning operations per week. The only problem is it's not great with fine dirt. In some places, that will never be a problem, and in others, you'll have to put up extra money to get a fine-dirt filter to get your pool clean. Overall, this is a great model, and it could take first place if the fine-dirt filter were included.
Pros
Efficient cleaning
Scrubs walls and floors
Seven-day programmable cycle
Waterline-only mode
---
3.

Dolphin Nautilus CC Plus Robotic Pool Cleaner – Best Value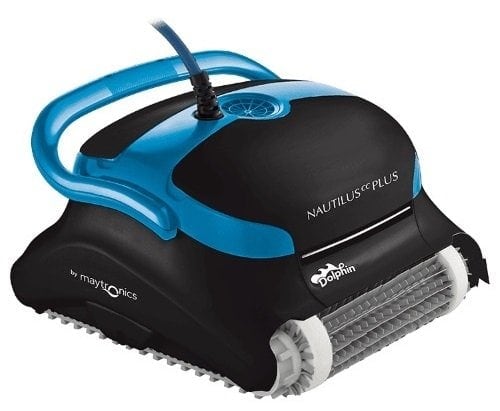 It's no surprise that another Dolphin model scores highly on our list. Since you can get this model for a few hundred less than you'd spend on our top model, the Dolphin Nautilus CC Plus earns the title of "best for the money". This model also comes with a two-year warranty, which is about the best you'll find on a robotic pool cleaner. The warranty is also a good sign that the manufacturer is willing to stand behind their product. This model also does an excellent job cleaning both floors and walls, as you would expect from a Dolphin model.
The Nautilus CC Plus is also one of the easier ones to operate on our list. It doesn't require a hose and can be plugged into any standard outlet. Unfortunately, it may take more than one cycle to get the job done. While most people are satisfied with two or three consecutive cycles, one usually isn't enough. If you're willing to put up with that to get a great deal, then this is the model for you.
Pros
Easy operation
Two-year warranty
Works on floor and walls
Great price
Cons
Sometimes needs multiple cycles
---
4.

Aquabot Breeze IQ Robotic Pool Cleaner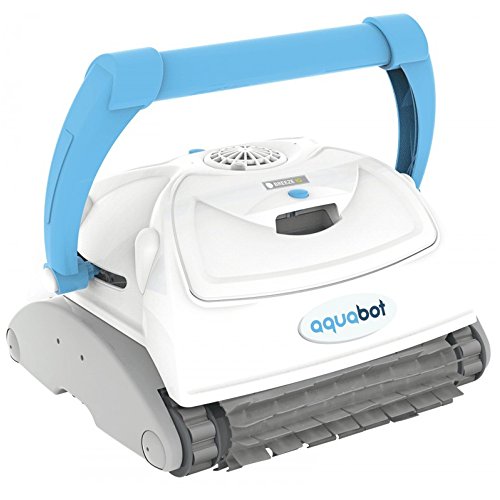 The Aquabot Breeze IQ can be had for a reasonable price, but it has some serious problems that limit its value relative to some of its competitors. Like other models, it can clean the floor of the pool, but also comes with tracks that allow it to climb the walls to clean those as well. It also comes with a 60-foot cable, which is about 10 feet longer than most included cables. Aquabot also makes some of the best filters on the market, with pores as small as two microns, which is small enough to capture pollen, dust, dander, and even some bacteria.
However, the Breeze IQ isn't cheap, so most people will want it to last at least a couple of years. Unfortunately, this model tends to last about a year or less. It doesn't often survive the winter, which speaks to broad problems with design and manufacturing. Despite being advertised as "tangle-free", the cord still tangles frequently, so if you're looking for a model that will run on its own without monitoring, this one will disappoint you. Likewise, if you were looking for a model that will last a long time.
Pros
Cleans floors and walls
Long cable
Great filters
Cons
Poor durability
Cord tangles
---
5.

Aquabot X4 Robotic Pool Vac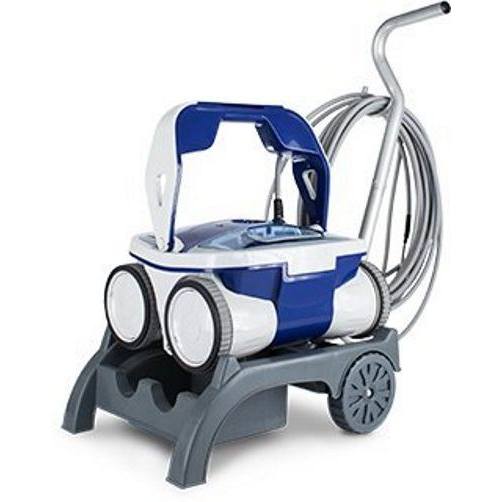 The Aquabot X4 strikes a decent balance between price and quality. If you don't want to spring for a model that costs thousands of dollars, this unit only costs a few hundred bucks. It comes with a single, extra-large cartridge that can be removed from the machine for easy cleaning. It also comes with automatic pool mapping that "sees" the shape of your pool and calculates an efficient cleaning regimen. And, its four-wheel drive enables it to climb the walls without breaking a sweat.
The X4 is backed by a three-year warranty, and you end up needing to use it. About 70 percent last more than three years, but it's likely this model will break down within the first two years, requiring frustrating warranty service. While most robotic models struggle with pools with 90-degree wall connections, this model is worse than most in that area, which gives it just average value for the price.
Pros
Very large cartridge
Automatic pool mapping
Four-wheel drive
Cons
May need warranty service
Struggles with 90-degree walls
---
6.

Hayward SharkVac Robotic Pool Cleaner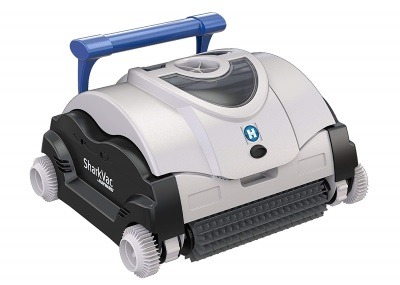 The Hayward RC9740CUB SharkVac Robotic Pool Vacuum is another robotic pool cleaner that provides decent performance at a reasonable price. While it doesn't map the pool, it uses a smart steering system that keeps track of where it's been in order to help it determine where it needs to go next. It features easy filter cartridge access, though you should know that it has two smaller cartridges that need to be removed and cleaned independently. Unlike many robotic pool cleaners, this model has no problem with stairs.
Unfortunately, the RC9740CUB doesn't have a great time with walls. It struggles to rise on steep, extended vertical surfaces, so while it does okay with stairs, you can't expect much when it comes to walls. At 21.5 pounds, it's also heavy. You have to slowly lift this model out of the pool and slowly lower it back in. The weight puts a lot of extra strain on your arms and back. If you have plenty of strength, it can be a good choice. Otherwise, you probably won't like it.
Pros
Smart steering system
Easy filter cartridge access
Does well with stairs
---
7.

Hayward TigerShark Robotic Pool Vacuum
If you're looking for the fastest cleaning model, consider the Hayward RC9990CUB TigerShark Robotic Pool Vacuum. Speed is its defining characteristic. It can clean most pools in just 90 minutes, which is fast enough to put just about any other model to shame. It also comes with an easy-clean cartridge system, so you spend less time cleaning this robotic pool cleaner out than other models. And, with a one-button press operation, you won't have to spend a lot of time on setup, either.
Unfortunately, you have to pay a big premium for this model. If you really value the 90-minute cleaning time, then it might be worth it. Remember that most robotic pool cleaners take just two hours, so it's not that much faster overall. At a whopping 40 pounds, it's exceptionally heavy for a pool cleaner. This is not a good choice for people with back problems. Overall, the RC9990CUB does a lot of things right, but it doesn't have enough value to justify its price, and it's much too heavy for many users.
Pros
90-minute cleaning cycle
Easy cartridge cleaning
Easy operation
---
8.

Kreepy Krauly Prowler 910 Pool Cleaner (Robotic)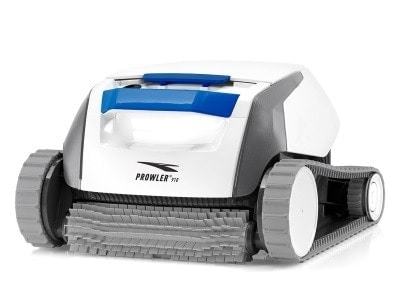 Note: This pool cleaner is made for above ground pools, but can work for in ground pools
The Kreepy Krauly 910 Robotic Aboveground Pool Cleaner 360321's price makes it a model to consider for first-time buyers. It's a good "starter" pool cleaner. However, the best thing we can say about this model—other than it's cheap—is it provides easy cartridge access, so you won't spend a lot of time cleaning out the collected debris.
As you may have guessed, this model has a number of serious problems. First, it has quality control issues. A significant number of units are dead on arrival or break soon thereafter, which means the company isn't doing its due diligence. It also has a cord that's prone to tangles, so it sometimes keeps itself from being able to clean the whole pool. If you live in a dusty area, you'll dislike this model because it struggles with fine particles. Ultimately, this model isn't expensive, but it has a ton of flaws.
Pros
Decent price
Easy cartridge access
Cons
Quality control issues
Cord tangles easily
Not great with fine particles
---
9.

Aquabot Pool Rover Hybrid Robotic Pool Cleaner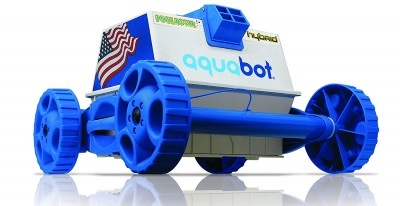 If you're looking for a very cheap robotic pool cleaner, check out the Aquabot Pool Rover Hybrid Robotic Pool Cleaner. You can get it for half, or less, of what you'd spend on other models on our list. However, as with all discount models, you have to decide if the flaws are worth the savings. On the plus side, this is a great model for vinyl pools. It comes with oversized wheels that make short work of small obstacles at the base of the pool.
Unfortunately, it has a habit of getting stuck in corners. This is rarely an issue with vinyl pools, but it can become a serious issue with concrete. The cord also tends to get tangled. That means it sometimes won't be able to reach a significant portion of the pool until you untangle it. It's also not a great choice for dusty regions, as it really struggles with fine particles. Overall, this model has enough problems that most people won't like it despite the low price.
Pros
Very inexpensive
Good for vinyl pools
Cons
Gets stuck in corners
Cord tangles easily
Struggles with fine particles
---
10.

Cobalt NC22 Pool Cleaner Robot
The best thing about the Cobalt NC22 Robotic Pool Cleaner is that it doesn't cost a lot of money. In fact, you can get it for about half of what you might pay for the top models on our list. It comes with a large bag that holds a great deal of debris in a single sitting without getting full, so you may not have to clean it out after each session, even though you probably should. It also does a good job in a single pass in smaller pools.
Since it only has a 40-foot cord, you're not going to be able to use it in medium-sized or larger pools. This model isn't designed to clean walls, and frankly, it can't. If you need work on the walls and floor of your pool, you'll be out of luck with the NC22. However, if you have a smaller pool and don't have issues with debris building up on the sides, you could be happy with this model. Unfortunately, the majority of people will be disappointed with this model's cleaning performance.
Pros
Cheap
Large bag
Good one-cycle machine
Cons
Doesn't clean walls
Short cord

Buyer's Guide – Choosing the Best Pool Cleaning Robot
Our reviews should already have given you some insight into what makes for a great robotic pool cleaner, and what makes for a model that you might want to skip. If you're looking to make sure that you understand all the features that can come with these great devices, or just want to make sure you're thinking through everything you need to know before you buy, make sure you check out this buyer's guide.
Differences Between Robotic, Suction, And Pressure Pool Cleaners
There are three primary types of pool cleaners: robotic, suction-side, and pressure-side.
Suction-Side Pool Cleaner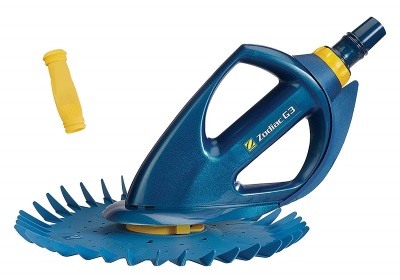 Suction-side pool cleaners make use of the dedicated suction line in your pool by attaching to your pool skimmer or dedicated vacuum line, not the main suction port. Essentially, they draw in water and debris, which they deliver to the main pool filter, which does all the cleaning and delivers the water back to the pool.
The suction allows them to grip the walls and climb around the pool. They don't require a lot of mechanical parts, making them an inexpensive buy. However, they struggle with larger debris like leaves and sticks, which can lead to jams in the suction line or the pool filter. If you don't have a very powerful pool pump, it may take a while to clean the pool as its speed directly correlates with the pump's power.
Pressure-Side Pool Cleaner
Pressure-side cleaners either connect to the dedicated return line that brings clean water back to the pool from the filter or by attaching to a dedicated cleaner line. They use the pressure from these lines to push them around the pool. They have more moving parts than suction-side cleaners, so they can be more expensive. In some pool setups, they require the installation of a discreet booster pump in order to have the pressure they need to run, further increasing the price.
Pressure-side cleaners filter debris on their own, which lowers pressure on your pool's filter system. However, that means you'll need to periodically clean them out, something you don't have to do with a suction-side cleaner. If you have enough pressure coming out of your filtration system or already have a booster pump, this can be the most economical choice.
The Robotic Pool Cleaner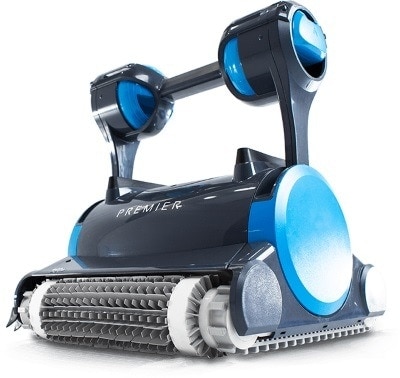 Robotic cleaners run on electricity. The big advantage to this is that they can be smarter and can know where in the pool they have cleaned, and where they have yet to go. It also allows them to use powered treads, which gives them a superior ability to climb steps and the side of the pool to scrub it clean and capture debris. Some models, called "waterline" robotic cleaners, can rise up out of the water to clean buildup along the waterline.
Consequently, these models provide the best overall cleaning. They also don't put any extra strain on your pool's filtration system. However, they have the most moving parts and are the most expensive. Like pressure-side cleaners, they need to have their debris containers cleaned periodically. However, if you can afford them, they're the simplest to install and do the overall best job.
Walls, Floors, and More
The first generation of pool cleaners was only capable of cleaning the floor of the pool. And while that's still the most important task today, newer models can do more when it comes to keeping your pool clean. The next-best robotic pool cleaners can clean the floor of the pool and climb the walls, too.
A fourth kind of pool cleaner is called a "scrubber." Scrubbers are designed to float on top of the surface of your pool and pick up debris, such as leaves on the water surface. So, a scrubber won't get the walls or floor, but it could make the job easier for a more traditional underwater pool cleaner, as it won't have to deal with as much large debris.
Tangle-free Cabling
One of the best things about modern robotic pool cleaners is that they don't require a bulky water hose in order to operate. Instead, they make use of a far thinner electric cable, which makes the entire ensemble more efficient and lighter. However, electric cords can get tangled. If the cord gets too tangled, the robotic pool cleaner will get lifted up off the bottom or sides, and it will do nothing for the rest of its cleaning cycle.
A tangled cord also gets shorter as it gets increasingly tangled, so it could prevent your pool cleaner from getting to spots at the far end of your pool.
Many robotic pool cleaners have cords that are designed not to tangle. Most make use of a mechanical swivel found on the cable, which allows the cable to rotate more freely without getting caught on itself. High-end models feature a gyroscopic system that stabilizes the cord to reduce tangling, and top-tier models feature motor-driven systems that greatly reduce a cord's ability to tangle.
Most people will be plenty satisfied with a model with a swivel, but if you're buying a robotic pool cleaner whose range is just a bit larger than your pool, investing in a more expensive anti-tangle system may be worth it.
Debris
If a lot of large items fall into your pool, like leaves, it might be a good idea to get a skimmer in addition to a regular pool cleaner. Of course, not all cleaners work equally well against all debris types, since they come with different filters and different suction and collection devices.
High-end models tend to come with multiple filters that you can switch out to change what they collect. These typically include a "large debris" filter that will pick up large objects like leaves. Some filters will be fine enough to pick out algae, while others will have pores small enough to catch dirt and bacteria.
Keep in mind that some base model filters may not be up to the task if you live in a place with fine dust or dirt. However, you can buy filters for very fine dust for most models separately, though, it means spending more money.
It's also important to remember that you need to maintain your robotic pool cleaners. Cleaning these filters after each use can go a long way towards extending the life of your robotic pool cleaner.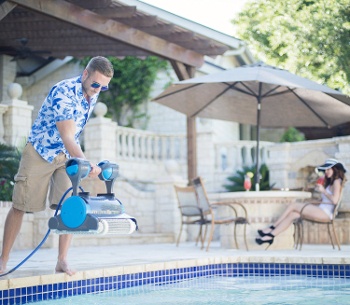 Pool Size
You may think that you need a more powerful robotic pool cleaner if you have a larger pool. It's true that more powerful models work faster, but that doesn't necessarily bring a lot of benefits to your larger pool.
Instead, the primary restraining factor on a robotic pool cleaner is the length of its power cord. The shorter the cord, the smaller the pool it can clean. However, the relationship isn't linear. That is, taking a foot off the cord takes off more than a foot of pool space from the cleaning zone.
Think about the cleaning zone for a robotic pool cleaner as a sphere. If the base station to which the power cord is attached is at the center of that sphere, then the furthest point out from which the cord can reach is equal to the radius of the sphere. The relationship between the radius of a sphere and the volume of the sphere, or the potential cleaning area is cubic.
For example, a pool cleaner with a cord radius could clean a spherical pool of about 392,700 cubic feet. A cord that is 10 feet shorter, or 40 feet long, could only clean a pool that had 201,000 cubic feet. Even though you only took 20 percent off the length of the cord, the cleaning area went down by nearly 50 percent.
Of course, pools aren't spheres, but the math stays the same, and the relationship between cord length and the area that a robotic pool cleaner can clean remains exponential.
Automatic Settings
Having a robotic pool cleaner is a great convenience, as it does the cleaning that you would have to do yourself, or would otherwise have to pay someone to do. Of course, you still have to turn it on and tell it to go.
That is unless you have a model that comes with automatic settings. These robotic pool cleaners can be programmed in advance. The best models can be programmed differently for each day of the week so that you can schedule full cleanings for days that you know you won't be using the pool, and touch cleanups on the days that you anticipate using the pool. That way, you maintain a high level of cleanliness, without having to remember to run the pool cleaner.
Lower-end models can be set to automatically clean once a week and give you less control over the timing of the cleaning.
Which Robotic Pool Cleaner Is Right For You?
If you want to get great value on your next purchase, it's a good idea to take a moment and consider attributes other than the price tag. If you don't like how your robotic pool cleaner performs, you didn't get good value on your purchase, no matter what the price was.
Instead, it's a good idea to focus on what kind of cleaning job you want your robotic pool cleaner to be able to do. Consider the kinds of debris and the size of your pool, and then think about the level of cleaning that would make you most satisfied with your purchase. Make a short list of robotic pool cleaners that meet those qualifications.
Once you've done that, it's a good idea to choose the cheapest model from that list. It does everything you need in order to be satisfied with its performance. Since it provides that experience for the least amount of money, it's the best overall for your money, making it great value, and a great deal.

Conclusion
The Dolphin Premier Robotic 2018 is our favorite robotic pool cleaner, due to its multiple cleaning functions, smart control, and tangle-free swivel. The Polaris F9450 comes with efficient cleaning, a seven-day programmable cycle, and a waterline-only cleaning mode, though its low efficiency with fine dirt keeps it out of the top spot. The Dolphin Nautilus CC Plus is easy to operate and has a great two-year warranty. Since its price is so great, it's the best overall model for the money on our list.
The Aquabot Breeze IQ isn't too expensive, and it comes with a long cable and great filters, but its poor durability and tangling cord cost it a few spots on our list. The Cobalt NC22 Robotic Pool Cleaner is cheap and does a decent job of cleaning the floor of a pool, but its lack of wall cleaning and its short cord mean it doesn't provide great value for the money.
We hope that our reviews and buyer's guide have helped you learn more about robotic pool cleaners. You should be able to use that information to find a model that's right for you at a great price.
You might also like: