10 Best Adhesive Removers of 2023 — Reviews & Top Picks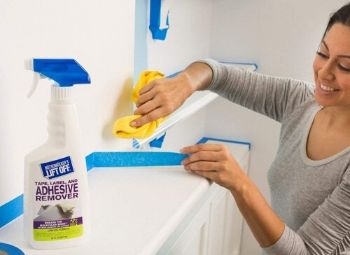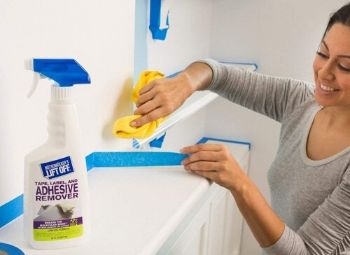 We spend hundreds of dollars yearly on tapes, glues, and cement, but what do you do when you want to remove a glob of glue or an ugly bumper sticker that is cracked and peeling?
Many removers are versatile and can clean various surfaces, but they aren't all created equal. Choosing the right product will save you time, money, and frustration. We developed this list of our 10 favorites with reviews and a buyer's guide to help you choose a product that will work well the first time and can be a staple in your cleaning supplies.
---
A Quick Glance at Our Favorites (updated in 2023)
Rating
Image
Product
Details

Best Overall

3M 03618

Petroleum solvents
Removes tar
wax
and adhesive
Okay to use on vinyl and glass
CHECK PRICE

Best Value

Duck Brand 527263

For many surfaces
Works on a variety of adhesives
Sponge applicator and scraper
CHECK PRICE

Premium Choice

RapidTac 30323

Not odorous
Natural and water soluble
Non-damaging to surfaces
CHECK PRICE

Goo Gone 2087

Light odor
Non-staining
Will remove many types of adhesives
CHECK PRICE

Uni-Solve 402500

Removal of adhesive on the skin
Will loosen tapes and adhesive films
Environmentally friendly
CHECK PRICE
The 10 Best Adhesive Removers
1.

3M 03618 Adhesive Remover — Best Overall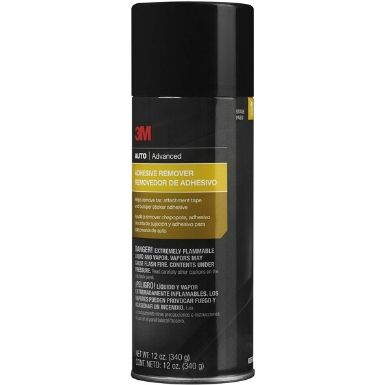 This adhesive remover is a blend of petroleum solvents that can remove adhesives, tar, and wax from your vehicle's painted surface while causing no damage to the paint. We found this worked incredibly well to remove unwanted bumper stickers, and we like that it can also be used on vinyl and glass.
The formula is ready to use, with no mixing required, and you can easily wipe it on and off. However, it has a strong citrus odor even when used outside. You may have to apply multiple layers to release old decals or stickers that have weathered in the sun. Overall, we think this is the best adhesive remover available this year.
Pros
Petroleum solvents
Removes tar, wax, and adhesive
Safe to use on vinyl and glass
No mixing
Easy to use
---
2.

Duck Brand 527263 Adhesive Remover — Best Value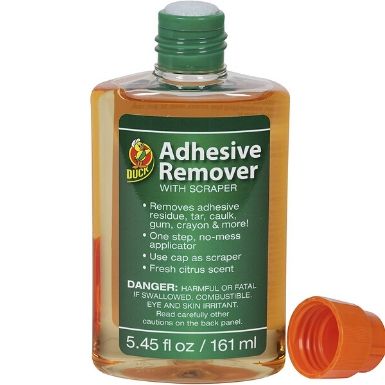 Duck Brand adhesive remover works on many surfaces, including walls, doors, furniture, cars, plastic, glass, and wood. It will effectively remove adhesive residue, tar, gum, tapes, and caulk, among other substances. It comes with a sponge applicator that allows you to be more precise when applying it to the troublesome area.
We also like the scraper tool. The Duck Brand has a strong citrus scent and is VOC compliant, though we still recommend using it in a well-ventilated area. On the downside, it will remove most adhesives but takes a little more elbow grease for tougher jobs. It is a good product for the money but did not reach the number-one spot because it doesn't remove some adhesives as easily.
Pros
Affordable
For many surfaces
Works on a variety of adhesives
Sponge applicator and scraper
VOC compliant
Cons
Strong scent
Extra time for tougher adhesives
---
3.

RapidTac 30323 Adhesive Remover — Premium Choice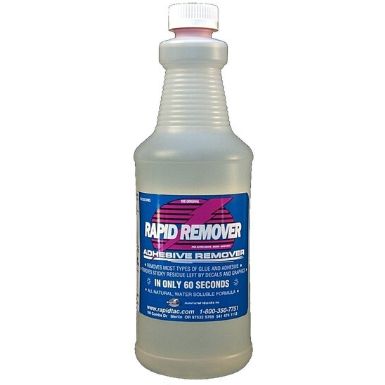 If price isn't a concern, the RapidTac is a natural, water-soluble adhesive remover that works within 60 seconds of application. It comes in a 32-ounce bottle that will last for a long time and is formulated to work on residue left by decals and graphics.
It won't cause damage to most painted or bare metal surfaces. We found that removing residue after the sticker or decal is removed works best; it can remove the sticker but requires extra effort and more than one application.
The 3M and Duck Brand work just as well at a more affordable price, which is why the RapidTac is number three on our list. We appreciate that it doesn't have as strong an odor as others.
Pros
Natural and water-soluble
Not odorous
Works fast on residue
Non-damaging to surfaces
Cons
Extra effort to remove stickers
---
4.

Goo Gone 2087 Adhesive Remover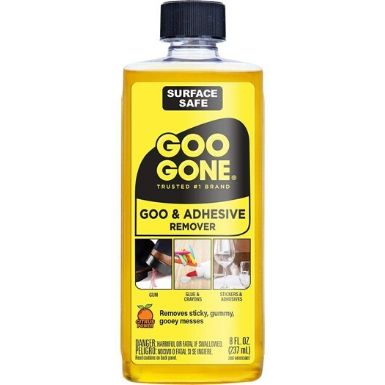 Goo Gone can be used on surfaces like hard surfaces, carpets, and fabric (except silk). It removes stickers, wax, markers, crayons, glue, and tar well. It is safe to use on cars, but the company recommends testing it on a small surface first.
It works well to remove residue fast but takes repeated applications and a scraper to get labels/stickers completely removed. It also leaves an oily residue that requires soap to remove. It doesn't have an overpowering odor and is formulated to be non-staining.
Pros
Will remove many types of adhesives
Use on a multitude of surfaces
Light odor
Non-staining
Cons
More than one application needed
Leaves an oily residue
---
5.

Uni-Solve 402500 Adhesive Remover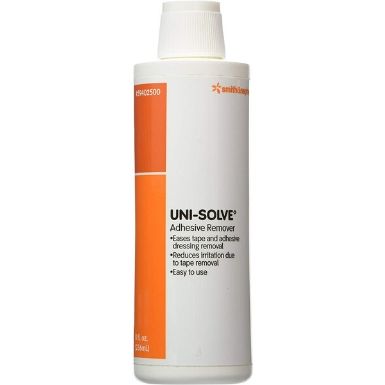 Uni-solve is for the removal of adhesive residue from the skin. It softens the adhesive from tapes, films, and appliances, allowing for easier removal with less risk of trauma. It should not be used on open wounds since it contains alcohol and will cause irritation and a burning sensation.
The odor is not overpowering and dissipates fast. It leaves a slightly oily residue on the skin, but it wipes off easily with water. It is listed as environmentally friendly because it doesn't contain ozone-depleting chlor-fluorocarbons. On the downside, it can irritate the skin, causing allergic reactions, so care should be taken.
Pros
Removal of adhesive on the skin
Reduces skin trauma
Will loosen tapes and adhesive films
Light odor
Environmentally friendly
Cons
Oily residue
Potential for skin irritation
---
6.

Goof Off FG658 Professional Strength Remover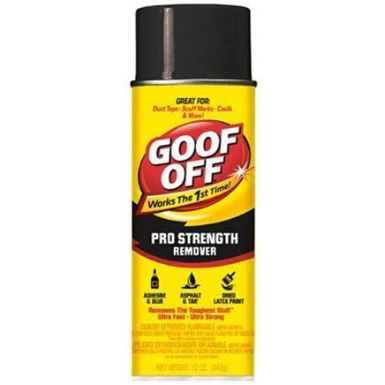 This adhesive remover is formulated to remove many types of adhesives, including crayons, gum, and scuff marks. It is ideal for wood, concrete, brick, metal, and grout. It is also listed to work on automotive surfaces. The downside of Goof Off is the odor; it is pretty strong and doesn't dissipate quickly.
The container warns that it contains ethylbenzene and methanol. It removes scuffs and pine sap effectively and easily. If using on fabric, let the solution sit for a few minutes before you scrub it with a small brush. Since this remover is a harsh chemical, care must be taken when using it on finished surfaces. Make sure you test an area first.
Pros
Able to use on a variety of surfaces
Removes many adhesives
Works on fabric
Affordable
Cons
Harsh chemicals
Strong odor
---
7.

SENSI-CARE Adhesive Releaser
Sensi-Care is a medical adhesive remover made of 100% silicone and rapidly releases dressings adhered to the skin. It is designed to minimize skin trauma when removing an adhesive dressing. It is CHG compatible, which means it will not affect the effectiveness of a CHG-based product below a required level.
It is also sting-free, which means there is no alcohol. This is a benefit when used on dressings near wounds. Caution should be taken when used for the first time, however, as some people may have a sensitivity to the product or develop a reaction when used frequently. Also, it is not as affordable as other removers, but it is odor-free, which is a big plus.
Pros
Made of silicone
Rapidly releases
Medical grade
CHG compatible
No-sting
No odor
Cons
Caution on sensitive skin
Pricey
---
8.

Motsenbocker's Lift Off Adhesive Remover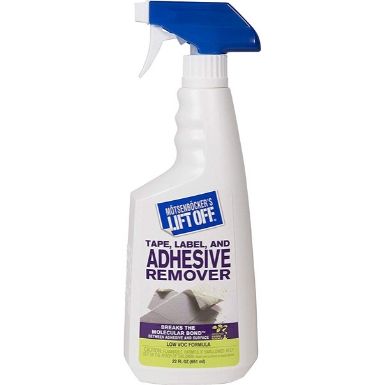 This is a cost-effective adhesive remover, made in the U.S.A., that comes in a spray bottle. It is formulated to remove tape, gum, and other greasy and oily stains. It can be used on carpets, fabric, wood, metal, and glass. We like that it doesn't leave a sticky residue and is a low-VOC formula, which makes it less odorous.
It is not supposed to damage surfaces when used as directed. The instructions suggest spraying and waiting at least 60 seconds, then using a scraper to lift the adhesive away. It breaks the bond between the adhesive and the surface to avoid turning the adhesive into a messy goo. Motsenbocker's Lift Off takes extra time to remove an adhesive, and the spray nozzle is poorly made.
Pros
Affordable
No sticky residue
Low VOC
Low odor
Safe on a variety of surfaces
Cons
Slow to work
Flimsy spray nozzle
---
9.

HigherHuman Eco-Friendly Adhesive Remover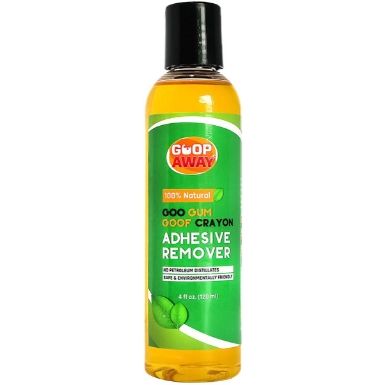 GoopAway is an all-natural adhesive remover made from plants. It is made in the U.S.A., and the company stands by its product with a 100% lifetime guarantee. It's safe to use on many surfaces and can remove glue, stickers, gum, wax, and tar. The price is affordable, and there is no strong odor.
When used on fabric, it should be washed afterward to remove residual product. It cannot be applied to silk or suede. Since it contains coconut oil, there is an oily residue, which will wash off with soap and water. GoopAway isn't as effective at removing hardened adhesives that have been on a surface for a long time.
Pros
Eco-friendly
No odor
Affordable
Cons
Oily residue
Lack of effectiveness on old adhesives
Have to wash products after use
---
10.

Elmer's 171 Sticky Out Adhesive Remover
Elmer's adhesive remover is a clear gel solution that removes residue such as crayons, glue, rubber cement, and other adhesives. It is safe to use on a variety of surfaces, even fabric. It doesn't clean the residue from fabric as effectively as others on our list; it leaves most of the sticky residue in place even after repeated washing.
It is unsafe for silk, rubber, elastic, suede, or other leather. It will remove labels, but not without a great deal of elbow grease and repeated applications. It also leaves an oily residue that is difficult to remove, even with soap and water.
Pros
Best for labels
Gel solution
Cons
Not effective on fabric
Leave sticky residue
Difficult to clean oily residue
Repeated applications required
---
Buyer's Guide – Choosing the Best Adhesive Remover
Since adhesive removers have many uses and can come in different formulations, it can be hard to know which one will do the trick at removing a label or tape residue. This buyer's guide will go over the factors to keep in mind when searching for the best adhesive remover.
Uses
Some adhesive removers are designed for a specific purpose, while others are all-purpose formulas. Some brands add a degreasing agent to their formula to help remove grease or slime. Some will remove paint, ink, and crayons from surfaces, while others can even break down advanced glues like Gorilla Glue and Crazy Glue.
Ingredients
The remover's ingredients are formulated to break down the bonds in the residue left on the surface. There are three categories of removers. The first is citrus-based, which uses fruit extract and propane and does well for commercial cleaning. Next is the soy-based version made with soybeans and propane.
Its formula is stronger than citrus-based removers. Last is the solvent-based, which may contain xylene, ethylbenzene, and toluene. They work well to loosen the adhesive but aren't the best at removing residue.
Safety
Some brands have a strong odor, especially if they contain propane. It is best to use them in a well-ventilated area. Personal protective equipment, such as goggles, face masks, and gloves, is recommended since some formulas are caustic or drying and can cause harm.
Before using an adhesive remover, test the surface in an inconspicuous to determine if it's safe to use. Read all materials from the manufacturer and follow the directions to avoid damage.
---
Conclusion
Choosing the proper adhesive remover will make a difference in the outcome, whether for your home, office, or automobile. Especially when using adhesive removers on the skin, you don't want any adverse effects that could cause irritation or burning. Our reviews list rounded up the top 10 adhesive removers available today. Our number one choice is the 3M remover since it works well to remove adhesives that have had constant sun exposure while on a vehicle.
The best value is the Duck Brand, as it can tackle many adhesives using the sponge and scraper. Our premium choice is the RapidTac, which is a water-soluble adhesive that works fast. We hope that our review list has helped reduce the frustration of trying to find the right product.
You might also be interested in: Cricut Window Cling vs. Removable Vinyl: Pros, Cons, & Differences